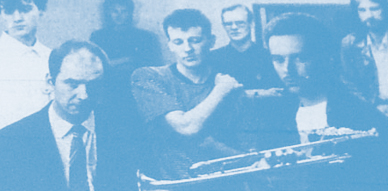 Thanks again to Mark Mortimer for the interview. Some days ago I interviewed him about his previous band, Great Express, and now we try to remember the days of Space Seeds, another band that had a great guitar pop sound but with a broader set of influences. You can also see my previous article about Space Seeds here. Now enjoy read and discover another great band with Mark Mortimer on it!
++ Hi again Mark! Thanks for being up for another interview, this time about Space Seeds. We are going in chronological order so far, right? So tell me how did Space Seeds start after the demise of Great Express?
After the Great Express ended I was still full of songs & still as desperate as ever to make music, create & move forward so there was never any question about me stopping what I do. I carried on writing songs, making demos of them with various friends & somehow from those demos a new band was formed which was the Space Seeds. At first it wasn't even a band, more of a solo project but my big problem is I am a crap singer & there was no way on earth it could ever be an eponymous 'Mark Mortimer' thing.
The mere thought of that makes me burst into fits of laughter!!
++ Who were the members and how was the recruiting process? At some point you were seven members, right?
The band's creation coincided with that period just after I'd met my future wife Christine & she had gone to live & study in Munich, Germany & it was quite a lonely time in my life which meant I was writing tonnes of songs.
Initially, as I say, it was mostly me writing songs by myself & recording them with a nucleus of mates at the Expresso Bongo Studios in Tamworth which was run by Paul Speare. Various people from the Dream Factory & The Great Express had kindly lent a hand in the studio along with Paul (Speare), Barry Douce, who was playing keyboards on tour with the Mighty Lemon Drops & a few more.
Initially myself & Ted Wilson from the Great Express plus Gavin (Skinner) from Primal Scream recorded a piss-take of the Beastie Boys called 'Mollusc No. 5' & that kind of set the ball rolling. Then I wrote a tune called 'Autumn Girl' for Christine: I had this romantic notion of it being an audio love letter which I would post out to her in Bavaria. It had this lovely strings & flute sound which was subconsciously influenced by Love's 'Da Capo' album & I asked Martin Kelly, a folky guy with a love of John Martyn & Nick Drake records, to sing lead vocals on the tune for me as I was incapable of singing in tune!
Barry & Chantal Weston (Great Express) played keyboards, Ted from the Great Express added 12-string guitars & Paul Speare played the flute parts. I played bass & acoustic guitars, added more keyboards & Julian Amos from the Great Express added some rhythm guitar & backing vocals while Tim Goode from the Dream Factory also joined in vocally. It was quite a big session & cost me a fortune but I was proud of the end result at the time & it inspired me to continue writing & recording. The next tune I wrote & recorded was called 'Enchanted' on which I played most of the instruments & Martin sang the vocals & this was followed by a new version of an old Dream Factory track called 'Feel Your Touch' which had more of a northern soul / R&B feel with big horns.
These three demos were really the start of the Space Seeds. At the time I was hanging out a lot with Gavin (Skinner) who was drumming with Primal Scream at the time & also Rob Cross who had been in a Tamworth band called the Ferocious Apaches. I'd really loved them & had even paid for them to record a demo a few months earlier at the Expresso Bongo. They were influenced by the Modern Lovers, Velvet Underground, Jesus & The Mary Chain etc & Rob was the dirtiest-sounding of their guitarists, was a fellow traveller on the psychedelic path & was one of the coolest, hippest & funniest people I'd met!
The two of us made the first official Space Seeds recording, which was a trippy instrumental of Pink Floyd's 1967 album track 'Chapter 24,' before we recruited anyone else. I think we thought we could use it as a gig intro tape or something. Then I bumped into Mark Brindley – known locally as DeHavilland – outside Tamworth Arts Centre. He had left his band World Intelligence Network & we got talking & I asked him to join my new group. There were then two singers in the Space Seeds & though Mark was totally different to Martin their voices blended beautifully. At first we didn't have a drummer & Gavin programmed some drum machine stuff to see us through until we eventually advertised & recruited Stu Pickett, who was one of Tamworth's best known and most talented drummers. I've no idea why he had the stage name of 'Stu Blain.' Also, I had managed to come across two brilliant trumpet players, Mark Allison (from Tamowrth) & Martin Cooper (from Solihull) and they were immediately roped in. They had a more classical & big band background & I felt I learned a lot from them musically.
There was a sax player from Tamworth called Pete Clark who initially joined to help complete the horn section & it was with this line up of people that then recorded the 'Switchblade Love' / 'Saturn In Her Eyes' demo at the Expresso Bongo supplemented by Paul Speare on baritone sax & former Dream Factory players Paul Stansfield (trombone) & Andy Codling on alto sax. A few months after the demo we came across keyboard player Alan Hodgetts after another advert in the local paper.
To be honest the band's line up was a real hotch potch of people who should never have got together!!! We all came from different backgrounds with, at times, conflicting musical tastes which meant that this band was always ever going to be a short trip but it was part of my on-going process of distillation & I've always thought a little conflict can be a good thing!
I don't think I was aware of it at the time but since I deliberately destroyed the Dream Factory I was bringing together different people & seeing how varying combinations worked chemically. Often it was too ambitious, too clever for its own good & ended in tears & if I am honest this experimentation with line ups has continued all the way through until recent times with my current group DC Fontana. A bit like Pete Townshend being the Seeker, I was also continually searching though my hunt was for that elusive chemical reaction to produce great music that would last the passage of time. With the Space Seeds there was way too much diversification of backgrounds for it to ever work properly!
++ I had this theory that the name came from Star Trek, but most probably it didn't, so care to shed some light about the origin of the name?
You were right! The name came from 'Star Trek.'
We weren't Trekkies at all, you understand, but Rob & I were having fairly wild psilocybin-dominated parties at the time & each week we'd want to experience watching interesting stuff on the TV to see what we could find under the surface. Usually it was 'Barbarella' or 'Yellow Submarine' but on this occasion we happened to be watching 'Star Trek' while tripping & decided on the band name there & then.
++ Also what would you say was the main difference, sound-wise, or maybe even the aesthetics, between this band and Great Express?
The differences were quite striking really – whereas the Great Express had a much more "rock & roll" edge & was built around powerful &, at times, heavy guitars, the Space Seeds was to be a vehicle for my lighter songs really. Obviously, having been in a soul/mod influenced band like the Dream Factory two or three years previous, working with a horn section wasn't new to me & I re-introduced horns to my music with the Space Seeds. But whereas one or two tunes had a soul influence, by & large the music was still very psychedelic influenced with strong poppy vocal melodies & we only occasionally vamped the guitars up heavy.
++ I see there are different influences on this band as well, what were you listening at the time, maybe not that much C86 stuff?
I've always loved rare 60s music whether it be psychedelia, garage, soul, R&B, jazz, folk-rock, Latin soul, acid rock, exotica or whatever & that is always apparent in my songs; it's the common thread that binds all my groups together. But my musical palette has always been very wide & incorporated a million & one different influences. In 1988 I was still very much listening to and following the whole so-called 'indie-music' underground & overground.
++ I read on the Tamworth bands page that you played a total of 8 gigs. Which were your favourite and why?
The Space Seeds was only a short-lived affair & really provided the bridge between the Great Express & what followed which was the unfortunately-named Bash Out The Odd. As a result there were only a few low-key local gigs & I don't have that much of a recollection about them if honest.
++ And with Space Seeds there wasn't also a chance to have a proper release? No label interest?
Like the Great Express I didn't spend any time trying to court any label interest, partly as I knew full well the band was a million miles away from being ready.
++ I really enjoy the track "Switchblade Love", it's fantastic! Care to tell me the story behind it?
Thanks man! It's a song that is special & personal to me and is very much a "real life" tale of fucked up love – so much so that I re-wrote it for the first DC Fontana album. It's the tale of how love can go sour & take a violent turn. The story behind it surrounds the disintegration of my first marriage – I was married in October 1986 & yet it was over by June 1987…a real whirlwind of emotion. I guess there's no need to get too deep into the personal reasons behind it all but it was truly off its head & ended with me hospitalized after being run over & attacked with a knife.
So the song was this fucked up cry for help & a scream of incredulity at how something so precious & pure as love could turn so dark, twisted & then end up in blood-letting. While writing the song I was examining my own role in the end of the marriage & lyrically I was trying to make sense of it all, trying to find reasons to blame myself, trying to defend the person who had phsyically injured me & a load more besides. I think great stressful moments in your life can help you produce good art & 'Switchblade Love' was an unusually fast song for me to write….normally it can take me weeks or even months to finish a tune but this was done & dusted in less than 10 minutes: it all came out in this huge weeping catharsis of mourning for a dead love & the deeply felt heartache & loneliness.
I never really explained the pain behind the song when I asked Mark & Martin to sing it in the studio, partly because it hurt too much to continually re-open the wounds & partly because I consciously wanted to maintain the song's duality. And the paradox is that lyrically it's very dark & violent while musically & melodically it's light and poppy, almost up-lifting: this was totally deliberate. I had used all these cute major 7th chords in the track (taking inspiration from Arthur Lee's Love group of the '60s) & encouraged the two singers to soar and uplift. Paul Speare, who was producing the session, felt that Mark & Martin had a lovely Walker Brothers vibe to their harmonised vocals & it really worked in a poppy way so I didn't explain too much the trauma behind the tune as I didn't want to make the music itself dark.
++ From what I gather you only recorded 7 songs. Where did you record them? And what memories do you have from those sessions?
All songs were recorded at the Expresso Bongo recording studios in Tamworth with former Dexy's Midnight Runners sax player Paul Speare producing the sessions. The 'Chapter 24' session was recorded at night & was wonderfully freaked out. I remember Paul's wife playing keyboards with us in that session. The 'Switchblade Love' & 'Saturn In Her Eyes' session was the quintessential Space Seeds session & i fondly remember both tracks being recorded in a great spirit.
++ And which of them is your favourite one?
Defiitely 'Switchblade Love' & 'Saturn In Her Eyes' from the official Space Seeds period – both were tunes I really enjoyed recording & playing live. Otherwise 'Autumn Girl' was highly memorable.
++ Now looking back, how do you feel your songs have aged? You've recovered some for your new project, right?
Not sure if the recordings have aged very well if honest though you can, I believe, hear the vibe in 'Switchblade' & there is some magic in evidence there. Likewise I can still hear the original 'Saturn In Her Eyes' from that session – the 60s rave up outro always makes me howl with laughter with Mark doing his psychotic vocal howls.
I re-wrote both 'Switchblade Love' & 'Saturn In Her Eyes' for the debut DC Fontana album which we recorded at Parr Street Studios in Liverpool at the request of Will Sergeant, Echo & The Bunnymen's guitarist. With 'Switchblade Love' we added a cute Laura Nyro type electric piano vibe to the tune and we had the honour to record with members of the Royal Philharmonic Orchestra from Liverpool (going under the pseudonym of the Liverpool Session Orchestra) who provide the lovely real strings.
On 'Saturn In Her Eyes' I hung out with a number of musicians from the Indian sub-continent to get a proper handle on my desire to give the track a more genuine Indian feel. This was also a true honour & it felt special breaking down the barriers of racial & geographical background. Surinder Sandhu, one of the world's leading sarangi vurituoso players, contributed some very haunting parts to the song & Iqbal Mohammed Khan added some Urdu poetry & harmonium. Carl Peberdy played real sitar (as opposed to the cheap sampled sitar on the Space Seeds' original version) & the circle was completed when Gavin (Skinner) played tabla & African udu drums on the track. Gav had programmed the drum machine parts for the Space Seeds' recording of 'Saturn In Her Eyes' so it was a conscious circle-closing moment for me.
++ Sadly, the band lasted so little. Why and when did you split up?
The band actually metamorphosed into Bash Out The Odd when Martin Kelly quit the group around the end of 1988. We replaced him with the former Great Express singer Julian Amos& simply re-named the band there and then.
++ Then you formed Bash Out the Odd and I guess that's another interview so we can cover that period. But going back to our previous interview you were telling me that Indian food is your favourite. Do you have a favourite indian dish?
No particular favourite dish: food is a little like music with me….I can change my top ten favourite tunes every day depending on my mood & food is the same….
Indian food can be quite an experience though I must admit & I am a committed & passionate vegetarian.
++ And what about beer? Are you into ales? I still can't enjoy them, even if I try. I need my beer chilled!
Never been a big beer drinker I'm afraid, I don't mind the occasional one & prefer them to be chilled too! Have always preferred the Bavarian stuff if I had to choose but I don't drink much as I am always driving….
++ One last question, I'm curious, because of the name Space Seeds, if you are into sci-fi and stuff? Are you?
Probably no more than anyone else but when I was a kid I was crazily into the TV show "U.F.O." – loved Nick Drake's sister in her short shiny skirts & metallic purple bob & all those "space age" mod fashions, sci-fi grooviness.
Also, we did use on stage with DC Fontana a couple of sci-fi B movie type characters called the TV Heads at a gig in London which was a nice moment of surrealism. But I've never been "nerdy" about sci-fi. I do adore the freedom of some of the more out there TV shows from the late 60s like Patrick McGoohan's "The Prisoner."
::::::::::::::::::::::::::::::::::::::::::::::::::::::::::::::::::::::::::::::::::::::::::::::