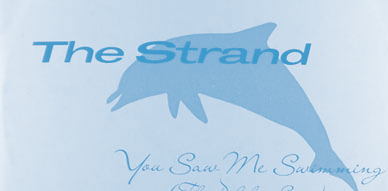 I'm going to look into hosting the episodes of the podcast on the web server for download, for those interested. I think this will be my project for this week. In the meantime the second episode is out now. In it all the sections I introduced in the pilot episode are back, from the cover of the month to the guess the song contest! I hope you like it!
Also I want to give big thanks to Cristina Quesada for being part of the show as the guest interviewee. It was quite fun to talk in English with her, something I've really never had the need to as we can understand each other perfectly in Spanish. It was lovely really. In the interview she tells some details of her forthcoming album on Elefant that should be out in the first half of 2015.
And of course thanks to Toni for doing the producer job again! We are learning through making these podcasts and we've listened to everyone's feedback. I think we both have done a better job compared to the our first try. But I think most thanks should go to Toni as he has been terribly busy with school work, it's impressive that he has managed to put this together!
This past week had some important news in indiepopworld. I think a very important one is that Firestation has released two retrospective CD albums: The Auctioneers and The Sullivans. I'm especially fond of the second release as the song "Senseless" by The Sullivans is one of my favourite songs ever. I remember there was this user on Soulseek, his nickname was something like "leglangly-stance", something like that. My memory of those years are not the best. The thing was that he had this folders full of compressed files, .zip files, with very rare ripped vinyl. I discovered so much music from him. The Sullivans was one of them. And that song was like pure bliss. The girl/boy vocals are just delicious. It's an unstoppable song. I could imagine a split single with this song and Comet Gain's "Strength", don't you?
The second news is that Twee.net published the results of the poll. As usual the turnout of voters is not big but still it's quite representative I think. Firestation was voted best label with 6 votes and they have it well deserved. The not so good thing is that Cloudberry got a single vote! Alarming! Well I don't think so. I think Cloudberry only released 4 records during 2014. That's a small output to what we are used to. I'm sure that definitely affected the perception of voters. So, this year we must do things better! Somehow we have! At least get 2 votes. 1 vote is unacceptable! Though I honestly thank very much the one person who trusted us their vote. You are the best!
There were very good news though, we were voted best blog and also best indiepop site. Two categories were we killed it! I'm happy about getting these votes. I think the blog has been very constant since 2008 when I started it. I always think people don't really read it and don't care much for the format, but when I get this sort of feedback it's really amazing. It's really unexpected too. So I'm very happy.
I guess indiepop-site would mean blog too in this case. And in a way it makes sense as there are really no indiepop-sites anymore. In any case, I'll take it! Hopefully the quality of the blog keeps getting better especially now with the podcast.
Out of curiosity let's cover some of the other Twee.net results.
Alvvays making a splash this year topping both Best Band, Best Album, Best New Band and Best Song. Seems their album, catered for indie fans really and not indiepop kids, has all the proper ingredients to be loved. I actually liked it, especially in a very quiet year. It has possibly 3 or 4 very good songs (the most popular "Archie, Marry Me", the best one  "Atop a Cake", "Next of Kin" and "Adult Diversion") , and the rest are fillers, but that's enough these days, right?
For Best mailorder Jigsaw Records won and I think that's not much of a surprise as Jigsaw is really helping the whole scene with their releases, their low prices, their sales, and even shipping records for labels to Europe. What Chris has been doing is truly amazing so he deserves it. He got my vote in this category for sure.
Best Paper Fanzine award went to Candy Twist. Again I voted for Dennis' zine this year. If it's a quiet year for indiepop then it's even quieter for indiepop zines, but Dennis keeps doing it and that effort and passion is well  supported by indiepop. Totally fair for him to win!
And that was it. Oh right, there's another category, but they are not really my thing the winners. For best gig, if you want to know, I voted for My Favourite at NYC Popfest, Slowdive at Terminal 5 and Royal Landscaping Society at Indietracks.
Well that was it, a big thanks to Peter Hahndorf for organizing again the poll this year. I look forward for a much better 2015!!! And come on, a band on Polyvinyl can't win so many awards, we are indie, aren't we? 😉
———————————————————–
And so we turn to our obscure band of the week: The Strand.
strand: the shore of a sea, lake, or large river.
I'm guessing that's the meaning of the band's name. Of course, strand can mean other things, but the sleeve artwork of the one 7″ I know by them has a blue dolphin. A simple connection, dolphin, beach, makes me assume this.
There's very little information about this band. Only this week I got this single from Uwe. It's not an expensive one and you can definitely find it on eBay or discogs for a fair price. I found one blog post about them dating from 2011 on the blog by Cino Pacino, "The Roofy Leak".
He says that he doesn't know much about the band either, just that the singer doesn't like dolphins because apparently, in the song lyrics, dolphins have stolen his drinks. These lines are of course part of the A side (and also B side as a remix) "You Saw Me Swimming (The Dolphin Song)".
This record is what I love calling proto-indiepop. This 7″ was released in 1983 on Albion Records in the UK (catalog ION1042). I don't know much about this label but it seems they released a whole bunch of stuff! Among the most known bands we have the dBs and Katrina and the Waves. So mostly a "new wave" label.
We know that the record was produced by a Bob Andrews and the credits for the songs  on the label have 5 last names: Woods, Ludkin, Rushton, Bradbrook and McAree. From the back cover we get to know that:
Eric – voice, guitars
Diane – vocals
Rob Rushton – premier drums
Paul J. Bradbrook – bass
That leaves me guessing that Eric and Diane were either Woods, Ludkin and McAree?
There are some more credits here, Bob Andrews and Dean Klevatt played keyboards, and Dick Hanson played the flugel horn. The design of the sleeve is credited to The Design Team and there's a photo of the band on the back taken by Rick Mann.
And that's where again I hit a wall. There's nothing else about them. There seems to be other The Strand bands during this same period, but the last names don't match. So I want to think this is their one and sole single as it's really excellent. It's super catchy, and the boy/girl vocals are just infectious! Top stuff really!
Does anyone out there can shed some light about them?!
::::::::::::::::::::::::::::::::::::::::::::::::::::::::::::::::::::::::::::::::::::::::::::::