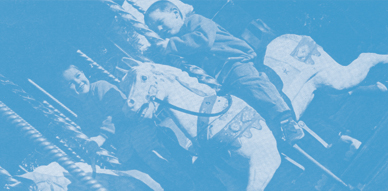 Some time ago I wrote a little piece about These Future Kings, a fantastic Australian band that seemed to have disappeared out of the blue. No signs on the internet about them! But Perry White, one of the members of the band got in touch and has been so kind to give me an interview and tell me more about his band! Thanks so much Perry!
++ So let's get into business, how did the band start? How did you all knew each other?
TFK birthed in about 1985/86 after I met Charles at Monash University in Melbourne. He was studying Arts, I was studying science and we knew of each other through a mutual friend who encouraged us to seek each other out. I think we met through the Uni radio station at which we both had shows. We were both in separate bands at the time: I was in one called Polar 1500 and he was in Gothic Farmyard. Both bands were playing rather extreme music and we discovered we shared a passion for melody and guitars and had very similar musical tastes. We began writing together and knew we had to be in a band together. I was sharing a house with Mark Freeman (drummer) then, so he was an obvious choice. Steven Johanssen (sax and keyboards) I brought with me from Polar 1500 and Claudia White (bass) is my sister so I asked her to play simply because we didn't have a bass player.
++ What does the name These Future Kings mean? Was it easy to decide on the name?
TFK is a phrase from the Tibetan Book Of The Dead which I found and I don't think anyone else had a say in it. I don't recall any discussions or alternative suggestions.
++ Bury My Bones is such a great track! What is it about? How did this song came to life?
'Bury My Bones' started as Charles' guitar riff around which we played. We usually wrote by Charles or I bringing a riff or chord sequence to the band and everyone jamming on that initial idea. A structured song would usually rear its head from the jamming and I would write the lyrics last to fit the musical structure. On occasion, I would bring a completed song to the band or Charles would bring the music and I would bring the words.
'Bury My Bones' is vaguely about the idea of killing one self to give birth to another self; the idea of keeping moving and growing. But really I can't speak for the guy who wrote those words – he was very young, a little lost and I guess looked a little like me.
++ I've only listened the Bury My Bones single so I'm still hunting for the Carnival LP. Can you tell me a bit more about the album? How many songs were included? What about the recording process? Your favourite song? Any other anecdotes?
'Carnival' was an absolute pleasure to make. It was the first time we had planned a recording session and our first time with a producer – Tim Cole/Mr Bo – who was a member of probably the biggest Indie band in Australia then – Not Drowning Waving.
The bulk of the recording took place in winter and for their acoustic properties, we decided to record in the basement of silos of an abandoned Flour Mill in Richmond, a suburb of Melbourne. The place was being used as a squat by friends of ours – it had no running water, no toilets, no heating but somehow the electricity was connected. The silos were near a major train route, so most of the recording happened very late at night after the trains had stopped.
I remember it being cold all the time, drinking a lot of Port wine to keep warm, all of us tired but urging each other on to play better – we were high on the music, the ambition, the promise of it all. And occasionally the dope.
We spent about 8 days at the mill, then did overdubs in a studio in Elwood and I think finished the recording and mixing in about 12 days. All up, perhaps the best recording experience of my life.
'Carnival' has 10 songs and is divided into a 'showside' and a 'ringside' built around the carnival idea. I think all of us would nominate a song called 'My yellow room' as our favourite. I hope you get to hear it one day.
++ There was also a mini-LP released in 1986 right? I couldn't find any information about it at all! What about this one? Does it really exist?
Our 3 releases on the Rampant label are completed by our first release, a four song e.p. called 'After This'. We recorded it as winners of a community radio station 3RRR's 'Battle of the Bands' type show.
There is also a compilation live LP called 'Hair of the Dog' from a venue called The Punter's Club' on which we have a track 'A face to break a thousand hearts' and several songs on cassette fanzines, etc. And our never-released 2nd album 'Via Dolorosa' which we recorded for Rampant, but the label crashed before it was released.
++ What were you listening at the time? Had the influence of the Flying Nun label from New Zealand already reached the Australian coasts?
Our infuences…hmmm… I personally was most influenced by local or Australian bands like The Go Betweens, The Birthday Party, The Laughing Clowns, The Triffids and many more. I was much more influenced by bands' attitudes and their quirkiness than their music per se. Musically, I think we were influnced by a lot of guitar-based, melody fuelled music. I remember Charles loved tasteful guitar stuff like The ComSat Angels; Mark loved mainly American trashy stuff like Camper Van Beethoven, The Violent Femmes and their ilk; and I think we all loved Joy Division, some punk stuff, Echo & The Bunnymen, etc.
++ How did you end up signing to Rampant Records? How was the relationship?
We had a great relationship with Bill Tolson from Rampant. We initially sent him the completed songs for what became 'After This' and he signed us for an album based on that. He was very keen on the second album as well but the company folded.
++ On the Bury My Bones single you worked with Warren Ellis from Nick Cave and the Bad Seeds, how was that experience?
I knew Warren (Ellis) through mutual friends and we got on great together. He was playing in other bands and somehow ended up joing TFK for about a year. He was great fun to work with – 'Bury My Bones' is the only thing we recorded with him, apart from some live stuff. Ultimately though, he didn't really fit into the band as we already had a 'featured' instrument (the sax), and Warren wasn't a background sort of player. We loved the violin though and ended up recruiting Jennifer McCutcheon into the band on viola. She plays on 'Carnival' but only joined the band after the recording.
++ Did These Future Kings gig a lot? Any particular gigs you remember the most?
TFK played a hell of a lot, as did most bands at that time. It's also a particularly Australian thing I learnt later on for bands to play themselves halfway to the asylum and really hone their talent that way. The Triffids and The GoBetweens were particularly famous for this. We played on average 4 shows a month basically anywhere that would have us. I think my favourite show was supporting The GoBetweens at a beautiful theatre in Melbourne called The Old Greek Theatre (now demolished). We were throwing sparks that night and went down really well in front of 800 people, maybe the biggest crowd we played to. A close second would be our first show in Sydney in an underground venue in Kings Cross. We had driven straight up from Melbourne (about 10 hours) to the venue to sound-check, then did a press interview, and just before the show a drunk threatened to slash me up with a broken bottle! I remember shaking for the first three or so songs and not being able to hold the chords down on my guitar. The show went great.
++ Why and when did you call it a day? Were you involved with music after?
TFK ended not with a bang but a whimper, I suppose. We gradually became disheartened shopping the second album around after Rampant folded. Claudia and Mark decided to leave music altogether and do something 'sensible' with their lives. Charles and I continued writing and playing together and in the late 90s formed a band called The Lost Highway, which was very enjoyable but got nowhere, again through the difficulties trying to get a release for our album 'Amarine'. Charles does not play music at all, but got heavily into the music business and now runs a music-related consultancy business in London. Claudia never played music again and is now married with 2 children. Mark is now a print journalist and is marrried with a couple of kids. Steven also stopped playing music after TFK. I am still writing and playing under the name P A White, and hope to have an album out around August this year.
::::::::::::::::::::::::::::::::::::::::::::::::::::::::::::::::::::::::::::::::::::::::::::::