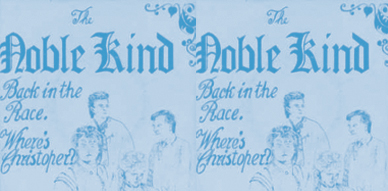 Finally, February. This month I hope to announce a bunch of new releases on Cloudberry. Also by the end of the month I will be traveling to Madrid, so I can attend Madrid Popfest during the first days of March. But I'll arrive earlier so I can do some sight-seeing. So yes, anyone that is in Spain or attending the festival and want some Cloudberry releases, please let me know and I can bring the records for you. That way we can save on shipping!
My Peruvian friend Joel shared with me a questionnaire about the Glasgow music scene. I believe the answers will be used to write a book about the independent scene of the Scottish city. The person behind it, Laurence Estanove, wants to publish this book and include in it many opinions from people from all around the world. I don't know many details about it, but if you'd like to collaborate and contribute, check this link and fill in your answers.
I also found an interesting TED talk that maybe many of you would enjoy. It is about "how record collectors find lost music and preserve our cultural heritage". Sure the person talking, Alexis Charpentier from Montréal,  is not talking about indiepop, but just music in general. So it is more about the general idea, but I couldn't agree more with him. I felt like I could have done this same talk!! Check it out and learn more about record digging.
The Science of Words: our friend Pete from Horowitz and The Rosehips just gave me the heads up about the new band he is involved with! It is called The Science of Words and it is actually a duo, joining him is Corinne who was in Jack in the Green, a band that I actually interviewed in the past. It is not strictly indiepop, but it is poppy enough for me to recommend it on the blog. There are three songs so far on their Bandcamp, "In a Space", "Léa" and "Instrumental X".
Shiny Times: I recommended this solo project by Kim Weldin, from the South Caroline band Tape Waves, last July when I discovered her CD release of the "Secret Memos" album. Today I found a new song by her, released digitally on Bandcamp on January 24th titled "Keep Passing Through". Maybe this is just a promo single for a bigger release? I hope so! If you are into lo-fi bedroom pop, this is definitely up your alley.
The Waterfalls: I got an email the other day by a Japanese fan introducing me to this Tokyo band. They shared with me their EP as well as this live video of the band playing the songs "Fall" and "Youthlight". I wasn't given a Bandcamp or a Facebook page, but I was told that if I like My Bloody Valentine, Ride, Slowdive or The Pains of Being of Pure at Heart I was going to love their music.
Sushi Backpack: lastly this lo-fi indiepop project by Chicago based band formed by Ben Austin on guitars, Gooey Fame on drums, Nikki Geslani on bass and Jen Lee on keyboards. I was incredibly surprised when I heard the opening song of their "Sour" EP available on the February Records Bandcamp. Titled "Apokalypse" it sounds like it was a lost recording by Die Fünf Freunde!! Wow. Really. Great. The other four songs are "II", "Grapefruit" which is terrific, "Untitled" and "Saku", which sounds a bit like Tullycraft. An interesting mix of influences, and I definitely look forward to hearing more by them.
———————————————–
The last few posts have been about bands that are way too obscure, with only one known song released. My detective work has been difficult, with no many important details to learn, hitting a wall, every path I take is a dead end. These posts might be the only articles ever written on the web about them. But the hope stays the same. Maybe, just maybe, someone will comment, someone who remembers them, or even better someone who had been in the band.
Today I will continue with this trend, with a band that we know released not one, but two songs. It is perhaps some progress. I don't know. But I do want to find out more information about this band. I would also love to get a copy of their one and only 7″ at a fair price. Maybe someday, but in the meantime, I hope writing about The Noble Kind will bring to light their story, that someone somewhere would like to tell me about them.
My knowledge about The Noble Kind is very limited. The band released one 7″ back in 1986, year 0 for many of us. It was most probably a self-release. There is no label listed according to Discogs but it did have a catalog number, TNK 1. There were two songs on it, one on each side. On the A side you can listen to "Back in the Race", and on the flip, "Where's Christopher".
Of course, I haven't been able to listen to both songs. As I said what I know is very little. I have heard only the A side, "Back in the Race". It is a superb song, that sort of mix of new wave meets indiepop that was not unusual from that time period.
We see the light blue sleeve, with an ink illustration of the band as well as some interesting font choices for the typography. Some gothic style letters for the title and sort of cursive hand-written ones for the names of the songs. Sadly no one has uploaded the back of the sleeve. Maybe there is more information about them there. I could find out too that aside from the light blue sleeve, it seems there are copies that had a white sleeve with the same art.
Where were they from? It is safe to assume that they were British. But what else? There is no other information about them on the web. If I do a thorough search I find that an indie-folk band with that name exists today based in Rochester, NY. Not the same band. Not at all.
I believe I first heard their name from a tentative list of bands the guys behind the Sound of Leamington Spa put together and wanted to include in these compilations. They were asking for contact details. I guess they were in the same spot as me.
But maybe, because I know this blog has readers all over the UK, maybe someone remembers them?
::::::::::::::::::::::::::::::::::::::::::::::::::::::::::::::::::::::::::::::::::::::::::::::