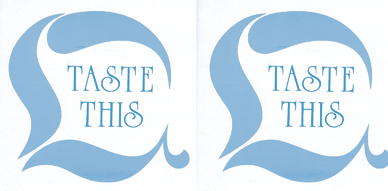 At last a quiet Sunday. It's sunny outside, the day looks great from my window, but today I'm staying in. I have lots of work to do, and there's football to watch. But before I start with these very important tasks, and, while I'm waiting for lunch to arrive, I thought ripping some vinyl. It's been a while since I got to recommend a very obscure band on the blog. While I'm waiting for my ham-pepperoni-chicken-onion pizza, to taste it, to have a bite, let me introduce you to Taste This.
I feel this is as obscure as it can get. If you search on google, shows up that Da Capo store in Netherlands used to carry it. And that's all. On top of that, there's barely any information on the sleeve. The front cover says the name of the band, the back cover has the track names. And that's it. A side being "Sweet Refrain" and B side being "Right Mood". On the 7″ labels there's a bit more of information. It says Made in Australia.  So that's a start. The label is called Formula, but finding information about it, seems impossible as well. Two other details, the producer of this single is Larry Ponting and the engineer is Tim Ryan. Do these names ring a bell to you?
There's no information about band members or even when was this single released. By the sound of the band I'd say late 80s, as it reminds me a lot to bands like The Crystal Set or The Benedicts. But then that is a wild guess. Both songs are really nice pieces of jangle pop. I had a hard time choosing which song to share with you as both are quite distinctive. "Sweet Refrain" is a slower guitar pop song, much in the vein of Perth fabulous Stolen Picassos. "Right Mood" is much more upbeat on the other hand, like an epic version of These Future Kings. Don't know how hard it is to track this record. I found it on ebay for 5 bucks a couple of months ago, so I'm guessing it wouldn't be hard for you. Anyways, have a listen! And if you happen to know anything else about this very mysterious band, please give me a shout!
PS. We need that Australian obscure 80s pop compilation soon!
::::::::::::::::::::::::::::::::::::::::::::::::::::::::::::::::::::::::::::::::::::::::::::::
Listen
Taste This – Right Mood