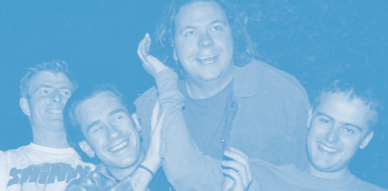 Thanks so much to Geoff Suggett for the great interview! It's brilliant to at last know more about The Lavender Faction!
++ Hi Geoff! Thanks for the interview! So let's start from the beginning, you were first involved with Bulldozer Clarts right? Was that your first band? And then you left and started the Lavender Faction? Why did you take this decision?
Well actually The Lavender Faction was the third band after "XeX" and Eating Crow.
XeX were post punk and sort of a bit like early Cure and Joy Division recorded demo's for EMI whose A&R rep Tony O'Conner was trying at the time to sign an unknown Manchester band called" The Smiths", the history of The Smiths is well documented, XeX were promptly dropped like a hot turd. On the upside though I got to hear The Smiths before they signed to Rough Trade, "bonus".
Bulldozer Clarts was a side project (to the already up and running Lavender Faction) that me and Stephen ( of This Almighty Pop!) started, he had a four track portastudio and as I was into the DIY ethic and decided to record some stuff together, I think we only recorded one song ("She Walked Away"). I still love that version of "She Walked Away" that we did on the four track.after that steve moved up a notch and got Mark in the band i was kicked out and resigned to being a lavy for the rest of the 80's +early 90's.
++ How did The Lavender Faction come together? Who were the bandmembers and how was the recruiting process?

Me and Rick were in a band called Eating crow who were a sort of Orange juice meets Echo and the Bunnymen with a bit of the Fall thrown in for good measure, we did some half decent tunes and once at a gig in Coventry were introduced to Roddy Radiation and Linval from the Specials they took us to a nightclub where we were told to fuck off by the doormen,and everyone went home, so close to fame yet so far away again, "ah well"!
After our brush with infamy rick and me left the band and formed the Lavender Faction who were: Andy Lee (drums), Marc Patterson (bass), Rick (guitars + voc), Geoff suggett (guitars + voc). Marc Patterson left to work as a journalist he was replaced by Richard miyers (bass)
The recruiting process:
As far as I can remember Rick knocked at my door one night and said "I'm leaving the band (Eating Crow) to form a band (The Lavender Faction) I want you to come and play guitar in the band and sing and write with me, that was just what i wanted so now i was in another band, we telephoned our friend Andy who had never been in a band but was a good drummer so now he was in the band, then we contacted a bass player we all knew called Jeff Macallum who also joined the band he was not punctual for rehearsals so he was out of the band I was friends with Marc Patterson he was a great bass player and joined the band.
++ Where does the name The Lavender Faction comes from?
The name comes from the idea that if we had something with a softer feel as in Lavender and something more edgy like faction and put together it seemed to create the feel we wanted to come through our music.
We were originally called The Angel Asylum we played our first gig under this name and then deemed it to be a bit heavy metal so The Lavender Faction it was.
++ Your first single, "Ride",  is said to have influenced some guys to later name their band "Ride"! Do you know how true or false is this rumour?
This is a falsehood perpetrated by an unscrupulous type for the benefit of self promotion, namely me, after a serious acid session at Stephen Maughan's bedsit, "what a night that was man"! I was telling Steve about my trip that had somehow traveled through Oxford where I met four guys who had a band and after watching our gig and buying a copy of the single decided to call their band Ride, well Steve was still on the comedown from the acid and believed the story to be true and wrote it up for the fanzine.
++ This single, as well as the other ones, were released on Lust Recordings, the new project of Stephen Woosh. Were you a usual at his Woosh club? How did you end up being signing to his new label?
To be honest at the time I wasn't aware of the Woosh club ,only the fanzine which was always on sale in my favourite record shop "volume records" in Newcastle and other indie record shops in the city . I never even bought a copy. Then by chance I met Stephen (This Almighty Pop!) who told Steve Woosh about us and sent him a demo tape, Steve liked the songs and came to one of our gigs in Newcastle ,that night he asked us if we would like to release the first single on his new "Lust label" and shortly after that Woosh club became Lust club to which we became regulars whether it was playing gigs at the club or going to see other bands like Feral, The Keatons, The Sunflowers, St James Infirmary and getting off our face, the venue was the legendary but sadly no more Broken Doll .
++ He seems to have disappeared from the face of Earth, do you know where on Earth is he? Any anecdotes you can share about him or the Newcastle scene in general, like who were those people that were always at gigs? Or like the biggest Lavender Faction fans?
I haven't seen Steve for about 4 years, it was at a Penetration (70's punk band) gig out of town but we chatted for a good while about what we were both up too, he hasn't changed much , still a snappy dresser in his white denim jacket and hoopy T-shirt although like me he is a little folically challenged these days but at least the mop top has gone or he would have resembled a Trappist monk, I think he said he was living with his partner, the girl from out of the Sunflowers and they have a child or children, and he works as a full time guitar tech, touring, ect, with major acts although I know he used to roady for My Bloody Valentine. I don't know if he toured with them when they recently reformed .
++ What about the city in general, do you still live there? If so, has it changed a lot? What were the best venues back in the day for pop music?
Actually none of the band were from Newcastle, we all live about twenty miles south nearer to Durham city but we nearly always went to Newcastle to see bands or buy records, its still a great place for music, art, food etc, there is still a great scene but the venues have all changed, we had The Riverside which got most of the best acts its now a shit rave club, then there was the Mayfair suite, The Broken Doll, the Dog and parrot, The Bunker in Sunderland, etc etc, now there's "Head of Steam" the Cluny or the Other rooms, not much else really.
++ The sound of the Lavender Faction is a mix of indiepop and shoegaze, what were you listening at that time?
When the band started I would think it was bands like The Wedding Present, The Marychain, Sonic Youth, Public Enemy, M.B.V, Buffalo Tom, Mazzy Star, Pixies, House of Love, Dinosaur Jr, Band of Suzans, Cocteau Twins, Loop, Wire , The Fall, Yellow, Del la soul, Stone Roses, Nwa, Nirvana, Babes in Toyland , Blue Nile , Neil Young , Bob Mould, Grant Heart, Throwing Muses, Spacemen 3, Husker Du, The Sundays, R.E.M, Ride, The Pale Saints, Primal Scream, Red House Painters, Lush , The Edsel Auctioneer, Drive, Swervedriver, Teenage Fanclub, Julian Cope, The Woodentops, St Etienne, Blue Aeroplanes, Chapterhouse , Slowdive, Leatherface, Midway Still, Mercury Rev, Flaming Lips , Spiritualized , The Field Mice, The Pooh Sticks, Stereolab , Curve, Felt,  Sugar, the Lemonheads, Ministry,  Juliana Hatfield, PJ Harvey, Pavement, Belly ,etc, etc, etc, etc.
I think that about covers a lot of it .
++ Your last single was the "Four Riffs for Joe" 12″. What are those four riffs and who is Joe?
Really the "Four Riffs" are the four songs on the 12″ and Joe was Joe Girvan our roady, Rick wanted to call it this as a thank you for Joe's help while we were on tour with" The Wedding Present" so that was how that came about. .
++ What are your memories of recording all these records? I bet there were also many songs that were left unreleased, will there be any sort of retrospective album some day?
My memories of the recording sessions are mixed ,it was always a laugh and a pain in the arse at the same time.
Although we saw the band as a bit of a democracy the final decisions always came down to me and Rick but many an argument would arise over levels of one instrument or another but in general it was good times and hearing something that was self produced played on John Peel was the best feeling in the world. As far as the band having more material there were a few tracks that never made vinyl but nothing I can remember being outstanding and I don't own any masters if there actually is one, I haven't spoken to the other guys in the band for a while but Rick and Andy work together they might be planning a comeback for all i know but don't hold your breath. No there aren't any plans for a retrospective .
++ You also released a couple of flexis, the one with Stephen Maughan's This Almighty Pop Fanzine that included the track Harbour Me, but there is another flexi that is not very well known, one shared with St. James Infirmary. That one had the song "Take Down the Walls". Care to tell me a bit more about it?
Yeah! The original "Take Down the Walls" was a lot more melodic and we had recorded the tune at one session or another but rick decided he wanted to change the music and made it a lot harder sounding , we used the original lyrics with the new music and the magazine "Paint it Red" which was a free "What's On" mag for the Newcastle arts scene asked Stephen Lust to provide tracks from bands on the label to go on a Flexi to be given away free with the mag, they did a spread on us and we were on the cover, I think I've got a couple tucked away in the attic, funny enough it was one of our favourite recordings by the band although i still prefer the original tune, its on one of our early demos.
++ Did you gig a lot with the band? Any gigs you remember the most?
We toured all over the UK and supported some great bands ,The Wedding Present, Buffalo Tom, Swervedriver, Carter USM , but the best gig of all had to be Liverpool Uni. We were supporting the Wedding Present and they said we could go second on the bill for that gig much to the disgust of the solo acoustic performer and vocalist and bass player in the Chameleons Mark Burgess. He didn't speak to us after that but we went down a storm with the crowd great memories.
++ Why did you call it a day? What did you all do after?
The Lavender Faction 'as most bands of the time before the internet' had to rely on the press (Sounds , N.M.E and Melody Maker) radio airplay, fanzines, and you had to be prepared to gig constantly Rick unfortunately had no stomach for this and decided to call it a day .
Andy and me decided to move on and we formed Montana Hood who released one single.
++ Are you still making music nowadays? What other hobbies does Geoff Suggett has?
I still record stuff at home on my 16 track, and recently got Together with my old friend Stephen Maughan and reformed Kosmonaut for one gig to support White Town in Newcastle . Steve has kindly offered to release a track of my solo stuff "Neon Man" with a future release of his fanzine.
I snowboard when I can ,I walk a lot in the lake district and still get out to see the odd band or two when I can, oh and Ive recently taken up oil painting .
++ Thanks again, anything else you'd like to add?
Yeah! I would like to take this chance to say thanks to anyone who was a fan of the Lavender Faction , Thanks to you Roque for your interest in the band and especially thanks to Stephen Maughan who's good friendship gave us the chance to do what we did .
ps. keep off the Acid Steve.
::::::::::::::::::::::::::::::::::::::::::::::::::::::::::::::::::::::::::::::::::::::::::::::
Listen
The Lavender Faction – Ride