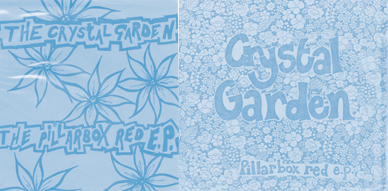 So, everyone is starting their year end lists?
I have such a mix up with what came out this year. I think 2014 has been a year when I've bought less stuff actually released within the present year. I wonder if I've missed anything.
I have though, looking at some notes, forgotten a couple of blog posts I planned doing. One is a record review and another is a celebration of a person/band. I will get around to them in the next few weeks. There's also an interview I want to ask to a band that recently released a retrospective on Jigsaw Records. Aside from that, blog-wise, I think I'm up to date. It might be the most prolific year for the blog too.
Label-wise, looking into sending to press this week the Shine! record. Hopefully I hear back from the pressing plant today. I hope this album becomes a favourite of many. It is really special for me to release it as I've loved many of these songs for many years now. And the "unreleased" ones, are as good as the "known" ones. It's a cracker.
The other projects that are still haunting me day and night are those of the 10-year anniversary party and that of the book compiling interviews and articles of the blog. The first one I still don't know where to begin, while the second one requires a lot of time. Perhaps after releasing the records that are promised I will get into this.
There's also another idea as it seems there won't be Leamington Spa anymore. At least I would love to get back in the project of the obscure compilation for Australian bands from late 80s, early 90s. Will have to look into this in the next few months. Perhaps another sister label could be an idea for me to explore these sort of compilations.
I often wonder though, what kind of releases are indiepop fans looking forward? Which bands would you like to be released? Which ones to be rediscovered and re-released? If you have any ideas or dreams and I can help in any way let me know.
Next year is around the corner. I hope that at last I can release my fanzine. Will probably have to scrap some of the bands that took forever to reply or submit their songs, and look into some that are more energized and willing to be part. Then release the 7″s and the CDs I've been talking for what it seems ages now. I know, Cloudberry has been quiet as of late, but believe me, there will be some noise pretty soon!
——————————————-
Seems "The Crystal Garden" is a popular name for many businesses around the world. I know I reviewed them many years ago in my previous blog but never found out anything about this band that once upon a time, in 1991, released a flexi.
Crystal Garden, without the "The", were British. Well, that's a given. My detective work this time is limited by the few hits on Google. For anyone out there interested this flexi is not very difficult to find. Or expensive. Actually you can stream the three songs online too.  But who were the members, where do they come from, or what happened to them after, or even before, the band, are questions that will keep me awake.
According to Discogs there's also a 7″ version for the record. I certainly doubt it. I've never heard or seen a 7″ vinyl copy, just the 7″ flexi. What we do know is that the EP was called "Pillarbox Red EP" and was obviously released on Pillarbox Red (catalog POST 1). It was actually a co-release, there's another label credited, Lovely Records (LOFA 004).
I have a couple of theories about this. Crystal Garden run Pillarbox Red. Perhaps. But seems a bit doubtful as there are no other Crystal Garden releases later on the label. It's the same label that released Southville and Musical Chairs (bands that deserve an obscure post on the blog definitely) or even more obscure bands on compilations like "The Croxley Green", "The Open Window" or "Huggy's Ice Cools".
Lovely Records in the other hand has much more familiar names in their flexi roster. We find Home and Abroad, The Rileys, The Becketts, The Cudgels and even White Town.
Another curiosity about this flexi by the Crystal Garden is that there are different versions of the fold-out picture sleeve.
The three songs included in very lo-fi quality are "Sunshine Girl", "Clean" and "Icing on the Rainbow."
Two years later, in 1993, we hear again from the band. This time contributing a song to a 7″ compilation released by Waaaaah!. This one, catalog BULL 7-0, also included  the legendary The Orchids (with the legendary "Striving for the Lazy Perfection") and Bouquet (with "The Warmest Glow"). The song the Crystal Garden appears with is "Heaven's Kiss".
On the Waaaah! website there's no info about the band. Just a line asking that any info would be appreciated.
Well, I'll say the exact same. Any info about the Crystal Garden, will be greatly appreciated!
::::::::::::::::::::::::::::::::::::::::::::::::::::::::::::::::::::::::::::::::::::::::::::::