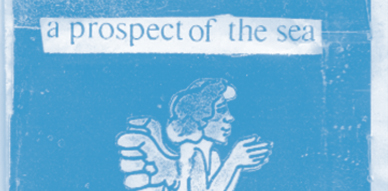 I have so many mixed feelings after coming back from Indietracks. I had a good time as I always do. There's no better place for indiepop. That's a given. I get to see all my friends and spend with them so much time in the beautiful Midland Railway Centre. We get to drink warm beers, sometimes with ice on it, and sit for hours in the stationary train next to the shed. We have greasy hamburgers from the immortal lady or badly wrapped burritos, or even curry from our friend Brian and Heather. And we eat dust to wake up with our noses full of black matter. All in all, it's a good time, isn't it?
The problem is the music, that's the only problem. Everything else is just plain perfect. You know, as I said lines above, I can put up with having to drink warm cans of beer even though it doesn't refresh you at all in a hot summer day. I can put up with kids playing football and creating a whole dust storm to everyone that is trying to enjoy The Popguns. Even dancing in the marquee among another dust storm I can take it. That the festival has to stop at midnight and can't continue unless you have to pay 5 pounds to get into the beautiful campsite, well that's ok too of course. But having 6 to 7 good bands out of 50 or something, is a bit too much. That's why I've decided to take a break.
Yes, a lot of people at the festival were telling me that of course they'll see me next year, that I'm just talking like this now but I'll change my mind. And hey, believe me I wish they were right. I actually feel like going. But it's way too expensive to fly in the summer to the UK and get to a festival were all my expenses don't make it worth it. I remember years were I barely had any time to talk to friends, that I had to run from stage to stage not to miss a band. Years were I collected 10 or more setlists from bands compared to the meager 5 from this year. Of course it's pretty nice to have extra time to spend walking around, catching up, being at the merch tables promoting the label, but I didn't travel this far to not see some exciting new bands. Right?
As I said it's a bit of a catch 22 this year's Indietracks. I have a blast, I love being there, but I feel this is not the same festival I used to go. Even I took less photos this year. I bought less records too. I did enjoy a lot going back to the Alfreton Travelodge, definitely the hotel to be for me. Great conversations late at night, great friends to go out for breakfast in the morning too. And the Tesco being close by is perfect. Or Matloob procuring beers from the convenience store at the gas station from his Punjabi friend late at night. Those sort of things are what make me feel like I can't miss my sixth Indietracks next year. But I think it all comes dome to priorities and seeing I was perhaps the only person from the US there this year (right?), I think I'm a bit nuts to keep going when only got to see 3 or 4 bands I've never seen before. That's way too little. Especially when the UK still produces a lot of quality indiepop.
I've been previously critical of Indietracks about the bands they've been booking. I'm not blind and I did see less people in the crowd this year. Of course these sort of things go in cycles. Probably next year it will be packed, who knows. This year may have been a bit of a transition period, with some members of the organization leaving. Could be. I'm not going to judge that, they know best if that was the case. I did ask one of the organizers why was Gruff Rhys booked. The answer was "because I love him, he is great". Yeah well, I was looking for another kind of answer. I guess that motto "an indiepop festival" is a bit forgotten.
I sent interview questions to team Indietracks before the festival. Sadly I didn't get answers for them. I asked many questions that would have cleared up many of the doubts I had for this year organization.
All I'm saying is, and I don't want to get deeper on this topic because there's a lot of people that get very susceptible to any criticism is that Indietracks is the best festival for indiepop. The atmosphere is fantastic, the food options every year get better (though still no sign of the roast pork), and all the friends that come make up for a fabulous time. But the bands, come on. This was a festival that used to showcase small and up and coming bands back in the day. It celebrated a scene. It introduced me to so many new bands and also let me get to catch bands that would never cross the Atlantic. It was special what the organizers did, even bringing back classic bands like Friends or the McTells back to life. Where did all that energy, ideas, hope and good taste go? I don't know.
Next week I'll go over the festival, the anecdotes, and the bands I loved. I just wanted to explain why I've been saying why I won't go next year. If it was a 100-200 dollar flight, as it it's from many places in Europe, I would definitely repeat. But 1300 dollars flight, to get to see 6 or 7 indiepop bands, 3 or 4 I've never seen before, well, it doesn't make any sense. I'll be jealous of everyone going next year because it's impossible not to have a good time, even if the quality keeps going down. Anyways, see you next week!
—————————————————
This week's obscure band comes from a tape called "A Prospect of the Sea". I heard about this band from Heinz's Youtube channel. It seems this happens often. Heinz has a fantastic collection and top taste. Heinz, you should organize Hamburg Popfest!
The band was called Kindergarten. The song I heard was Jellybelly. This song was the 8th on the B-side of this tape that was released in 1991. The label seems to be Cloud Production, the catalog number was "Smile 3". Question for everyone out there reading. What was Smile 1 and 2? Was there a number 4?
There was also another song included by Kindergarten in this tape. On the A side, track number 14 is "Everything You Do". I haven't had the chance to listen to this one but if it's anything like "Jellybelly", well, I will like it!
The song is a classic slice of 80s indiepop, in the vein of The Fat Tulips or The Penny Candles, though the sound is much rougher, like of a very flimsy flexi single. Could be the quality of the tape too. It does sound like taken from a demo tape. Boy/Girl vocals, catchy choruses, and nice jangly guitars. It reminds me a lot of another band I've featured here. Heaven's Above. It's no surprise then that they also appear on this tape.
Yes, it's a tape done with a lot of good taste. In it you can find bands like The Suncharms, The Lovelies, They Go Boom!!, Dreamscape, Saturn V, The Sweetest Ache, White Town and more. Even Heavenly is in it! Pretty classic lineup!
But there are a couple of obscure bands too like this one. For example I have no clue about Gyroscopes, Poem by Rachel, Howard, Cradleyard, Huckleberry Pie or Spectral Alice. Seems I should investigate!
But now, let's try to find answers and more information about Kindergarten. Who can help?!
::::::::::::::::::::::::::::::::::::::::::::::::::::::::::::::::::::::::::::::::::::::::::::::
Listen
Kindergarten – Jellybelly