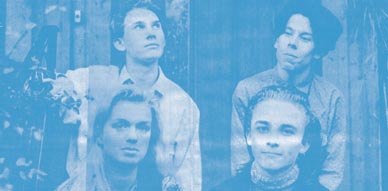 Some time ago I wrote a small piece about an obscure 80s Swedish band from Karlstad called Victorian Tin. Happily Christian Gustafsson from the band got in touch not so long ago and was kind enough to do this interview and that way tell us more about Victorian Tin and learn their story! He shared with me 27 (!) Victorian Tin songs, and plenty of them are real jangle gems. Wonder why they only released one tape during their time. For those who understand Swedish here is a newspaper clipping that you might enjoy as well. And now, sit back, read, and enjoy!
++ Hi Christian! First of all thanks for getting in touch! Whereabouts in Sweden are you? Still in Karlstad? And are you still making music?
After a year studying, in Stockholm, I moved back to Karlstad and have lived here since. I still make music but not as much as I used to. I'm involved in my friend's band The Wonder Boys. Event hough I'm not a real member of the group I write quite a lot of music for them. Both songs I really like myself, but also songs "on demand" that I imagine the singer David would like. But occasionally I manage to write songs that neither of us like 😉
Erik (the voice of Victorian Tin) has moved many times and we don't see each other that often any more. The last time he moved back to Karlstad, we formed ephemeron. Then he moved again and we meet maybe once a year. At the moment we have just started working on a new fantastic ephemeron song called "And the story goes". I really love that song even though it's not finished yet.
++ So tell me about Victorian Tin? Was it just you by yourself? And had you been involved in bands before?
I was in a band with my cousin, called Recidius Catonium. We played quite dark and gloomy stuff influenced by The Sisters Of Mercy, Clan of Xymox etc. One day I wrote a song that was very different. Too different to be a Recidius Catonium song. I thought about recording it myself, but as I can't sing I asked my friend Erik (who I knew had started writing songs and played guitar) if he would help me out with it. He wrote the lyrics and sang on the song that we called "1986" (I think we recorded it in 1989). We thought the song was so good that we decided to start a band together. And that was the birth of "Scapegoat Palace". We wrote and recorded new songs practically everyday in the year to come. Sometime later we wrote a song called Septemberia, and we asked a friend of Eriks, named Lina, to sing backing vocals. Again we thought we had moved to something new that deserved a new bandname. So we asked Lina to join us as a member and we renamed "Scapegoat Palace" to "Victorian Tin". We dreamed about playing live and recruited a guitarist in Ola Frödin. Ola wrote the song "In my rainy weather" for us, but left the band quite soon. Eriks friend Johan Skugge then joined us instead and was with us until the breakup.
++ Was Victorian Tin a bedroom band? Did you ever play live?
We were indeed a bedroom band. Writing, playing and recording everything in my bedroom on my 4-track cassette porta studio. Unfortunately we never managed to play live.
++ Where does the name Victorian Tin comes from?
In the end of the eighties, one of my favourite bands were "All About Eve". In the song "December", Julianne sings "-There's a victorian tin, I keep my memories in". I thought it sounded like a good bandname. (Maybe I was wrong… 😉
++ And what would you say were the main influences of the band?
Hard to tell… But I remember we listened to "The Church", "Cocteau Twins", New Order and "All About Eve" a lot.
++ You only released that one tape on Everlasting Records. How did this deal happened? Did you ever meet them in England?
We all were music-addicts in those days, and found an English mailorder company where we ordered records from, not available in Sweden. In one of their catalogues they said they were starting a recordlabel and wanted new bands. We sent them a couple of songs which they liked and they asked us to send them our favourite songs for them to release on cassette.
We never met them, or talked to them. All conversation was by mail.
++ You were telling me there's a very funny story behind this tape? Care telling it? 🙂
They asked us to compile our favourite songs for the cassette release and I think we sent them 10 songs. Snow violet heaven, Septemberia, Kitten song etc. We sent the tape in a letter and the post took nearly two weeks to arrive in England in those days. During the wait for the cassette to arrive we made them another tape with some other songs we thought they should hear. After a while we received a letter from them asking where the cassette was. A couple of days later we received another letter saying, "nevermind the last letter, the cassette has arrived now". We waited for some very long weeks until the pressed cassette with cover arrived in our mailbox from Everlasting. We opened the package and realized that they had pressed the wrong cassette!!! It was the second cassette with "the rest of the songs we wanted them to hear" that had been pressed and released!!! The right cassette with our favourite songs, Snow violet heaven etc must have disappeared in the mail somewhere between Sweden and England! They didn't know that we had sent them two cassettes, so of course, when the second cassette arrived, they thought it was the one we wanted to release. We were devastated. Imagine that your band was finally going to release something on a real recordlabel, and then the wrong songs is released. It took quite some time for us to get over that.
++ And from the 7 songs included on the tape, which would be your favourite? And why?
Silvery mouths, no doubt. We have been talking about re-recording our favourite Scapegoat Palace/Victorian Tin songs and Silvery Mouths is one of the songs that both myself and Erik like very much. I love the long intro (even though my "mandoline" playing is horrible), the melody, and the stolen drumbeat from The Cures fantastic song "Sinking".
++ Mine is "The Days of Youth". Mind telling the story behind this song?
I honestly don't know much about it.  It's all Eriks song, but I know that he wrote it in 1987 when he was "Exchange student" in Georgia, USA. My guess it's about loneliness, far away from home, but I have to ask Erik before you quote me on that.
++ And are there any more songs from Victorian Tin that weren't included on this tape? And did you ever participated on compilations or this tape is really your full discography?
There are lots of songs that's not on the tape. Many, in my opinion better songs. Snow violet heaven that I mentioned before, Valentine Voices is a favourite, Kitten song, The Inconvenient Season and Salient which is a strange song that I like anyway. We wanted to make a song like Simple Minds would have done on "New Gold Dream", but even though we failed that task, it ended up in a strange but interesting song I think.
++ When and why did you decide it was time to call it quits with Victorian Tin?
I'm not sure, but I think it was 1993. We grew apart musically. Erik and the "new" guitarist Johan started writing songs together and to be honest, I didn't like them all that much so I quit. Typically enough, Everlasting was preparing a new cd compilation and wanted Victorian Tin to contribute to. But Erik & Johan formed a new band called "Phone a fish" and contributed with a song called "Sex". I Formed a new band called "Emelies Garden" and contributed with the song "The shore". But I don't think the compilation cd was finished before Everlasting too called the quits.
++ After this band you were involved in many different bands. If you can, can you name each one of them and give a little description of them?
–Searching For Beatrice. A band which we had parallel with Victorian Tin. It was Erik on voice and guitar, myself on bass & drumprogramming and our friend Stefan on keyboards. A more synth oriented sound influenced by New Order, Depeche Mode, Clan of Xymox etc. We are still close friends, the three of us, and meet once in a while to record new songs.
–Emelies Garden. My first band after Victorian Tin. Myself on guitar, various female vocalists, Olof Hertting on bass, and Åsa Lundgren on keyboards. I wanted us to sound like All About Eve…We failed, but I still like the songs "The shore" and "This Summer Place".
–Attic Drive/Springlee. When we recorded the Emelies Garden song "This summer place", Olofs friend Carl helped us with guitar. After Emelies Garden I joined Carl in forming the band Attic Drive together with drummer Jakob and guitarist Mikael. This was the first band I played live with. 1996 I changed from bass to guitar. We got a new bassplayer named Ulf and the old guitarist quit. We changed name to "Springlee" and did a couple of gigs. We were big fans of guitarbased music like Suede, Pulp, Popsicle.
–Recidius Catonium. My cousin Anders and myself played music influenced på The Sisters Of Mercy, New Order, Fields Of The Nephilim, Clan Of Xymox among others. Anders was with us in Emelies Garden for a while, while Olof was abroad for a couple of months.
–Baren Med Vin & Josefin. I was in love with a girl called Hanna and wrote her a song which I gave her on a cassette. The song was dark, slow and in my opinion quite beautiful. The night after I gave her the tape, I had a dream that her father had listened to the song and thought it was "too fucking depressive". So when I woke up I wrote her a new happy song on my mandolin instead. I played the song for my cousin Anders who wrote some crazy lyrics to it about a cowboy who lost his leg in a war. We decided it was time to start a band. We asked my friend from school Henric to join on guitar, Olof (from Emelies Garden) on bass, Anders on vocals, myself on mandolin. Later on David (The Wonder Boys) joined on saxophone, Åsa Lundgren (Emelies Garden) played Trombone, Åsa Bjureus (who had made the Victorian Tin logo on the cassette) played the flute. Mine and Henrics friend from school, Patrik Strand joined us on bass for the very last gig (when Olof once again was abroad). We were influenced by Irish folk music and especially The Pogues and Swedish versions like Persons Pack and Traste Lindens Kvintett. It was a lot of fun…but we were not good in any way. We did sound terrible! 😀
–Popetree. Erik and Stefan from Searching For Beatrice moved from Karlstad to Gothenburg and started a new band called Popetree. They had a drummer named Bengt and a bassplayer I don't know the name of. The bassplayer left and they phoned me asking if I could play bass for a couple of gigs. We played a gig in Gothenburg (which was filmed) and one gig in Karlstad. We also recorded 4 songs in a studio in Gothenburg.
– In Losters Blue. Anders & myself played keyboard and my girlfriend of the time being, Karin sang on a couple of songs under the name In Losters Blue. The only band I've played in that only used keyboards.
–The Wonder Boys. David from Baren Med Vin & Josefin started a band together with another guy named Christian (Kastén in lastname) when he moved to Lund in the south of Sweden. They played mostly on acoustic guitars and David also played saxophone. When David was turning 30 I recorded an instrumental version of one of their songs called "Bad Luck Charm", with drums and heavy guitarsound. David liked the version, recorded vocals on it and from that day I have written quite a lot of songs for them. Listen to "A Gift I Never Had", "If We Get Through This", "A Bat In The House (featuring my wife on backingvocals!), and "The Girl From Tory Story" from http://www.thewonderboys.se. Songs I wrote the music to which I really like.
Well that's all I think…
++ Seems there was an interview with you on a zine called "Billig Underhållning". Do you remember anything about that? And how do you remember the Swedish scene during those years? Were there any other bands or at least like-minded fans of jangle pop?
There was a guy in Stockholm writing a blog, and like yourself he had heard "The Days Of Youth" and liked it. He did a short interview for a fanzine, but I don't think it was ever released. There was a very good band from Karlstad in the end of the eighties called "All That Jazz". The backing vocalist Mari sang on the recording of the Emelies Garden song "The Shore" meant for the Everlasting compilation. We liked them very much but apart from them I can't remember any other band from Karlstad influenced by "English-guitarpop-music".
++ Also I wonder, was there no interest of other labels to release your songs? I find it very strange that there are no more releases!
We sent our demo to both Swedish and English record labels but apart from Everlasting, no one was interested. Our dream was to be signed by 4AD. We were huge fans of many of their bands, Cocteau Twins, Clan Of Xymox, This Mortal Coil etc. They also had very good taste in artwork, that we liked. But sadly, they were not interested in our music.
++ And when you are not making music, what other hobbies do you have?
As a family-father the time for hobbies is quite minimal nowadays, but one thing I can practice is photography. I love taking pictures.
++ One last question, tell me about Karlstad! What are your favourite spots there? To sightsee, to eat, to drink? Even to record shop?!
Karlstad is a small town with a population of 90 000. The river Klarälven flows through the city and I think it's a quite beautiful and nice town. Favourite spots…hmm…I love walking by the river in summertime. You can eat good food in "Munken", the restaurant is quite beautiful as well. The building was built in 1700 century, with valves and was back then some kind of tomb/grave (I don't know how to explain in English). There was a cemetery nearby back then, and the building that nowadays is a restaurant was used for storing coffins. A nice place to sit and eat, don´t you think? 😉 The days of record shopping is sadly over in Karlstad. In the eighties and nineties we had a great record store called "Riff Raff". Much independent music and rare bootlegs. They were even a recordlabel and released their own band "Hollywood Indians". One of my first jobs was at Åhléns record store, by the way!
++ Thanks again a lot! Anything else you'd like to add?
Now it's time for you to tell your story, and let me know when and how you found out about Victorian Tin! And thank you very much for showing interest in our music! 😀
::::::::::::::::::::::::::::::::::::::::::::::::::::::::::::::::::::::::::::::::::::::::::::::