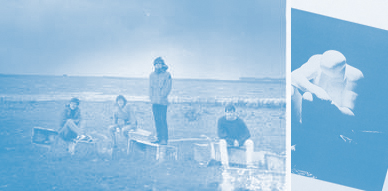 Thanks so much to Stephen Lawson for the interview! I wrote about Blue Nose B before in the blog and he was kind enough to get in touch and tell me the whole story behind his band! I really loved their song "My Diary" after I discovered the band through the connection with Waving at Trains. And I was wondering how come Blue Nose B wasn't more known! Happily here Stephen gives a better perspective of the band and the period.
++ Hi Stephen! Thanks a lot for being up for this interview. First things first, is it Bluenose B or Blue Nose B?
It's Blue Nose B. It's different on many of our records mainly because we were very drunk for most of our early years.
++ You were telling me that Blue Nose B is mainly you, but what would you say was the classic lineup for the band? How did you know each other? And when did the band start?
The classic line up was David Billows (vocals), John Briody (guitar), Michael Lawson (drums) and myself. David Billows is my cousin, Michael my older brother and John was one of my best friends from school.
++ You named the band after being fans of Everton FC, is that right? Do you go to the games? What would be your best Everton FC memory by the way?
People think we were named after Everton fans but we were actually named after the lines of men waiting to collect their unemployment benefit. They stood in the cold with their bluenoses. They were very political times. We were all Liverpool FC fans and the best game was the 1981 Liverpool v Real Madrid champions league final at Parc Des Princes in Paris. We won the game 1 0.
++ You were formed in Liverpool. Those early 80s in Liverpool must have been exciting, lots of great bands. Did you like that period in time? What were your favourite bands and why?
They were the best times. They were so exciting. We used to drink with Echo and the Bunnymen, Teardrop Explodes, The Mighty Wah and China Crisis. It was the most vibrant of times. My favourite band was Echo and the Bunnymen. They were perfect. Ian McCulloch was brilliantly moody and Will Sergeant on guitar was stunning.
++ Though I read that you come exactly from Aintree, is that right? How is that town?
David Billows came from Aintree, Michael, John and myself came from Seaforth. A seaside town on the edge of Liverpool. Lots of poverty, lots of laughter, lots of music. "In Liverpool we sing". Singing and laughing were are antidotes to poverty. Wish I could go back.
++ And how would you say Liverpool influenced your music? How was the city back then? What were your favourite places, your favourite venues to go check out music?
In Liverpool every youngster wanted to be either a footballer or in a band. There were hundreds of bands. We would all lend each other's equipment. One night a guy called John "spud" Murphy came and lent my bass amp because his Dad had pawned his. There were at least 20 great venues. My favourites were the Firehouse, Pickwicks and the Bier Keller. The quality of music was excellent. Unfortunately so many great bands such as Politburo and Hey Marsha never received the success they should have.
++ On Discogs your first release is a demo released in 1984. The demo included 6 songs: "The Loneliest Dogs", "Physically Satisfied", "Escape", "The Dream", "Summer Girl", "When I Love". Was this your first ever recordings? How were these tapes sold?
Summer Girl and When I Love were our first two demos. Ultra pop songs. Summer Girl is a jangly sweet song about being young, happy and alive in a beautiful city in the summertime. Summer Girl was voted "song of the year" by Billy Mann the editor of the sound magazine.
++ None of these songs were to appear in your proper vinyl releases. Why is that?
They never went out on vinyl because Probe (our record company) didn't have the money. Things were tight.
++ Your first release was a 12″ single with the songs "Forever Passing Trains", "Burning Up" and "Maybe". This record came out on Blues Records. Was it your own label? Or who ran Blues Records?
Blues Records was our own label because probe had no money. We had to do something to get our music heard and so we lent as much as we could to achieve it. That single was played a lot on BBC Radio 1.
++ You even produced this record. Did you have any experience producing records already? How was that experience?
We didn't have any experience producing but we knew how to play and have a laugh, so we went in full of humour and hope and came out with a pretty good recording.
++ How did the creative process work for the band? Did you get much input from the rest of musicians in Blue Nose B?
I'd write the songs At home in Seaforth. I'd play them to my brother Michael. He'd either say yes or no and then we would start working on them. As he was the drummer and I was the bass player we would get the back end right before we'd play the song to David and John. We practiced in Michaels bedroom. All the neighbours would come out into their gardens and dance.
++ I assume that the art on this record is a drawing of Blue Nose B? Who made it?
David Billows did the art work. He was a budding Michael Angelo without the skill.
++ You also appeared on some compilations like "Modesty Kills" and "Desperation". Both these compilations were released by the Audio Visual Records label. Who were they and how did you end up there?
The song Fine Rain was played by Michael, David and myself. Paul Gill (waving at trains) and John Murphy (toy taboo, lotus eaters and Thomas Lang) also played on the track.  It was picked up by audio visual records and we went on to record a significant amount of material for that label. We had an album with Audio Visual on cassette but they sold out and I don't have a copy.
++ I also found out on your Bandcamp that you had set up a 9 song retrospective titled "The Sinking of Liverpool: A Retrospective 1983-1989". Was this ever released physically? I couldn't find any information on the label Modern Polymath either.
The sinking of Liverpool was developed by Michael Lawson, it is a collection of our best recordings from our post punk period. It was never physically released however we are in discussion to put it out on vinyl as it has received a lot of interest. Modern Polymath is a new record company who wishes to release much of our old and new material. We are currently re recording Summer Girl for May this year.
++ On your Soundcloud there's even many more songs, some much newer, not from the 80s. So first, I want to ask if there are still more unreleased 80s songs waiting to be heard? And second, from what time do the other batch of newer songs come from?
All the songs that have been put on there were written in the 80s and 90s. I have a back catalogue of over 100 songs. You will see two vinyl 12 inches and an album before the end of the year.
++ Was there any interest from other labels for your music? Maybe a big label?
In 1984 a label (Ryker Records) offered us £40,000 for when I love and Summer Girl. We turned them down. Probably a bad decision. Sony also made and offer, once again we made another bad decision.
++ So you still use the name Blue Nose B for your music. Did the band ever split? Was there a hiatus at all?
We split on many occasions and reformed with new musicians. We have worked with Henry Priestman (the christians), Pete Wylie (The Mighty Wah), Ian McNabb (The Icicle Works), Dave Hughes (Dalek I love you) and John "spud" Murphy (The Lotus Eaters). John wrote the music to the film a "Letter to Brezhnev' and is a big Hollywood music producer now. Our album was produced by the genius Ken Nelson who has won 3 mercury prizes. 2 with Cold Play.
++ Blue Nose B were featured in many magazines, Sounds, NME, Melody Maker, you name it. Did you get many favourable reviews? Was it easy to get their attention?
We had loads of attention. We regularly played in front of a thousand people in Dingwalls in Camden Lock London. We were right on the edge of making it. We also toured with the Mighty Wah which was great fun.
++ What about radio? Did you get much coverage and plays?
We were played regularly by John Peel, Janice Long and Pete Powell on Radio one. Also local radio played us a lot.
++ I read that some of the members had been in a band called Indadais. How did this band sound? Any similarities to Blue Nose B?
Indadais consisted of Micheal Lawson, John Briody and David Billows. The musical leanings were derived from the 1916 Dada movement. Too Artistic for me. I was a pure pop man.
++ And of course, after so many band changes, how do you think that affected the band? Do you see it as a positive or a negative thing?
I don't know if the band changes affected anything. All I know is I have enjoyed every minute of playing live. It is an honour to see people dancing to your music and I hope this year to be in a position to play live again. Maybe in New York with a bit of luck.
++ Aside from music, and football, what other hobbies do you have?
My hobby is my work. I'm a mental health nurse with my own business. I help people come out of long term hospital provision to community living. A bigger buzz than playing live.
++ So far what would you say has been the biggest highlight for the band?
Playing in front of a 1000 people in Liverpool, on top form with a great reaction. I cannot put into words how good it feels to become so involved with the music that you exceed the limits of your talent. Superb.
++ Thanks so much for the interview! One last question, hope you don't mind. Hope I go to Liverpool one day, never been there, but was wondering what would you recommend checking out? And if there's any traditional food or drinks that I shouldn't miss?
Come to Liverpool, drink Lager, eat Scouse, laugh, sing and dance. Liverpool people are the most generous and welcoming people in the world. You can stay with me and I'll buy your drinks. You'll have the time of life.
++ Anything else you'd like to add?
Thanks for the interview and I hope you can review the new 12 inch single. Summer Girl and Marianne (beneath the sheet).
::::::::::::::::::::::::::::::::::::::::::::::::::::::::::::::::::::::::::::::::::::::::::::::
Listen
Bluenose B – My Diary