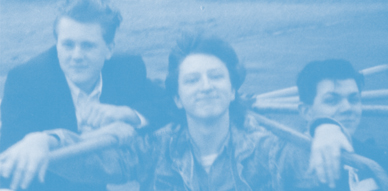 Thanks so much to Peter Yarrow for this interview! I know This Mighty Fire just because a compilation they appeared in the 80s, "Great Sheffield" on the Homar label. For a long time I was looking for information about this jangly band, until one day I stumbled with their Facebook page (which you should be a fan of, of course). I wrote them. Some time passed and then Peter sent me some tracks, they sounded fantastic. I was so happy to have discovered their music. Then he was up for an online interview, tell the story of this obscure but fantastic band. Hope you like them!
++ Hi Peter! Thanks so much for being up for this interview! There's so little about This Mighty Fire on the web that it's going to be great to tell the story of the band! So let's start from the beginning, how and when did you all meet?
We met at school in our final year – it was 1987 and, as I remember, The Smiths had recently split and New Order had a big hit with True Faith.  We would have just been coming up to our 16th birthdays.  Crikey we were so young!  It all started by Moony (at the time, a friend of a friend) saying to me "you like Joy Division, come and play this".  At which point I was handed a bass guitar.  Moony had only been playing guitar since the Xmas before and had written a song on Boxing Day 1986 with my mate David, who had just got a Casio SK1 keyboard.  It was a really cheap little thing but one of the first that had a sampler.  The song was called "Arthur Fowler is Mental", inspired by the nervous breakdown of a character from the BBC soap, Eastenders. You wouldn't get away with that these days.
++ Through what sort of music did you bond? What were the influences of the band?
I think it's fair to say the main influences on the band at that time were, Joy Division, New Order, The Smiths, The Jam, The Who and Billy Bragg.  When Pete joined, he had a very different taste … U2, Simple Minds, Jean Michel Jarre.  Drummers are always a bit different though aren't they?
++ Was This Mighty Fire your first band? Had you been involved in any other bands before it?
Yes, other than Moony's collaboration on "Arthur Fowler …"
++ And what would you say is your first music memory? And what was your first instrument?
Playing the recorder at the age of 6 years old.  Not very cool!  I remember my mum was pregnant with my younger sister and missed our first performance at the school Christmas concert, so we had to play again.  Lol.
++ Who came up with the name This Mighty Fire and what's the meaning behind it?
I really can't remember.  We were originally called "Infant Mortality" which I remember a teacher giving me a hard time about.  Then we became The Immortal.  Eventually we became This Mighty Fire, but who knows how that came about,
++ You were based in Sheffield, a place that has produced so many great bands! How was Sheffield back then? What were your favourite places to hang out? The venues, the clubs? And were there any like-minded bands that you liked?
Sheffield had been known mainly for electronic music in the '80s, such as Human League, Cabaret Voltaire, ABC and Heaven 17. While I liked this sort of music, it wasn't a big influence for us.  At that time in the '80s there were some decent venues for local bands … Take Two, The Limit and The Leadmill.  If you played The Leadmill you thought you'd made it.  Our main haunt was Take Two, and we were able to use it for rehearsals for a period of time.  The band we got on best with was called The Glass Hammers, but on the whole we didn't mix with many others.  Treebound Story was probably the best known at that time.  You may know Richard Hawley … he was the guitarist in Treebound Story.  I really liked them but the others weren't keen.  Blammo! were also getting a lot of reviews (later to become Speedy).  We started hanging around with them and when we split Moony joined them.  Speedy are one of my favourite bands ever!  Pulp made a come back in the late '80s before they became massive – Moony and I liked them too.
++ The only song I know you released was "Ready and Waiting" that appeared on the "Great Sheffield" compilation in 1989. I've been looking for this CD for so long! Seems it is very rare. So I don't know much about the other bands on it, or the label. So was wondering if you could give me a bit of a background about this compilation of Sheffield bands? How did you ended up on it? Who were there Homar label? Which bands on it did you liked?
OK, so Homar UK was formed by Marek Pryjomko (co-owner of Take Two) and Howard Willey (who worked for the Human League).  Through our Take Two connection we were asked to provide a song and to play the launch gig at The Octagon venue, which is part of Sheffield University.  If I'm completely honest, I didn't like many of the other songs on there, but we met a few of the bands.  Debut were good guys, as were The Pineapple Crew – they were probably my favourite tracks.  A lot of the bands on the CD weren't particularly well known in Sheffield – or at least not to me.  The Mourning After were quite interesting, not my thing but they were quite popular.
++ And what about this song, "Ready and Waiting", what is the story behind it?
Well, most of our songs are ridden with teenage angst, so were mainly about girls.  Moony wrote the lyrics, I think, and were about some girl.  It was one of the songs that our friends / fans liked most.
++ Was there any other songs on compilations?
No unfortunately not, a shame really.
++ Why were there no other releases? Was there any interest from labels at the time?
We started sending demos to record labels in about 1989, and got some interest from Warners.  They were going to come to see one of our gigs but we split before it happened.  Oh what could have been!
++ But you did put together demo tapes, right? I think the songs I have, "Dream", "Go Down" and "Lost and Found" come from a tape. Was there more than one This Mighty Fire demo tape? What other recordings did you make?
We did a few demos.  Our first was in 1987 and the songs were, er, "basic" but quite funny … "Memories of Summer", "Suicide By The Sea", and "Murderous Day".   Our next demo was in November 1988 and was the session at which "Ready & Waiting" was recorded.  We recorded about 8 songs in one day.  We made huge progress as musicians and in our song-writing in that one year.  In 1989 we moved into a new rehearsal room which was part of a studio and started to record a bit more.  The songs you mentioned were recorded during that period and we had a few more too.  "I Know" was pretty good, and the studio owner remixed it, resulting in the indie show on Radio Sheffield naming it one of the songs of the year!
++ From the other songs I've listened, I think my favourite is "Dream", it is just pure guitar pop bliss! And that catchy la-la-las. Was wondering if you could tell me the story behind it?
Teenage angst again!  I think I might have written those lyrics … I seem to recall they were about a girl I liked, but other than that I can't remember any more.  Mark Mercer, who recorded it for us, added the backwards guitar which was very "on trend" for the time.  It's great song and was one that the record companies liked.
++ And which of your songs would be your favourite and why?
Just as we were leaving school, Moony got a new guitar and a phaser pedal.  He wrote this brilliant song called "Why?", it's still one of my favourites and brings back the memories of June 1988 when we had finished our exams and were starting a new part of our lives.  We also had one called "Rain" which I loved, with a really jangly guitar.  "Dream" and "Lost Not Found" are also favourites for me.  I really like the lyrics for "Lost Not Found", I think they were mine and are about feeling confused … "I'm happy and angry, I'm saved and I'm drowned, I'm lost not found".  God knows what I was thinking about … oh probably girls!
++ How did you enjoy the recording sessions? Where were these songs recorded? And how did the creative process work for you?
Recording was a bit of a novelty at first, but I can't say I really enjoyed it.  Lots of sitting around listening to the same thing over and over.  Moony got really into recording and eventually became a sound engineer.  We tended to record most of what we wrote, some recordings unfortunately were lost.  In terms of songwriting, we all played a part.  Pete learned to play guitar and wrote a few songs, Moony wrote a lot of lyrics and music.  I mainly wrote lyrics, but I remember once having this tune in my head which resulted in a song called "Can You Take It?".  We always shared songwriting credits and felt that, regardless of who came up idea, we all played a part in the overall development of the songs.
++ What about gigs? Did you play many then? What were some of your favourites? And was there a least favourite one?
We played quite a lot locally, mainly at Take Two or The Hallamshire, which was a pub in town and a great venue.  We also played a few out of town … Nottingham, Derby, Hull, Bolton, Oldham, Leeds, Barnsley, Manchester.  It was difficult though because we were rarely paid very much and it would cost us more to hire a van and pay for fuel than we would be paid.  My favourite was when we played The Leadmill.  It was our one and only time, and we supported Havana 3am.  Paul Simonon from The Clash was in them and that weekend "Should I Stay Or Should I Go?" got to number one on the back of a Levi's ad.  The venue was packed and we went down well.  We sold our red t-shirts at that gig and wore them on stage.  We had some real stinkers of gigs though, I remember the one in Bolton was particularly poor.
++ I see you had some t-shirts made. Who came up with the logo of the band? And what other merch did you use to sell?
I think we ripped off Benetton for that logo, but we'd had a logo before that which our manager had created by a local design company.  It was based on some sort of hazardous materials graphic.  We mainly sold demo tapes but one of our friends wrote a fanzine for us once and we gave that away at gigs.  It was quite funny and positioned me as a "Rock God".  How far from the truth.
++ I also notice there was some lineup changes through the year. Why did they happen?
Oh crikey, I forgot about that.  When we were at school Wayne and Russell (brothers) were our guitarists. They didn't really have the same musical tastes as us, and had some opinions that we didn't really want to be associated with.  Anyway, that was a long time ago!  There was no real fall out, they were just told one day that they were no longer required.  Moony's brother, Chris, played percussion with us for a while too.  He later joined The Bendy Monsters.
++ I read your interests, aside from music, include football and beer. Good choices! What team do you support and what are your favourite beers?
Both Moony and I support Sheffield United … fair to say we've had a lot of ups and downs, mainly downs!  Pete supports Sheffield Wednesday, who are doing a bit better … unfortunately!  I really like craft beers, Brewdog is one of my favourite companies but my friend works for Stewart Brewing in Edinburgh and makes excellent beer.  I've told him he's like a rock star of the craft beer world.
++ Was wondering too about if you got support from the press at all? Or the radio?
BBC Radio Sheffield had an indie show on Sunday called "Prick Up Your Ears".  The host really liked our stuff and played us a few times.  We were once asked in for an interview, but they couldn't use it because we were answering the questions before we were even asked.  In hindsight, we were quite cocky and full of ourselves!  Before the gig at The Leadmill I was interviewed by The Sheffield Telegraph.  I think the quote of the interview was "it's not a case of if we make it but when". Martin Lilleker, the journalist, seemed to agree!  I also remember when we played our first gig at Take Two, we were about 16 years old at the time, and the small article in The Sheffield Star was titled "Nappy Hour"!
++ There was a big explosion of guitar pop bands in the mid late 80s in the UK, but did you feel part of a scene?
We weren't particularly good at joining in with other bands, especially local ones.  From memory, I think we were overly competitive and probably could have got further by collaborating more with others.  I never felt we were part of a scene, although technically we were part of the Sheffield Scene of the late eighties.
++ And what happened with the band, when and why did you call it a day?
We split in 1990. It was a genuine case of musical differences.  Moony was playing bass for Blammo! on and off, I was getting into House music and Pete was more into rock music.  There was no falling out, we just drifted apart.  It's a shame because I think we could have got a deal, in fact I remember having to write to the A&R person from Warners who had been planning to come and see us, and we also had to pull out from a series of shows at The Leadmill, at which we were due to support The Dylans.
++ What did you all do after? Did you continue making music?
Moony has definitely been the most involved in music, firstly with Blammo!, then they morphed into Speedy, and got a record deal.  Speedy had a few singles, the biggest being "Boy Wonder" and did quite a bit of TV.  He does a lot of work with kids these days, helping them to make music. I think Pete continued, but as a guitarist rather than a drummer – I don't think he's doing anything now.  I did some of my own electronic music for a couple of years, then did a bit of work with a band that some friends had.  Even that was over 20 years ago!  My last foray was when I used Garageband on my iPad.
++ And today, aside from music, what other hobbies do you have?
It very much is music, I'm a big record collector and I'm into vinyl.  I play a bit of tennis too, well, when the weather's good.  I've built a good career and head up learning and development in a UK FTSE company, so that keeps me busy and is an outlet for my creative side.
++ What about Sheffield today? Are you still there? Has it changed much?
I moved to Edinburgh 10 years ago, and go back to Sheffield about twice a year.  It has changed in some ways, but not in others.  I'll always be proud of where I'm from.
++ Looking back in time, what would you say are the biggest highlight of This Mighty Fire?
I'm now in my mid-forties and there's something both sad and cool about saying, "oh yeah, I was in a band".  It really is about creating memories, I'll never forget what we did … I even still listen to the demos in the car
++ Let's wrap it here, it has been a pleasure, anything you'd like to add?
Being asked to do this was a big surprise … I'm very proud of what we did so it's an honour to be asked to talk about it after all these years.  Thanks for asking.
::::::::::::::::::::::::::::::::::::::::::::::::::::::::::::::::::::::::::::::::::::::::::::::
Listen
This Mighty Fire – Dream