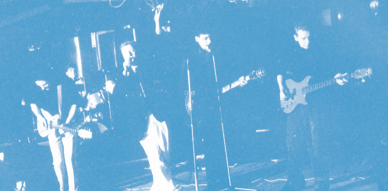 Some months ago I wrote about Black and White Lovers on the blog looking for more information about them. Luckily Kevin Brady, their bassist, got in touch with me and later put me in touch with Martin Tivnan, their guitarist and vocalist. Martin was kind enough to shed some light about Black and White Lovers and that way answer many of the questions I had. He put together a thorough overview of the band, and I'm happy to share it with you all.
NAME
The name should read ' Black and White Lovers.' An early incarnation of the band had a song with this title. The song was a thinly veiled account of how some of the band members and close friends related to each other and projected themselves. The characters in the story the song relates were given names like Harry and Stanley – a la Lou Reed – but it was obvious who they were based on. Someone suggested it as a name for the band and it stuck.
ORIGINS
The first band we got together was The Enigma in summer 1979. This was myself on vocals and guitar, Martin O'Brien on drums and Kev Brady on bass. We were later joined by Lee Wilkinson on guitar. Regarding recruitment it was quite straightforward. I was at school with Martin and Kev and Lee had been at school together and as was the way at the time (see 'Sniffin Glue' 'Here's 3 chords go and form a band') we just got on with it. Our biggest influences were The Fall and , particularly, Joy Division. Me and Martin had got to know Joy Division a little before they really broke as we would go to watch them rehearse on Sundays in Manchester and we went to all their gigs in N West England. Indeed, Peter Hook gave me my first guitar strap.
Although I wasn't a fan of a lot of Punk music, the DIY ethic gave us a gateway into becoming a band. Early on, we joined The Manchester Musician's Collective and this was vital in getting things going. The MMC existed to support local bands. It was democratic, even socialistic in outlook and had members from a range of musical and cultural areas – hippies / punks / pub rock / blues /funk. The MMC had a regular gig at The Band On The Wall in Manchester and organised occasional other gigs throughout the North West. In it's early days the MMC had included bands like Joy Division , The Fall and A Certain Ratio. Whilst in the collective we got to know and shared gigs with God's Gift – who I played bass with for a short while – If Only (Brendan Chesterton's band) and The Hoax – when as you say Martin once borrowed Mike Joyce's kit. Via the collective, we played our first gig (at the Band On The Wall alongside Crispy Ambulance and The Liggers) got a support slot with The Fall at Manchester Polytechnic in January 1980 and had a track on a compilation album of MMC bands 'Unzipping the Abstract.'
The Enigma ran out of steam around 1981. A little while later, myself, Kev and Brendan started rehearsing and exploring different styles of music, until we settled into BAWL around 1983.
BLACK AND WHITE LOVERS
BAWL was myself, Kev , Brendan and Lee, joined by Chris Hyland on drums (later Craig) and Martin Briars on keyboards. We were pretty clear on the sound we were aiming for – something that would be suitable as the soundtrack of a 1960s French Film – in Black and White ie a light romantic vibe with a cinematic feel influenced particularly by John Barry and the European pop / cabaret feel of Charles Aznavour. There was less of a feeling in BAWL of being part of a scene as what we were doing was, we felt, very specific. Although BAWL played most of the available gigs in Manchester at the time (eg The International, The Gallery, Corbieres, Manhattan Sound) we struggled to get any real traction. Although there was, to a small degree, an amatuerish/ shambolic dimension to the C86 bands, things had moved on from the punk values of the late 1970s, and bands were expected to have a more professional approach. We struggled a little with this. As working class lads we were sceptical of careerism and not certain of whether being in a band should be recreational – something you did with your friends for fun – or something you should take seriously and commit yourself to, hence the unfinished videos and lost demos. A journalist named Bob Dickinson interviewed us for City Life, a Manchester magazine and reviewed one of our gigs in NME which did generate some interest and meetings with record companies (A & M I think ?) but we didn't really pursue this and it never went any further. We released 'Best Years Of Our Lives' as a single ourselves and although it got some reasonable feedback, the reaction / sales weren't positive enough to encourage further releases.
SINGLE
Why Charles Aznavour ? The answer's simple : I was and remain a fan. In fact myself and Kev went to see the 90 year old Aznavour at The Royal Albert Hall in London in November last year. If you listen to his song 'Yesterday when I was young' you will hear the romantic, yearning vibe that Best Years of Our Lives tries to capture and emulate. Boulevard of Broken Dreams aims for a similarly romantic, philosophical reflection on life.
ANECDOTES
I have listed below a few of the things that stick in my mind from my time in these bands and hopefully give you an idea of what it was like and what we were like.
Jan 1980 : The Enigma supporting The Fall. I watched The Fall sound check 'Rowche Rumble' with my brother. I was very proud at aged 16 to be part of this and the sound check itself remains one of the greatest things I've ever seen.
Spring 1984 : We were playing a gig at Cloud 9, a club in Manchester.  Ian Brown and Reni from The Stone Roses (relative unknowns at the time) barged into the dressing room and accused us of  using their gear at Spirit Studios (where we both rehearsed) – we hadn't done this. Somehow a full scale fight was averted – probably because we'd heard that Reni was a karate black belt. Later at the gig itself, Ian McCulloch of Echo and The Bunnymen turned up, sat at the back, watched the show and left without introducing himself.
1985 : Bob Dickinson's review of one of our gig's in NME  suggested that I was 'reminiscent of the young Orson Welles.' I got plenty of abuse from the other band members about this.
1985 : Following the interview in City Life Magazine which described us as Manchester's best cabaret band or something similar, we were offered a Friday night gig at a restaurant in Manchester. We were to play 3 x 20 minute sets for 35 pounds. After this first gig, the Restaurant Owner/Manager was delighted with us and offered us a regular gig every Friday, which we accepted, figuring the money would help us with equipment and the regular gig might be good for our profile.
The following Friday, we showed up and told the Restaurant Manager that we would be playing 2 x 30 minute sets which he grudgingly accepted. in the hour or so between sets, we went to a bar across the road and proceeded to get hammered. We returned on unsteady legs and turned the amps up to full blast for the 2nd set – we even let Kev sing Boulevard of Broken Dreams while I played bass – still one of the funniest things I've ever seen. That was our last gig at the restaurant.
AND FINALLY
I enjoyed my time in these bands and it is really flattering and suprising that people are still interested in what we did all those years ago. A Manchester label 'Vinyl revival' has recently released 2 compilation albums (Greater Manchester Punk 1977 – 81 and Greater Manchester Punk 2 1978-82 : Now We are Heroes) and there are Enigma tracks on both albums. On the back of these releases I met up with Martin O'Brien again and we are currently working on some new songs I've written with a singer and guitarist he has  worked with before and we should have a demo recorded in the next couple of months. I will send you the demo when it's completed.
::::::::::::::::::::::::::::::::::::::::::::::::::::::::::::::::::::::::::::::::::::::::::::::