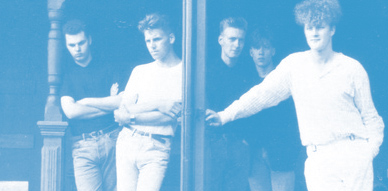 So that petition I urged everyone to sign at the White House page has expired because it failed to reach the amount of signers required. It's probably how things will be then for at least a year, high postage to send records abroad. I don't want to cause panic, but it's pretty obvious we won't thrive though some geniuses at Darla are boasting that they are having amazing sales and all other record labels are whiners. Good for them. It shows how "indie" they are, giving a f@ck about the rest.
Doing some research around, looking for reasons for this collapse of our beloved USPS, explanations on what had happened I found two very interesting posts on the eBay Forums:
Globally, Some countries have been in the middle of an economic downturn. Since the USPS International rates are standardized across most countries- changes for the majority effect even the minority. Plus it makes things less complicated. Many countries want MORE money, and by definition share of the money spent on postage, to process international mail that comes into their country. Very Cheap International Postage made the amount of money, when split between both the USPS and the receiving country kinda small. So they have corrected it so that both the USPS is happy with the money they make and that the receiving country is happy too.Since the UPU the body that help sets the rates only formally meets every four years we get sticker shock.
As far as UK buyers are concerned, there will be huge ramifications of this USPS price hike. This is because there is a paltry £15 limit (which was REDUCED from £18 recently) on the value of any incoming parcels, and this INCLUDES the postage cost. Anything over that gets slapped with a 20% customs charge and – wait for it –  a flat £8 "administration" fee. So even a small hike in postage will mean that buyers, even of small light and inexpensive items (like myself), will be deterred from continuing to buy, since the new prices will most likely push the value over the UK tax threshold. Ironically, it will really only be worth buying expensive items on eBay, as the taxes and charges won't dwarf the cost of the actual item!
We haven't really thought about these ramifications that these new prices will have. But there will be a domino effect, no doubt. It wouldn't surprise me that other countries start raising their prices. The only ones that might be celebrating with this situation is the Canadian post. You ask why? It is very common in that Canadians living next to the border, would just cross it to post their things, even when they wanted to send their envelopes and parcels within Canada as it was always cheaper. Will they cross the border now? Perhaps not, as the prices will be around the same.
So for now, we can only sit and wait, see what all this USPS mess will bring us all. I had to raise all Cloudberry prices at the moment, and I'm happy to say that there is still support from fans. I hope it continues this way. It all depends on you all who support bands and labels that we continue our indiepop dream.
Yes. There are Cloudberry news. So let's move to that. Happier topic.
Three days to go for the release of the Alpaca Sports 7″! As you all know, as you all have heard, it's a cracker. And they've worked hard on it, recording videos for each of the three songs of the vinyl. Head to the website and listen/watch and order. They will be promoting the record very soon too in Madrid Popfest. And in Stockholm too, at the So Unbelievable club, where I will be celebrating my birthday. Oh good times ahead. Two days ago, Andreas gave a solo Alpaca Sports show in Lima, Peru, too. From what I hear it was an amazing success. I still haven't seen them live. And I can wait for next month. No surprise they were voted best new band of 2012. And I hear they will be in the US this year too!
Then in less than two weeks the Flowers 7″ will be out. Will write more about this release next week. You don't want to miss this one. Pre-orders have been pouring. And I've read some reviews saying they might be the next big thing? I wouldn't be surprised. They are special.
But I wanted to tell you about the new fanzine I've been working on, and this time I'll be super thorough not to make pagination mistakes. Promise! The CD is almost ready, and I will be announcing the tracklist soon. Right now you can preview one of the tracks on our soundcloud. It's called "If It's True" and it's the fab Tiny Fireflies behind it. And about the paper zine, I'm just missing a couple of pieces. Hopefully I can finish writing it this week if I have enough time.
Also there are new bands that will be working with us on new 7″ releases. Can't say the names yet, but, I'm already very excited. One is from Japan, the other based in Scotland. That's enough hints I can give you all!
And now, let's finish this week's post with a very obscure band, The Fontaines.
———————————————————————————
Fontaine is a French word meaning fountain or natural spring. 
Fountain – is the title of a famous sculpture by Marcel Duchamp.
So where do you think the band got their name from?
The Fontaines only left us one 7″ record. Two songs that were recorded in 1987. Upon listening to them, you'd understand why they are not enough. They are too good, especially the fabulous B side, that one can only crave for more.
The label was 51st Parallel. Probably their own label. A self-release. The catalog number is FONT1.
There are two 51st parallels:
51st Parallel North: At this latitude the sun is visible for 16 hours, 33 minutes during the summer solstice and 7 hours, 55 minutes during the winter solstice.  The catchment area of London can be broadly defined by the 51st and 52nd parallels.
51st Parallel South: The 51st parallel south is a circle of latitude that is 51 degrees south of the Earth's equatorial plane. It crosses the Atlantic Ocean, the Indian Ocean, the Pacific Ocean and South America.
Most probably named because of the northern parallel.
The A side was "I Want Everything". The B side was the amazing "Bernadette".
I first heard about this band thanks to the list on Twee.net of future bands to be showcased on the Leamington Spa series. Then later I remember "Bernadette" being uploaded to Youtube though it's not there anymore. And lastly on the amazing compilation CD Rupert from Turntable revolution shared with me. Actually, Rupert, on his blog, had found some interesting facts back in 2009 (!) and I hope it's ok to refresh them here in my blog:
Recorded in three days in August 1987 this superior independent release vaulted into the pop world to a clamour of indifference. Unfair treatment indeed. With lyrics redolent of Morrissey after an all night kitchen sink drama video session they may well have been ready to perch on the throne of misery the Smiths were about to vacate. Nothing more was forthcoming though and this slice of pulchritudinous pop was consigned to the carrier bag of discarded dreams.
The band consisted of Brian Green on vocals, Duane Fontaine on guitar, Louis Jones on guitar, Andy Reynolds on bass and Ed Grimshaw on drums. I had an email from Dr. Andy Reynolds who tells me that Louis Jones and Ed Grimshaw went on to form the Warm Jets and Brian Green went on to record an LP with Hugh Cornwell, then went to Nashville and now teaches song-writing MA in Bath. Apparently there exist videos of the band performing other songs which may one day appear on Youtube. Dr.Reynolds is now a reader in medieval archaeology at the Institute of Archaeology in London. Perhaps five hundred years from now someone will dig up an old Fontaines record and marvel at this gleaming example of mid eighties pop.
I haven't had the chance yet to find myself a copy of the record, but some kind person has uploaded the back sleeve of the 7″ and there are some more clues about this amazing release. For example there are credits for Matthew Reynolds who played harmonica and trumpet. That it was recorded at Sam Studios on the 28, 29 and 30th of August 1987. There are thanks to Bryan & Alex Deacon, the Locks, Nick Adams, Terry Medford, the JimBeamGang, Derek Batey, Julian & Florien for their help + advice. Farewell to Eamonn.
There are a couple of cryptic images and words. "Hines for President!". "Love in Batch". A map showing Finchely Road. And write to them at a PO Box in Chippenham, Wiltshire.
Let's keep on digging. So Andy (Andrew) Reynolds actually has a Wikipedia page as he has become a successful archaeologist publishing several books.
And the band Warm Jets, that had Louis Jones and Ed Grimshaw, also has one. Grimshaw had been part of another band, even prior to The Fontaines. They were called Ophiuchus and you can read their whole story here as well.
That's all there was left from The Fontaines. One fantastic 7″. One very hard to find too. Perhaps not many copies were pressed. But as always I do end up wondering if they left any other recordings. Perhaps some demo tapes. If only those videos Rupert talks about would show up on Youtube one day. To unveil a mystery. To know more about this fantastic band that history decided to keep them in obscurity. Unfair. Songs like "Bernadette" should have been a huge hit.
::::::::::::::::::::::::::::::::::::::::::::::::::::::::::::::::::::::::::::::::::::::::::::::
Listen
The Fontaines – Bernadette