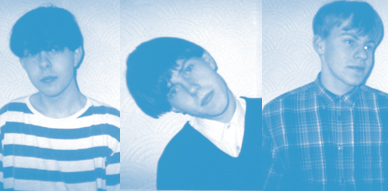 Thanks to Alan Fairnie for the interview!
* Alan: Just a short disclaimer – these are my thoughts on the whole thing – Paul and Ian would probably have a different take on it.
++ The band started in 1985 and lasted till 1993, right? How did it start? How did you meet Ian? Why was the main reason for you to have a band with a who gives a fuck attitude? I guess Scunthorpe wasn't much of a help?
We'd always been into independent music, following bands who weren't the mainstream and I guess that inspired us to pick up guitars, make a noise, generally try something. You have to remember that the mid to late 1980s was about the difference between independent music and mainstream stuff, there certainly wasn't the crossover at that time. So labels like Rough Trade, Beggars Banquet and Creation seemed to be offering an alternative. I was into the usual fayre, The Smiths, James, The Fall [actually we both liked them] and my brother was coming at it from a more punk side, he was into the Birthday Party, The Cure, JAMC and stuff. We just decided that one year we wanted a bass guitar and a six string one – luckily our parents managed to get them – real basic ones out of a catalogue – but that was the catalyst for it. I also remember being really adamant that I wouldn't learn to play any cover versions – that sounds a bit lame now – but I was an opinionated youth.

++ Was it your first band? Which bands influenced The Williams you'd say?
To be honest it wasn't, we had a band called 'The Upstairs Room' for a little bit – it was all new order/ Bunnymen/ Cure influenced – it was terrible really – but out of that merged The Williams. I 'd got friendly with a mate from school [Ian Cummings] who was into the same stuff as me and he had a bass guitar, so Paul [my brother] got hold of a cheap drum kit and we started putting sounds together. I guess by this time we had decided that we wanted to try and play some gigs and stuff. We were also part of a wider indie scene that congregated around the Scunthorpe Baths Hall and Bentleys, a local public house. So what was influencing us at that time, the usual stuff The Smiths, JAMC, The Fall, sixties stuff like the Bryds and the Stones. There was the indie scene itself as well, flexis from Sha La La and the other fanzines at the time, Lazy records artists like the valentines and the primitives. It was all very tribal, you know you can't like the flatmates etc and our loyalties ran very deep at the time. I put it down to the innocence of youth, Paul puts it down to me just being a prick.
++ I love the idea of stand up drums. If I ever had a band I would have the same, it seems more energetic, more fun, with much more attitude, also it always reminds me The Shop Assistants. Why did you go that way? Any special reason?
Stand up drums was Paul's thing, obviously all indie kids were required to watch early Psychocandy JAMC performances with Gillespie giving it large on the two piece and again we all had the velvets first album, Mo Tucker being an idol an all that. However, I actually think it was because before we had a kit we borrowed a snare drum, so Paul just improvised with that and some cardboard boxes. We had heard that Buddy Holly used to record like that somewhere. We tried working with a full kit but it was a right hassle to get to rehearsal spaces with it all – so it was kept to minimum. He did add a cymbal at some point. I do remember when the scream first saw us at the Hull Adelphi that Bobby thought Paul was one of the coolest drummers he'd ever seen with two drums. He could get some rhythm going – used to end up blistered after every gig. And yes I guess it did have that anti-muso thing going on. Again at that time in our local music shop you could pick up a free paper about the music scene and it was all interviews with fucking metal heads, gutarists in bands called 'It Bites' and drummers with twenty five piece kits, we were both anti all that and basic chancers – it was the attitude that kept us going. We weren't liked. Or at least we wanted to be disliked – I think our music helped in that respect. It was basic at the beginning.
++ What was it like to have a band back then? Did you feel there was a guitar pop, c86, community happening, or was it more of a myth we have today?
C86 – I'm not sure we even remember it coming out with the NME to be honest. I was a fanzine writer – inspired by the great and the good – so I knew of these emerging indie bands and there were some excellent ones. But whether they should be seen as a scene is an odd one – we wanted authentic music – they had things in common. We didn't want to be pop stars [that sadly came later] There was just a network of places to play and people with a common philosophy. I mean to me, and I can't speak for the rest of these bands or even the members of my band, but it was about an anti-capitalism thing. I was political – I hated the way music had become homogenised and generic – it's naïve but at that time I thought I was doing something to challenge that. I remember seeing McCarthy and thinking that it was possible to do both. Didn't impact on our music – or lyrics – but it was there in spirit. Having a band back then is the same as having a band right now – it feels like you can take any fucker on – we were an army- you know what I mean. We'd get into scrapes just because we felt were right about stuff. It was possibilities – it always is when you're growing up in a small town.

++ Your first gig happened in 1987, 2 years after formed. What are your memories from that August 1987? Who did you play with?
Our first gig was a three song set at the local Battle of the Bands – first heat – first on – it went remarkably well – I was using this thin Kay guitar that I was able to get feedback from for the final number. I remember the review in the local free newspaper – it compared us to the JAMC and the Wedding Present. We went around seething because we hated David Gedge – you see what I mean – it was all about having opinions – taking sides. Very silly really. However, I remember thinking that I quite enjoyed it up on the stage – so we played a gig at Bentleys [the local pub] pretty soon after – utter amateur chaos. We were being heckled from beginning to end – a red rag to a bull really. I do remember one of the The Hoverchairs [another moderately successful Scunthorpe group – who we thought was made up of old men] shouting out when my string broke to 'take them all off' at the time it spurred me on in a psychotic rage to be that little bit louder that little bit more aggressive – now I think it's a funny heckle.
++ In your little bio you say you grew up on Sha La La flexis. So you were total popkids! What was your favourite Sha La La flexi? Were you a fan of Are You Scared to Be Happy as well?
I have to be careful here – because I reckon I'm the indie kid – Paul and Ian couldn't stand half the twee stuff I was into. I remember getting all the AYSTGH fanzines – it was like having the manual to creating the best indie band/label ever. I was also getting Trout Fishing in Leystone, Simply Thrilled, Sowing Seeds, Woosh all sorts of stuff – you'd buy them at gigs – 50p and a free flexi – how could that be wrong? But pop to us was the beach boys, The Rolling Stones, Joy Division, the velvets, dinosaur, the valentines, the ronettes etc. It wasn't just these bands on Sha La La – I think that gives it context but it wasn't the only thing we were grooving to. You know we had the first Beasties album and Public Enemy and stuff – we still made indie music though. If I had to name my favourite sha la la – I was well into the baby Lemonade one  and the clouds [a seriously underrated band if there ever was one] – you see now you've got me thinking about them – Remember Fun, Emily, the sea urchins all were brilliant. They just summed up stuff at the time.
++ Get That Anorak Off was a zine you put out. I've never seen it, how many issued did you do? What was the best of being involved with the fanzine culture? Do you think blogs can act as a digital fanzine or it would never achieve the charm of a typewritten pamphlet?
I started GTAO when I was 15 – we'd been following The Primitives around the north and I wanted to show off that we kind of knew them – so I just wrote up the experience, I remember Paul did a review of the fall's new album and there was stuff about other bands in there – I got it photocopied in the steelworks office where my dad worked – he did it when the foreman wasn't there and then tried selling it round Scunthorpe and gigs. It sold – so I did another one – this was more indie based – I started interviewing more bands, I think issue 2 had the brilliant corners, the chesterfields, razorcuts etc in it. It came with a crayoned cover sold out fairly quickly and basically I kept producing them until I started university. The final one [I think there were five in all] was finished at university [it had dinosaur/ spacemen 3/ the telescopes/ primal scream in it] and by then I was drifting into the whole acid house culture and the indie scene felt a little backward looking – I know now it wasn't but I was getting my energy from other sources – so fanzine culture wasn't a big part of it.
However, I think the whole thing about fanzines and the culture that goes with it was/ is the sense that you can put your thoughts down – you don't mediate the same way as a newspaper – you have values and ideologies but they really are your own. And it's mad that you end up getting letters from Singapore or Australia from like minded people who are into the same scene – it was about having a voice and during that period I feel I could express it – on the most part in a clumsy, inarticulate manner – but it was my voice nonetheless.
In that way I think blogging is the way forward, I'm not always sure that it reaches the audience in the same way – but young kids are fairly hip and tell each other about what's going on all the time. You know I'm the paper generation but the blogging community is keeping that independent spirit alive  – more power to it.
++ You released a split flexi with Esmerelda's Kite that came with the Shoot The Tulips zine. I read this was the best selling of them, 800 copies. It even got airplay by John Peel! Was that the biggest highlight of The Williams? How did you end up on this flexi?
The flexi was a good thing – recorded on the strangest 4-track recorder in our bedroom – I remember that I'd met Jo in Leeds- she sold me her fanzine and introduced me to pale saints – we hit it off and discussed the possibility of doing a joint flexi together. Suffice to say my band was going on it – so in some ways it was a vanity press sort of thing. She knew a band from Leeds called Esmerelda's Kite – of whom the singer would go on to become The Gentle Despite who released some stuff on Sarah records. I think it cost a bit – but we made it back from the sales – she sold out and so did I – it was bizarre – I've still got a couple left but generally that flexi is out there.
Jo hated the fact that I called the label Sunshine [in retrospect she was right] and when we got it back from the manufacturers it had three tracks as opposed to the two listed – so it was even better value for money. The John Peel thing was a highlight – Jo rang and said he was going to play the flexi – and we thought he'd play Esmerelda's Kite – it sounded more garage etc. but we had forgotten that he had a son named William. I remember him introducing it and Paul and I just trying to tape it – it was weird to hear it on the radio. After that it got picked up by some other European stations and even ended up in some charts. Having John Peel play your record means he had to listen to it – make a decision and programme it – it was John Peel do you know what I mean – I listened to him every night. Still he never gave us a session – despite the hundred of tapes we gave him.

++ Did you had any other releases? I can't find a full discography? Maybe some tape appearances?
To be honest I'm not sure – we gave out our demo tapes to so many people and I think we came out on various tape compilations – who knows. We actually tried to get Firestation to put out 'Still Keep Coming' or 'Lose myself in you' but they just wanted the flexi and we only had a shit tape of it. It sounds bloody awful on the Leamington Spa CD.
++ You went into a six day tour with Primal Scream, when they were still good, what do you think happened to them? Why did they went into the dark side of music?!
The Scream dates were the most enlightening nights of my life when it comes to music – we had managed to convince the Adelphi to put us on as support. You know, that to us was an achievement – but after we'd finished the whole fucking Scream had been watching so they invited us to come down to Sheffield the next night and just put us on the bill. We used their instruments and I broke the pick up on Throb's Les Paul – he just thought it was rock n roll – I was shitting myself. Good bloke – very good bloke. And it kind of spiralled from there – the thing is what people might not know is that the Scream are the most open, honest and genuine rock n roll band you'll ever meet. You know I was just 18 and Andrew Innes and Bobby Gillespie would be giving you this insight into music that you couldn't find in Scunthorpe – Innes was like get some Sly Stone in your collection. They just didn't judge and had this raw political edge. It was an MC5 thing going on – we were all learning.  And then it was just hanging out for a long time with them, you know the whole Screamadelica thing, Weatherall , Alex Patterson, Nightingale, Douglas from the JAMC videoing all kinds of hedonism. Absolute mayhem. So to me The Scream were never this 'indie – jangly' thing – and to be honest I didn't think we were either.
++ The Williams also played with The Pale Saints, The Telescopes, The Sainsburys, St. Christopher, Sea Urchins and many more. Which was your favourite gig and why? What was the best of being part of The Williams?
This could go on forever, all the gigs were good, we were generally mates with the bands so it felt good just playing a set and then watching theirs. I wish we had stuck to playing the same set – we wrote far too much and played it infrequently – it's a wonder that we had any fans – we used to have a new set every week. I remember the Sea Urchins in Deptford – I emailed James the other month and he replied saying that they had wanted to put out one of our tunes – I couldn't even remember that. So I guess it tells you about the state we used to play in – once with Emily I just kept falling off the stage and then I lost it blamed everyone but myself for the thing falling apart. Meanwhile Paul and the rest of Emily are robbing the bar – indie kids had attitude back then. So it's hard to pinpoint a favourite – it was different every time. And the best part of being in The Williams was just making music – Paul and Ian were a fucking revelation – when we were on it we came up with the goods. Not bad for a bunch of amateurs.
++ Would you go to pop gigs as fans at all? I guess you didn't get many at Scunthorpe?
We went to gigs all the time – I guess you do when you've no responsibilities and money to burn [well we never had money to burn – but we got around] I was also putting gigs on in Scunthorpe – so I brought Pale Saints there just after they'd been signed to 4AD – the crowd didn't have a clue – they played a continuous set – genius. The Applicants played, I think that's how Rob got involved.
++ Rob Dillam from Adorable joined the band for a while. How did that work out? Was him an influence into the latter change of sound of The Williams? That of a more noisy, more shoegazy, guitar sound
Rob wrote me a letter – drove all the way from Coventry to Hull and leant me a Fender Jaguar for the night – he was a star I'm telling you. And it just came to be that he joined the group. We had been going in the noise direction pretty much straight after the flexi came out – he just made it even more brutal. He had money you see – shit loads of pedals and amps and stuff. He just made a racket in the back. I think he should have pushed himself more into it – but then he had to deal with us control freaks – no wonder he joined Adorable. And then he goes and gets signed to Creation.
++ Why did you call it a day in 1993?
I think calling it a day doesn't really explain how the band mutated from this 'indie' thing into the sprawling beast that was Superelectric. We'd kind of gravitated to the dance arena [hadn't everyone gone baggy?] but we were listening to a whole heap of different sounds, The Beach Boys, the Beasties, Warp Records stuff, The World of Twist, obscure 1960s stuff and the notion of C86/ Twee guitars was restrictive in a way – you know, you couldn't change – at least we thought it was restrictive. Looking back it wasn't but we tended to alienate ourselves from just about everything. Paul moved over to programming and using analogue keyboards and stuff and Ian started developing a more fluid bass approach. So the electrics were born – I guess The Williams seemed like a generic indie name – I don't know if that was the right move but that's what we did. Through the Scream we would send tapes to Tim Abbott and it was all promises and favours and maybes and will try to get this and that – basically everyone was waiting to see what would sell. We kept sending the demos to him – they liked them – I tried to get the band to move to London – that didn't happen – so we were stagnating. Oasis came along and Creation's focus shifted – we were pretty much left high and dry. After that Ian moved on – we played in a number of formations but it all fell apart. We're all back in touch now – we're all making music- just not together. I think the spirit of superelectric lives on somewhere in all of us [ the band – not the world]
++ Anything else you'd like to add?
It was good while it lasted – there's music out there if anyone wants to listen to more – you can find both the The Williams and Superelectric on Myspace and on Lastfm. Alternatively you can email myself – and I'll send you stuff – the address being alanfairnie@aol.com
::::::::::::::::::::::::::::::::::::::::::::::::::::::::::::::::::::::::::::::::::::::::::::::
Listen