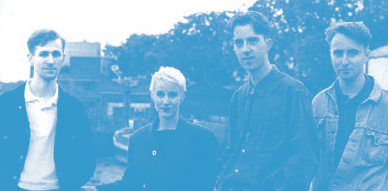 A big thanks to Allan Kingdom for the interview!!
++ Do you still keep in touch with fellow Siddeleys? Do you miss at all those late 80s? if so, what is that that you miss the most?
Yes, I still keep in touch with Johnny Johnson, and to a lesser extent our last (and best) drummer David "Clynchey" Clynch.
There's not much I miss about the late 80's to be honest. Apart from having a full head of hair. Some might see them as Halcyon days, but the reality couldn't be further from the truth.
++ How did the band start? I read Johnny met you at Bay 63? What kind of music and bands played at that club?
Johnny had a great attitude when it came to selecting band members; She wanted to form the coolest group in London, it was vital that the Siddeleys looked good, and went to the "right" places.
Bay 63 was a great club with an excellent booking policy & I saw many great bands play there. It had been around for years – the Clash & Madness used to play there when it was called Acklam Hall. Every so often, promoters would put on week-long series of shows featuring the bands from Creation etc. The Shop Assistants were playing the night I met Johnny. The night before I'd seen the Mighty lemon Drops. Edwyn Collins was in the Audience.
++ The guitar playing in The Siddeleys is a favorite of mine, the perfect jangle, the elegance, it's precious! When did you learn to play guitar? Who inspire you? What kind of guitar did you play!?
Thanks! I was inspired by a couple of friends to pick up the guitar in High School – they would spend their lunchtimes playing songs like "Rip It up" by Orange Juice in the music room, and I felt left out! After leaving school I was unemployed and that's when I taught myself to play guitar. After a year or so I was invited to join my 1st band, which was formed by the Brilliant Michael Harris, who also played trumpet on Sunshine Thuggery and was the lead guitar player in Reserve (as well as my post Siddeleys band).
I was a huge fan of the Postcard records stable, and all of the bands featured great guitar players: Edwyn Collins, James Kirk, Malcolm Ross, Roddy Frame, Robert Forster & Grant McLennan. Grant Mclennan's lead guitar sound was of particular importance, I remember standing at the front of the stage during a Go-betweens show just to determine which pickup/effects combinations Grant used on particular songs. This was the sound that I applied to stuff like "Wet Wednesday".
Other influences were the Smiths of course, but also Tom Verlaine from Television and Sterling Morrison. For me a good Saturday night in 1985 was sitting at home alone playing along with a copy of the Velvet's Live 1969 LP. That's where the Sunshine Thuggery strum comes from, playing along with "What Goes On". But just playing with friends, and especially Michael, was where I learned the most. Being relatively untutored meant we had to rely on al lot of hard work in order to get good. The Siddeleys were a good band, (as opposed to a group of individual musicians) the way we played together was very important and the sound we had together was pretty unique. I heard "what went wrong this time" at a club recently, and it sounded great!
I saved for months and bought a Fender Jazzmaster. That was my main guitar & was featured on all the Siddeleys recordings, (the mental lead guitar on "are you still evil" is the Jazzmaster) though I also had a Fender Telecaster which I preferred for live shows. The Jazzmaster was somewhat unreliable & tended to go out of tune. We played in Manchester once & the Jazzmaster broke a string in the first verse of the first song.
++ How did you end up releasing on Medium Cool? There are some really nice bands there, like The Waltones and The Popguns. It was only a 1000 copies run, right? And that was 'limited' back then… now 1000 records is soooo much!
I'm not sure how the deals were made to be honest. I know Andy Wake had an early demo & liked what he heard. I believe he actually offered Johnny a solo deal, but she declined & requested that the Siddeleys as a band be released. Our relationship with medium cool was pretty fragile, and when they omitted to include our name on a poster announcing the fall releases, we knew it was time to move on.
Yeah, but you have to remember that singles were the only way that people were able to consume music. In the pre-digital world, you didn't have a choice. No MP3s, iTunes or even CDs.
++ What do you think about Medium Cool selling all their back catalogue to Cherry Red?
Great! I believe there is a compilation being produced at present.
On New Year's eve 1982 I bought a copy of "pillows and prayers" for £0.99, which is a great Cherry Red sampler. I'm very happy if the Siddeleys become label-mates of the Marine Girls, the Monochrome Set and Felt.
++ What about the Sombrero Records release? How did that happen? Did Torquil McLeod (Reserve) had some influence on this one?
We knew David "Payney" Payne through his brilliant fanzine "Trout Fishing in Leytonstone". He had put out a number of fanzines and was looking to move on to his next project, which was a record label and club. Inspired by Richard Brautigan, the label was christened Sombrero, after Sombrero Fallout, and the club became the Cool Trout Basement.
I don't recall who met Payney first. It could have been Torquil. I understand he's a cloudberry artiste now. You should interview him!
++ Who designed the covers of the 7″s?
The Medium cool single was put together by a designer, who used the original materials provided by the band. I designed the logo which appears on all of our releases. It was drawn by hand on my mum's kitchen table.
A friend of Payney's pasted together the Sunshine Thuggery cover, again using my hand-drawn type and a photo taken by Andrew and Johnny.
++ Lately there has been lots of talk about mp3 blogs / free sharing of music on the poplist and there has been controversy about what labels are for. What do you think about labels, what do they represent for you?
To me, labels mean community, a sense of identity, a cohesion in both music and design. Before the Unfortunate Drummer Incident there was a real community surrounding Sombrero records, Bob had an 8 track demo facility in Somerset, 140 miles outside of London that we used & the weekends were usually fun. The Sha La La flexi disc was recorded there. Reserve, the other band on sombrero were my friends – I had gone to school with Michael the Guitar player & introduced him to Torquil.
++ You recorded 2 Peel Sessions! That must have been a blast! Was that, you think, the highlight of The Siddeleys? What do you think Peel gave to indiepop?
The Peel sessions were amazing, but absolutely terrifying. The pressure was enormous: record 4 songs in a day, all of which must be broadcast quality, with only the barest of overdubs, knowing that the entire country will be able to hear them.
Peel gave so much, not just to indie but to the British (and in many respects global) music scene. He was the only way anyone could get their music heard, and in turn, I derived most of my musical education from listening to his show.
++ There was going to be a third single, right? "You Get What You Deserve"? Why didn't it ever happen?! I can't believe there was no interest at all! Being such a MONUMENTAL song
Sombrero had no money left for us and no-one else wanted to release our records. And sadly, that was it.
++ What is this story about you having a haircut all the time? Very stylish Allan! 

We weren't scruffy indie rockers, that's for sure. At the time my hair was very short & a haircut at my local barber shop only cost £1.50, so in order to keep it really sharp looking, a trip to Neville's was in order. Neville was an artist – he could simultaneously chain-smoke, watch the horse racing and still give you a decent trim. But it's a very British, almost Mod thing. We all loved going to Camden Market looking for 50's suits etc. It was always flattering when were referred to as "the Debonair Siddeleys".
++ What were your favorite bands at that time to play a gig with? Who would you have liked playing with but you never did?
We played with our fellow Sombrero artists all the time, especially at the "Cool Trout Basement" Club run by the folks behind Sombrero and Medium Cool. Our friend Richard Formby also organized an all-nighter boat trip on the River Thames, where all the Sombrero bands played. But really, I enjoyed playing with anyone who wasn't a jerk. The Chesterfields were great, talented and friendly. Jesse Garon & the Desperados were another great band. 14 Iced Bears were cool.
We supported bit the House of Love and My Bloody Valentine, & both bands were snooty, unfriendly and obnoxious.
++ What do you think about the scene today? Any similarities, differences? I think bands back then were more political, more true to themselves. Maybe I'm wrong?
I have no idea what "the scene" is today, I'm afraid. I get the impression it's only a couple of hundred kids, scattered around the globe.
The Siddeleys weren't part of any scene, really, we were an individual band that happened to be around when a bunch of other bands who drew on vaguely similar influences were also around.
There was little to no camaraderie between bands outside of the Sombrero fold. When we did bump into groups we had previously played with on tour, we were friendly & pleased to see them, of course.
We were political people but our music was more concerned with personal politics. It would have been absurd for us to have written a song about Thatcher.
But you are right about us being true to ourselves.
I can only speak for myself, but I think there wasn't such a stereotypical "indie pop sound". I think it has a lot to do with the fact that were weren't really taking our influences from our contemporaries. The Siddeleys weren't huddled around the stereo dissecting Primal Scream B-Sides, we were more influenced by 50's Rock and Rollers, pre-Beatles pop such as Adam Faith, Joe Meek and Johnnie Ray.
++ Any favorite bands today?
I hear this Robert Forster guy is quite good.
::::::::::::::::::::::::::::::::::::::::::::::::::::::::::::::::::::::::::::::::::::::::::::::