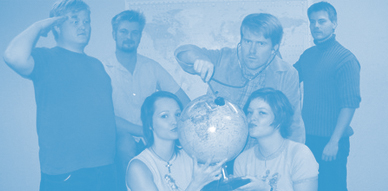 Saw Ed Shelflife the other day and went to have Indian food, talked about this and that, future projects, indiepop, and footie. It was a good time. It seems he has a busy schedule up ahead, and now I know that he secretly updates his catalogue page without making any announcements. That's the best way perhaps to know what he is planning to release on his label.
Sadly I'm still stuck with this moving process and I'm not moving until the end of September. This situation has made me postpone the release of the My Light Shines for You 7″ and other projects. This is a complicated situation for the label in a way as I can't move forward at the moment. Of course, after the move things will run smoother, but right now I feel a bit caged, not being able to work on our next releases. Hope you understand the delay, I'm very sorry about it! I think the release date for the 7″ will be pushed until December.
I have never heard Seal Pillow before, and was quite unsure what to expect. I noticed that their song/video "Fanclub" was posted on the Twee Lovers Club Facebook page and decided to give it a listen. The video is lovely really, made me feel young again, made me nostalgic. The song is very nice too, very 90s indiepop, you know when there was influence of softer styles like bossanova? I know very very little about the band, I know they are from Bangkok (why wasn't I aware of them when I visited last year?) and that they started as a band in 2012. The band is formed by Aaron on guitar, Pakorn on bass, Chalerm on vocals, Araya on drums and Mumza on guitar. I'm not sure if they have any proper releases, but they do have a Soundcloud page full of good songs!
My friend Jennifer was surprised that I was writing more after changing jobs, the thing is, I don't have many distractions here. Everytime I have a little break from any project I'm working, I write a paragraph or two. And so these posts are built over days. I find a new band on Bandcamp and I write immediately about them. That way I don't forget about it. And then it becomes a bit of a cut and paste adventure, some paragraphs I write for a post end up on another post and so on. It is the same case when it comes to the obscure band part of the post, I find a website or any important detail, then I write about it. Then I close the post and get to work. I hope that by doing this I'm not losing the flow of the posts, the thread! You let me know. Also would be good to know if you feel I'm writing too much and I should slow the pace!
Another Bandcamp discovery has been Huntington Beach, California, band Black Sea. The band seems to be a one-man project run by Cole Devine. The past August 1st Cole put out a digital album on Bandcamp titled "Dissapointing Sunset". There are 11 dreampop songs in the album, and they are really good. The song "Apprehension Review" even has a video. This is not their first release, it seems back in 2014 there was the "Keep Smiling/Optimistic Sigh EP" tape on Burger Records.
Two bands I've been praising and following the past few weeks are Stars in Coma and The Pains of Being Pure at Heart. Both bands that at some point were part of Cloudberry. And that is a good thing of course! The last few weeks they've been sharing advances of their new albums and now finally they are available to listen to the in their entirety. "Escapist Partisans" by Stars in Coma is now streaming at their Bandcamp and it is also available as a cassette. On the other hand, The Pains of Being Pure at Heart's album "The Echo of Pleasure" is now available to stream exclusively at NPR. Check it out, it is a very fine comeback!
On Thursday September 14th Native Records is throwing a release party for Raintree County's 3CD retrospective album "Sweet Everything". I'm not sure if this is the release date, but I'm assuming copies will be available. The Native Records website has no information about this release, but I hope the important details become available to those not living in the UK. You know I want a copy!
I've recommended the Moscow band Verbludes before. They are fantastic, and if only they didn't release their records on tape I would have made the impossible to get their releases. I do understand though that many of you like tapes, so I will tell you that the band is releasing a limited edition cassette of a live gig on the label Pow! Pop Kids. The gig was played in a venue called Dig in 2016. There are 20 copies available, so act fast! Only one of the songs is available to preview on the Bandcamp.
I remember Loons released an album on Elefant in 1997. That was 20 year ago. In 2001 they released an album on Galaxy Train titled "Dim Movies". Up until now I hadn't heard it. The label has this album now streaming on Bandcamp and you can also order a copy of the CD album. It is up my street, I wonder why I missed it. The label likes them to Holiday Flyer, Watoo Watoo and La Buena Vida. I feel Loons is more fragile than them, but having the same sweetness in their sound. Nowadays the band members of the Parisian band are playing music on Flowers from the Man Who Shot Your Cousin and Cowbird.
And that's it for today. More coming soon!
————————————————-
Continuing the indiepop world tour, it is time now to head back to Europe, to Denmark in particular. There's been some good Danish indiepop bands in the last decade like Northern Portrait and Champagne Riot, and aside from the immense Gangway, most indiepop fans are not familiar with Danish indiepop. Time then to rediscover a band that has been forgotten, Embellish.
Embellish: make (something) more attractive by the addition of decorative details or features.
I know very little about Embellish. I do own their one and only album, "Wake Up", released in 2000 by March Records in the US (catalog MAR057). That CD has 10 songs, "Water Lung", "Super Cool Girl", "You", "Drug Dealer", "Sunshine", "Wake Me Up!!!", "I Don't Know", "Ambivalence", "One" and "Sea Monster". The first song, "Water Lung", being my favourite of the album.
The CD includes credits. And that is always a good thing. From it we know that the band was:
Claus Hansen on vocals and guitar
Tora Thisen on backing vocals
Julie Wellejus on backing vocals
Anders Hansen on drums
Martin Sorensen on bass
Jens Pape on guitars
Were Claus and Anders brothers? Other people credited in this release were Thomas Jensen for additional guitars, Mikkel Christiansen for percussion, Fran Ashcroft for producing and mixing the album and Tue Madsen for engineering the album. The album was recorded at Borsing Recording in Århus and mastered at Birdland.
When it comes to compilations the band appeared in a few. In 1995 they contributed the song "Trigger Happy" to the CD compilation "DM I Rock '95" released by the Start label. This song doesn't appear on the album, so I'm quite curious about how they sounded at this time. Were they poppier? Punkier? Rockier? Did the band have the same members? I look at the rest of the bands on this CD and I really don't know any, they must be Danish as well. The label was. The label Start was based in Århus and was founded by A&R producer and manager Poul Martin Bonde. The label was later bought by Sony.
In 1997 the band appears on a promotional CD compilation titled "Starsearch 4". They have the song "Wake Me Up!!!" in it. The label that put out this CD, Fajabefa, seems to have released a series of compilations under the name Starsearch, at least up to volume 9.
In 1999 they start a relationship with March Records. On the classic compilation "Moshi Moshi: Pop International Style" (MAR 050) they appear with the song "I Don't Know". This record was released as 3 LPs or 2 CDs. It is highly recommendable, there are songs by bands from all over the world. You will find songs by The Pearlfishers, B'ehl, The Secret Goldfish, The Leslies and a lot more!
The next year, 2000, the band has the song "You" on the March Records compilation "Little Molly Has a Treat For You" (SLICK 001). This was another fantastic compilation, with songs by Vacaciones, Barcelona, Waltz for Debbie, Club 8, etc.
Now time to leave Discos and dive into the unknown. It wasn't going to be difficult to start getting hits, finding some pages on the web about Embellish.There are many reviews of the album. This is the case with many bands from that period, from the late 90s, early 2000s. Nowadays that is hard to find, websites or webzines dedicated to reviewing albums, back then it was common. On the other hand getting in touch with bands was a bit more difficult, there was no Facebook, no Bandcamp or Myspace. No way to share your music easily. I guess there are pros and cons then and now. Though of course, back then people were buying more records.
My first stop seems to have been a Geocities page called Pop Palace. There the writer, Mike Bennett, compares the band to The Beautiful South and The Dentists. But not many meaty details. Then I stop at another review dating from 2001 on the website Drawer B. Eric G., the reviewer, really likes the band, he again compares them to The Beautiful South. I try to find any details about the band, like if they had been in any other bands or not, but there's nothing. Just a lot of adjectives, crystalline, funny, melodramatic and more. I'm trying to find out whatever happened to the band.
On Popmatters there is harsh review by Geoff Stahl. He doesn't like the band at all. He says it was the least appealing record he heard in 2000. Then, on another review, Ned Raggett on Allmusic.com compares them to The Field Mice or early Cardigans. Lastly I found another review on the web-zine Furia. Here the reviewer is right on saying that the band sounds more Swedish than Danish. That might be true if you think of bands like The Leslies or even Eggstone. Here at last I found some interesting detail.
That detail was important. The album "Wake Up wasn't actually new in 2000. It had already been released in 1998 in the UK by the label Sunflower. It came out under a different title, "Long Live the Bald People" (BELLYCD 001) and even had different artwork. It has the same tracklisting.
The band played the SPOT 02 festival that was held, I believe, in Århus in January 18 to the 20th of 1996. It seems the people from Fajabefa, that label that had them on a compilation, was one of the organizers. How do I know this? I found an ISSUU document where Embellish is mentioned as part of the lineup. Here there's an address for the band and it seems they were based in Hobro.
Hobro is an old market and railway town in Region Nordjylland on the Jutland peninsula in northern Denmark. It has a population of 11,736. The town is situated in a hilly terrain at the head of Mariager Fjord, close to the former Viking fortress of Fyrkat. It is the seat of Mariagerfjord municipality.
Looking for the band members I find an article where Anders Hansen is mentioned. It is from the Nordjyske newspaper and it dates from February 24, 2003. It seems the municipality of Hobro had built a rehearsal studio for bands to practice. The municipality was to pay the rent of the house while the group Crescendo, who Anders is part of, will take care of the daily operations. I wonder how this project did, if it still works today. Also according to Discogs Anders had been involved in some more music. He was involved with The Marsmen, Small Talk, The Collins, Bent Fabric, Bonnie, and more.
I couldn't find any other information about the band members. Nor about Embellish. It is strange, the band only released one album and that was it. No singles. Then they disappeared. It doesn't seem like most of the band continued making music. I wonder why. Most of the reviews I found were favourable. What happened with them? Anyone out there remember them?
::::::::::::::::::::::::::::::::::::::::::::::::::::::::::::::::::::::::::::::::::::::::::::::
Listen
Embellish – Water Lung