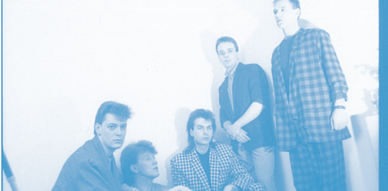 Some weeks ago I wrote about The Divorce Brothers on the blog. Happily Ged Lerpinière got in touch with me some days ago and was kind enough to answer all my questions about the band in the 80s. It was great as I got some facts wrong on my post and now I know a bit about that scene of Dundee thanks to his thorough answers! Hope you enjoy reading it as I did!
++ Thanks so much Ged for the interview! How are you? It seems I totally got it wrong earlier on, you weren't from Perth but from Dundee! Are you still based there?
I'm fine Roque thanks for asking. Yes The Divorce Brothers were from Dundee. I think only one of us lives there now. I live outside of Edinburgh.
++ How was Dundee back then? Were there any other like-minded bands? In what venues or places would you usually hang out?
Well Dundee was a lot of fun back then. The music scene was kind of centred around Fat Sams which still seems to be going strong. The Associates and Danny Wilson were contemporaries of ours and I'm sure you know all about them. We hung out with Gary Clarke, Ged Grimes and Kit from the Danny's Ged is now bass player for Simple Minds. And The Divorce Brothers had a lot of cross over from The Associates. Billy was a pal and Alberts brother in law. Ian MacIntosh played guitar in the Associates, Roberto Soave played bass for them (good friend who turned out for us once or twice I think?) he also played with The Cure briefly. Liz McKenzie was Billy McKenzie's sister. Jimmy McKenzie also played bass with us for a while towards the end. Martin Lowe also played guitar for us for a while and he made an album with the great Scottish Musician Martin Bennet in the mid 2000's.
The other bands that were around were Sweden Thru The Ages led by Stephen Knight who is still making music and released an album 'Rope and Vine' last year which I recommend you look up on line. Inca Rhodes which featured Colin Knight and Setting Fires whose singer was Kim Pallas. I'm a bit hazy after that. Before this period 84-87 ish there were a lot of punks bands and before that big hitters like the Average White band also with Perth connections. Then Skeets Boliver, which featured the wonderful Marra brothers (Michael, Chris, and Eddie) amongst others.
++ Before The Divorce Brothers, were you involved in any other bands? Or was this your first experience in a band?
I had played drums and percussion in a pretty terrible free form mess called 'The Soul Vibration Posse' I think. The name was the only good thing about us. And I had played drums on a couple of bad demo recordings and did some working mens club gigs, but that is going back a long way and can't remember much about them. Ian roped me in to the band to add some colour on percussion we were a gang as much as a band.
++ How did the band start? Where did you all meet?
Ian and Albert are brothers, Paul was their brother in law and Derek and I were pals of theirs. They had a previous incarnation as Loco Jonny Mince! I think; and you guessed it, that band featured another McKenzie; Billy's brother John was the singer. But it kind of morphed into the Divorce Brothers.
++ And where does the name come from?
Well Ian was divorced and Albert was his brother I think Roberto Soave suggested the name I can't remember exactly.
++ What bands would you say influenced your music back then?
A lot of what would be called 'Indy stuff' now, so yes the Associates as Ian supplied the guitar for many of the tracks on 'Perhaps' and toured with them and was involved in the writing. But we had lots of different ideas. Albert was very much of the rock and roll Eddie Cochrane and Punk ethic. Ian was into; Small Faces, Zombies, Steve Marriot stuff but also very classy pop so I remember we were very taken with The Propaganda Album 'A Secret Wish.' The Cure Album 'Head on the Door' was a big favourite as was 'Stop Making Sense' and 'Remain in Light' the Talking Heads ideas on rhythm interested me a lot, still do. Roxy Music were always an influence and Ian still thinks Avalon is one of the classiest albums ever made. I think we nicked the girl vocals on the end of the track Avalon for 'To Understand' (attached). We had eclectic taste though I went from The Clash and Ry Cooder to plenty far out prog and jazz stuff that everyone hated. But if It's worth nicking you can find things in all sorts of places. Two of my favourite bands at the time were Microdysney and the Railway Children. Perfect pop music and some great lyrics especially Microdysney.
++ You only released one record in 1986. It came out on Separation Records. Who were they?
Separation records was our own label. We distributed it through something called the Cartel it sold poorly, very poorly.
++ What do you remember from the recording session for that record?
Gibson studios was a tiny space in Carnoustie so I remember it being small! The control desk was in a space under an elevated bed. I can remember doing the timbale break on To understand thinking I might bash my elbows off the wall. We had rehearsed and knew our parts but it was our first real experience but Ian had done it before so he was the 'guvnor'. But to be honest its 30 years ago so pretty hazy.
++ There were 5 songs on the record, which one was your favourite and why?
Well I think we wrote some better songs later. I loved The Divorcee as this was the song we opened with and Paul and I would open up on percussion. But I think 'To Understand' is the best song. The Liquidator is our homage to Sergio Leonne.
++ And how did the creative process work for The Divorce Brothers?
Well it changed as we evolved. But originally Albert and Ian wrote everything and brought it to the group and we worked on refining it into structured songs everyone chipping in ideas. We rehearsed often in Fat Sams as Derek was also an employee there. Then later others started to bring ideas in, a bass line here, a groove there, a lyric or melody. But the Divorce Brothers EP is very much the MacIntosh brothers writing.
++ How did Liz, the sister from Bill McKenzie of The Associates, collaborated on the record? Were you from the same scene perhaps?
Well yeah as I say she was married to Albert and we all hung around together.
++ And what about the Soul Kiss Club that is thanked on the sleeve. How important was it to you guys?
That was Nick and Chris Wright who were a couple of friends who ran what would maybe called 'Pop Up' events now. They would hire say the Tayside Bar or The West Port bar and play music'. I think they put on bands occasionally as well so we probably played with them. I remember a great gig at the Blue Mountain pub where both of us were involved. Chris and Nick were good guys, great taste in music always something new, oh and Steff I think?
++ So what about gigs? Did you play many? Any anecdotes you could share?
Er yes we played many gigs over 100 I believe but could be wrong Ian probably knows. There are some stories that cannot be told or you and I would be sued! But the personnel changed and after Derek left. We got in a very good keyboard player Drew Scobie and at his first gig there was fight and Ian was hauled off stage, in his second a girl danced onto the stage and we all parted like the Red Sea and allowed her to dance in front of Drew and she started playing with his bald head, in the third he was accosted by a drunk in Peterhead who kept sticking his head in front of Drews keyboard so Drew couldn't see what he was doing. I think Drew had a good time though! Our 'manager', a bloke who shall remain nameless, was also a bit of a spoofer (liar) so we could turn up at gigs and not know what he had told the management before we arrived. So we once saw a poster telling the audience to watch Top of The Pops on Thursday because we would be on it. It was all rubbish of course but maybe we got a few more quid as a result.
++ What about press then? Did you get much radioplay? Or perhaps appearances on magazines or fanzines?
Yes we got a bit of local air time Radio Tay and Radio Forth and it got played on Radio 1 I think but I might have imagined that. Ian and Albert occasionally get a cheque for 9p (not much) so someone has played the record every now and then. We had gigs featured in local press all over the place, the NME etc. Local fanzines covered us the names of which are sketchy in the memory I think 99 Free? called us 'Ignoble', we had to look it up! Albert and I took issue with the reviewer, we turned him upside down in Fat Sams and tickled him!
++ You were around during those mid, late 80s, there was a big explosion of guitar pop bands in the UK, so I think it's fair to ask why do you think this happened?
I think that scenes develop for lots of reasons most are a reaction to what went before. What went before was Wham and a lot of glossy horrible pop, what went before Punk was overblown Symphonic rock. Fashion I suppose. There will always be guitar bands it depends what you do with it as to whether it's popular or fashionable which are not the same thing And neither of those things necessarily make you good!. The Stone Roses were I suppose the epitome of cool at that time. But you can hear, The Byrds, Small Faces, The Who in that sound but after that they went a bit Dance orientated as a response to the fashion, and the drugs at the time.
++ You were telling me you recorded many more songs. Were they sold on demo tapes perhaps? Or perhaps they haven't been heard yet by the no one? Do you remember the names of them?
There are some demos' and if I can get them into some form of digital format I'll see if we can forward to you but most of it is lost I think. The names: There is: 'Experience' which is groove and bass thing, 'Shake the hand of a Millionaire' which would have been a number one on all continents and made us Millionaires (maybe `8¬) )'One Night in a small Town Cabaret, 'Go', 'You bring out the worst in me' and some others I can't remember.
++ And why didn't you release these songs?
We were falling apart in about 1988 as we had to get on with our lives. It started to be not that important; that and we were not very well organised. We didn't get signed so we didn't have the energy to try again. We didn't want to be the guys in the bar who people would mutter at 'Jesus give it up guys'.
++ Was there ever any interest from other labels?
Yes we had a show case for Warner Brothers and London records. London records 'apparently' decided to spend the money on Love and Money instead. Some you win. But it was already becoming a bit of challenge to keep the enthusiasm going at this point. And I think a lot of the responsibility was falling on Ian which wasn't fair.
++ Have you ever thought in maybe putting together some sort of compilation of all Divorce Brothers songs?
No as I can't find much more than 8 tracks. I don't think it has crossed anyone's mind. Who would listen to it? But if we do you'll be the first to know Roque.
++ So when and why did you split?
Split is a bit dramatic. The Divorce Brothers petered out in about 1988. Ian and I went into education, Albert concentrated on his business, I have lost touch with Drew, Paul was already an engineer doing very well and Derek left to work in the entertainment business.
++ Were you all involved with music after The Divorce Brothers?
Well in about 2010 Ian and I formed a band called Sinderins with our friend Ian Caddell, who sadly passed away in 2011 we have some demo's and I'll see what I can come up with for you. Attached is a file of a song Ian and I recorded a few years ago I'm singing, did the drum pattern and a bit of percussion, Ian played everything else. I wrote the song in response to the summer 2011 riots in England. Hence '5 Days in July'. We performed briefly as 'The Jyne' with two other friends but this split in 2012.
I played in Steve Knights band 'Any Wednesday' and have sat in as dep drummer for loads of people. But having kids takes up time and joining a band is a big commitment. Ian more or less gave up music after he qualified as an Engineer until I persuaded him to join Sinderins. He remains a great musician in my book.
++ Are you all still in touch? What are you up to these days?
I work in Education.
Ian is an Engineer running his own business. Albert still runs a business in Dundee and I've seen him recently. I keep in touch with Derek but don't know what happened to the other guys. Maybe I should use Facebook? And sadly some of the people mentioned above are no longer with us.
++ Aside from music, what other hobbies do you enjoy doing?
I am an artist http://www.marchmontgallery.com/Lerpinire-Ged(2386281).htm I have two exhibitions next year and will be exhibiting at Summerhall Gallery in Edinburgh on the weekend of 22nd November. And I run a lot.
++ I've been to Scotland a couple of times and I love it, never to Dundee though. Wouldn't mind some tips on what to see and what's traditional to eat there?
In Dundee!! You should eat: Pies, White puddings and Sare heid Cakes (sore head cakes) pretty unhealthy food!
Have a walk up the Law and you can see for miles around. I used to drink in the Tay Bridge Bar which is immortalised in song by the wonderful Michael Marra https://www.youtube.com/watch?v=1X0rqVVAmXw
++ And one last question, looking back, what do you think was the biggest highlight for The Divorce Brothers?
I really enjoyed the gigs and being the first Dundee band to headline Fat Sams Dance Factory and hanging out with my friends. It was all part of growing up.
++ Thanks a lot! Anything else you'd like to add?
No just hello to Paul, Ian, Derek, Abe, Drew, Roberto, Bryan McDermott, Alison Burns and Martin Lowe who were all Divorce Brothers at one time or another and I didn't mention Irene so hello Irene.
:::::::::::::::::::::::::::::::::::::::::::::::::::::::::::::::::::::::::::::::::::::::::::::