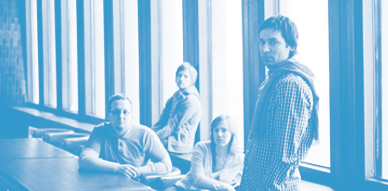 It is a Wednesday and I had enough time to continue checking out what is new in indiepopworld! Maybe, just maybe, there could be time for another post this week.
I'll start with Indonesia and the new release of the very fine Dismantled Records from Jakarta: Cleve. At the moment it seems the two songs of the single are available digitally but from what I read on the Bandcamp there will be a CDR sometime soon. The two jangly pop songs, influenced by the sound of the first batch of Indonesian indiepop, say Annemarie, Blossom Diary or Clover, are "Jeda" and "Lagu Pagi". Both are really nice songs! The band is formed by Omning Puri, Andi Hans Sabarudin, Peter Andrian Walandouw, Amy Amanda and Ade Kris.
Melbourne band The Newsletters, who were recommended on the blog at the time of their appearance on the CD16 compilation, have just released their new album on Buttercup Records! I'm only listening now as I write these lines and I'm hooked. There are 10 fine pop songs in total on this self-titled release. The band is formed by Conor Hutchison on guitar and vocals, Pam Hutchison on bass and Tam Matlakowski on drums. The record is only limited to 150 copies!
Probably the best find this week comes thanks to Melotron Recordings from Greece. They shared on their Facebook page three tracks by the little known UK band Pop City Arizona. The songs they shared were "Bluebell", "Seaside" and "Girl with Mousy Hair". They are all fantastic really, and it is no surprise. Why? Because before there was the band Mary Queen of Scots they were called Pop City Arizona. Does that make sense? If you are not familiar with Mary Queen of Scots, well you better check out their split 7" with Peru. I should get in touch and interview them, right? Anyhow, Pop City Arizona hailed from Birmingham and these three beauties date from 1990-1991. Shame they were never released properly!
Another late discovery is the band Parliamo from Perth in Scotland. From the video of their second single "Lucy" we see this band is formed by a bunch of young teenagers! That is very very cool in my book, youngsters loving jingle jangling guitars! There is not much information either on the video or on their Facebook page which is a shame. Also it seems that their songs are also only available online, no physical records as of yet. Their first single doesn't have a video but it is streamable from Youtube and it is called "Weekend". This first one was a bit rockier, so yeah, not as good as "Lucy"!
Jigsaw Records latest release was the Irish band Shrug Life's self-titled album. The 11 song CD album came out late September and was actually a co-release with the Irish label Little L. The label compares them to So Cow and The Lodger. I can see a bit of both. But what do we know about this band? Well, they are from Dublin and they are a trio formed by Danny Carroll, Josh Donnelly and Keith Broni. We also know that before releasing this album they put out a tape EP in 2015 on the label Popical Island. And that's about it. Not much more!
Just mentioned The Lodger so I wondered what is Ben Siddall doing these days. I found out that he has set up a Bandcamp under the name Your Favourite Colour where he has been uploading songs supposedly every week. The last one was uploaded on September 8th and is called "A Quick Goodbye (demo)". Yes, all of the uploaded songs are demos and there are six in total right now, "Former Life (demo)", "Telephone Song (guitar demo)", "This is Real (demo)", "We Will Never Be Alone (demo)" and "My Only Superstar (demo)". To make it even nicer to the fans he added lyrics to the songs. Very cool. Looking forward to a finished album hopefully!
My last recommendation is the Tokyo dreampop band Blanco. They have just added to their Bandcamp their 2nd EP which follows April's "Kinyoubi No Yoru" EP. Like their previous effort this digital EP has 3 songs, "Heart", "Let Me" and "Kinyoubi No Yoru", this last one included in their previous EP but has been remastered especially for this new EP. Probably this last one is the best track out of the three but "Let Me" is also pretty damn fine! There is no much information about the band but I could find a promo video for the song "Thought of the Day" that was included in the first EP. I definitely recommend Blanco and I'm quite impressed by the numerous amount of new Japanese indiepop bands! Would Japanese fans consider this moment as a golden age for Japanese independent pop?
———————————————————-
One country that perhaps you didn't have in your radar, Latvia. And yes, this will be our 30th different "indiepop" country in this special feature I've christened the "indiepop world tour". Time now for the band Tramplīni whose sweet sounds will definitely surprise you.
As far as I know Tramplīni is the only indiepop band to ever come from Latvia. I may be wrong, and I hope someone can prove me mistaken. I would love to hear more guitar pop from this Baltic country. So if you have any recommendations, please, you know what to do in the comments box at the bottom of this post. I discovered the band many years ago, maybe around 2007 or 2008, I can't remember now. But what I do remember is that I found their music through Myspace. And actually, to my surprise, their Myspace still exists.
I quickly check on Google Translate what does Tramplīni mean in English. It means "springboards"! Just in case English is not your first language, why not look up what a springboard is: a strong, flexible board from which someone can jump in order to gain added impetus when performing a dive or a gymnastic movement. Afterwards I head to Discogs, my go-to website for information about bands these days. If only Discogs had the possibility to listen a song or two from the releases it would be the perfect website. I understand that couldn't be done with big bands, bands on big labels, but indie bands? I think there could be an option for bands to be able to upload their own songs.
On Discogs there is a biography for the band: Latvian lo-fi/indie rock band Tramplīni feature Anete Kozlovska (farfisa organ, keyboards, vocals), Jānis Birznieks (guitar, vocals), Māris Peterlevics (drums, guitar), Gary Dickenson (bass) , Jānis Barlo (guitar) and Uldis Kozlovskis (bass, glockenspiel). Tramplīni originally have formed in Liepāja back in 1997, when old school mates Jānis Birznieks, Mārtiņš Rencis and two brothers Māris and Juris Peterlevics came together. In 1998 they self-released debut EP "Planētas"(Planets). After a short period of silence Tramplīni ganged up in Rīga again, when one of the most beautiful Latvian female vocalists Anete joined the band. In 2006 they self-released their 2nd five song EP "Hallo, mazie!"(Hello, Babies!), combining the best of indie, lo-fi, slow core and post rock traditions. After their 3rd EP "Ziepju trauks" (Soap Dish) in 2008 on Klausule Records, Tramplīni finally released their first full-length cd – "Švīkas" (Scratches) in 2011.
Sure, the band is a bit lo-fi. Indie-rock? Mmm could be. But I feel it is closer to indiepop. They are melodic and catchy and even if I don't understand Latvian I want to sing along! So the band was originally formed in Liepāja and I have never heard about this town: it is a city in western Latvia, located on the Baltic Sea directly at 21°E. It is the largest city in the Kurzeme Region and the third largest city in the country after Riga and Daugavpils. It is an important ice-free port. In 2017 population of Liepāja is 69,443 people. In the 19th and early 20th century it was a favourite place for sea-bathers with the town boasting a fine park and many pretty gardens, and a theatre. Liepāja is however known throughout Latvia as "City where the wind is born", likely because of the constant sea breeze. A song of the same name (Latvian: "Pilsētā, kurā piedzimst vējš") was composed by Imants Kalniņš and has become the anthem of the city. Its reputation as the windiest city in Latvia was strengthened with the construction of the largest wind farm in the nation (33 Enercon wind turbines) nearby.
Riga, I've heard of course, that's the capital. I hope to visit one day. I really do. The old town looks beautiful, and I've actually read quite a bit about it as I have this Lonely Planet Baltic guide from the time I visited Estonia. I was curious and started reading. Now, I need to get myself there.
The other interesting detail I get from that bio is that of Gary Dickenson. Who is he? Definitely that name doesn't sound Latvian. It is also worth mentioning that there is a website listed but it doesn't exist anymore. What does exist is a Bandcamp for the band were all their releases but their first one, the "Planētas" EP, are available to stream. I would start with those releases but let' do it in chronological order.
The "Planētas" EP came out in 1998 and it was self-released. I'm guessing it was released as a CD. It included seven songs: "Planētas", "Tuvoties", "Zaglis", "Patvērums", "Bērns", "Vienpadsmit" and "Viens Vārds". There is not much information about it on the web and it is definitely hard for me to dig in Google for any information in Latvian. But I will try!
8 years after that first release, when the band had already moved to Riga, a new EP was to be released, the 5 song "Hallo, Mazie!" EP. This CD was also self-released and had the tracks: "Pārgājiens", "Tas Pats", "Šovbizness", "Rudenī" and "Millennia". It also includes a video for the song "Tas Pats", which was created by Toms Vilītis, which you can actually watch on Youtube. This record was mixed at Wolk Recording Studios by Sergej "Amsterdam" and mastered at West West Side Music by Alan Douches. The cool artwork was created by Pēteris Līdaka. The credits for the music go as follow: Uldis Kozlovskis on bass, Māris Peterlēvics on drums, xylophone, guitar and organ, Jānis Barlo on guitar, Jānis Birznieks on guitars and vocals, Kaspars Majors on trombone, Konstantīns Jemeļjānovs on trumpet and Anete Kozlovska on vocals, farfisa, piano, harmonica and synths.
Then we had to wait just two years, in 2008 the band released "Ziepju Trauks" with the label Klausule (KL002). At last, the band found a label (though it might be the band's own label? anyone can confirm this?). This CD was also an EP and again they had 5 songs on it, "Zibspuldzes", "Mazā Paciņa", "Labi Draugi", "Biezpienbumba" and "Par Lietu". This record was mastered and mixed by Jason Martin in his studios of Riverside, California. Here I see some new names on the credits, Aigar Celms as a performer, Jānis Porietis on trumpet and Virdžīnija on vibraphone. A small little press release for this record says: The third EP from Tramplini. Released on December 2008. We recorded this album in places like hotels, offices, church, home, in the wild. We wanted to make it organic in every sense. The CD cover is from recycled paper and each copy marked with a unique number. It is important to mention that a promo video was made for the song "Mazā Paciņa".
These two last EPs were then released as a compilation titled "Tumba Rumba" in 2009.
Finally in 2011 the band was to release their very fine debut album "Švīkas". It was also released on Klausule (KL003) and it had 9 songs on it: "Zaķusala", "Tīrās Mokas", "Stēvija", "Švīkas", "Plāksteri", "Komunikācija", "Tas Nemaz Nav Smieklīgi", "Cidoniju Lauks" and "Degpunktā". This time around the album was recorded at WeLoveSound studio in Riga. It was mixed by Brandon Eggleston at Cloud City Sound in Portland and mastered by Nick Moon at Tone Proper Mastering in Portland. The artwork was created by Daiga Krüze. Luckily I found a copy on Discogs from a Latvian seller. Hopefully it arrives soon at home. What was cool though was the very low shipping prices! How I wish there were Latvian sellers selling more indiepop and less metal!
There are two compilation appearances. The song "Tas Pats" appeared on the "Series Two Compilation Vol.1" in 2008 and "Stēvija" on the CD comp "Odekolons #14" that was released in 2014 by HUBB (a Latvian indie label).
Next stop ends up being Youtube where I found some live videos. There is a clip of the band playing the song "Patvērums" live at Hamlets in Riga on January 2007. Even better I see a very excited crowd dancing and singing along the song "Stēvija" at the Positivus festival in 2012.
I decide then that it is time to check out what other music the band members had been involved with, so I click on their names on Discogs. Anete seems to have released a solo album titled "Tik Daudz" in 2012. On this album Uldis also contributed. They both also appear on the credits for the album "16 Stundas" by the band Kārlis Kazāks that was released in 2011.
I keep looking. I find a Facebook page that was updated earlier this year for the first time. The last post is actually a song by Peter Levics called "Prelude" taken from an album titled "Narcissism and Doubts". I have a listen. It is not indiepop, but a different thing altogether. Instrumental. Is this what Maris Peterlevics is up to these days? Or is it Juris Peterlevics? On this page I also notice that the band aside from playing the Positivus festival in 2012 also played a show the 4th of August at the Laba Daba venue in Ratnieki.
Then I found an article on the website TVNet from Latvia where they feature the band. I hope Google Translate is accurate here, I don't want to talk nonsense! So bear with me. It seems that before the band was called Tramplini they were called Palmolive and they were based in Grobinas.
My indiepop investigation reaches a halt here. I couldn't find any more interesting details nor I couldn't find a way to listen to their first EP. Bummer. There is no word if the band split or if they are still going. It seems 2012 was there last year active but I might be wrong. So I wonder what happened? What are the band members doing these days? Are there any Tramplīni unreleased songs? Why did they move to Riga? Was Klausule their own label?  Are there any other Latvian indiepop bands worth mentioning?
::::::::::::::::::::::::::::::::::::::::::::::::::::::::::::::::::::::::::::::::::::::::::::::
Listen
Tramplīni – Zaķusala