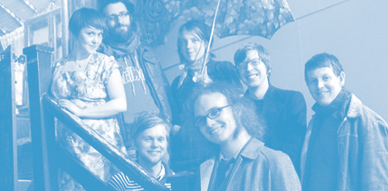 Thanks so much to Matthew for this interview! Back in October I wrote a small piece about the band and soon after I was in touch with Matthew Cheney about his once solo project that became a full-fledged band when he moved to Bristol. They have released three albums and one single, played a bunch of gigs, and these days are involved in many other different bands. Here he tells the whole story!
++ Hi Matthew! Thanks for being up for this interview! How is Bristol these days? What are the most exciting new bands in town?
Hi Roque! Yes, no worries… yeah Bristol is a pretty great place to live I reckon. There's not that many cities in the UK that I'd like to live in, Bristol is certainly better than most.
I'm not sure that I'm too in touch with new Bristol bands… I mean I am actually on the lookout for new stuff, for gigs which I'm (occasionally) putting on, I kind of wonder if its as much of a thing that people in their twenties want to do, or maybe its me who is not in tune with what's new. There's probably quite a bit of really good electronic stuff going on… I saw Livity Sound's first gig, which I really liked, as a live thing at least, I haven't heard their records … they are a sort of supergroup of Bristol electronic folks, nice layered rhythmic stuff. Probably a lot of that stuff revolves around Idle Hands (record shop and label) and other labels, I don't know any of those guys personally… Olanza are great… there's quite a few interesting guitarry post-hardcore influenced bands around at the moment. Trust Fund, Baby Grey (now Whitebelt), Motes, Margot, Nervy Betters, Two White Cranes are all worth checking out (although probably not all findable online as yet)
++ You play with a band called EXPENSIVE now. Care to tell me a bit about them and how different are EXPENSIVE from the Arctic Circle?
Yeah EXPENSIVE is pretty different I guess. Well it's a different bunch of people and the music we're aiming to make is probably quite different from Arctic Circle. I think with both projects there's a good balance of people having a bit of autonomy in creating the music and us collaborating on stuff. EXPENSIVE band practices are certainly pretty different where we might all be working on different things separately, or sending emails etc. There's a little bit of programming involved and we don't particularly spend a lot of time rehearsing. Maybe we should rehearse more. We're still adjusting what gear to use (not that we have mounds of fancy stuff) for playing live so that we can hopefully be quite dynamic and physical in how we play.
I think in both bands maybe the most exciting/ satisfying bit in terms of music making for me is starting with quite a basic chord progression or maybe a basic melody and sending it off to others in the band, and it quite rapidly becoming a finished song. In Arctic Circle the lyric writing was mostly split between me and Nina and in EXPENSIVE it's mostly Grace, with me doing the occasional song… I think its working well…I don't often feel inclined to write words actually, I would probably make more music if I did… Also EXPENSIVE came together at the start because Grace was keen to do a version of 'Secrets in the Moss' which was an old Arctic Circle song which had been floating around her shared house on a cd I think.
[Usually there's no 'the' in Arctic Circle by the way! Partly to avoid confusion with a musical collective thing that goes on in London]
++ And have you been involved in any other bands other than Expensive and Arctic Circle?
Yeah, well at the moment I'm also playing in a thing called Acres, which features some of the old Arctic Circle players. I play 12-string guitar and there's a lot of harmony singing. We are finishing a first album which will hopefully be available in some form in the next couple of months. I hope we will do a lot more in 2014. It's been a bit slow moving, partly due to visa complications for our saxophonist/ singer Kano who is from Japan. So we've actually been playing together for two years now, but really it's only been for a few weeks at a time, we've only played three gigs during that period. I think it's also quite a different band from Arctic Circle, there's perhaps a more unified sound for the whole set, using the same instrumentation for all the songs.
I'm also occasionally playing solo as the Amber Nectar – I'd call it a live ambient techno project. In some ways similar to what Heatsick does, in terms of how it is played (all live, no sequencing etc) although I tend to have almost nothing at all pre-prepared and just come up with all the tunes spontaneous as I play. It can be a challenge…I feel like it'd be a better thing if I did it really regularly, it'd be less confusing! Ideally I'd like to play a lot of club gigs or house parties, but I might clear the floor! The Amber Nectar stuff (previously playing as Colonist) kind of precipitated EXPENSIVE, because that band came together after I supported John Maus at the Croft in Bristol, and me, Grace and Pete decided it'd be good for us all to collaborate after that show.
I'd like to make a record or two as Lands End, which was kind of an occasional side project which I have played as with various people over the last five years. I have maybe two albums worth of unrecorded songs from the late 90s. Its probably a bit more bedroomy and introverted than other stuff, I'm not really sure what I think about it.
Going way back, I played in The Daisy Chain (which became Industrial Life Jigsaw) with my older brother and his friends back when I was 13, another band in an indie rock kinda vein with school friends for a few years where we rehearsed and played quite a lot, it was quite a massive part of teenage years actually, and those guys I think are all still doing quite a bit of music (Johnny and Duncan as Dogs, James in Johnny Marr and the Healers… pretty different kinds of stuff). From the last couple of years of school onwards, electronic music seemed to be more relevant, I think generally in those times (1990s) trying not to repeat or reference the past was generally more of a thing for more people making music… I had an ambient/ electro thing called Dawn Treader. I couldn't get much to work during Uni in Edinburgh, although I did play in an indie rock kind of thing, Euroshoppa whilst on exchange year in Groningen, Netherlands, which turned out to be a really great musicy city to live in, It still hosts Norderslag festival every year, has a brilliant long running venue, Vera, and some great record shops… more so than Edinburgh in my experience anyway… I think that's about it, theres probably been some other short term things as well.
++ Where does the name the Arctic Circle come from?
Ah, there's not a whole lot of story behind it, I didn't want a name that was too quirky… I quite like band names that are fairly meaningless. I was gazing down at miles and miles of arctic wilderness from a plane on the way to Canada and thought it might be a good name. I am quite interested in far northern places and spent a bit of time in northern Canada – the Yukon, as well as Iceland and Sweden. Well I wouldn't want to romanticising those cultures or claiming to have some particular insight or anything like that though, which is easily done… so yeah the name is meant to be a kind of blank canvas really…
++ Originally the Arctic Circle was a solo project, am I right? And only when moving to Bristol it became a full-fledged band? I'm curious about those early years when you were on your own and recorded two albums. I haven't listened to them yet, so I wonder what did you sound like? And what was your setup then?
Yeah I started using that name from when I was about 19 I think, I just couldn't seem to get a band together during Uni in Edinburgh. I got quite involved in student radio and that was a reasonably good way of meeting people who were really into music… I think I had unreasonably high expectations of moving there, it being a much bigger city than where I grew up (Cambridge). The first incarnation of the band was in Spring 1996, under the name of Arctic/ Baltic… we tried to make all the material through improvising, we weren't really aiming for 'songs' as such. Dan Mutch played bass, he had just moved to Edinburgh, I remember he was listening to Tortoise a lot, amongst other things, which I got to really like. We were about to play our first show at Edinburgh's Transporter Room night, but then I went off to Holland for a year. Dan in the meantime started Khaya, who were the first band in Edinburgh that I liked a lot and were good to go and watch.
Not much happened musically for a couple of years and I went to make pizzas on a ski resort and learnt to snowboard. I came back to Edinburgh and put adverts up and we formed quite a large band with quite a few people passing through it. I found the players through adverts I put up around town, the core of the band I suppose was Vanya McDonnell and Jeremy Rschede, a Canadian couple who'd moved over and Andy Hazel from Tasmania, who'd also just arrived, and had been collaborating with Ben Frost in School of Emotional Engineering. We played together quite a bit, couple of times a week for the best part of a year, there's a load of practice recordings from this time, but we never got round to playing a show or really finishing any songs. The closest we got to playing was an outdoor rave near Perth (Scotland) where we were due to play at 6am but we got there and decided that our set didn't suit the euphoric vibes and didn't bother unpacking the car.
Then I got busy setting up and running this cafe/ arts venue called Forest Cafe, kind of out of frustration with the conversatism of Edinburgh and the lack of accessible venues for starting out and experimenting etc. That was quite a big distraction for a couple of years. Then I kind of gradually restarted the band, mostly collaborating with Dirk Markham for a while… I think we got better and made the kinds of sounds we were looking for, still mostly trying to write stuff together in the bedroom, we played various shows around Edinburgh, Dundee and Glasgow during this period (2001-2003) and would've played our largest show, with Andrew Weatherall in the glasshouses of Glasgow's People's Palace but I'd already booked a ticket to go and live in Canada for another six months. I came back in the summer and was mostly busy being a desert chef before moving to Glasgow and doing a course there. Dirk moved to Berlin and got involved with Monica Records and his own music making there, amongst other things.
Well this is a really longwinded way of getting to the two albums I made in 2003/4. Well the first one was really a compilation of various bedroomy mostly electronic instrumental recordings I'd been making for a while. I'm not sure I really pulled off the sounds I wanted to make with the fairly limited gear I had at this point, but there you go. By this point it felt like I should put something out, or that maybe I was failing to finish anything. I was invited to make a live alternative soundtrack to the film 'Microcosmos' at a community festival in Newcastle, so that was a good project to focus on. At the same time I was playing more song-based stuff with various friends sporadically. With the 2004 album I just set myself the task of making an album by the end of June, also just to try and get something finished. I guess its a mix of texturey ambient kind of stuff and bedroomy pop kind of songs. Monorail Records were very helpful and I managed to sell a reasonable number of these cds which were only a pound…
++ Then of course you moved to Bristol and you met your band, how was that recruiting process?
Yeah, so I moved to Bristol for various reasons, I felt like trying living somewhere in the south. I'd met Francois Marry as we played together on a bill at Glasgow's Winchester Club, and came down to Bristol where Francois was a very warm and generous host and introduced me to lots of musical people. I played a show on my own in the first couple of weeks having decided to move down, supporting Fog at the Cube Cinema. The process of putting the band together was strangely surprisingly easy at this point. I'd already been invited to play at Green Man festival in 2005, having run a Forest Cafe stall the previous year selling burritos and our self-released CDs.. and myself and my pal Danseizure were invited to play the next year.
So, if I remember right, within a few weeks of moving to Bristol I'd assembled a band with my housemate Nicole Artingsall, Nina Wyllie and Andrew Hogan who I'd met at/ through the Cube Cinema, Rosalind Leyden and Rose Clark who I'd met through Francois, George MacKenzie who I'd seen drumming in Headfall, Francois' friend Victor Crespi sometimes as well. People seemed to be up for getting into Green Man for free, and that was basically our first gig, we did a sort of warm up thing a few days before in Bristol. I also fairly much straight away also played some bits and pieces in Francois' band The Atlas Mountains, which was very enjoyable… and exciting to play alongside Matt and Kate from Movietone, which was my favourite Bristol band who I'd been aware of for a few years and kind of instrumental in attracting me to Bristol.
Mostly due to people's various circumstances the lineup shifted gradually with Francois concentrating on his own projects, Liam Kirby (now of Boxcar Aldous Huxley) joining on guitar, Rose going off to art school and Hog (Andrew Hogan) joining on drums. Nicole moved away and my new housemate Kasper joined on keyboards. Hog moved to Berlin just after we recorded our album, Tom Kirton played drums for a good couple of years, which covered most of our gigs probably, Rose rejoined on drums later on. Harry joined on trumpet, Robin on keyboard/ bass later on, Rhiannon on cello. After a while we tended to play gigs with whoever was free and people didn't really have set roles as such.
++ And musically, what would you say were bands that influenced your sound?
I did have quite a strong idea of the band at the start that it would be quite a lot about textures of sound, Sea and Cake, Stereolab and Broadcast were quite big references amongst other things. Lots of post-rock kind of bands, although I wanted to be more upbeat and rhythmic than some of the post-rock stuff. My bloody valentine, Pastels especially the later stuff, Byrds, To Rococo Rot, Mum, Aphex Twin, Syd Barrett, The Clientele, Aislers Set, I think were all big influences.
Then whilst living in Glasgow, I'd started going to National Pop League a lot and listening to more indiepop stuff and maybe thinking a bit differently as this also being good music to dance to. I wrote a bunch of songs whilst in Canada in 2003 which hadn't got recorded. Northern Soul also, Belle and Sebastian and Camera Obscura especially for the craftsmanship which seemed to stand apart from other stuff of that era.
++ What was your first gig? And did you gig a lot? What would you say was your best performance?
Hmm can't remember I don't think… it was probably at Forest Cafe… there was one with Mrs Pilgrimm where we played Forest Cafe and then the old 13th Note in Glasgow (before it got taken over) the next night…. I could send you the poster actually…
Gigs were quite sporadic, I would've liked to have done a lot more gigs. With seven of us it was difficult to find dates we could all make, and also hard to break even. Some of us went to the USA and Canada for a few weeks and played some house shows there. I would have liked to have toured more and I think we might have generally got on a bit more of a roll with it all if we had, it seemed to be hard to find promoters as well. The Cube in January 2006 was a good show I think, that one you can watch on vimeo, and we met Adriana Alba of the Semi-finalists there, who went on to make a very nice video for Meanwhile Gardens for us. We played again at Green Man festival in 2007 which might have been our best gig, I have a video of it which I've been meaning to upload.
++ Bristol is a city associated with indiepop thanks to Sarah Records and Subway Records. Does it feel ever like an indiepop city? Did you ever feel like an indiepop band? Part of a scene? And why do you think so many good indiepop bands are from the Bristol area?
Ah good question, yeah I think very few people in Bristol are aware of that scene these days. Maybe some slightly older people, who knew those bands in the 80s/ early 90s. I guess people from outside really associate it with the city as well because of the record covers. We were talking about doing an exhibition based around Sarah Records at Cafe Kino where I sometimes work. I think that'd be a good project. I guess around 2007 Big Pink Cake started putting on club nights and gigs, which were great and yeah I suppose made it feel a bit more like an indiepop place, even though those events weren't always super busy.
In terms of feeling part of a scene, I liked the various Planet Records bands (Movietone, Crescent, FSA etc) and it felt like there was more bands vaguely in that kind of ballpark… and lots of droney bands as well for a while.
Yeah its fair to say we didn't think of ourselves as an indiepop band, but it'd be a stupid thing to worry about, and we totally appreciated the encouragement and enthusiasm from people like Matthew and Heather from Big Pink Cake, Ian from HDIF in London and others from that scene. Maybe more a case of us collectively listening to a lot of different kinds of stuff, and personally I've probably always listened more to some of the 60s bands that really influenced a lot of 80s indiepop like Byrds, Zombies, Love etc.
For a while I was involved with putting a night on called The Milky Way – a parallel universe of pop, which ran at Forest Cafe and then at various points in Bristol, we've had some really good nights, I always like getting the slide projectors and mirrorballs out too. But its been tricky to sustain in terms of people wanting to come and venues prepared to host it. I kind of wonder if these days there's fewer people who are interested in going out to dance to an eclectic kind of set outside of the electronic club scene. The Hillgrove is a great ale pub which has a kind of muso ish vibe about it sometimes, with some good djs playing there sporadically too… our friend Chris Wright does a night called I Can't Help Myself which is always great. For sure it'd be great to have some new indiepop night going on in Bristol though…
++ With the Arctic Circle you wrote a song called "Mother's Ruin". That's a pub in Bristol, right? I remember visiting it when I was in town. Was this your favourite venue to play live? What other places in Bristol do you like?
Yeah, well I wrote the tune and words and Nina picked the title, I'm not sure if Mother's Ruin had opened by that point actually. Yeah I like that pub and we've played there… the owner Marc now also runs another pub/ venue Stag and Hounds, also good although I haven't been there in a while. I really liked The Croft (now closed, they run The Exchange, next door to Stag and Hounds), always really powerful sound system, certainly the best sound for electronic kind of stuff. Cafe Kino and Cube Cinema, both of which I have been involved with and have a great ethos, and stand apart from a lot of venues which often have a more corporate, big alcohol business vibe about them. Bristol County Sports is a working-mans club kind of set up and we often use it for putting on gigs. Qu Junktions and Pull the Strings are consistently great promoters too. Roll for the Soul is a new community-bike vegetarian cafe, where there are occasional gigs too, really like that place, I think of it as a bit Portlandia, in a good way. Yeah at the moment Bristol feels pretty good for venues.
++ But you are originally from Edinburgh, right? And Scotland is also a place with a huge indiepop tradition. Do you ever miss Scotland? And what differences do you find from the scene there with the one in Bristol?
No, Cambridge! I ocasionally miss Cambridge and it was a bit unusual as a place to grow up I think in various ways… but then again I would probably be very bored if I was there now. Syd Barrett era Pink Floyd is something that's stayed with me, and a thing that people I grew up with and parents talked about, it being a fairly small place. I don't miss Edinburgh actually, there are of course lots of good things about that city and I met a lot of inspiring and amazing people there but somehow never really got on with it as a place or felt like staying there, just wasnt for me.
I was aware of more musical things happening in Glasgow during that time, and often went through for gigs before moving to Glasgow. So yeah sometimes I miss Glasgow, maybe I'll live there again, perhaps. It's not a great city for cycling though! I sometimes think I'd rather live somewhere with maybe more like 2 million people, Bristol can sometimes feel limited.
Hmm not sure I can put a finger on how Glasgow and Bristol are different music scene wise, although they are certainly different. I think of Glasgow now having this great kind of infrastructure for music… but as I think Stephen Pastel and others have talked about, it wasn't always that way…with places like Mono/ Monorail/ Stereo etc its the result of dedicated people over a lot of years. I think Glasgow probably has a powerful draw, and a lot of people move there because of those bands coming from there. I have the impression that the indiepop world in Glasgow is now also influenced by Swedish people and American people and probably other places as well, who are drawn into the city, which is great. I'd like to meet more Americans and Swedes here! The art school and its reputation is probably pretty instrumental to that as well. Ha!, Yeah I miss it now!
++ The only release I've been able to track down was the 7″ single on Stitch Stitch Records. This one includes three of my favourite songs! But the opener song is a cracker, care to tell me the story behind "Prancing Pearl"?
Ah yeah, there's only the two songs on it right? Mothers Ruin and Prancing Pearl. I did also put them together as a sort of promo ep which I think we sent out to some people or possibly sold a few at gigs. That was those two songs and then I remixed Shipping Forecast and Loofah Mitt, which we would have liked to have released as a single too, I think I improved on the mix which went on our album in 2006. I think you can hear/ download all those on the bandcamp.
I'm not sure I can tell you too much about Prancing Pearl, it's Nina's words, but I liked how coincidentally both songs referenced driving/road safety/ accidents. We wanted the single to be something very danceable on both sides, certainly we were thinking about minimalist disco/ nowavey kinds of things as a starting point for it, and Electrelane was also something we all liked and perhaps were thinking about with the kind of sounds we wanted. At this point the double percussion with Rozi playing more percussion alongside Tom on drums featured on a lot of songs and I think is quite a key element for that song. I think we mostly wrote that song all together. I had quite a detailed idea for a video, referencing the road movie 'Radio On', revisiting its various Bristol and West Country sites, but we never got round to that….
I spent a really long time mixing Mothers Ruin and adding more and more layers of stuff, it possibly worked better as a live thing and I think the recording of Prancing Pearl came off a bit punchier.
++ And yeah, how did you end up signing to Stitch Stitch Records?
Well we didn't sign to them as such! Stitch Stitch had been set up by Aaron of I Know I have no collar (great band, if you can find them), with Francois and then Steve Brett (now of Nervy Betters) picked up the helm… so yes great to have his support and we were excited to work together on releasing the single,.
++ There is also a 2006 album, right? What are the songs on it? And to those that have never heard it, what can one expect from it?
Ach I don't know that I'm great describing how any of it sounds, or is meant to sound… I think we had a good clear idea at that point although we were on a bit of a learning curve. I wanted to make a record fairly quickly once we had played Green Man in 2005 and apart from obviously needing to earn a living, I was quite focussed on the band at this point.
Actually there was a bit of debate whether we should release the whole lot, as I think there's bits which we didn't really pull off. Thats a tricky call, and I think these days I know a few more people who play in bands and have experience of recording so its easier to get other people's opinions. Its probably a bit of a west country cliche about everything being a bit slow… at least of the people I know making music in Bristol, years can go by with projects abandoned or albums rerecorded from scratch. Its certainly good to have standards though… I probably feel especially now with easy access to so much on the internet that I'd only want to put out stuff that I'm really happy with…
But I'm really glad we recorded at that point. I think perhaps with all bands its a case of getting snapshots of the best moments if you can, there's not too much you can plan…
++ You also made two videos. How was that experience? Much different than recording songs?
Yeah, I think playing live and recording were quite different things, and we tried to approach them differently. I suppose videos were more like recording. Meanwhile Gardens was made by our friend Adriana [maybe you know her, she lives in New York?!] who came in with a very detailed plan and clear vision for the video. It was a different interpretation of the song, which I thought of as quite downbeat – we were very happy for someone to come in with their vision and expertise and were really pleased with the results.
True to the Trail I had a fairly basic idea which fitted with the lyrics, there was several weeks of snow that year, which is unusual in Bristol, so I took a 'snow day' off work and we shot the song four or five times with a mini DV cam strapped to the back of a bike. I think of it as referencing Massive Attack 'Unfinished Sympathy', Verve 'Bittersweet Symphony' and Coldplay 'Yellow', concept wise. Our friend George Purves edited it all together and produced it.
++ And then what happened to the band? When and why did you split?
Well yeah we haven't really split, we've just stopped doing stuff around early 2011. 'Indefinite hiatus' seems to be the term these days! There wasn't really a particular reason for stopping… we were struggling to get together regularly and there had been so many changes in lineups. I remember once interviewing the Raincoats for student radio and Gina Birch saying something like 'Being in the band was like living in a squat with constant threat of eviction… it could fall apart at any moment', which I find pretty consistent with all the bands I've been involved with. It felt like it made sense to do different projects rather than keep doing stuff as Arctic Circle.
We had an album's worth of stuff recorded but weren't happy with all of it, and it didnt seem to hang together. Perhaps because we were hungry for pursuing all sorts of different directions musically. I think with Acres now, I maybe appreciate having a unified sort of a sound. We then made a whole another album which is kind of very nearly finished, it might be good to put that stuff out there, I'm not sure. Rose had rejoined on drums but then moved back to London, Nina got busy with job stuff, on tour as an actor and then working as a teacher, Rozi was focusing on her own stuff (Rozi Plain), so on a practical level it was tricky to continue.
Well for various reasons I felt a bit downbeat about it as a project. Maybe we'd lost momentum… I think also there was a point where especially in London, which isnt too far away, there were very few promoters able to cover our travel costs, so it seemed to become more difficult to play out of town. Yeah, so a few factors really…
++ And are you all still in touch? Any chance for a reunion gig someday? And what are the rest of the band doing?
Yeah I'm in touch with pretty much all the ex-Arctic Circlers, I think there's about 20 of them! I wouldn't rule out us playing again but then again its really not on the cards. Um not sure I can summarise what everyone is doing but I'll try… Liam – building guitars, and playing in Boxcar Aldhous Huxley, Francois – living in Brussels and making music, Rozi – living on a boat in London and playing as Rozi Plain and in This is The Kit, Nina – teaching and having a baby, Kasper – living in Sweden, early years teaching, Hog – teaching and film projecting in Oxford, George – playing in Acres/ Motes/ Headfall and solo as Attacked by Wolves, Harry – playing in Acres and Macero, Robin – film soundtrack composer in London, Rose – cycle mechanic in London, Victor – living in France, playing in Ladybird… from the earlier days, Andy – playing in Paradise Motel in Melbourne, music writing, alternative medicine, Dirk is making music (as Dirk Markham) as well as working at Native Instruments in Berlin, Vanya and Jeremy in Victoria BC doing community work/ drug policy research respectively and raising a family, Jeremy also playing in Star Sickness…
++ So aside from music, what other hobbies do you enjoy doing? What do you dedicate most of your time?
I'd like to spend more time cooking and think a lot about opening another cafe/ venue, maybe in the north of England. Maybe. I'd like to be doing more outdoorsy stuff soon. At the moment I am actually really busy with EXPENSIVE and Acres as well as various job work. It'd be nice to work a bit less next year and crack on with more musical stuff really… yeah that's my main thing! I like being sociable and going out and about in Bristol. I really liked being on tour with EXPENSIVE recently too. This feels like dating suddenly!
++ Let's wrap it here. Thanks so much Matthew, anything else you'd like to add?
Thanks Roque, I hope I haven't rambled too much!
::::::::::::::::::::::::::::::::::::::::::::::::::::::::::::::::::::::::::::::::::::::::::::::