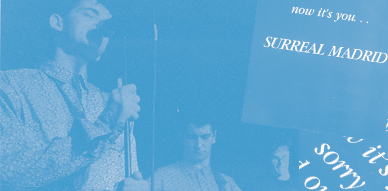 Thanks so very much to Chris Brady for this great interview! Surreal Madrid were a late 80s English band that made fantastic jangly pop as you can tell and listen at their soundcloud account. They only released one 12″ EP, but what an EP it is. Now it's time to rediscover this band, especially as it seems they will be playing gigs very soon again!
++ Hi Chris! Thanks so much for the interview. How are you? I hear there is some sort of Surreal Madrid comeback, is that so?
Hi Roque, I'm fine thanks and thanks for inviting us to be interviewed. There is indeed a reunion going on at long last. Loads of other bands from the late 80s early 90s are doing it so why not ? I think the fact that we are having another go is down to our continued love of music.
++ That's so cool. So how did you track down the other members from the band? And when do you think you'll be playing your reunion gig?
I found the guys via LinkedIn. First up was Shaun (drummer) who was already on there in his professional guise as Head Vet at Battersea Dog's Home. I got in touch with him and we went for a beer. Rob (bass guitar) is his best friend from when they were about 8 years old so that was two of them snared ! I LinkedIn to some old university mates and got John's (singer) details . We all met up in London for a beer and talked music all afternoon and evening and decided it would be fun to book a rehearsal room and see if we could still play. 
We found a great studio in Little Venice and have now been there 4 or 5 times working on getting the old songs back up to speed. We're all scattered round the country now so can't get together as much as we'd like to but we should be ready to gig early next year.
++ So yeah, how come  a band from the UK calls themselves Surreal Madrid? What's the story behind the name? I assume you've been to Madrid?
The name comes from a pathetic football joke …. "Heard the latest scores from Europe ? ….. Real Madrid 2, Surreal Madrid Fish " We called one of our demo tapes Fish. The late, great John Peel was a huge football fan and he apparently chose to play "Sorry Sir" on his Radio 1 show because he liked the football gag . Madrid's a cool place. Been there a few times on business
++ Where were you based, in Biggleswade or in London? I'm a bit confused there!
We were and it's fair to say we still are based in London. Biggleswade is a sleepy little town famous only for being the birthplace of the tractor and there is no music scene other than covers bands playing in pubs. Nice place to live and a 40 minute train ride into London.
++ And you were telling me that there was another Surreal Madrid after you, from Liverpool, right? Are they any good?
Yeah, they came along with the Madchester / Liverpool baggy scene. Not my cup of tea ! They show up on Google searches so we considered changing our name to PerryComa …… but have now decided to stick to our guns as we had the name first
++ So let's talk about the past. When did Surreal Madrid start as a band? how did you all knew each other?
John and I were mates at university and started a band doing covers of Joy Division, Cure, Cramps, Sisters of Mercy, Bauhaus etc with an epic Goth bass player. We started writing a couple of songs of our own to slip into the set and played a few low key student gigs. The best of the names we used was "He's Dead Jim"
After university John and most of our friends moved down to London to start work and I was living a short train ride from the capital in a shared house with a couple of mates from work, one of whom was a drummer. We started messing around with a few songs & covers, then Andy (the drummer) decided he needed to concentrate on his career. Fortunately one of John's colleagues from the day job (Lol) was a drummer so we signed him up and John brought his mate (Johnny B) in on keyboards. John & Lol worked for a courier firm at Heathrow airport and we used to use their office out by Terminal 4 to rehearse on Saturdays. Great place to play as you can make a lot of noise !
This was the start of Surreal Madrid proper. We played a few gigs in London then decided it would sound better sans keyboards and then Lol got married and fled to France. We stuck an advert in Melody Maker for a drummer and Shaun responded. At the time John was playing bass & singing so when Shaun asked if he could bring his bass playing mate Rob along it seemed like a good plan.
It worked really well and this is the line up that made the record and played regularly around London.
++ Where you all in bands before Surreal Madrid?
Rob & Shaun had been in bands but I'm not sure what they were called, John and I did some stuff at university and there was an interim period after university and starting up with John and my housemate Andy where I was in a local band called Code 7 Victim 5. This one sounded a bit like the Cocteau Twins with guitar, bass, drum machine, and clarinet.
++ What about after?
After we split up I joined up with some guys in the town I was living in and tried to kickstart them but it was never going anywhere. We had a singer that looked like a blond Jim Morrison ….. but totally choked when we did our one & only gig and a bass player who couldn't stay out of  jail.
Rob & Shaun started a new band called Two Robs which got about as far as Surreal Madrid.
John has spent the last year or so writing solo material and playing acoustic guitar and is all over Youtube as Johnkneem. He's got an album's worth of material more or less ready to record
++ Who would you say were your main influences back then?
All  the obvious ones, mainly the Smiths with a bit of Joy Division and the Cure thrown in. On the later songs Braver, Belt and a Better Time you can hear the Stone Roses creeping in too.
++ You released just one fabulous single. It included four songs "In Dreams You Stay Mine", "Now It's You", "Sorry Sir" and "Blood on the hand". I think my favourite is "In Dreams You Stay Mine", though it's very hard to pick. Care telling me the story behind these songs?
John and myself wrote these usually based on a riff or fragment of a vocal melody. We'd introduce new material at rehearsals and develop it into complete songs as a band. The subject material is fairly dark and focuses on relationships going pear-shaped.
Blood on the Hand is about being accused of doing evil when you didn't actually do it but have no way of defending yourself.
Sorry Sir concentrates on being in a good relationship ….. but making a mess of it by doing bad things and getting away with it. This segues neatly into
Now it's You which is about the point where you stop getting away with it and the relationship ends leading neatly into
In Dreams which is all about regret and yearning.
You can sense a theme going on here ! One day we'll consider doing a happy one about puppies or kittens.
++ And which would you say was your favourite? And why?
In general when listening to music I listen to the overall sound rather than trying to make sense of the words or whatever and my favourite on the record would have to be Sorry Sir. Plus it's a blast to play live. A lot of people reckon that the best songs are the ones that come together quickest and Sorry Sir was one of those.
++ Rottweiler Records? Was that your own label or who were them?
We made the record back in the days where everybody made demo tapes on cassette and posted them to record companies thinking that if we sent them finished product it would stand out from the crowd. To make it look good we used the name Rottweiler Records. It wasn't really a serious label.
++ You were telling me you had a  total of 20 songs, but only got round to recording 7. So that's 3 that weren't included in the single. Were these 3 supposed to be released in a new single? "Belt" is fantastic, could have definitely been one!
We sent the record to all of the record companies and got really strong interest from Stephen Street (produced early Smiths and went on to work with Blur). He came to see us live and commented that the record, which we'd recorded one instrument at a time, sounded sterile compared to the live sound. So we booked another studio with a big live room and recorded Belt, Braver & a Better Time in 2 overnight sessions. These were done live with a couple of guitar overdubs.
++ But yeah, 20 songs, seems like you had enough to make an album even. Or two!  What happened? Why didnt you get to release any more records?
Stephen liked the sound of the new demo and we kept ourselves busy gigging hoping something good would happen but at the time he was busy with Spin (who evolved into Gene) and early Blur. The recording process was different back then and more expensive and at the time we couldn't afford the studio time to do justice to a whole album's worth of songs. The plan was for somebody else to fund that …."
++ And did you ever had any sort of big label interest in your band?
Oddly enough we did ! The head of A&R at Virgin came to see us at the Robey in North London and the guy who allegedly signed Madonna to WEA came along to a gig in Hampstead. They both liked the music but nothing ever came of it.
++ Tell me about gigs! Did you play a lot? Are there any particular gigs, favourite gigs, that you remember? Any anecdotes you could share? 
I think we did about 30 gigs in total. Places like the Robey, Bull & Gate, Rock Garden, New Merlin's Cave, Camden Falcon ….. all London venues. My personal favourite place to play was the Robey as they had a good sound system, 3 or 4 bands a night followed by Indie disco until 2am and it was next to the Tube station so easy to get to. It was a lively scene back then with most venues putting on 3 or 4 bands a night. The Rock Garden used to host great gigs on Holidays where they would put 10 bands on between 2pm and 2am.
The best gig was in a pub in Islington where we supported the Boo Radleys just after their first album came out. It was a hot summer evening, the pub was full of people in for the music and cheering on Cameroon in the World Cup which was on the TV, everybody was in a good mood and the music flowed nicely
++ What about radioplay? Did that work alright for you guys? Press? fanzines? I ask because it's so strange that with the songs you had more people don't know about you!
The record got played a handful of times on GLR, a Cambridge station and most notably on John Peel's show on Radio 1 which at the time was the go-to station to listen to interesting new music. Our record got reviewed in NME the week they started a new feature where they invited celebrities in to do the reviews. Comedian Vic Reeves reviewed ours and wasn't complementary claiming we sounded "probably overqualified". Given that we are basically a doctor, vet, chemist & physicist he was probably right. NME reassured us that even getting reviewed was a good result as they get sent so many records a week
++ And then what happened to you guys? Why did you split?
We did a gig at the Robey with a good crowd in, played really well and everybody enjoyed it. On the way out I said to John something like "Great gig mate see you next week at practice". He told me he didn't think there would be another practice and that was it
When we met up again earlier this year the recurring topic of conversation was "Why did we split up ? " and nobody actually knew.
++ When you are not making music, what do you do? Do you have any other hobbies?
My wife & I bought a fixer-upper Victorian house about 17 years ago and have been working on it ever since. It was a mess when we first saw it but instant love for me as it had a basement converted into a recording studio.  John goes to gigs all over the country and when he's not doing that is an avid plane-spotter & twitcher. Rob has taken up running and completed the London marathon. Shaun works strange hours but fits in a busy social life.
++ One last question, in retrospect, what would you say was the biggest highlight of Surreal Madrid?
It has to be hearing our record on the radio for the first time. GLR was a London station and the DJ told us he'd slip it on between 6:30 – 7:00am on the breakfast show. It got to 06:50 and he put the Rolling Stones on and I thought there was no chance ….. but then he played In Dreams You Stay Mine. Celebration ensued !
++ And bonus one question, as I' traveling to London again, what do you recommend visiting? eating? drinking?
Tough question as there are so many choices. Camden is the obvious Indie hangout with the market, music venues & interesting places to eat. Let me know when you're coming over and we'll help plan your visit. As far as food and drink are concerned you'll have to have a night out with us !
++ Thanks a lot again Chris!! Anything else you'd like to add?
Thanks Roque, great questions. We're really enjoying playing music again and the difference this time is the Internet. It is so much easier these days to get your music out there and opens up opportunities that just weren't there 20 years ago. Hopefully a few more people will hear us this time round.
::::::::::::::::::::::::::::::::::::::::::::::::::::::::::::::::::::::::::::::::::::::::::::::