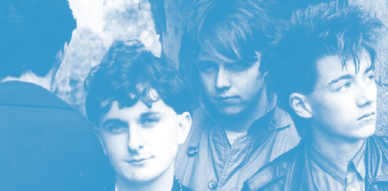 Thanks so much to Ciarán for the interview! Also thanks to Javi from Pretty Olivia Records for helping me get in touch with Ciarán for this interview after I had written a piece about them some years ago!! As many of you know Cypress, Mine! released on that label a fantastic reissue of their LP "Exit Trashtown" that included much more than the original album. A beautiful packaged release that all indiepop lovers can't miss. But after listening to it many times now I needed more background information about the band, I wanted to have a better picture of Cork, Ireland, the band, the lineup. So happily Ciarán was up to answering all my questions! And if that's not enough he has shared with me 3 cool photos, check them out here:
Cypress, Mine! at the Lee Baths, Cork City in 1988. Photoshoot just before launching their 3rd single 'Sugar Beet God'.
Left to right: Ciarán (vocals), Ian (Guitar) Mark (drums) and Skoda (bass) Photo by Jim McCarthy.
Hope you enjoy it!
++ Hi Ciarán! Thanks so much for being up for this interview! What are you up to these days? Are you still making music?
Working as a graphic designer in Dublin since I left Cork in the early 90s shortly after the band broke up. No, I don't make music really but have dabbled a bit from time to time.
++ I wrote about your band on my blog some time ago and then almost immediately I learnt from Javi (Pretty Olivia Records) that you were preparing a re-release of "Exit Trashtown". It was quite a surprise. But it also took some time. How did this release came to be?
Javi contacted us a few years ago and suggested the idea of re-releasing our album. So we discussed it and since I live in Dublin and Ian, the guitarist lives in London and the remaining members still in Cork it took a while for us to make up our minds. After that, we spent nine months approximately trying to source the analogue tapes which was a big ordeal since some of them could have been thrown out or lost. Luckily, Joe O'Herlihy who is U2's Audio Director had kept the original master tapes for Exit Trashtown but we spent a lot of time looking for other tapes including our last demo tape which we were eager to get out there. Then, a lot of time was spent on the artwork as we had to reproduce the original artwork plus a whole new idea for the second LP In Pieces.
Also Javi introduced us to OMG in Brooklyn, New York and we were going to co-release the album with OMG and Pretty Olivia Records. Unfortunately, OMG were not in a position to release it in 2017 so we went back to the original idea of releasing it with Pretty Olivia Records only. So we lost a lot of time during the talks with OMG.
++ And for those who are unfamiliar with your band, what can one expect and what is in this record, which I think is unmissable!?
Thanks for that. The main LP Exit Trashtown was recorded in 1987 and was recorded in a small 8-track studio in Cork. It was the first rock LP recorded in the city and was all self-financed but an Irish label called Solid Records pressed it and distributed it for us. As a band we were always interested in trying new things and this is probably due to some of our punk influences or roots. The original band (without me) included Sean Lenihan who was in a punk band called Urban Blitz in 1980. We formed in 1984 and it took us a while to get our own sound which originally was a little bit punky with the guitar sounds of the Go Betweens and the Smiths. When we released the album, we released three singles to accompany it and the last one, Sugar Beat God was not on the original album but it gave a clue to the type of sound that we recorded in our later demo tapes in 1988/89. This sound was still jingly jangly but was influenced by the grunge and harmonies of the likes of Husker Du. So the second album has these demo tapes and a collection of our singles as well.
++ So, let's go back in time to get the full picture of the band! Was wondering first of all, what are your first music memories, like what sort of music did you play home or what was your first instrument?
Thats an easy question cause I tried and failed badly at piano and guitar and haven't managed since to conquer them. Luckily in Ian, Mark and Denis I had excellent musicians to get me out of that hole.
The type of music that I used to hear as I was growing up was mainly Irish tradional music and classical music. But by the time I was 16 and started going to gigs, I was lucky enough to see a really healthy Cork and Irish music scene happen. I used to go to these gigs to take photographs and I watched bands like Microdisney, Five go down to the Sea, U2, Virgin Prunes all start off. Also bands from the UK such as The Fall, the Specials, Wah, Heat! played locally in Cork.
++ And then what inspired you to have a band?
Good question. A lot of my friends were in bands and they seemed to be having great fun and were getting fairly successful. Obviously I liked music and had it in my mind that I would like to give it a try and one day I met Mark Healy by chance outside our local record shop and he was asking me if I knew anyone who wanted to be a singer in his band. I said I didn't but I would be happy to give it a try myself. The following week I went to their practice room which was above a chip shop in the Grand Parade, Cork and I listened and made some noises and it just carried on from there. The band at that stage were called the Playroom and were really only finding their feet. I'd say it took another year before we put a few proper songs together because I certainly had no background in it.
++ Had you all been involved in bands prior to Cypress, Mine!? If so, which bands and how did they sound?
No, just taking their photos!
++ How did the band start? How did you all know each other? How was the recruiting process? Originally there was a different singer, right?
There was a different guitarist, Sean and I believe a different singer for a little while but that was well before Cypress, Mine! were formed. As I mentioned by the time I met up with Ian and Skoda for the first time in the practice room over the chipper they were called the Playroom and Ian suggested at that stage that we should change our name to The Classical. Cypress, Mine! were only formed around that stage.
++ And just out of curiosity why was Denis O'Mullane called Skoda?
Denis when I first met him used to drive a little Fiat Panda car. We loved playing around with words in the band especially Mark so since Fiat was made in Italy we decided to call him Denis O Milan which then changed to Fiat O Milan but then he changed cars to a van and we had to change his name to Skoda because he no longer had the Fiat. These days, he cycles a lot so maybe the name should change!
++ Before being in the band I read you had been a photographer of the early punk scene in Cork. How was that experience?
It was fantastic. I met a lot of people from all over the world as they came to play in the Arcadia in Cork. I also learnt how to take photos the old fashioned way with film which helped me get work when I left school. It was a real eye opener as I was very young going to these gigs and very naive.
++ What's the story behind the band's name? I've seen it written sometimes as Cypress Mine too, what was the correct form to write it?
The right way is Cypress, Mine! and as I mentioned we loved playing with words. We thought it might get attention with the extra punctuation and also annoy some people as well. It was always a talking point which was a good idea to get people's attention.
Regarding the actual name, as you know we toyed with the idea of being called The Classical for about two weeks while throwing other words and ideas into the mix as well. Eventually during one practice Mark shouted one word and I added another word and that's where Cypress, Mine! came from.
++ What sort of music were you all into at the time? Who would you say were your influences?
Because I saw all the bands in the Arcadia, I started to like the Liverpool bands, Echo and the Bunnymen, Teardrop Explodes, Pete Wiley and then later the Smiths, Go Betweens, the Cure, Let's Active, Prefab Sprout. I remember Ian liking the Byrds, Glen Campbell and Crass. Skoda was a big Julian Cope fan. Later on, I started to become aware of Husker Du, Jane's Addiction but I always loved the Cork bands who wrote about their own place in their own voice.
++ How was Cork back then? Were there any like-minded bands? Where did you usually hang out? What were the good record stores, or venues to go and check out up and coming bands?
eat and healthy scence with a fair few small gigs. We started in a place called the Underground, and played in parks, played on the back of trucks and later graduated to Sir Henry's which was the best and the biggest gig around at the time. Other bands like Porcelyn Tears, Real Mayonaisse, Burning Embers, Belsonic Sounds were formed around the same time but we all had our own individual sounds. Having said that there were many average bands around as well!
Our favourite band at the time was a band called Without The who were rocky, punky, melodic and funny all the same time. Later on, other good bands sprouted up like The 3355409's, Sultans of Ping and Frank & Walters. At that stage, we had moved on, concentrating on Dublin and London so we did not keep up to date with all that was going on. In 1989, we broke up of course and interestingly enough since there was not that many great record shops in Cork at that stage, a guy called Brian O'Kelly asked me to help set up a branch of Comet Records in Cork in 1990. Comet were the company that put out our first two songs on vinyl (Swallow and Sounds Like Rain) and had a very successful record shop in Dublin. Fairly soon after that I moved to Dublin to work in design.
++ How was the creative process for Cypress, Mine!?
We basically met in our practice room for a couple of hours two or three nights a week where I recorded the melodic noise that the others created on a sony walkman tape recorder. I listened back and tried to find vocal ideas from that and then the lyrics came at a later stage. As the guys were very talented and sometimes practiced on their own and came up with song structures, my job was the easy part.
++ I read that you were managed by Tony O'Donoghue who is now a sports commentator. What did he bring to the table? How was your relationship with him? I suppose lots of sports talk?
No, there was very little sports talk as he was only starting out in his career on radio at that stage. He started out reviewing music and then later moved to sport. Tony was very persuasive and was a good talker which was very handy when we were organising gigs and talking to record companies. He had a wider view on things which was helpful too.
++ Where did you usually practice?
We had two practice rooms. We started off above a chipper sharing with the Belsonic Sounds who were a reggae band. Then we moved to a building close to the City Hall in Cork which was above a paint shop.
++ Was your first ever "release" the 2 song demo tape wth "Swallow" and "Talk to the Wall"? This tape was mostly sold at gigs alongside other demo tapes of yours like "The Bible – Part 2". How many copies were made? And were were these recorded? What other sort of merch did you use to sell at gigs?
Have no idea how many copies we sold or made. We didn't sell any other merch. I think we recorded these in Sulan Studios in Ballyvourney which is in West Cork.
++ In 1986 and 1987 you appeared on two compilations by Comet Records. This was a small retail chain in Ireland. Was wondering how important were they? Or what can you tell me about this store and label, and how did it help you make a name in town?
Yeh this was very important to us because it gave us our first radio plays and videos and also got our name out there especially in Dublin. The record store in Dublin were looking for local Irish bands to put on their two releases and they liked us so put us on twice. The shop itself in Dublin was very important. It was one of the few places in Dublin at the time that you could get our type of music and was very busy. It had a great scene around it. You'd see a lot of people hanging around outside the shop and always seemed to be very busy inside.
++ Your first proper record was the fantastic "Justine" 7″! I hope to find a copy one day, it might as well be my favourite Cypress, Mine! song. But I wonder if there's any chance if you could tell me the story behind this song?
I suppose its just a very simple love song written from a fairly naive perspective…. a kind of first love breakup type of a song…… just talking about the games that people play in those situations. In fact, the girl the song was written about (her name was not Justine!) made a brief appearance in the equally rare video of the song.
++ This record and your next record "In the Big House" 7″ came out on Solid Records. Who were Solid Records and how did you end up signing with them?
Solid Records were also Dublin based but run by a Cork man – Denis Desmond of MCD promotions. He signed a lot of Irish bands around that time and released a lot of vinyl on the label, most of it now is fairly rare. Again this was very helpful as we got bigger gigs like playing with Echo and the Bunnymen in Belfast and more TV and Radio plays from it as they were "a recognised label".
++ In 1988 your LP "Exit Trashtown" is released. It says that the name of the album refers to a place in County Cork called Trashertown. What's that about?
As I mentioned earlier, often in practice we used to play around with words. A lot of my song titles changed because we wanted a better title or we were bored or just for the fun of it. The same thing happened when we were looking for a title for the album. Someone came up with the word trashtown first and then Exit seemed to be a good word to put before it….. it kinda reflected where we were at the time. We had recorded an album, the first rock album in Cork that we self-financed, we started to play shows all over Ireland and the UK. We just wanted to say that it was possible to do things with a bit of work. Yeh it was mentioned that there was a place in north Cork called Trasherstown, but it had nothing to do with that.
++ This record was produced by Dennis Herlihy, how was that experience?
Dennis was our live sound engineer and it was great working with him in the studio. He was very inventive especially since it was only an 8-track studio. He managed to bounce a lot of tracks to make it faux 16-track, splice- up tape and played it backwards and invented a lot of solutions and sounds to help us along. Of course, we also had Peter West engineering who recorded our last demo with us which we were very happy with. A few tracks were also produced by Joe O'Herlihy during that time as well and Joe did our live sound occasionally when he wasn't working for U2.
++ In 1988 there was yet another 7″, "Sugar Beat God". At this time, I want to ask about the artwork of all your releases. There is something very 80s about them but at the same time timeless. Was wondering who made them, and what was your expectations for them?
The artwork (old style- cut & paste with very little computers involved) was done by our friends Mick and Conor and the photograph on the album was taken by another photographer friend of mine called Jim McCarthy. We, of course, had a lot of input into the artwork, again you'll notice the wordplay on Sugar Beat God sleeve. The new double album was a challenge for me because I had to re-design the original album again and finding all the old material was an ordeal. Also, I had to tie in the two albums together.
++ "Sugar Beat God" has a video filmed in London by Roy Fairweather. Whereabouts was it recorded? What memories from that day? Did you spend much time in London?
Super Channel which were tied in to MTV in some way met us down in the Bull and Gate in Kentish Town in London. This venue was run by Jon Fatbeast who later became famous with his involvement with Carter USM. We used to gig there a lot. They recorded us playing on stage there and then took me out on the streets of Kentish where we filmed on the high street in front of a church. That was during the time that we spent about a month in London playing lots of gigs and squatting all over the place.
++ There is also another video on Youtube for the song "Last Night I Met the Man"? I've only seen this a few days ago, where does this footage come from? Is that you dressed as a girl?
Yea that's me in the dress alright. It was filmed for an Irish language programme in 1988/1989 and I shot some new video around Dublin that I mixed in with it. Also there are some clips from our last ever live show in it which was in a school in Cork.
++ The last time we hear from you is with the song "Sugar Beat God" on a tape compilation on Solid Records called "Solid Citizens". Wondering, aside from this compilation and the two Comet ones, were there any other compilation appearances by the band?
No I don't think so.
++ Are there any unreleased material by Cypress, Mine! or has everything been released?
There is some but not much. Most of the best stuff has been released.
++ What about gigs? Did you play many? What were the best ones that you remember?
I have no idea of how many gigs but there was many. Some of the best gigs for us were in places like Kilkenny, Waterford, Sir Henry's Cork and the Bull and Gate in London. Some of the gigs were we supported bigger bands were great as well. Meeting Rory Gallagher after he came to see us in the Mean Fiddler was something that I'll always treasure.
++ Where there any bad ones? Any anecdotes you could share?
One of the worst ones for me personaly was we were due to play with some other bands in Christchurch Cathedral in Dublin. I think it was due on TV as well. As the day wore on I began feeling worse and worse and started to lose my voice and came down with the flu. I knew I wouldn't be able to do anything later that night but all the guys including some friends in Dublin were all urging me saying that it will be alright. We were holed up in a pub across the road and just as we were about to go to the venue I heard the news that the PA blew up so luckily for me I got away with that one but felt absolutely crap about it. Another time in Tralee we played the Abbey Inn. There were very few people in the pub and I think we were run out of the pub by the owner. I just don't think we were his taste and rumour has it that we weren't the first ones it happened to!
++ Where was the farthest from home that you played? And which bands did you like sharing the bill with?
I suppose the London gigs were the furthest away from Cork. We played with Microdisney in the Mean Fiddler in London which was fantastic, as I mentioned the Echo and the Bunnymen gig in Belfast, U2 in Cork, the Bluebells in Kerry, and Aztec Camera in the Olympic Ballroom in Dublin. They were all great gigs.
++ On the Irish Rock website it mentions you appeared on the TV show "TV Ga Ga" in 1986. How did that happen? Were there any other TV shows where you were invited?
Not sure how it happened but it was probably Tony asking and harassing people! I think we were also on a show called Borderline, at around the same time. We were also on Irish Language Programmes as well as some local Cork television.
++ Then what happened? When and why did you split?
One of our best gigs was in Ian's old school. We had been invited along to play to the students in Spring of 89 and we played some new material mixed with the old. The students loved it and we were performing really well as a band. We had recently finished recording our last demo which we were really happy with and had sent that out to various people. So we had recorded something that we were very happy with and played an awful lot of gigs at that stage but we didn't seem to be progressing the way we wanted to in the music business. So I guess we just grew frustrated and impatient at the lack of progress.
++ What did you all do after? Were you involved with music still?
I did a bit of DJing, helped to get Comet Records started in Cork and began to do graphic design. I did a lot of posters for bands and a bit of photography to do with the music scene in Cork at that stage. After that I moved to Dublin.
++ Did you get much attention from the radio or press? What about fanzines?
Yea we got a lot of local press in Cork and some in Dublin. There was a few guys in Dublin like George Byrne who really helped us out but the Dublin journalists concentrated a lot on the Dublin bands at the time. Strangely enough even though I was involved in fanzines personally a few years before the band, there didn't seem to be many around in the mid – 80s.
++ Today, aside from music, what do you all do? What other hobbies do you have?
Mainly graphic design and photography.
++ Have you ever thought or have played any reunion gigs?
Yes we have talked about it but we have nothing planned.
++ And today, are you still based in Cork? How has the town changed? If one was to visit, what would you say are the sights not to miss, or the traditional food one has to try?
I don't live in Cork now and I rarely get back there.
++ Looking back in time, in retrospective, what would you say was the biggest highlight about being in Cypress, Mine!?
Making some decent records, recording our last demo, playing some decent gigs and having fun along the way with three or four others while doing it….. and of course meeting Rory Gallagher!
++ Thanks again, anything else you'd like to add?
Thanks very much for the interview, Roque. Some great questions and hopefully some of my answers might help to clear up a few of the rumours that I have occasionally seen! Keep an eye out on our Twitter, Facebook and YouTube as we will be occassionally updating it. Cheers.
::::::::::::::::::::::::::::::::::::::::::::::::::::::::::::::::::::::::::::::::::::::::::::::
Listen
Cypress, Mine! – Justine