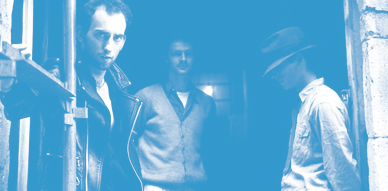 Thanks so much for Phil Paterson for the interview! A month ago I wrote about the great Scottish band Future World Moves. Happily Phil got in touch with me and was up for answering some questions! It's a great read, and yes, if you are in Scotland, you have to try haggis, neeps and tatties, I look forward to some of that next Monday in Glasgow! Enjoy!
++ Hi Phil! How are you? Any exciting plans for this summer?
I am planning a trip with my wife to the north of Scotland this august to Applecross for two weeks. Ahh peace and quiet!
++ So you've always been based in Livingston, right? Was there any music scene there at all? Any bands that you'd recommend from when you were around?
In the early 80's and 90's we were based in Livi. There was a music scene then but it was predominantly punk or heavy metal, of which we were neither. This was never a problem for us as we all drew our influences from both sources and drew an audience from both genres.
The bands that I could recommend would be punk bands like, the Skrotees, Bayoneting Babies or Goodbye Mr Mackenzie who were from just outside Livingston in a place called Bathgate. The later of which the backing singer/keyboard player went on to front Garbage.
++ I saw that Livingston is kind of in the middle of Glasgow and Edinburgh. What are the advantages of that? Music-wise and living there?
Being stuck in the middle between the two cities meant we did not really suffer from the long standing rivalry between the two. We could easily go to either city and be warmly welcomed. Livingston after all was a major overspill from Glasgow in the late 60's to mid 70's.
++ Let's talk about the band. First and foremost, what came first the song Future World Moves or the name of the band? Where did you get that phrase from?
I believe the band name came first but don't quote me on that after all it has been a few years down the line and my memory may not be quite as sharp as it once was, ok, so its isn't as sharp as it once was. The first name I can remember us having for the band was Suspended Moves. But this may have came from the merger of FWM (Bren and Gerry) with (Bob and myself). In the very early stages of the band one of our first songs was named Future Moves, I can only take it that it came from the creative mind of Gerry or Bren.
++ So was this your first band? Who were the members and how did you knew each other?
This was our first attempt at a real band, previous to that Bob and I were learning how to play, whereas Gerry and Bren previously had a school band together. We were very fortunate that we all grew up together so we were friends long before we were band members. This stood us in good stead. It meant we had by passed the teething problems that most young bands go through after being together for a few years. I have known Bob since I was 7years old, Gerry since he was 3years old Bren since I was 19years old and Alex was a later addition for me but knew the rest of the guys from school.
++ Did you really were around 1981 to 1991?
Yeah i guess we were around for that length of time although it never felt long to us. I can only attribute that to us being friends first.
++ You were telling me you were more of a live band than a studio band. So what would you say were your three best gigs, and why?
We loved playing live. We had a powerful sound live of which we never really managed to capture in the studio environment. The studio did help to fine tune our playing and writing skills but you could not beat that live raw emotive sound that we produced.
++ I hear some Chameleons in your tracks, could it be? Who would you say influenced your sound?
Funnily enough I don't believe any of us had ever listened to the Chameleons. It was one I had to check out when you made the comment. I could see where you were coming from. Our influences have been so varied. Reggie, Punk, Classical, Heavy Metal, you name it we would listen to it. I must admit though I was huge Clash fan and still am. Great music never really fades away.
++ So only one release, the 12″, right? There seems to be a bunch of unreleased tracks though. What happened? Why didn't you get to release more records?
We were in the studio a few times before we decided to release the mini album in 1988. Anytime we could all club together to make a recording then we would do. But to create the album was another story. Firstly the cost was beyond us and secondly we had no management or record company that showed any interest at the time. So it was an exercise in business for us to release the album under our own label and do all the foot work ourselves. With the help of a local financial backer and distribution company we managed to record, print and distribute 1000 albums only as a limited edition. So trying to get one now is almost impossible. Saying that I found a record shop in Tokyo, Japan selling obscure vinyl records. Low and behold they had our album for sale. None of us have any idea how it managed to make its was to Tokyo 23 years later. Well, I guessed I could have walked quicker.
++ Let's talk about the release. It is wonderful! I think my favourite song is "This Particular Day". Would you care telling me the story behind this song?
This Particular Day is a song about waking up in the Scottish highlands listening to the crashing waves of the sea on the shore and being completely overawed by the splendour of the Scottish landscape. Leaving you with a feeling that anything in life is possible.
++ And what about your favourite song on it?
My personal favourite is 'Its Time'. We were always very political in our content and this song just said it all for me. It was also the most unusual chord sequence that I had ever played thanks to Gerry (chord master) McCart. But my favourite songs never made it to the album, but that's a story for another time.
++ And what about that photo on the cover? Where was it taken?
The photograph was take by myself, hence the reason for my absence. But I manage to get my face on the back cover. It was taken in the doorway of an old street in Edinburgh called Niddry Street just of the Royal Mile. These were underground living quarters over a hundred years ago possibly two, where people would literally live under the streets in the pitch blackness and dampness. It was used at the time of the photograph as practice rooms. It was so dangerous to practice there because of the dampness. For example, I can remember us all being in there in the dark and damp standing on wooden crates so as not to be electrocuted with the 6inches of water on the floor. Crazy times.
++ Looking back, how do you remember those late 80s? It feels it was the heyday of guitar pop, you agree? What were your highlights being on Future World Moves?
I loved the 80's. The music was just on the turn again with the new wave and new romantics, none of which really moved us. Punk gave us the inspiration to play anything we wanted. We felt that we didn't need to fit into a certain genre or pigeon hole. I would say there are to many highlights to name them all but first and foremost having the opportunity to grow with your mates and have a great time creating music did it for me.
++ Why did you split? Are you all still in touch? What do you do these days?
Its difficult to say exactly why we split. I'm sure there were many reasons. Personally, I had a young family to take care of and had to concentrate my efforts to make some cash. We have never stopped being in touch even though Bob(the bass) now lives in the land of Oz. The rest of us still play together in some form or other.
++ You are now in a cover band called "We're Not Iguanas", care to tell me a bit about that?
WNI was formed to have a bit of fun as a collective between quite a few musicians. We wanted to just gig but do it locally and consistently playing songs we loved from our past. So Were Not Iguanas was born.
++  And what about original music? Are you still making any? I'd love to hear!
We are still creating original music albeit a little slower than in the past. As you said in a comment on your blog, Life does get in the way.
Its not something I thing we could easily give up. Its in our blood.
++ As you are Scottish, I must ask, do you know how to make a good haggis, neeps and tatties? What would be your favourite Scottish food?
With due care and attention, and definitely not in the nude! My favourite Scottish food is Haggis Neeps and Tatties funny enough.
++ One last question, why does Scotland always produce great music?
What can I say? We are just very talented creative people. I guess if you suppress something (people) long enough eventually something has to pop. And so I guess we are lucky it comes out in a creative manner and not any other way.
++ Thanks again so much, anything else you'd like to add?
I would just like to say many thanks to yourself for this opportunity to chat about the album and band Future World Moves. Its been a while. Rock on Roque, keep up the great work.
:::::::::::::::::::::::::::::::::::::::::::::::::::::::::::::::::::::::::::::::::::::::::::::