24
Jul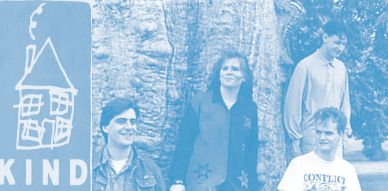 Thanks so much to Lee for the interview! Kind were a great indiepop band from the late 80s that had a bunch of song on many Waaaaah releases, sharing 7″s with the likes of The Dufflecoats, Strawberry Story, The Cudgels and more. I always wondered why there werent more releases, and why were they so obscure, being their songs so good! So here are some answers for that and many other questions!
++ Hi Lee! Thanks a lot for being up for an interview! How are you? When was the last time you made music?
If fine thanks. How are you?
The last time that I made music was last week. A neighbour asked me and my partener to joine her and a couple of friends to come over to her house for a singsong. So I took my guitar and joined the others to play some old classics. 'Days' by The Kinks, Head and Heart by John Martyn, Northern Sky by Nick Drake, Coz I Luv U by Slade etc.
++ I've only heard 4 songs from your band Kind. All scattered in many of the Waaaaah releases. The question is, why didn't you get to release a record of your own? Was there any plans?
The short answer is lack of funds.There were plans for a single release of a single called Swelter b/w Whirlpool Kisses but nothing came of it.'
++ In the Waaaaah page it says you only recorded one demo tape. Do you remember which songs were there? And does this means that you don't have any more songs recorded?
There was the two songs mentioned in the first question plus about another 20 ready for recording. Other songs that I can remember off of the top of my head were, 'Catherine Will', 'She Flies', 'Promises Made', and a cover of Galaxie 500's 'Snowstorm'.
++ So let's go back in time, who were Kind? What instruments did you each play and how did you all know each other?
Kind were Lee (Me) – Rhythm and Lead Guitar , 'Strobe' (1988-89) Vocals- Lead and Rhythm Guitar, Michael – Bass, Sharron – Vocals (1990-92), Adrian (1989-90) and Tim (1990 – 92).
The band was formed in early 1988 by myself and 'Strobe'. We had become friends because we would end up at every indie gig in around London. I remember discussing starting a band when we were at The Camden Falcon after watching The Pastels. We rehearsed at Strobe's
parents large house in Hayward's Heath in Sussex. We started off sounding like a strange hybrid of The Stooges, The Pastels, The Velvet Underground and The Seeds.
++ And was this your first adventure in music or you had been in other bands before?
I was in a band in the mid 1980s called President Joe. Were influenced by Nick Cave, Birthday Party, Crime and  The City Solution. Lime Spiders, Bowie, Einstruzende Neubauten, The Triffids, Joy Division etc. We then met up with Robert Hampson and Becky and formed a band called Mary aged 31/2 but nothing came of it. Robert went onto form Loop and the rest is history as they say.
++ Whereabouts in the UK were you based by the way? What were the cool places to hang out or watch bands play in your town?
We were based in Deptford/Bermondsey in S.E. London. There were a couple of places that were O.K. The Deptford Albany put on many gigs. I saw The Fall, Nico, and The Slits amongst many others there. Another venue was called 'A Million Rubber Bands'. So many great bands played there from the late 80s – early 90s. These included Bongwater, Perfect Disaster, Kitchens of Distinction, Blur, God Bullies, The Chills, etc. Deptford had a reputation for music for years. My grandparents met at the local dancehall where the entertainers of that era (1930s) played. Deptford is probably most famous music-wise for the bands that came through during the punk era. The label, Deptford Fun City, was home to Alternative TV and Squeeze (both local bands). Other bands that came out of Deptford were Dire Straits, The Flying Pickets and The Fabulous Poodles.
++ If it's not much trouble care to tell me what's the story behind each of the released songs "Disdain", "Breathe into Me", "Emily" and "The House (A Dream)"? It can be short!
I'll give it a go….
Emily was written about a friends relationship with a rather shallow girlfriend. She would be really nasty to him and when he would challenge her behaviour she would  burst into tears and throw a strop. BTW, Emily wasn't her real name.
Breathe Into Me is about 6th sense. Having 'that' feeling that something is about to happen and what is about to happen isn't very good.
Disdain is about how quickly life can change and making the most of a good situation.
The House (A Dream) is about a recurring dream that my grandmother, mother and myself had. My version of the dream is quite literally spelled out in the song. I would be on the top of a hill looking down into a valley where a white house was situated. I was then standing by a window that beyond was something that wasn't pleasant. The song was an exorcism. Since writing it I have never had  the dream…. Psychoanalysts make of that what you will.
++ Who would you say were your influences then? Which bands from that period did you really like? Did you follow any?
The band had common influences in The Pixies, Throwing Muses, Galaxie 500 and The Kitchens of Distinction. I was very influenced by bands on the Flying Nun/Expressway labels. The Chills, Sneaky Feelings, Gordon/Bailter Space, The Bats, Tall Dwarfs, Doublehappys and The Able Tasmans. I also loved (and still do) The Go Betweens. Other bands included Sonic Youth, The House of Love, West Coast Pop Art Experimental Band, Momus, The Pastels, Jesus & Mary Chain etc. I didn't follow many bands but roadied for The House of Love for a couple of weeks. They were friends and asked if I could help out on a mini tour around England sometime during 1988.
++ Tell me about gigs! Did you play many? Which were your favourite gigs? Why?
We played mainly in and around the London area. We did a couple of gigs in the Midlands. I suppose we must have played getting on for about 100 gigs over the four years that we were together. One of my favourite gigs was at The Camden Falcon supporting Motorcycle Boy (ex Shop Assistants). The place was packed and,although we didn't play that well, the atmosphere was great. The was a band called Birdland in the audience. who really got off on us and their manager showed some interest in signing us. We also had interest from Cherry Red Records but nothing came of it because 'Strobe' left the band a bit later and those labels didn't like the direction that we subsequently took.
++ So how did you end up being in touch and putting your songs out with Richard from Waaaaah?
We played a few gigs at the Deptford Fountain. Richard put these gigs on and he built up a roster of bands which recorded for Waaaaah / Bring on Bull Records.
++ I told a friend of mine that I was writing some questions for you and her being a big fan of Waaaaah, had so many questions. Hope you don't mind! First, if you considered yourselves part of a scene at all? Maybe of that 'cutie' scene that is mentioned on the Waaaah zines?
We were never part of the 'cutie' scene. We were too noisy for that lot. If we were part of a scene it was  the one that was coming out of S.E. London. There were some great little groups around at the time. Bands such as Lavern (sic) and Shirley and Rebecca Fishpond. If we had to align ourselves to a scene it would have been that Sarah Records scene if you like.
++ Secondly, there's this idea that Waaaaah positioned themselves as antagonists of Sarah Records, crashing even the Sarah Christmas Party in the Waaaah bus. Did you partake of this event? And if so, care to tell the story?!
I don't know anything about that. I remember Richard booking a couple of Sarah bands to play The Deptford Fountain.We supported St. Christopher and some other bands. The Sarah management were going to come and see us there but I heard that they didn't make as their car broke down. Perhaps something more sinister happened….
++ And last but not least, were there any girls that inspired you? who did you make fun of? who were you jealous of? did you write many fanmail? was there anyone in the scene who missed the mark? did you ever wish to have been part of another band?
The name of the band was inspired by a mates girlfriend who told us that when she and a friend were little they had an imaginary band called Kind. Miki and Emma from Lush were an inspiration and good drinking buddies for a while. Lesley Langton and Tanya Donnelly from Throwing Muses and Kristen Hirsh were great influences too.
Never make fun of anyone, you never know the situation that they are in. Never be jealous of anyone. Jealousy is shallow.
There were a few unsigned band that missed the mark. Lavern (sic) and Shirley and Rebecca Fishpond I already mentioned. There were bands that I followed that I thought would go onto do great thing but never did including Perfect Disaster.
When I was in my early teens I wished to be in all of the bands that I loved. But if push comes to shove I would have loved to be in any of Bowie's bands upto and including Scary Monsters, Super Creeps.
++ Now I wonder, as Waaaaaah would make these ace fanzines that actually looked more like proper magazines, how was your relationship with fanzines? Did you ever do one?
I helped out on a couple. One of which was centered on the New Zealand Scene and The early Seattle scene. The fanzine was called 'The Hog Butcher' and it was the brainchild of a friend called Bob Taylor. We interviewed many bands including The Bats, The Chills, Kramer (Bongwater), Steve Albini and Sonic Youth amongst others.
++ And well, in general, looking back to those days, what would you say was the biggest highlight of Kind as a band?
When we were recording Disdain, all the staff of the studio came into the control room to watch. Michael and I were recording the intro to a click track and I looked up too see the engineers and other staff all grooving away. That gave me such a rush that was so enervating that I was walking on air for weeks after.
++ This might be a bit too much of a wishful question, but have the idea of reforming someday crossed your mind?
About a year after we split we were approached by Atlantic records to play the New York New Music Seminar supporting The Lemonheads. Atlantic had heard our songs through the American College Radio Network. We had a couple of 'hits' on the network. Emily was No.1 for quite a few weeks and Disdain was a top 3. We had a chat about it but we had moved on didn't fancy auditioning a new singer (more of which in the next question). Michael and I had formed a new band called Fuzz Aldrin(no recordings exist) and we had taken a different musical path.
++ So when and why did you split then? Are you all still in touch?
Sharron got pregnant and wanted to take time away to bring up her child. The rest of the band carried on without her for a while,  recording new songs for the future but after a while we seemed to run out of steam. It simply came to a natural end.'
++ Aside from music, what other hobbies or interests do you enjoy doing on the day to day?
Now that I have become middle aged the hobbies of middle age have become part of my life. I have inherited the 'green fingers' of my father and grandfather and I love gardening. Musically, I have got heavily into modern jazz and 60s-70s soul music. I am an enthusiastic historian especially the history of London.I think that I may have become someone that, If I did make fun of anyone, it would be me
++ Thanks so much for everything Lee! Anything else you'd like to add?!
Thanks for the opportunity,Roque.
::::::::::::::::::::::::::::::::::::::::::::::::::::::::::::::::::::::::::::::::::::::::::::::
Listen
Kind – Disdain