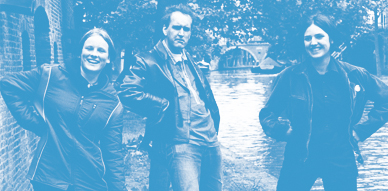 Thanks so much to Michel and Marjolijn for the interview! I wrote about Formica some weeks ago when I thought it was a good time to feature a Dutch band on the blog and was lucky to get in touch with both of them and even better, they were up to answer my questions! They also clear some doubts I had, made some corrections of my previous post and tell the whole picture of Formica! The band released just 2 singles and they were truly great, if you haven't heard them yet, this is a good time to discover them! Oh! And they shared with me this exclusive cool photo of the band which was taken by Kathalijne van Zutphen.
++ Hi Michel and Marjolijn! Thanks so much for being up for this interview. How are you doing? Are you still making music?
Michel: I'm well, thanks. Not doing much music anymore, although I have an 'internet band' called Transatlantic Bunnies. So far I've put out one 7" on the Australian Insipid Vinyl label. The A-side ("Formula One Generation", a song written by Steve Gregory for the Pooh Sticks) was sung by Lauren Rocket from L.A. band Rocket and the B-side ("Girl's Going Crazy For The La La La", written by Steve and me for International Language) has Sara Johnston from Canadian band Bran Van 3000 singing. I still haven't met Lauren, but I did meet Sara in 2015, not long after the single was released. She was on tour with Evan Dando and they played a gig in Utrecht, so we finally met and did that song as part of her set, which was a like a dream come true for me.
Marjolijn: I'm not making any music anymore, just listening to music.
++ And are you still based in Utrecht? How was Utrecht back in the mid 90s? What were your usual hangouts? The venues you used to go to?
Michel: I'm still living in Utrecht, Marjolijn is living close to Utrecht and Noortje moved to Amsterdam.
Marjolijn: We used to go to places like Tivoli (Utrecht) and the Melkweg (Amsterdam), to see bands…
Michel: …like Blur, Pulp, Oasis and even Kula Shaker.
++ As I was saying on my blog post there is very little information about your band on the web so this is for sure a great opportunity to learn more about you. Also I must say when it comes to indiepop, not much is known about The Netherlands either. So maybe you can recommend some bands?
Michel: As far as we know, there weren't many indiepop bands in the Netherlands. If there were any, we didn't know them.
++ Going back, when you were kids, what sort of music did you grow up listening to? What was your first instrument? and how did you get it?
Michel: 70's rock: the Stones, Alice Cooper, the Sweet, Slade, Status Quo… And then punk happened. I could never choose between guitar and drums, but my parents gave me an acoustic guitar when I was 11, or so. Years later, when I joined a band as a drummer, I bought a drumkit.
Marjolijn: Noortje and I were listening most of the time to Britpop, Elastica, Blur and also bands like the Ramones and the Kinks. I started playing clarinet and after that I started playing guitar.
++ Let's talk about Formica, or was it Formica 2000 (!?)? What's the story of the name of the band?
Michel: A friend of ours came up with the name Formica, because it sounded a bit like Elastica! We thought that was funny.
Marjolijn: We have no idea why we added 2000.
++ Had you been involved in any other bands? I know Michel was in a few, what about the girls?
Marjolijn: Just Formica. Noortje too.
++ How did Formica start as a band? How did you all know each other? How did you meet?
Marjolijn: Noortje, Edske and I knew each other from school. We started playing music together. We met Michel at DaCapo. And he became the drummer.
++ What would you say influenced the sound of Formica?
Michel: Britpop, punk rock and Phil Spector.
++ Marjolijn, you took the photos for the sleeve art. Nowadays you are a photographer. Were you a photographer already then?
Marjolijn: It was just a hobby at the time. I studied architecture. But two years ago I started taking photography more seriously, and I just finished my study photography.
++ How did the relationship with Steve Gregory from Fierce Recordings and The Pooh Sticks start? And how come he was not part of the band, only credited for the lyrics?
Michel: This is a long story. The Pooh Sticks "Alan McGee" CD boxset came with a little booklet in which it read: "Are you in a band? Everybody should be in a band. Let us know about it." Or something like that. Just for fun I sent a cassette with recordings of some of my bands. One of them was Beatle Hans. I then got a letter from Steve/Fierce asking if anyone was releasing the Beatle Hans stuff. If not, Fierce Recordings was up for it. And by the way, would the band (minus singer Hans) be interested in recording the next Pooh Sticks album, which became "Great White Wonder". Me and bass player Hard Cor (Cor van Ingen) played on two more Pooh Sticks albums: "Millionseller" and "Optimistic Fool". After that Steve and I released a 7" and a CD on Sympathy For The Record Industry as International Language. (By the way: "Rodney's English Disco" by Helen Love is not the International Language tune.) We enjoyed writing songs together, so we also wrote a couple for Formica. But Formica was always just the girls and me. Oh, and the 3 Formica girls' first recording experience was doing some backing vocals on the International Language tune "Christmas Will Be Magic Again", which first appeared on a christmas CD on Sympathy For The Record Industry.
++ And who was the bassist for Formica? I see on the first record Edske is credited, while on the second it has Hard Cor, Ron and Hanneke. Why was there never a proper bassist in the band?
Michel: Edske left the band after the first 7". On the "Gameboy" EP we had Cor on two songs, my brother Ron on one, and Marjolijn's younger sister Hanneke on the fourth song. For the gigs we had Ron on bass.
++ How did the creative process work for the band?
Marjolijn: Michel and Steve wrote the songs. We rehearsed at home. Instead of rehearsing we sometimes played our Gameboys. That's why we wrote the Gameboy song.
Michel: I asked the girls to write lyrics for a song called "Look At Your Game, Boy", which has nothing to do with "Look At Your Game, Girl" by Charles Manson. Marjolijn's sister Hanneke added some lines too, so that's why two Hoelens are credited on the label.
++ Your first 7″  was released on Spirit of '86 who were also connected to The Pooh Sticks. On this single the brilliant "Johnny & Anita" was included. I must ask, who were Johnny and Anita? What's the story behind this song?
Michel: Johnny's and Anita's were annoying (Dutch) youths on scooters who liked house music and had crappy haircuts.
++ Your second 7″ came out on the fab Damaged Good label How did you end up releasing with them? And I must ask, how come two English labels for your releases, and no Dutch ones? Why was that?
Michel: In 1995 Hue Pooh Stick had his Spirit Of '86 label. I told him I wanted to join the girls' band and he said that if I did he would release whatever we'd record. I'd already offered my services as a drummer, but the girls told me I was too old. Fair enough. I was twice their age. But when I told them they could make a record if they had me on drums they agreed to give it a try. Spirit Of '86 was distributed through Damaged Goods/Shellshock, so after that first single Ian from Damaged Goods asked if we could do one for his label too.
++ You worked on the recordings with Hans Blieb twice, what did he add to the band in the recording studio?
Michel: Nothing really. He owned an affordable studio and was the engineer. I did production and mixing.
++ Then there were no more releases by the band, why? No compilation appearances? Are there any unreleased songs by the band?
Michel: There is one song we wrote but never recorded properly. For the gigs we chose a couple of covers by bands we liked, like "Time Bomb" by the Ramones and Josie Cotton's "Johnny Are You Queer".
++ And from all of the Formica songs, which one is your favourite and why?
Michel: I like "Wire" and "Cross My Mind", 'cause they're slightly Spector-esque.
Marjolijn: "Johnny and Anita".
++ Did you play many gigs? Maybe any in the UK? Are there any in particular that you remember? What were your best ones?
Michel: We only did two gigs, both of them in Utrecht in 1998. But we almost played our debut gig in London as part of some MTV thing. Unfortunately the Fierce Panda label, like Damaged Goods also related to Shellshock distribution, had one of their acts play there instead. I think our first gig was the best one, opening for the Donnas. A great night.
++ And were there any bad ones?
Marjolijn: The second one was not as good as the first one. Haha!
++ Did you get much attention by the music press? What about radio?
Michel: I don't think I ever saw a review and I definitely never heard us on the radio.
++ When and why did you split? What did you all do afterwards? Did you continue making music?
Michel: Like Abba, we never really split up.
Marjolijn: Noortje moved to England to study. It became too much hassle at the time. We just kept in touch but didn't make any music anymore. Nowadays Michel and I meet up in town to take pictures sometimes. Our new hobby.
++ I must ask, where do you think you had more support, in the UK or in The Netherlands?
Michel: We did an interview with a local music magazine. I don't think anybody outside Utrecht knew about us, except some friends and a couple of girls from Rotterdam who had a Britpop fanzine.
++ Michel, I must ask even though it is not strictly Formica related, but the single "Go Eliza" by The Nightblooms is truly brilliant, and you produced it! How was that experience?
Michel: I didn't really produce "Go Eliza", but I was there during the recordings (and played a twangy guitar part in the choruses). Studio engineer Ward, who would also work on the first two Pooh Sticks albums that we recorded in Utrecht, asked me to come to the studio for the first Nightblooms session there, 'cause he thought I would understand their kind of music better than he did at the time. That was about a year before "Go Eliza". That first session remains unreleased, although I have a cassette of it somewhere. The Nightblooms are nice people and we got along really well, so I was there again for the "Go Eliza" session. I don't think I was present for any Nightblooms sessions after that, although I went to England with them in 1990, as a guitar roadie and to play some guitar on their John Peel session. I also played guitar on one song on their first album and I was their manager for a while.
++ And today, what do you do? Any hobbies that you have aside from music?
Michel: I like analogue photography, shooting portraits mainly.
Marjolijn: Photography
++ There was a comment on my blog post saying that one of you guys worked at Da Capo Records. Is that right? How is Da Capo Records? I've been told many times that it is a fantastic record shop!
Michel: I worked at Da Capo for 22 years. That's where I met the Formica girls. I stopped working there in 2008. Three years later the owner died and on December 31st 2011 the shop closed. A sad day. It was a vinyl collector's shop and probably the best one in Holland.
++ One last question, I've never been to Utrecht so I'm quite curious, what would you recommend not missing out? Sights? Traditional food? Bands?
Marjolijn: We recommend going up the Dom tower. Beautiful view.
Michel: Food! Broodje Mario and Vocking worst.
++ Thanks again! Anything else you'd like to add?
Marjolijn: In your article you mentioned a Noortje in Switzerland. That's another Noortje. Noortje from Formica is a fashion accessories designer and she lives in Amsterdam.
Michel: We appreciate your research and love for the music.
::::::::::::::::::::::::::::::::::::::::::::::::::::::::::::::::::::::::::::::::::::::::::::::
Listen
Formica – Johnny & Anita