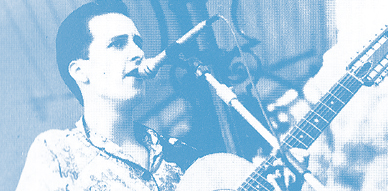 Sunday is almost over for me. It's been a long day, one where I woke up late, had fever all afternoon and now I'm just feeling a bit better after a Nyquil induced nap. It was still a productive day. I got to finish reading Ali Smith's "Boy Meets Girl" that Emma recommended me. I'm still confused by it, is Imogen a girl or a boy or a girlboy? Also I finished sorting all Hari and Aino 7″ sleeves with inserts and polybags, 500 of those. If you want to order before the release date (February 15th) you can do it now. On top of that, after some pizza, got to watch Kiki's Delivery Service. I've seen many Miyazaki movies and this one was no disappointment. And maybe the best news today was winning Honeytraps' "The Boy Who Wouldn't Be Beaten" flexi for 1.99 GBP.
The afternoon soundtrack, while I was in bed, was The Jasmine Minks, who's "The Revenge of…" has been on the CD player for many days. And the night 'track, while working on some freelance, has been the three songs I know from the Liverpudlian band I-Lands. Right now I've stopped working to watch the highlights of the Portsmouth – Liverpool game. Liverpool has won 3-2 thanks to a goal from "el niño" on the 91st minute. I wondered if the ex-members of I-Lands were footie followers.
The main person in the band was Andy Warren (who isn't the Monochrome Set's Andy Warren, 99% sure). He had been in some post punk bands in the early 80s like Systems (where Jem Kelly from Lotus Eaters played!) and Change of Image. In 1981 Change of Image decides it's time for literally, changing the image, getting into a more pop sound and they decide to call themselves Islands of Dance. The band was formed by Stuart McBain on bass, Howard Lacey on drums, Mike Saunders on guitars, Ruth Evison on keyboards and the day's hero Andy Warren. It seems no recordings were made. Fast forward two years to 1984. Now they do record some songs, a single, but it was under a new name: I-Lands. Why did they change names? Well, the band had lost many members in 1983 and some other came on board. Lacey, Saunders, Evison left and Joanne Griffith (vocals), Darren Bell (guitars), Bernie Mulcahey (keyboards), and Warrens old band-mate in the Systems Tony Elson (drums) joined. Tony Elson didn't last long and, on springtime, Mark Coleridge joined to play drums. With him in the band, the name change was official, they were the I-Lands and in October, that same year, the first and only single "In the Rain" is released.  The A side, "In the Rain", is fantastic!, and it makes me wish that one day I'll find it for a reasonable price on eBay, never seen it listed though. The sound reminds me of The Wild Swans of course, it was that time of the eighties you know. Breezing keyboard and a bouncy bassline, some epic-ness thrown in there, and that elegant English-ness that indiepop bands would have later in C86 times. That was what I-Lands produced. The B side, "Velvet Glove" is even greater! It's such a top tune, can listen to it all the time, and, it even has at the end, this beautiful flute solo. Brilliant boy/girl choruses and a bass to die for. The simple guitars, the dreamy keyboards… should I keep going? Maybe I'm having some feverish delusions? Impossible!
Last track they recorded was "Back before the Pain" (another amazing track!) which appeared on a compilation called "Jobs for the Boys". This was released in January 1985 on Natalie Records. A legendary compilation LP that included names as This Final Frame and Politburo, the best of Merseysides' underground. After this release I guess the band broke up but I haven't been able to find information. What is known is that Coleridge, the drummer, left and joined Afraid of Mice. Maybe that last lineup change made Andy call it a day? Even if that was true, this doesn't solve our mystery! Did he ever get into recording more pop songs after that? Were this 3 tracks the only recordings of I-Lands? Maybe there are demos or some sessions? Perhaps someone has some long lost improbable Islands of Dance recordings? Or maybe from his other bands? I would really like to know more from this band, three perfect songs just as the three goals Liverpool scored today.
::::::::::::::::::::::::::::::::::::::::::::::::::::::::::::::::::::::::::::::::::::::::::::::