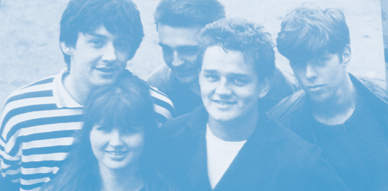 Thanks so much to Graham McDonald for the interview! Some months ago I wrote about Baby Lemonade, the beloved Scottish band that released a Sha La La flexi and a superb album back in the day. I didn't know much about them but loved their songs. I actually would love to see all their recordings including any unreleased songs put together in a complete retrospective. Wouldn't that be nice! Anyhow, Graham was kind enough to get in touch and answer a bunch of my questions. Hope you enjoy it!
++ Hi Graham! Thanks so much for getting in touch! How are you? Wherabouts in Scotland are you now? Still in touch with the rest of the band?
I'm no bad. I stay in Glasgow and am not in touch with the band now but saw Joan around 5 years ago – rest of 'em- no.
++ I read that the band was based in Kirkintilloch, Cumbernauld and Glasgow. Who lived where? And was it easy to get together?
I stayed in Kirkintilloch as did Mark Abbott and Colin Campbell at the time . Joan Williams stayed in Cumbernauld and Paul Lally stayed in Glasgow. It was not easy to get together and arrangements could be difficult.
++ The band started in 1985, right? But before that, had any of you being involved in other bands?
The band started around 1985 and no one had been in  another band before this one.
++ And going back even more, what was your first instrument? What are your first musical memories?
My first instrument was an acoustic guitar or recorder . My first musical memories include listening to top 40 music , the Beatles, U2 , Clash, etc. with a mate Rab Barr circa 1975- 1981.
++ How did Baby Lemonade start as a band? How did you all knew each other?
Baby Lemonade started with Mark and I playing in his bedroom before I left home and went to college- finally finding Colin after numerous try outs . We got Joan and Paul through a college course I attended in Falkirk., Central Scotland. I knew Mark through school and knew Paul and Joan through college.
++ Was there any lineup changes during Baby Lemonade's lifetime?
There was – Paul left- replaced by Kenny B + Gary ……..?, Colin later replaced by Martin Gregor.
++ Where does the name Baby Lemonade come from?
B.L.'s name comes from a Syd Barrett solo cut.
++ Who would you say were your influences then?
Influences- The Jam, The  J.A.M.C., Led. Zep., Beach Boys, Undertones, Ramones. Nikki Sudden, Swell Maps, Blondie, etc.
++ In 1986 you recorded your first songs at a studios in Charing Cross Glasgow. How was that experience? Do you remember which songs you recorded then?
1986 Demo?- Recorded  Secret Goldfish, Real World- pretty good experience  I think
.++ Then you would catch the attention of Matt Haynes who would release the "Jiffy NeckWear Creation" flexi on his Sha La La label. How did this contact happen? Did you ever meet him?
Contact happened through possibly Jim Kavanagh , fellow 'zine mentor of 'Simply Trilled ' and friend of Paul's . Never met Matt but would have liked to.
++ This flexi was shared with another Scottish band, The Bachelor Pad. Were they friends with you or was it just a coincidence? Which other Scottish bands of that period did you like?
B.L. did a few gigs with the Bachelor Pad , a band from Strathbungo in Glasgow. They were friends with Jim Kavanagh  and us after a while. We liked the Primals, Pastels and the J.A.M.C.  at the time.
++ Perhaps "Jiffy NeckWear Creation" is the song most people know by Baby Lemonade, if you don't mind, what's the story behind this song?
Jiffy was essentially  a tie called the Jiffy Neckwear Creation – a psychedelic paisley pattern  number.
++ It also got to be single of the week. Did you get much attention from the press? How helpful was getting good reviews?
It got Single of the week in Sounds Magazine. Reviews were always helpful  and we got a few good reviews but never really got many reviews at all.
++ And what about radio play? or TV play?
John Peel liked us, played us on Radio1 / Radio Scotland – Beat Patrol- no TV. play.
++ Then you would release a 7″ on Narodnik Records. How did you end up signing with the Edinburgh label?
We signed to them after they heard our demo on the radio- just one play.
++ This 7″ was produced by Douglas Hart from The Jesus and Mary Chain. How was that? What did he add to the sound of Baby Lemonade?
It was a great experience working with one of the Mary Chain-fans of them-he left a bit of chat on the 7''Real World- to sound good.
++ I noticed that both the 7″ and later the album have the same sort of style in the artwork. Who did it? And how important for you was the looks of the band?
Paul did some of the 7'' design and flexi  , DDT  did the l.p.- purely incidental that they look alike. It was important that we looked good/ cool on any release.
++ Your last release was the fantastic album "One Thousand Secrets" released on DDT Records also from Edinburgh. I know little about this label, who were they?
DDT were a subsidiary of Fast Records, based in Edinburgh, managed by the legendary Bob Last  who put out original records by the Human League , Gang of Four, Mekons, Scars ,etc.
++ Why did you title the album "One Thousand Secrets"? And what would you say is your favourite song on the album and why?
It appeared like a good title at this time. I liked the tune 'Summerhouse' as it was quite ambitious for us at the time with a slow start before it speeds up and I Liked the bass line, a bit of  Tamla Motown about it.
++ Also, why just 8 songs?! Wish there had been more, it is so good!
8 songs long-leave 'em wanting more.
++ Many years later Egg Records would release a CDR with the songs from the flexi and the 7″ plus some demos. Why did they release only these songs and not more?
You would need to ask Egg Records about that one.
++ Are there any other Baby Lemonade recordings that remain unreleased?
1 demo lying around somewhere with an unreleased tune but don't know where it is.
++ What about gigs? Did you play many back then? What would you say were your favourites and why?
We played Glasgow, Edinburgh, Bellshill, Newcastle and London- probably about 12-15 gigs all in. Enjoyed 'Rooftops ' in Glasgow, 'Fury Murray's, Glasgow- went down well that night.
++ Where was the farthest from home that you played?
We played the 'Camden Falcon' in London  which was furthest away from home.
++ And then what happened to Baby Lemonade? When and why did you split?
Our last gig was at the 'Camden Falcon', London- we split about 1988- don't really know why we split- people did other things , moved on…….
++ What happened afterwards? Did you continue making music?
I went to become a Social Worker , joined 2 bands in the meantime and my present crew, ' The Diablo's ' – check us out on Face Book.
++ What about these days? What do you do? What other hobbies do you enjoy doing?
I work with the Council in a Social Work capacity. I love football, movies, cycling and most of all music and my family.
++ Looking back in time, what would you say was the biggest highlight of Baby Lemonade?
Highlights for me were supporting the T.V. Personalities at the Glasgow Barrowlands- still one of my favourite groups.
++ Thanks so much Graham for the interview! Anything else you'd like to add?
Once our V.W. car broke down in Glasgow on the night of a gig in Edinburgh. Instead of making an effort  to get there we went for Italian food instead. Apparently  Geoff Travis  from Rough Trade was there looking to see us play and he'd come from London for the opportunity…. big mistake for the B.L's…….
::::::::::::::::::::::::::::::::::::::::::::::::::::::::::::::::::::::::::::::::::::::::::::::