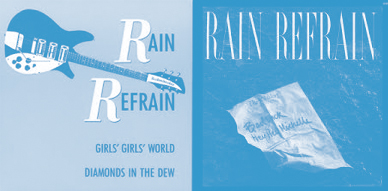 Thanks so much to Håkan Eriksson for the interview! Rain Refrain was a Stockholm band from the mid/late 80s that played some sweet jangly pop! Their songs are just classic pop and one wonders why they weren't more known! These days both Håkan and Per Tolgraven (also from Rain Refrain) play in a band worth checking out, The Tangerines, with whom they are putting out their third album out pretty soon! Here in the interview we talk about both bands and also about the Swedish scene of those days. Enjoy!
++ Hi Håkan! Thanks so much for being up for this interview! These days you play in The Tangerines, isn't that right? And you are about to release a new album. Care to tell me a bit about it? I hear there's going to be a Rain Refrain cover in it?
Hi Roque! Yeah, that's right. The new Tangerines' album – our third – will be out early 2014. We've just recieved the master, and we're really happy with the result. We do cover of Rain Refrain's "Girls' Girls' World" true to the original demo from 1986!
++ And yeah! Where can one buy it?
To start with, we will release it through CD Baby.
++ Rain Refrain was your band in the late 80s, and then it was only in 1996 that you started The Tangerines. In that time between both bands, were you involved in any other musical projects?
Not really, I played with some cover bands. When Per (also in Rain Refrain) and I teamed up again, it was just like starting over!
++ And what would you say are the main differences between Rain Refrain and The Tangerines if any?
None to be honest. The Tangerines are more or less the same thing – power pop, guitars, harmonies, catchy songs – only that we had a few years break! Oh, one obvious difference is that Rain Refrain were a band playing live while The Tangerines are a duo concentrating on recording.
++ With The Tangerines you have already released two albums as well. If you were to suggest were to start discovering the band, what songs should one listen? Which are your favorites and why?
I suggest "Leave Him Behind" and "Look like Angels" from the first album. The former has an ambitious arrangement, the latter is short song driven by 12-string jangle. From our second album: "Rock'n'roll Girl" and "Diamonds in the Dew". "RnR G" was a happy recording with a spacy middle eight that we like; the more up-tempo "Diamonds in the Dew" is another Rain Refrain cover, and the flip side of "Girls' Girls' World". You can find them all on Spotify!
++ Let's rewind then, back to the 80s. Who were Rain Refrain, what instruments did each of you play, and how did the band start? How did you all get to know each other?
Rain Refrain were a classic four piece: two guitars, bass and drums, Per and Håkan on vocals. I played in a band called Helikoptern whose singer had just left the band and Per, who was a fan of the band, took his place. Helikoptern broke up shortly after and Per and I were left with a rehearsal studio, a growing friendship and a few good songs. Another band shared the same studio and we sort of took over their rhythm section Per (the 2nd) and Johan on drums. We have fond memories of recording during summer nights on a Tascam 244 in a gym hall with a fantastic reverb. It all resulted in a 6 track demo which we sent to the four biggest record companies. WEA Sweden went nuts over the demo and signed us without ever seeing us live.
++ Had you been in bands previously? Or was this your first experience in a pop band?
As I mentioned I was in the band Helikoptern. We were signed to EMI Sweden and made a single, with lyrics in Swedish. Per – the second half of The Tangerines – was also in smaller bands before joining Helikoptern.
++ Back in those late 80s, were there any other Swedish acts that you liked at the time?
Just a few. Come to think of it, in those days we listened more to the big hits of the time: The Bangles, Bryan Adams, Belinda Carlisle… We were all influenced much more by earlier bands like Dwight Twilley, Phil Seymour, The Records, Cheap Trick, The Bangles, Nick Lowe, Rockpile, Kirsty MacCall, Ian Gomm, Marshall Crenshaw, ELO… "There She Goes" by the La's. And of course it all started with… The Beatles.
++ And where does the name of the band comes from?
It was just a play with words, or sounds. We always liked the word "rain", a Beatles song of course (and a Status Quo one). Refrain as in "chorus", and the rhyme sounded just right.
++ How was Stockholm back then? Was there some sort of scene? Were there many venues to play? What were the cool areas to hang? What were the best record stores?
Stockholm, late 80s… We were so busy rehearsing, used to hang out in the district of Söder. This was long before it changed to be a hipster paradise. Those days there were quite a few venues. I think we played them all.
++ As far as I know you only released a 7″, the fantastic "Girls' Girls' World". So I have to ask, were there any more recordings by Rain Refrain that remain unreleased?
We made one more 7″ for WEA, a double A-side called "Hey Hey Michelle" / "Bad Luck". It was recorded in 1987, released in Spring 1988 and got a decent amount of airplay.
++ And if it's not much to ask, can you tell me the story behind the two songs on the 7″?
The songs came quickly those days. Per says the guitar riff on "Girls' Girls' World" just came to him on a bus or something. It took some time to complete the rhymes (it always does). The re-start at the end was an idea of our producer. The B-side "Diamonds in the Dew" came to Per in the middle of a stalled rehearsal. As you may notice none of them has a traditional chorus.
++ This record was released by a big label, WEA. A lot of indie bands struggle with big labels, though I'm not saying that was your case. But I wonder how was your experience with them?
It was a struggle. There were a lot of meetings with a lot of people. Everyting took a lot of time. The scene here at the time was totally dominated by male solo artists singing in Swedish. And here we came, a guitar band with pop songs in English. We're not sure they knew what to do with us.
++ What do you remember from those recording sessions? Any anecdotes that you could share?
When WEA asked us to record, we asked who would be the producer. "No-one", they said, "just do it like you did the demos". So we found ourselves in this huge famous studio… young and nervous, and we failed miserably. It took a year until we got a new chance, and then we cut the first single – with the producer Niklas Strömstedt – and it all run smoothly. This time we used the EMI studio in Stockholm, inspired by the Abbey Road studios, where bands like Roxette recorded. A good memory, and – by 80s standards – a good recording. As for anecdotes… "Summer of 69" was a huge hit by the time. We loved the sound of the snare drum and wanted to have the same sound for the intro of "Girls' Girls' World". Eventually the engineer just sampled it – and used it on the on the whole recording.
++ Gigs, tell me about gigs. Did you play many? Which were your favourites and why?
We played so many gigs. Big places, small places. After a while I think we became a really good live band. To replicate our records, we took in another guy, and for a while we were four singers doing harmonies (or trying to…) Highlights were a special live recording for Swedish radio, a showcase gig or WEA at the prestigious Ritz, and a large festival just south of Stockholm. After a while we became almost too well-rehearsed; looking at videos from the time we play the songs so fast.
++ So what happened to the Rain Refrain? When and why did you split?
We had an album and national tour in the planning, then our A&R man left the company, and it all stalled. We continued playing gigs but after a while Per left the band, though he continued writing songs, which eventually turned up on the Tangerines' albums.
++ And are you all still in touch? What are you all up to these days aside from music? Do you enjoy any other hobbies aside from playing in the band?
Yes, we split amicably and see each other quite often. The other RR members are in their own bands today. The only guy we don't meet is one of our bassists who went back to his native island Gotland setting up his own band. (Rain Refrain had an issue with bassists; they were our equivalent to Spinal Tap's drummers.)
++ Looking back, what would you say was the biggest highlight of Rain Refrain?
Waking up hearing our single on national radio was a great moment. Playing a week-long engagement at the music pub Engelen in Gamla Stan (the old town) in the middle of summer was another.
++ One last question, Sweden seems to be the country that aside from the US and the UK, produces more pop bands, guitar pop bands, why do you think that is? Do you have any theory about that?
Interesting question. I think Swedish people have a sense of melody, and a fairly strong tradition of folk music. Also the kids get the chance to play an instrument from early years. And we are fast in adopting trends from Britain and the US, for instance we quickly got (locally) successful guitar bands here in the 60s. Maybe that's part of an explanation.
++ Thanks a lot Håkan! Anything else you'd like to add?
Thank you, Roque! It was a pleasure walking down memory lane with you. We'll keep in touch!
::::::::::::::::::::::::::::::::::::::::::::::::::::::::::::::::::::::::::::::::::::::::::::::