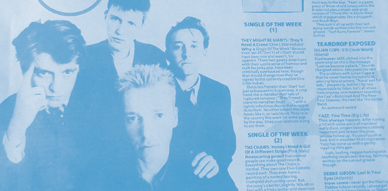 Thanks so much to Kevin Lagan for the interview. I wrote about The Chairs not so long ago on the blog and Kevin was kind enough to get in touch and answer all my questions! I discovered The Chairs with the Leamington Spa series and after I've been collecting their 4 records on their own Pink Halo Records, which I recommend them all. If you are not familiar with them, or if you are a fan, I'm sure you will enjoy this great interview!
++ Thanks Kevin for being up for this interview! How are you? Whereabouts in the UK are you? Essex?
Yep, I live in a small town near a river. Its called Maldon and its very old and a very nice place to live.
++ And do you continue making music to this day? Are you all still in touch?
Only make music now for my own pleasure. My son Tom completed a degree in Music and is a Bach of Jazz and can play so wonderfully – I get more enjoyment from seeing home and other amazingly talented young people play. I still listen to a whole lot of music and it's an important part of my life.
++ Let's go back in time then, but even way before The Chairs. Like, what are your first music memories? When did you know you wanted to play in bands? Were your parents supportive perhaps?
My late mum and my dad (who is still here ) were fantastically supportive of me playing music. So much so, I had a toy drum set at about 5 and then around 13, I purchased a small Pearls 4 piece and played that to death! It fitted in my room at home and mum and dad still live in the same house. You can see the cracks in the ceiling still I caused form all the vibrations! They were / are great parents.
I didn't know I wanted to be in a band until I started following the Accidents (which I later played in). I really wanted to be in this band, and one day that actually happened!
++ What was your first instrument? how did you get it?
Drum kit forma small shop in Colchester called 'Keddies'. It was a kids set but at 5, didn't need more! I also play the guitar and have had these since around 13.
++ Was your first band The Accidents? Or had you been involved in any other bands previously?
No, the Accidents was the first band and I loved the music. When they split and Paul went off to join the Americans, Terry and Mark recruited 2 new members – Max on drums and Simon on Bass. They were ok , but never had the feel that the original line p had. When Paul and Terry came together and formed the Accidents again, I sat in and as I learned all the songs years back, it was easy. I was never the best drummer but we sounded like the accidents. Paul was back playing guitar not drums, and Mark Robins (one of the planets best guitarists) and Terry, well , it had to happen. Trevor Richardson came in after Nick Fisher and we had that sound back. It was great to be involved.
++ After The Accidents you were in The Gene Tryp and only after in The Chairs. Had you been involved in any other bands?
I did record an album I Austal with a 17 year old singer called 'Charlotte Emily' and did some gigs which was great. I was able to play in a band with my son Tom who played bass and then drums ion the songs that needed refinement rather than me banging out a rhythm! I enjoyed it, but it was not a long term thing.
++ What about the sound of each band? How different were they? And how did you end up evolving into The Chairs?
Now there's a great question. The Accidents were very melodic and I felt told naive songs about love and disappointment. Very well crafted songs, wonderful sound and harmonies. 'Trigger happy' has one of the best guitar solos in my option! The Tryp was more a wall of sound – cleaver songs, great guitar solos, but feedback and speed and power. Lots of leather and image was important. The chairs were , well, the Chairs"! Early on, lots of jangly 12 string but we got rockier as we evolved. Paul really came into his element with his song writing and penned great songs ofr us. Each band was unique I feel. Love them all.
After the Accidents morphed in to the Tryp, Paul wanted to do more on his own as the front man, and I went along with him as did Trevor. It didn't mean we didn't want Mark or Terry but that sound had been and gone. It was time for something fresh.
++ I believe throughout these bands you shared the same members mostly. How did you all know each other? How did you meet?
Terry, Mark and Paul had been in bands together for years. I lived on the same road as Mark and very closer to Terry. I went drinking in the same pubs (The Queens Head and The Carpenters Arms) and we became friends. Im 5 years younger so a bit of underage consumption was undertaken!
++ What sort of music were you listening at the time you started The Chairs? Who would you say were your influences?
Elvis Costello, XTC, Elvis Presley, Blondie , Pistols, Madness, the Jam and the Accidents! All played a big part in my musical evolution. I listen still to all these guys and more!
++ And who came up with the name of the band? Firstly you were called The Domesday Chairs, right? What's the story behind it?
No idea! That's a Paul thing. I can only remember us being the Chairs. Its the quote from Lennon, and Paul is the Beatles fan and we liked it!
++ How was Essex then? Or where you in London by then? Where did you usually hang out? Were there any good venues to catch bands you liked? And were there any like-minded bands around?
I lived in Essex in the early 80's and spend time at the students union at Essex Uni SU. Saw heaps of bands, REM, The Icicle Works, Cherry Bois, Aztec Camera, XTC, U2 (at the Lyceum in 1982/3) and on and on – heaps of great bands. In those days , pubs had bands playing and all my mates were in bands. It was a great time to play toilet venues!
++ Your first record was "The Likes of You" who you recorded with G. Chambers. I was wondering how was that experience? I noticed he has worked with mainstream names like Robbie Williams. What did he add to your music?
George was friend of Paul's and he was just a pleasure to be around. He smoked a lot too so the sessions were sometimes 'relaxed'! I was young then and just happy to be in the band and in the studio. He made sure that the recordings captured the essence of the band and he did a great job with what technology we had back then. He added his experience but without stifling how we really sounded. Good bloke.
++ By the way, how did the creative process work for The Chairs? Where did you usually practice?
Paul would write and demo his songs on a 4 track. In the early days we rehearsed in Holloway Road London, and then as we needed more professional sets up, we went to Hackney Road. We always rehearsed all together for 4 hours on a Saturday and then when n we had big gigs, we would often do a Wednesday evening too. We would go to each other's house and work stuff. We all had an input, but it was really Paul's band so he led us – and led us well.
++ This first record had a cool drawing as the artwork and it is credited to the band. I wonder who was the illustrator, the designer, within the band?
Paul and Dave for sure. I can't draw a pair of curtains! Trevor was creative too and his then girlfriend (Claire) was arty.
++ You ran your own label, Pink Halo, to release your records. How was that? Was it easy to get distribution? Dealing with the pressing plants? Did you like that part of it?
Not really. I enjoyed the live work but didn't enjoy recording and all the stuff that goes with it" Jim Wallace did most of the other stuff. I just t wasn't really interested. Jim is owed a lot of credit.
++ And why did you name your label Pink Halo? And what about that design that became your trademark for the labels?
Pink Halo was names after a certain part of a woman's anatomy" nuff said. We wanted a simple but stand out label – always a different colour for each record. We knocked around the art work and all liked the one we used. We all played a part.
++ "Size 10 Girlfriend" was your second release and I love this song! Was wondering if in a few lines you could tell me the story behind it?
Its about a train journey from Liverpool street to Southend where Paul saw a really hot girl and tells a story of that and many journeys. I liked playing that but it was always one that knackered me as I hit my drums very, very hard!
++ This time you worked with Howard Turner, who worked with more indie bands at the time. Was it much different than the first time around at the recording studio?
Yep, he has a very nice place and it was very civilised. It was in Norfolk were we recorded Honey, and we stayed in the cottage surrounded by fields. He had very good facilities only I wasn't allowed to play my Gretch Kit as it was too lively. I played a silver sparkly thing from memory! Every engineer we worked with were great – all different but great.
++ Your third release, "Honey I Need a Girl of a Different Stripe", was perhaps the one you had higher hopes with? I ask this because I notice you released it in both 7″ and 12″ formats.
Hell yes. We had started to get attention after the likes of you, and then Size Ten. Honey was a bigger sound and people were interested. We decided to fund the12' and 7' with picture sleeve. The shirt was one Paul wore a lot and sort of became our image focus. When we were on Radio 1 and Elvis loved it – we thought – we have done it.
++ Your last release, "Crestfallen", didn't get proper art, how come?
No money unfortunately. I think interest had gone at that point.
++ On the web I could find a couple of mentions saying you were really looking to sign with a bigger label. Was that true? Did you get close to it?
It was our dream to be signed to a major. Paul may say different but that's the truth of it. We wanted to bring what we had to the millions. I still do – I think the later stuff is greater than the earlier and stands up today. Pink Halo was ours but it was only supposed to be a stepping stone.
++ Why do you think you didn't get the chance to release an album? Uwe from Firestation Records told me that you had an unreleased one titled "Al Green is My Valet", what's that about?
We just never had the money to be honest. We paid for the singles ourselves and funded from within. Jim was great and did get some outside cash for demos etc., but we never had enough. I really wish we did have as we would have made one hell of a record.
++ And are there any other unreleased songs by The Chairs?
Shit yes! One on the best is Half way up a hill – absolutely Top song. Sycamore ridge was another. I have recording of rehearsals and gigs and a couple of live sets are great. Paul's song writing pedigree is still top notch. There are loads.
++ From all that repertoire of songs, which would be your favourite and why?
Halfway Up Hill; – because its rocky, powerful, has great licks and interesting drumming. Size Ten, Honey and Daze are close to it though, as is the likes of you.
++ I read that there's a tape of your first ever gig at the Blue Boar in Southend. Who recorded it? Were copies sold? And what songs did you play? Did you have a big repertoire then or you played songs from your previous bands too?
Paul didn't like playing back catalogue stuff but we dd a few. He was writing for the Chairs so we did new stuff and old. I have a recording of that gig somewhere – its pretty awful I remember!
++ What about other gigs? Are there any that you remember in particular? Any fun anecdotes to share?
What goes on tour , stays on tour. We did get beaten up in Leicester which was horrible but also quite funny looking back!
++ And what bands did you like that you played with?
The Icicle Works were really great. I liked all the bands really but I preferred the small unsigned ones. Neil Robert Herd was also a great guy.
++ On Facebook, a The Chairs page was created, it seems, mostly to promote a reunion gig, but it never happened. How come? Has there been any other reunion gigs by the band?
We realised that we would all be in the UK in August 2015. Paul put up the page but hadn't asked us if we wanted to play together again. Part of me wanted to , but I and Trev decided that its not going to happen. For me, the memories of the Chairs are precious and were a moment in time. Im never going to play with the guys again – not because I don't love them, but because time moves on and we are not those people now. Paul lives in Worthing, Tex in NZ, Dave in the Stares, and I lives in Australia until a few years ago.
++ You did a radio session for Simon Mayo. How did that invitation happen? How was that experience? Which songs did you play?
There is a tape of it – ill find it and send it to you. We recorded in the Holy Grail at Maida Vale studios west London. We stood where the Beatles, Stones and all the greats have been – it was awesome. The engineer completely flattened our sound and I've never been keen on the end result. We were so close to breaking onto the mainstream and Radio was interested. I loved being there , but as I said never really enjoyed recording. I think we played, Boys form Slumberland, Shakespeare's Motorbike, Neck of The Woods – I can't remember the other (I'm getting old!)
++ Did you get much attention from the music press? What about radio?
We had a plugger and also were featured in loads of music process and radio plays. To this day, ill never understand why we were not signed. We were bloody awesome when we were on fire.
++ You did get some good promotion by Elvis Costello, he praised your music. Do you know how did he end up hearing your tunes? Did you ever meet him?
Honey was on a Radio Show playlist called 'Round Table' where new releases were provide and talked about . We were played on it and he loved it. We thought that was it – here we come, but…………………………………….
Never met him but still love what he does.
++ What's the story about Tim Burgess from The Charlatans stealing Dave Reade's suede jacket? When and how did that happen?!
I think he just picked it up and walked off with it when we were on stage in Islington,. They were not the most welcoming of bands at the time.
++ In the end what happened? When and why did you call it a day?
Dave Hubbard our friend ad roadie, stepped away, and I didn't want to be in the band anymore. I needed to move on. The others did play a bit together after with the great Mick Frangu on drums. Just sort of had enough of it an knew we had missed the boat.
++ What did you do after? You were involved in The Liberty Takers I think?
No, I stopped playing for a short while and then joined a local band called 'The Falling'. We played one gig in a pub, and I thought, nope, don't want this anymore. I sold my drums, brought a pram for my new borne and started life a s a dad – it's a fantastic life. My wife , son and Daughter are my life.
++ And what about today? What are you up to? Any other hobbies aside of music that you have?
I like listening to music and walking, cycling and jogging. I'm a big lad but enjoy a peaceful life. I love the sky and the country side. I went back to uni in Australia at the age of 44 and obtained a Post Grad Dip in OHS , which was the area of specialism that I moved into years ago. Being in the Chairs and reflecting on how we could have been better managed (from a business perspective) actually helped m, as I studied Business and Commercial management and qualified in that field and then OHS. I travel all over the work and have been to so many countries, its opened my eyes up to how some people are forced to live. We have it good over here.
++ Looking back in time, what would say was the biggest highlight of being in The Chairs?
Just being one of 4 who made a difference in the world of music. I know what we were and how good it could be. Playing at the Old and New Marquee Club and the Town and Country Club stand out, but in closing, I'm so grateful and proud to have been the Drummer in the Chairs., so many great memories that will also be with me.
::::::::::::::::::::::::::::::::::::::::::::::::::::::::::::::::::::::::::::::::::::::::::::::