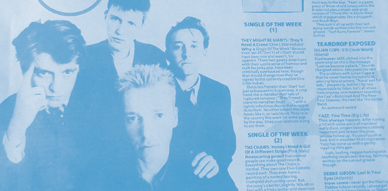 Thanks so much to Paul Sullivan and Kevin Lagan for the interview. I wrote about The Chairs not so long ago on the blog and Paul and Kevin were kind enough to get in touch and answer all my questions! I discovered The Chairs with the Leamington Spa series and after I've been collecting their 4 records on their own Pink Halo Records, which I recommend them all. If you are not familiar with them, or if you are a fan, I'm sure you will enjoy this great interview! (Edit: This interview was published first on Sept. 15, 2017 with Kevin answers. Today, November 2nd it is re-published with Paul's answers).
++ Thanks for being up for this interview! How are you? Whereabouts in the UK are you? Essex?
Kevin: Yep, I live in a small town near a river. Its called Maldon and its very old and a very nice place to live.
Paul: I have been living in Worthing on the South Coast since 1998, after having lived in London
for 18 years.
++ And do you continue making music to this day? Are you all still in touch?
Paul: We have been back in touch fairly recently. It's unusual to find all of us on the same
continent these days, so when we met a couple of years ago it was a rare thing, but a lovely
day.
Kevin: Only make music now for my own pleasure. My son Tom completed a degree in Music and is a Bach of Jazz and can play so wonderfully – I get more enjoyment from seeing home and other amazingly talented young people play. I still listen to a whole lot of music and it's an important part of my life.
++ Let's go back in time then, but even way before The Chairs. Like, what are your first music memories? When did you know you wanted to play in bands? Were your parents supportive perhaps?
Kevin: My late mum and my dad (who is still here ) were fantastically supportive of me playing music. So much so, I had a toy drum set at about 5 and then around 13, I purchased a small Pearls 4 piece and played that to death! It fitted in my room at home and mum and dad still live in the same house. You can see the cracks in the ceiling still I caused form all the vibrations! They were / are great parents.
I didn't know I wanted to be in a band until I started following the Accidents (which I later played in). I really wanted to be in this band, and one day that actually happened!
Paul: My Dad couldn't have been more horrified. My Mum was quietly supportive as she'd always fancied being on the stage. She was always singing round the house, and I'm sure she was behind us getting a record player. We had something called a Radiogram, which was a combination radio and gramophone, and it fascinated me from the moment it arrived. It came with a small collection of records which, when I consider them now, were fundamental in forming my taste in music. If my memory serves me well they were:
A Hard Day's Night EP the first one with I Should Have Known Better, If I Fell, Tell Me Why, and And I Love Her.
Kinksize Session EP featuring I Gotta Go Now and Louie Louie. For some reason I didn't like either of the tracks on the other side and never played them.
Barbra Streisand Second Hand Rose / People. I liked this I thought the words were clever and it was a funny tune altogether. I can't describe how much I disliked the b side, because I heard it once and avoided it thereafter.
Remember (Walkin in the Sand) / Leader of the Pack by the immortal Shangri La's. Sound effects, drama and damsels in distress. A potent combination for a seven year old.
Lastly, No Particular Place to Go / Memphis, Tennessee by, of course, Chuck Berry.
There may have been others, but these are the ones I agreed to like.
I suppose that it would have to be The Beatles that made me think of being in a band. They were unbelievably cool, irreverent and hilariously funny and badly behaved in a way that no one my age could resist. My mum took me and my brother to see the film (HDN) and it completely turned my head. We used to mime along to the record with the obligatory tennis rackets and a banjo that unaccountably appeared in our house around this time.
++ What was your first instrument? how did you get it?
Kevin: Drum kit forma small shop in Colchester called 'Keddies'. It was a kids set but at 5, didn't need more! I also play the guitar and have had these since around 13.
Paul: My first instrument was a reed organ from Woolworth's. I really wanted a guitar, and that appeared later on that year for my birthday. It had nylon strings which I swiftly exchanged for steel ones, without altering the action. I had bleeding fingers for a few months until I discovered I could tune it down a half step and use a capo. It was still hard to play but sounded great with a microphone taped inside it and a cassette recorder used as an amplifier / fuzz box.
The keyboard taught me, or helped me to learn, about chords, harmony and music theory. I never took lessons, and I don't regret it at all.
++ Was your first band The Accidents? Or had you been involved in any other bands previously?
Kevin: No, the Accidents was the first band and I loved the music. When they split and Paul went off to join the Americans, Terry and Mark recruited 2 new members – Max on drums and Simon on Bass. They were ok , but never had the feel that the original line p had. When Paul and Terry came together and formed the Accidents again, I sat in and as I learned all the songs years back, it was easy. I was never the best drummer but we sounded like the accidents. Paul was back playing guitar not drums, and Mark Robins (one of the planets best guitarists) and Terry, well , it had to happen. Trevor Richardson came in after Nick Fisher and we had that sound back. It was great to be involved.
Paul: The Accidents was the first band I joined. I'd played with friends at college, had gigged and done some amateur recording, but when the Sex Pistols thing happened I was desperate to get into a band. I was encouraged to audition for The Accidents as a drummer by a mutual friend, Veronica Peyton, and broke two sticks in the first two songs. I wasn't a drummer – I just sort of knew how to play. It didn't take long before I started coming up with ideas for songs, and chipping in with backing vocals.
++ After The Accidents you were in The Gene Tryp and only after in The Chairs. Had you been involved in any other bands?
Kevin: I did record an album I Austal with a 17 year old singer called 'Charlotte Emily' and did some gigs which was great. I was able to play in a band with my son Tom who played bass and then drums ion the songs that needed refinement rather than me banging out a rhythm! I enjoyed it, but it was not a long term thing.
Paul: I left The Accidents in 1980 after I moved to London. The whole band was meant to move, but only myself and Nick Smith (bass) actually did.
After a few months of struggling along, Nick and I met Mick Frangou, a drummer, and we decided to form a new band, with me singing and playing guitar. Nick and I began to write songs, sometimes together but mostly separately. That band was The Americans, and we re;eased a single in 1981 called Disney World.
++ What about the sound of each band? How different were they? And how did you end up evolving into The Chairs?
Kevin: Now there's a great question. The Accidents were very melodic and I felt told naive songs about love and disappointment. Very well crafted songs, wonderful sound and harmonies. 'Trigger happy' has one of the best guitar solos in my option! The Tryp was more a wall of sound – cleaver songs, great guitar solos, but feedback and speed and power. Lots of leather and image was important. The chairs were , well, the Chairs"! Early on, lots of jangly 12 string but we got rockier as we evolved. Paul really came into his element with his song writing and penned great songs ofr us. Each band was unique I feel. Love them all.
After the Accidents morphed in to the Tryp, Paul wanted to do more on his own as the front man, and I went along with him as did Trevor. It didn't mean we didn't want Mark or Terry but that sound had been and gone. It was time for something fresh.
Paul: The Accidents had started as a kind of cartoon punk band – very much in the mould of The Ramones or even Blondie. We didn't really do the whole Clash / Pistols/ Jam social comment thing. When I joined we had a few peculiar songs like I've Finished With Finland, Life Oh Yeah, and In The Shower which was basically a song about Terry having a shower. It was enormous fun and a bit of a send up. I loved the whole sixties vibe and when I began writing songs for the band with Terry it became much more like beat or pop music. As we evolved as musicians so did the band's music, becoming eventually much more of a rock band. In 1979 we were wearing sixties gear, sta prest, shirts and ties and we had started recording in earnest. We scraped together some money, from Terry's dad and from a local guy who owned a farm (Simon MacCready?) and went to Cambridge to record our first single at Spaceward, which was the studio used by The Soft Boys at that time. By this stage we had added a second guitarist, Mark Robins, who forced us all to up our game a little, and Nick Smith had joined as bass player / vocalist.
The Americans continued in the same vein as The Accidents, although, without a guitarist of the caliber of Mark, there were fewer guitar solos and snappier songs. Our listening encompassed Elvis Costello, Squeeze, and newer bands like The Police, as well as the independent guitar pop that was coming out of America at that time: The dB's, GameTheory and, to a certain extent, Cheap Trick. We also loved Louis Jordan and The Tympani Five.
It was power pop, harmonious, energetic and inventive.
The Gene Tryp was without question a Rock and Roll band. Loud, drenched in feedback and referencing everything from Psychedelia to The Jesus and Mary Chain, stopping off at The Stooges and The Flamin' Groovies. We also loved Big Star, who I have up til now failed to mention, and who are hands down my favourite band ever. Apart from The Beatles, who are more than a band anyway.
++ I believe throughout these bands you shared the same members mostly. How did you all know each other? How did you meet?
Paul: In order of appearance, Nick Smith I met at school in 1965, Will Kemp, Terry and shortly after Mark, I met when I moved to Colchester in Essex to study Art.
Kevin and Trevor I met in Maldon, and after that I was introduced to Dave Read.
Kevin: Terry, Mark and Paul had been in bands together for years. I lived on the same road as Mark and very closer to Terry. I went drinking in the same pubs (The Queens Head and The Carpenters Arms) and we became friends. Im 5 years younger so a bit of underage consumption was undertaken!
++ What sort of music were you listening at the time you started The Chairs? Who would you say were your influences?
Kevin: Elvis Costello, XTC, Elvis Presley, Blondie , Pistols, Madness, the Jam and the Accidents! All played a big part in my musical evolution. I listen still to all these guys and more!
Paul: I would agree with Kevin – I was very keen on Elvis Costello, but also loved The Prisoners, The dB's, anything that sounded remotely like The Beatles, anything from the sixties, specifically beat / psych groups from the UK like The Yardbirds, Tomorrow, The Who, Syd era Pink Floyd, The Records, but still also hanging onto my teenage fondness for Roxy Music, Jethro Tull and Yes, little of which was reflected in the music we were making.
I had a fling with Husker Du and The Smiths, loved The Pretty Things, The Small Faces and The Kinks.
++ And who came up with the name of the band? Firstly you were called The Domesday Chairs, right? What's the story behind it?
Kevin: No idea! That's a Paul thing. I can only remember us being the Chairs. Its the quote from Lennon, and Paul is the Beatles fan and we liked it!
Paul: Saw a picture in a Sunday magazine and it got me thinking about chairs. I knew it had to be a name that would have traction – that people would find themselves saying three of four times a day. Lennon once said of The Beatles "We could have been called The Shoes" which was the exact mentality I was after, but of course someone had already snapped up that name.
It would have been 1986 which was exactly 900 years after The Domesday Book, so I was tickled by the idea that you could buy this chair to commemorate it.
++ How was Essex then? Or where you in London by then? Where did you usually hang out? Were there any good venues to catch bands you liked? And were there any like-minded bands around?
Kevin: I lived in Essex in the early 80's and spend time at the students union at Essex Uni SU. Saw heaps of bands, REM, The Icicle Works, Cherry Bois, Aztec Camera, XTC, U2 (at the Lyceum in 1982/3) and on and on – heaps of great bands. In those days , pubs had bands playing and all my mates were in bands. It was a great time to play toilet venues!
Paul: I was firmly entrenched in London, married and working but still devoting all my spare time to music. We would go to see bands at The Bull and Gate in Kentish Town, played there frequently, bigger bands would play at The Town and Country Club, there was The Borderline, Mean Fiddler and The Garage at Highbury.
We weren't great ones for making friends with other bands, but we did hit it off with a band called The Dilemmas, and I frequently went to see The Prisoners (although they were none too friendly either ha ha), and later The Prime Movers. Last year I got to play with Fay Hallam from The PM's which was a thrill.
There were a lot of bands playing similar music to ours, and more as it became a bit of a fad. I suppose I would say The Mighty Lemon Drops, Cud, Wonder Stuff and maybe The Screaming Blue Messiahs. We would run into these guys on the circuit until one by one they were snapped up by the major labels. I think we felt slightly aggrieved since our record label was genuinely independent, and what we could see was major labels adopting the trappings of a band like ours but essentially producing a boutique record label for their new signings.
It was an accepted marketing ploy, and a clever one, too.
++ Your first record was "The Likes of You" who you recorded with G. Chambers. I was wondering how was that experience? I noticed he has worked with mainstream names like Robbie Williams. What did he add to your music?
Kevin: George was friend of Paul's and he was just a pleasure to be around. He smoked a lot too so the sessions were sometimes 'relaxed'! I was young then and just happy to be in the band and in the studio. He made sure that the recordings captured the essence of the band and he did a great job with what technology we had back then. He added his experience but without stifling how we really sounded. Good bloke.
Paul: George I had met through a mutual friend, and we were drug buddies. We would get together and smoke tons of grass. He worked at the time for Paul Weller and was an experienced sound engineer and all round good egg. We had recorded some demos with George quite early on, so it was an obvious move to use him for our first release.
There is a story about the recording session. We went to a cheap studio in Brixton which turned out to be run by a local gangster. He kept a baseball bat and a saw (!) for protection, as he was of the opinion that the West Indian community were intent on robbing him. I won't repeat what he called them.
We were booked in for two days. The first morning was wasted as the mixing desk wasn't working. The reason the desk wasn't working was because there was a dead rat inside it.
After completing the first day, the proprietor demanded payment, which we didn't have. We said
"we'll pay you tomorrow"
He said "No you fucking won't"
and impounded all our gear. He eventually agreed to take payment on completion of the session, but we had to leave the studio with all our gear in his possession.
George had also arranged for us to do some recording at a studio owned and run by Rick Buckler, formerly of The Jam, which predated this. We recorded a bunch of staff that never made it onto record, like It's the Only Way to Fly, one of the first songs written for the band, and an early version of Pink Halo, again never recorded properly or released.
++ By the way, how did the creative process work for The Chairs? Where did you usually practice?
Kevin: Paul would write and demo his songs on a 4 track. In the early days we rehearsed in Holloway Road London, and then as we needed more professional sets up, we went to Hackney Road. We always rehearsed all together for 4 hours on a Saturday and then when n we had big gigs, we would often do a Wednesday evening too. We would go to each other's house and work stuff. We all had an input, but it was really Paul's band so he led us – and led us well.
Paul: Kevin was pretty succinct in his answer. We used a studio call 313 run by Peter Sellers' son, and would rehearse a new song every week. Some of them were garbage and didn't make the cut, but I felt like I had to come up with new stuff so we wouldn't get bored. Occasionally Dave would present something for our perusal, which was usually shot down by Kevin. He was terrible for that. Dave once presented a song which Kevin immediately described as sounding like the current McDonald's jingle.
One of our early songs 1862, was outed by Kevin as a rewrite of "There's a hole in my bucket". I soldiered on with it regardless and it stayed in the set for years.
I would use a 4 track to record and develop ideas, and many Chairs songs began in this way. The fun part was hearing what the band would do with my scratchy ideas, and I hope I was encouraging. I know I could be extremely precious about my writing.
I still have hundreds of demos of songs I wrote for the Chairs. One of my favourites was a song called The Golden Mile which I later rewrote and used for The Liberty Takers.
Beware, though, a lot of it is crap.
++ This first record had a cool drawing as the artwork and it is credited to the band. I wonder who was the illustrator, the designer, within the band?
Kevin: Paul and Dave for sure. I can't draw a pair of curtains! Trevor was creative too and his then girlfriend (Claire) was arty.
Paul: We used a lot of comic art, pulp comics mostly, both for artwork and posters etc. The original singles never had picture sleeves. We spent all the budget on the label! The picture sleeves were concocted much later, in the 90's when we were trying to raise the profile of the band. That's also when the idea was mooted that we should compile an album (Al Green Was My Valet), which collected all our singles and b sides and some later demo's. I have I believe the only actual copy. I put together picture sleeves for all four singles but I haven't seen them for years.
++ You ran your own label, Pink Halo, to release your records. How was that? Was it easy to get distribution? Dealing with the pressing plants? Did you like that part of it?
Kevin: Not really. I enjoyed the live work but didn't enjoy recording and all the stuff that goes with it" Jim Wallace did most of the other stuff. I just t wasn't really interested. Jim is owed a lot of credit.
Paul: There was no easy way to get things done in those days – there was a lot of phone calls and leg work. No email, no internet, and The Cartel only came in later. Jim Wallace would shop around for the best deal. We had the first single pressed by Chip Hawkes formerly of The Tremeloes. That was quite a moment for me.
++ And why did you name your label Pink Halo? And what about that design that became your trademark for the labels?
Kevin: Pink Halo was names after a certain part of a woman's anatomy" nuff said. We wanted a simple but stand out label – always a different colour for each record. We knocked around the art work and all liked the one we used. We all played a part.
Paul: Pink labels meant Island in the sixties, Immediate and Pye records. My original idea was they would all be pink. I'm not sure where Kevin got the idea about the meaning of the name. We had a song called Pink Halo which we were all very enthused about, and it may have been a contender for a single. I know we recorded it a couple of times, once for certain at the Fulham Greyhound, and I'm thinking at the BBC session also. Then we came up with Size 10 Girlfriend and it got forgotten. The first pressing was a cock up. They ran the machinery too hot and the labels got burned. They came out a sort of salmon pink and cream instead of hot pink and white. Many people, Jim included, tried to convince me there was nothing wrong, but at the time I was very disappointed. Anyway, after that we started using different colours to make them sort of collectable.
++ "Size 10 Girlfriend" was your second release and I love this song! Was wondering if in a few lines you could tell me the story behind it?
Kevin: Its about a train journey from Liverpool street to Southend where Paul saw a really hot girl and tells a story of that and many journeys. I liked playing that but it was always one that knackered me as I hit my drums very, very hard!
Paul: It's social comment. It wasn't about a girl, so much as the idea that there is a male ideal that dictates what sort of girl is attractive. The idea that you might choose somebody based on their physical characteristics, rather than their, you know, personality. The narrator is an idiot who has misread what sort of girl he is dealing with. We had one or two complaints from people who misunderstood it, so maybe I should have been clearer. Obviously the band didn't understand it!
++ This time you worked with Howard Turner, who worked with more indie bands at the time. Was it much different than the first time around at the recording studio?
Paul: Howard was a lovely guy, and the experience of recording at a residential place was great for us as a band. There were no dead rats, and fewer blunt instruments. I recall recording a vocal outside in the field. The band was really playing well at this point and we nailed both songs pretty quickly. Cut and Dried remains a favourite song of mine.
Kevin: Yep, he has a very nice place and it was very civilised. It was in Norfolk were we recorded Honey, and we stayed in the cottage surrounded by fields. He had very good facilities only I wasn't allowed to play my Gretch Kit as it was too lively. I played a silver sparkly thing from memory! Every engineer we worked with were great – all different but great.
++ Your third release, "Honey I Need a Girl of a Different Stripe", was perhaps the one you had higher hopes with? I ask this because I notice you released it in both 7″ and 12″ formats.
Kevin: Hell yes. We had started to get attention after the likes of you, and then Size Ten. Honey was a bigger sound and people were interested. We decided to fund the12' and 7' with picture sleeve. The shirt was one Paul wore a lot and sort of became our image focus. When we were on Radio 1 and Elvis loved it – we thought – we have done it.
Paul: We had received some attention by this point, Steve Lamacq being a staunch supporter, and we had had a number of good reviews, and some airplay here and there. We definitely hoped that this single would make a difference – the difference being we would get some financial support, either through a record deal or a publishing deal. It wasn't to be, however, and we saw the boat sailing off without us. Elvis was very kind to us and his patronage opened a few doors, but as I say, things were about to change.
++ Your last release, "Crestfallen", didn't get proper art, how come?
Kevin: No money unfortunately. I think interest had gone at that point.
Paul: It was orange. What more do you want? We recorded that one with Lance Phillips, who at that time was a sound engineer at AIR studios, then based in Oxford Circus. It was the beginning of a fruitful relationship that continued after The Chairs had thrown in the towel.
++ On the web I could find a couple of mentions saying you were really looking to sign with a bigger label. Was that true? Did you get close to it?
Paul: We talked to EMI, Chrysalis, Arista, Virgin and BMG. They came to see us, we had meetings, Chrysalis gave us some studio time, the A&R people were all keen, but just couldn't force the issue. I remember The Wonder Stuff being signed at the same time we were in talks with their label. They had a brash image and we were sort of polite and serious. You can see why decisions were made in hindsight. Chrysalis told Jim I was not attractive enough. Makes me laugh now, but at the time it was the death knell for the band.
Kevin: It was our dream to be signed to a major. Paul may say different but that's the truth of it. We wanted to bring what we had to the millions. I still do – I think the later stuff is greater than the earlier and stands up today. Pink Halo was ours but it was only supposed to be a stepping stone.
++ Why do you think you didn't get the chance to release an album? Uwe from Firestation Records told me that you had an unreleased one titled "Al Green is My Valet", what's that about?
Paul: Being truly independent in those days meant forking out for everything from our own pockets. Petrol money, posters, record production, hiring press agents, stamps and phone bills. We would gig and make no money, so we were all working jobs as well. Getting back from Leeds at three in the morning and then having to drag yourself into work at 8.30 was no joke. I mean, we did joke about it, but it could only go on for so long.
Kevin: We just never had the money to be honest. We paid for the singles ourselves and funded from within. Jim was great and did get some outside cash for demos etc., but we never had enough. I really wish we did have as we would have made one hell of a record.
++ And are there any other unreleased songs by The Chairs?
Kevin: Shit yes! One on the best is Half way up a hill – absolutely Top song. Sycamore ridge was another. I have recording of rehearsals and gigs and a couple of live sets are great. Paul's song writing pedigree is still top notch. There are loads.
Paul: There are many demos. Don't Throw it in my Face, Halfway Up a Hill, 1862, Up on Psycamore Ridge, Neck of the Woods, Shakespeare's Motorbike. There are more I'm sure, but those are ones we played live.
++ From all that repertoire of songs, which would be your favourite and why?
Paul: Either Cut and Dried or Sometimes it Takes a Hammer. Cut and Dried was for me the ultimate conflation of all the things we liked, The Smiths, Costello, Squeeze – it's a near perfect pop song, clever and a but heartbreaking. Hammer is a song that I literally wrote and completed in a day, and I have no idea where it came from. It's a political song but it's not polemical – it's how I felt about everything at that time in a nutshell.
Kevin: Halfway Up Hill; – because its rocky, powerful, has great licks and interesting drumming. Size Ten, Honey and Daze are close to it though, as is the likes of you.
++ I read that there's a tape of your first ever gig at the Blue Boar in Southend. Who recorded it? Were copies sold? And what songs did you play? Did you have a big repertoire then or you played songs from your previous bands too?
Kevin: Paul didn't like playing back catalogue stuff but we dd a few. He was writing for the Chairs so we did new stuff and old. I have a recording of that gig somewhere – its pretty awful I remember!
Paul: We were a three piece to start with – Dave didn't join straight away, so it would have been pretty raw. I remember we did Neck of the Woods, Only Way to Fly and probably 1862. The rest I can't recall.
++ What about other gigs? Are there any that you remember in particular? Any fun anecdotes to share?
Paul: I remember playing in Gloucester. That was a good one. It's funny, I don't remember the good gigs, only the terrible ones and the associated hardships. We once drove to Leeds for a mid week gig at some pub or other and the publican didn't know we were coming. He said we could play if we liked. So we had a pint of Guinness and went back to London. We played at The University of West Sussex, and the headline band didn't show up, so we had their dry ice machine. It was hilarious. We played at The Princess Charlotte in Leicester, and some rough boys in the crowd didn't like Dave. Dave told them what he thought of them, and they were waiting for us outside afterwards. That led to us carrying a cricket bat to every gig after that. I still have it. Kevin decorated it with pictures of the band.
Kevin was very much the joker. We stopped at one of a string of awful overpriced motorway service stations, and no one had any money. So we all bought tea and toast and sat down to enjoy our food. Kevin came to the table and asked if anyone fancied a sausage, opening his jacket to reveal his inside pocket was full of them.
Kevin: What goes on tour , stays on tour. We did get beaten up in Leicester which was horrible but also quite funny looking back!
++ And what bands did you like that you played with?
Paul: I didn't like most of them. I did like The Icicle Works, but Ian McNabb was a miserable bastard. The other guys were much nicer. Shirley Manson was in a band we supported called Goodbye Mr McKenzie. I liked their record, and Shirley was lovely, so was Big John from The Exploited.
We liked The Dilemmas, and, as Gene Tryp we had the pleasure of playing with husker Du. They were great to us.
I once met Slade on a staircase, and urinated next to Elvis Costello at the Marquee.
Kevin: The Icicle Works were really great. I liked all the bands really but I preferred the small unsigned ones. Neil Robert Herd was also a great guy.
++ On Facebook, a The Chairs page was created, it seems, mostly to promote a reunion gig, but it never happened. How come? Has there been any other reunion gigs by the band?
Kevin: We realised that we would all be in the UK in August 2015. Paul put up the page but hadn't asked us if we wanted to play together again. Part of me wanted to , but I and Trev decided that its not going to happen. For me, the memories of the Chairs are precious and were a moment in time. Im never going to play with the guys again – not because I don't love them, but because time moves on and we are not those people now. Paul lives in Worthing, Tex in NZ, Dave in the Stares, and I lives in Australia until a few years ago.
Paul: That was a bit of mischief. I had enjoyed a reunion with The Liberty Takers the year before, and it tickled me to consider playing with The Chairs. The truth is, Trevor and Dave have virtually given up playing, and certainly didn't feel confident enough to get up in public. I haven't stopped so I suppose it was a little selfish to expect it. Nonetheless, we had a great afternoon together and I also met up with Trevor before he returned to New Zealand.
++ You did a radio session for Simon Mayo. How did that invitation happen? How was that experience? Which songs did you play?
Kevin: There is a tape of it – ill find it and send it to you. We recorded in the Holy Grail at Maida Vale studios west London. We stood where the Beatles, Stones and all the greats have been – it was awesome. The engineer completely flattened our sound and I've never been keen on the end result. We were so close to breaking onto the mainstream and Radio was interested. I loved being there , but as I said never really enjoyed recording. I think we played, Boys form Slumberland, Shakespeare's Motorbike, Neck of The Woods – I can't remember the other (I'm getting old!)
Paul: It was meant to be Janice Long, but I think she left to have a baby. By the time the session was aired, Simon Mayo was doing her slot. Kevin has all the songs right – we also played an early version of Honey INAGOADS. The BBC was a most peculiar place – riddled with nepotism and the old boy network. Kevin and I pinched a teapot from the canteen, and I still have a BBC paper cup. Our producer was supposed to be Dale Griffin, formerly of Mott the Hoople, but I swear we never saw him. There were men in brown coats, and a distinct air of ineptitude. Still, a great experience. The session came about I think through a guy who was doing our press – a scouser whose name escapes me for a moment, who obviously knew Janice and pulled a few strings. That's how we got single of the week in the NME. Just string pulling. And that's how we got on Radio One.
++ Did you get much attention from the music press? What about radio?
Paul: "We were bloody awesome when we were on fire" and when we didn't get signed we were rather put out.
We did interviews on local radio, we got a write up from Steve Lamacq in NME, most of our London gigs were reviewed favourably, we knew who was doing the review and never got slagged. It was a hard slog, and the competition was fierce.
What some people don't realize is that the old adage is true – it's not what you know, but who you know. more specifically, it's not who you know, but how well you know them.
We were fortunate in that we had some good connections through our manager – he had spent time in Liverpool, and through him we got to play with The Icicle Works, and that put us in touch with a number of other people. We were very close to a number of people in the business, but none were able to hook us up with a deal.
Kevin: We had a plugger and also were featured in loads of music process and radio plays. To this day, ill never understand why we were not signed. We were bloody awesome when we were on fire.
++ You did get some good promotion by Elvis Costello, he praised your music. Do you know how did he end up hearing your tunes? Did you ever meet him?
Kevin: Honey was on a Radio Show playlist called 'Round Table' where new releases were provide and talked about . We were played on it and he loved it. We thought that was it – here we come, but…………………………………….
Never met him but still love what he does.
Paul: I never met him properly, just to say Hi to. His seal of approval meant the world to me, as I revered him as a writer and a performer, and his words of praise proved to me that I'd got it right.
++ What's the story about Tim Burgess from The Charlatans stealing Dave Reade's suede jacket? When and how did that happen?!
Kevin: I think he just picked it up and walked off with it when we were on stage in Islington,. They were not the most welcoming of bands at the time.
Paul: The Charlatans were definitely on different drugs. Their guitar player was nice, and the organist, Rob took the time to talk to us. I thought their show was amazing, and although Dave lost his jacket, it was a lesson to us how far behind we were, in terms of image and fanbase. They left us standing.
++ In the end what happened? When and why did you call it a day?
Kevin: Dave Hubbard our friend ad roadie, stepped away, and I didn't want to be in the band anymore. I needed to move on. The others did play a bit together after with the great Mick Frangu on drums. Just sort of had enough of it an knew we had missed the boat.
Paul: The legend is that Dave Hubbard decided he'd had enough. We had been round all the record labels and publishers twice and we just had to realize that we were no longer the new kids in town. The Stone Roses had heralded a sea change in how people consumed and reacted to music, and we simply got lost in the shuffle. Literally. We considered for about two seconds that we should wear flares and buy some maracas, but that would have been somehow wronger than giving up.
Personally it was a tough period for me. I had placed so much faith in us succeeding as a band, I had actually neglected most other things in my life. My first marriage came to an end around this time, and for a long time I couldn't even look at the music press.
I have a memory of going for a kind of farewell drink with Dave and Neil Herd who had both road managed the band, and we watched a Queen tribute band called It's a Kinda Magic playing in a pub in Stoke Newington, while an elderly lady with learning difficulties danced alone on the floor in front of them.
++ What did you do after? You were involved in The Liberty Takers I think?
Kevin: No, I stopped playing for a short while and then joined a local band called 'The Falling'. We played one gig in a pub, and I thought, nope, don't want this anymore. I sold my drums, brought a pram for my new borne and started life a s a dad – it's a fantastic life. My wife , son and Daughter are my life.
Paul: I never stopped. I felt compelled to carry on, and I began recording with Lance who had engineered the last sessions with the band. I did a few solo shows, but the best part of it was getting to record at AIR studios. Lance would call me up and together we started what was to become The Liberty Takers.
Because he worked at AIR, he was allowed to use the studio when it was "dark" so to speak. At this time, AIR was the studio of choice for people like Elton John, Costello, McCartney, Dire Straits and other jetset pop luminaries. Dire Straits had block booked Studio Two, but hated each other so much they all went home at 5 o'clock every night. Lance would call me, and I would jump on the bus and off we would go. We worked on a series of recordings, elaborate and intricate, that later formed the bulk of the first Liberty Takers album. The main thing was the clock was not running, so we were literally just goofing off and doing whatever we felt like. There was no thought of these things being released at that time, mainly because we shouldn't have really been there.
Lance once, jokingly, prepared an invoice on AIR stationery, charging me for all the studio time we had used. I think it came to £50,000.
Trevor and Dave were both involved in these recordings, and later I joined forces with a band called The Crowd Scene, and performed initially as The Laugh In, and later as The Liberty Takers. In 1991 I went to Boston USA, and made a lot of friends, including Big Dipper The Gigolo Aunts and The Jigsaws. It was a rejuvenating experience, and I came back ready to take on the world. I released an album "Barbershop Raga" and did a number of shows with an expanded line up. Eventually The Liberty Takers regrouped and we produced what I consider to be the best thing we ever did, "The Heyday of Tony Stone".
++ And what about today? What are you up to? Any other hobbies aside of music that you have?
Paul: I had always dabbled in writing, short stories, poetry and so on. I have now written two books of verse, and have performed some of these. I have continued to play live, in duos, trios and covers bands, most successfully as The Daytrippers, paying tribute to the greatest thing that ever happened The Beatles. We don't wear wigs.
I love to read, I love painting, mostly other people's, and I can now enjoy watching bands as I'm no longer fighting to get to the front.
Kevin: I like listening to music and walking, cycling and jogging. I'm a big lad but enjoy a peaceful life. I love the sky and the country side. I went back to uni in Australia at the age of 44 and obtained a Post Grad Dip in OHS , which was the area of specialism that I moved into years ago. Being in the Chairs and reflecting on how we could have been better managed (from a business perspective) actually helped m, as I studied Business and Commercial management and qualified in that field and then OHS. I travel all over the work and have been to so many countries, its opened my eyes up to how some people are forced to live. We have it good over here.
++ Looking back in time, what would say was the biggest highlight of being in The Chairs?
Kevin: Just being one of 4 who made a difference in the world of music. I know what we were and how good it could be. Playing at the Old and New Marquee Club and the Town and Country Club stand out, but in closing, I'm so grateful and proud to have been the Drummer in the Chairs., so many great memories that will also be with me.
Paul: The highlight was being part of a close unit, that no matter what happened we would share the highs and the lows. It's like belonging to a gang. No other band has felt quite like that since, and I am so glad I got to have those experiences.
As a band I would probably say our finest moment was one of our last – We played support to The Smithereens, who we all liked, and who were all nice to us. We played a belting gig to a sold out house and we kicked ass. I can promise you, it wasn't always like that.
There is a theory about greyhounds. They stop chasing the electric hare when they get fast enough to get close, and realize it's not real. I'll just leave you with that philosophical metaphor.
::::::::::::::::::::::::::::::::::::::::::::::::::::::::::::::::::::::::::::::::::::::::::::::