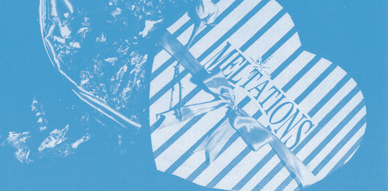 Melting, or fusion, is a physical process that results in the phase transition of a substance from a solid to a liquid. The internal energy of a substance is increased, typically by the application of heat or pressure, resulting in a rise of its temperature to the melting point, at which the rigid ordering of molecular entities in the solid breaks down to a less-ordered state and the solid liquefies. An object that has melted completely is molten.
It's been a couple of weeks since last time I opened the dashboard of my blog. After cleaning the spam comments, replying the 'real people's' comments, getting back to legendary bands that got in touch,  I can finally sit and try to write. While in the UK many people, well, more like 5 people, told me they follow the blog. Some of them said that they do it religiously, some said that they only care for the personal parts, and other said that they wish they had more time to read about it. Another friend asked me again about the book that would compile the blog. That idea is still haunting my head of course. It's just that it requires so much time to put 500 worth of pages together and I can only wonder when I'll be able to  lay them out and print them. Time. Time is of the essence.
Receiving these kind of compliments is nice. Especially as I always tend to think people won't like reading long posts on the internet. Modern tests have shown that the attention span of people when reading articles on the internet is very short. I don't blame them. We just like flipping and then navigating to something else. I don't think I'm an amazing writer to keep everyone hooked after a couple of sentences either. So these compliments mean a lot. Especially at this time that it feels indiepop is not as exciting and "cool" as it was some years ago. I'm thankful for the interest. And I hope I keep blogging for a couple more years at least. I started blogging in 2004. And this particular blog was started in 2008. It's amazing how time flies. I feel as young as I was then.
I wish I could do a review of Indietracks, my trip to Wales, and those few days in London. But I still have to digest it all. Organize the thoughts in my head. It feels so fresh that it makes me feel nostalgic about all those days of hugging and kissing in trains and coaches that parted from Cardiff central to castles and petit towns, the mud and the puddles and nasty shoes at Indietracks, and the last hours at a King's Cross' Travelodge. Can't put it in words yet. It's tough. It's hard to be back at work after such wonderful days, picking up the routines where I left them, from going to the post office to buying whole wheat bread at the supermarket. Long gone are the traditional British heart attack breakfasts, with their eggs, beans, bacon, sausage and toast (add brown sauce, plenty), now I manage with a glass of OJ and another of pomegranate kefir. Wonder how come British people are not as fat as those people that stroll their shopping carts in Houston's malls.
After coming back I got back into Cloudberry business. The most important activity of my days in New York, and Miami before. That and talking to a sweet tooth in Stockholm. This week there were two very important announcements, first of all is that the Earth First 7″ has a release date and it's just around the corner. The fab black round slab with be out on July 30th. If you like Brighter, Harper Lee, Pinkie, Silver Screen, Fireflies (you know the drill), this is the record for you. Precious, elegant, and chiming, this record includes a song on each side of the vinyl and you can already pre-order it. Look for a Cloudberry Bugle on the day of it's release if you want to read a bit more about it. And then the other great news is that The Spook School's 7″ has been unveiled. You can head to the label site to check one of their songs and also pre-order it. The artwork for this single is gorgeous and was made by Canadian illustrator extraordinaire Anna Bron. Time to start saving kids. Cloudberry is pushing it this second half of the year!
Yes! Because on this second half the new fanzine and the Strange Idols CD should be out as well. And Nixon 7″.
At Indietracks I received a CD from Rupert from the A Turntable Revolution blog. He didn't actually hand it to me, but to Michael from Pebble Records. And then Michael to Cris, and then finally to me. Rupert was kind enough to offer me a CD on a blog comment just before I left to the UK. The CD was to contain lots of obscure indiepop goodies. I didn't see him at all during the festival. I guess we either watch different bands or we just cross paths and didn't even notice. Indietracks is not THAT big you know. But lucky enough, on the last night, on that last train from Indietracks to Butterly station, when the train officer was cheering us and asking us to come again next year, and in the same carriage I boarded, I saw Rupert. And I was able to thank him personally. On this CD, I would say I knew half of the bands, some of them I knew their music, but some others just by name. I guess the only good thing of coming back to the US, aside from going to see Shonen Knife yesterday, was playing this CD over and over this week. And it was the first sung that struck me immediately.
Sweet tooth: A great liking for sweet-tasting foods.
The song is "32 Sweet Teeth" by The Meltations. And it's a fact that adults have 32 teeth whereas babies have 20.
At first listen the jangly and chirping guitar gives me goosebumps. And the vocals, I don't know how to explain, they are just great. And while listening to it only something crosses my mind, the biggest sweet tooth I know. My girl in Stockholm. She who can skip lunch or dinner and just eat chocolate and jelly beans. Sugar and sugar, sticky fingers. Makes my day seeing her having all the sweets I can't have. And her excitement over the British candy stores, colorful, and packed from the floor to the ceiling with all candies in different shapes and textures. Some wrapped and some not, waiting to be scooped in plastic bags and taken home for snacking the whole day. Makes me wonder how much happiness will bring to Alexandra when she sees the humongous American candy stores. She was overly impressed by the variety of candy at a Sainsbury's! She tells me that in Sweden there's not even half of the variety of candy you find in the UK. She takes her time picking which new candy she'll try this day while we travel and hour on train to see some castles in a close-by town. One day she picks up Skittles, she's never had them. These are not the traditionally wrapped in red ones. But in orange. I've had had them back in the day. She wonders how they taste. It is very strange for me when she tells me that she can't find them in Sweden. Even in Peru I could find these! I tell her that they are chewable candy with a hard coating, all of different colors. She gets a bit disappointed when she notices that the center part of all of them is white. She thought they were colored even inside, not just the coating. Things a sweet tooth minds. At first she doesn't like them much. Then they grow as an addiction. And she takes a bag to Sweden. Sadly the other day she tells me she has run out. If it wasn't for her mean postman that keeps stealing every single package I've sent for the last couple of months, a huge overload of Skittles would be waiting at her front door.
The song makes me grin. I think of her. The distance. The fucking distance. And the visas, and the lack of vacations. The lack of sweet.
Who were the Meltations? Of course the internet keeps quiet about it, as if saving all the clues to itself, hoping that no one uncovers this mystery. The best clue is that on Popsike.com there are two eBay listings. One dating of 2007 when this 7″ went for 80 pounds, and then one in 2010 when it sky-rocketed to 225 pounds sterling. Who might have paid those crazy prices? I always assume is the Japanese.
There are a couple of clues if you keep digging. The B-side to this fantastic 7″ is a song called "I'll Take It As A Compliment ". Does it have the same amazing jangly guitars as their A-side counterpart? One day I hope I'll have the chance to listen to it. And the clues start getting thinner and thinner. The record was put out in 1987 and it was a self-release, catalog number MEL01. Recorded at Goldsmiths College. Safe bet to say they were Londoners?
The cover photography, of a man holding a heart-shaped box full of chocolates, was taken by Douglas Cape. I think of myself as the cover star for some reason. The record was mastered by David Burnand who is credited for writing and arranging "Points on the Curve" by Wang Chung. Odd.
The most important clue comes from the band members names: Andrew Newcombe, Heilco Van Der Ploeg, John Penfold and Matthew Graham. And it's about Heilco Van Der Ploeg who I manage to shed some light. He seems to still be in London and ran a club called Club Montepulciano.  It seems that along this club he also had a band that played in it. With it he released a couple of CDs, "The Autumn/Winter Collection Volume 1" and "The Autumn/Winter Collection Volume 2". He participates in them, on vocals, writing and arranging. Not sure what's the sound of them, but I believe it's some sort of cabaret stuff.
This is what I found out about the club on Wikipedia:
Club Montepulciano was a critically acclaimed lounge and cabaret club-night institution that ran themed events across a number of venues in London, with guest appearances in the South of England and across Europe, from 1993 to 2004. Acting as a launch pad for new talent, the club influenced the emerging cabaret and burlesque scenes.As a musical event, Club Montepulciano was founded on swinging cocktail tunes from nightclubs and ballrooms of a bygone era. Its themed nights had different retro vibes, influenced by icons like James Bond and the Playboy clubs of the 1960s, with clubbers dressing in the style of each event.Venues graced by Club Montepulciano included the Hanover Grand, Café de Paris, the Connaught Ballrooms, Turnmills, the Kensington Roofgardens, Brockwell Lido, the Rivoli Ballroom, the Embassy Club, Glastonbury Festival, Glyndeborne, Pacha's flagship venue in Madrid, Dingwalls, Eastborne Wintergardens, the original Brighton Concord, The Water Rats, Madam Jojo's, the Scala club at Kings Cross, the Eve Club, the Blackheath Halls, and The Camden Centre.Club Montepulciano's cabaret and comedy acts included The League of Gentlemen (before they were famous), Mackenzie Crook from The Office as Charlie Cheese, Jackie Clune as Karen Carpenter, Matt Lucas from Little Britain and Shooting Stars, Amy Lamé in collaboration with 'Duckie', Ursula Martinez, The Tiger Lillies (Shockheaded Peter), Men in Coats, Mike Flowers Pops, The Lorraine Bowen Experience, Tina C and Dr Stuart (The Fifth Element), and the UK Latin American Ballroom Dance Champions.Complementing these performers were circus acts, magicians, and impersonators. Club Montepulciano also hosted its own in-house casino, talk-a-oke, the Flirtation Tank and Minuscule of Sound, as well as the in-house band Montepulciano.Club Montepulciano was described as one of the "199 things you have to do before you're a real Londoner" by Time Out magazine in 2004. The demand for its music grew into Club Montepulciano Recordings and subsequently Freshly Squeezed Music. The band Hooverphonic recorded a song called "Club Montepulciano".
Quite a change from his early days as a jangle master, huh? Still, the club stopped in 2004, and I wonder where did Heilco go? I wonder where all the members went after The Meltations. I wonder if they had any more songs. How many copies of this 7″ were pressed. Why it is so rare? Why people don't know about it's existence being SO GOOD? There's plenty of mystery and questions to solve about them. I hope you all can help me.
::::::::::::::::::::::::::::::::::::::::::::::::::::::::::::::::::::::::::::::::::::::::::::::