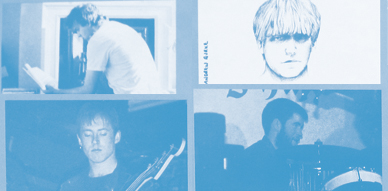 Now we start November. Almost done with 2015 and it looks like it was a good year afterall, with more releases than I expected. I thought I'd be putting something like around 3 records out this year, as things have been slower than usual but in the end there are going to be around 5 to 6 releases (if you count Parcel Post) out this year, with Suncharms to be released in January very early next year. So it's kind of like 7! That's a good amount! I'm happy and proud!
This past week, after my vacations, indiepop came back to my life. On Thursday I met with my friend William Jones, the great songwriter, vocalist, guitarist, you name it, behind one of my favourite bands ever, Friends. We had some Mexican dinner and some beers. He was here in the city for the marathon. Yup. He was going to run yesterday, on Sunday. It was quite interesting for me as I didn't know all the logistics, and the process, and even the organization that goes behind the most important marathon in the world.
Among the most amazing facts that surprised me was that the runners have to be at 6am at the NYC Public Library, at the main building in Manhattan, so they can take free buses to Staten Island. Then after arriving there, they just wait. Wait until it's time to start the race. Seems like so much pain! It's so early! Couldn't they just get the bus at 8am? How can someone go running if they wake up at 5am or 4am to be ready to catch the bus? A cool thing though was that your bag that you take with yourself to Staten Island, then you can pick it up after the race in Central Park. That seems organized.
On Friday I went to see Joanna Gruesome at Rough Trade. Expert Alterations were playing much earlier, at 7pm, at the same venue their release gig. Sadly because of work I missed them, but got to see the guys after at the Joanna Gruesome gig and secured their new release, and their back catalog that I was missing. On top of that, some posters too. With Joanna Gruesome, well, I already have all their releases, minus the Trust Fund split one (I dont like Trust Fund, but I should have bought it, I know), so I bought a t-shirt. A black t-shirt of course. Then talked a bit with one of the new vocalists and she was nice, was telling me she wasn't Welsh, as I assumed, but from the north, from Manchester. Cool beans. The gig was very nice and shouty as expected, but it seemed a bit short to my friends. I thought it was fine. Oddly there was no encore.
And then on Sunday I went to see the marathon around Queensboro Plaza. There was very loud music, songs like "We Will Rock You" or "Eye of the Tiger" were pounding on the streets. A huge crowd was cheering the runners. And me, with this new app William had told me about, was tracking him. That was really cool. I couldn't take a photo of him, and I regret that. Thing is, I started shouting "William!, William!" as soon as I saw him sporting his Torino FC kit and keeping his pace. He didn't hear me the first time around, so instead of taking a pic I kept shouting until he noticed me and waved back! Then he kept running towards the bridge, towards Manhattan. That was really cool.
I loved the atmosphere at the marathon. It seemed like a party! Even I thought of the Rio carnival when I saw the runners. They were all so happy, some were dancing, waving or singing so loudly. They were having so much fun. Some of course were focused, some others very tired and walking a bit. They all dressed whatever they wanted. I saw a psychadelic skirt, Sweden jerseys, Denmark socks, German flags and so on. Some even carried video cameras. Others were Facebooking. It was so much fun that I would love to participate if not next year, then the next. I guess I need a lot of training but, it looked like a great experience.
And that was it. It was a good weekend. How was yours? Did indiepop came back to your life as well?
—————————————————
So because of the week's visit, I thought checking out a band from the Summerhouse stable that I barely know anything: Quinn the Eskimo. When I asked about them to William on an interview we did he told me:
Quinn The Eskimo were from Newcastle and were recommended to us by Red Rhino, who gave me a tape of their album, which was fully recorded but unreleased as they had no label. It was acoustic indiepop/rock, and if you want a comparison I'd relate it to Miracle Legion who I thought were great. I liked it and thought it was just right for the label. Again it got caught up in the Red Rhino debacle, and we never got back the unsold copies to remarket. We didn't keep in touch and I don't know what happened to them. No, there won't be any CD.
I still don't own their LP. I believe that's all they released.
They took their name from a Bob Dylan song it seems:
"Quinn the Eskimo (The Mighty Quinn)" is a folk-rock song written by Bob Dylan and first recorded during The Basement Tapes sessions in 1967. The song was first released in January 1968 as "Mighty Quinn" by the British band Manfred Mann and became a great success. It has been recorded by a number of performers, often under the "Mighty Quinn" title.
The LP "The Mountain is a Dandy" (Summershine 002) was released in 1988. It included 10 songs: "Samantha Rain", "Breathing", "Big Hedge", "The Haymaker", "Like a Flame" on the A side, and "Eternity", "Once Upon a Day", "The Wreck", "Eastwood" and "The Importance of Being Honest" on the B side.
The artwork is credited to Dawn Main, the photography to David Lyons and Event Horizons. The producer was Quinn the Eskimo (with some tracks produced by John Steel who produced some stuff for Martin Stephenson and the Daintees). The engineer for most of the tracks was Ian McKie while for A1 and B2 was Martin Holle.
The band members were:
Dave Cook on vocals
Richard Scott on guitar, vocals and mandolin
Graeme Cooper on bass guitar
Ken Goodinson on drums
Strange thing is that lyrics are credited to Andrew Wilkie as he doesn't appear to be part of the band. There was also some piano played by Martin Holle and John Steel. The record was produced at Cluny Studio in Newcastle and also at Desert Sounds in Felling. On the back sleeve there are photos of all the members but Richard Scott. There's a drawing of his face instead.
On the Summerhouse page there's a small press note about the record that says:
Quinn The Eskimo's only recording on Summerhouse was a classic set of acoustic guitar-based pop songs, drawing on the English folk tradition and American guitar rock to produce a refreshingly original sound that is hard to locate in any particular era. Ranging from the upbeat pop of Samantha Rain and Once Upon A Day, through the dreamscape of The Haymaker to the folky barnstorm of The Wreck, the album is a one-off gem which was never to be followed up.
Also there we find a bunch of reviews of the record on this page.
Aside from that I couldn't find much more online. So I wonder if anyone know whatever happened to them? If they ended up releasing any other songs? Or if they went to form another band? Were they involved in bands before Quinn the Eskimo? Or if anyone has a spare copy that would like to find a home in NYC?
::::::::::::::::::::::::::::::::::::::::::::::::::::::::::::::::::::::::::::::::::::::::::::::