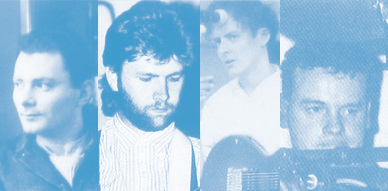 All ready. All set. I got my stupid tourist visa. Ready to spend vacation time next month in Europe. The lineup of Madrid Popfest has been confirmed and all I can say it is that I'm looking forward to it a lot, especially to see bands I've never seen before like The Haywains, Northern Portrait and Alpaca Sports. This time though, I'm traveling by myself so I'm much more open to meeting up with friends and exploring the city, something I didn't do much last time. Last time I dedicated my days to day travels to different cities around Madrid like Segovia, Toledo, Avila among others. It was fantastic, though being by myself, I don't see much of a point, who will take photos of me posing as a good tourist for example? Record shopping will be a must, and so, if anyone wants to join, let's do that. I'm also very excited for the Madrid restaurants with their 10 euro menus, which was something I really enjoyed the first time around.
But the best news of this week has to do with the release of the Flowers 7″. The official release date is the 15th. One day after Valentines Day. Do you celebrate that? I wonder. I've never read or heard any indiepop kid celebrating it. But then, it's perhaps something very private or probably indiepopkids hate capitalist inventions like that. What do I know. Anyhow, the record is ready and it's shipping to all over the world. It's perhaps the records with most pre-orders that Cloudberry has released. Very anticipated debut by the London trio!
I've only seen them once. Last November, when I decided to travel to England even though I wasn't going to meet the girl anymore. It was a difficult decision because it was going to bring memories and perhaps I wasn't going to like my holidays as much as I would want to. But at the same time, life goes on, and because of something circumstantial like that, I couldn't just trash my plans I thought. I had already told many of my British friends during Indietracks that I was returning to London later that year, that we'd find a place for her to leave her cat safe and sound and all, and that we'd enjoy at least a weekend together there. In the end, it was just me. I expanded the weekend to a whole week. Went all the way to Scotland and back, back even to the southern tip of Great Britain, to Portsmouth and all. And as always I saw castles.
It was that day that I went to Arundel with Paloma, who happily joined me at last minute, who was strangely and randomly enough staying just a tube station away from where I was staying at Chez Navarro's. After sightseeing around Arundel and having still a couple of hours to burn, we looked at a map and decided to keep exploring. For 10 more pounds we could go to Portsmouth and back. I didn't know much about Portsmouth, aside from the football team, but sounded like a good plan. We had already circled Arundel and there was not much more to see. Which doesn't mean it wasn't fantastic. I truly recommend people visiting it. The castle is beautiful.
We both wanted to go to the Flowers gig that night. Happily Rachel had been nice enough to put me plus guests on the guestlist. So that wasn't something to worry. But just the timing. We had to take all these trains back to London and we had to do transfers. A mistake in trains could make us miss the gig. We were thorough and asking the officers and such we finally succeeded and returned to London just in time. We had some so-so food at a Weatherspoons around Buffalo Bar and got just in time for the first band.
Two folk bands and two indiepop bands was the premise for that night. Don't hate me if I don't remember the name of the folk bands. But the indiepop class was represented by Cosines and Flowers. Flowers were headlining. Cosines had among their ranks many people I know like Alice, Dan and Johnny. Also my dear Kajsa was playing with them. It was a pleasure to see her playing keyboards again, smiling, dressed in a cute pink dress. She has one of my favourite smiles. A smile that I first met in Stockholm so many years ago and that I seem to see at least once a year since then. Can't really complain, with the distance and all, must be one of my international friends I see the most. But anyways, I had been to the Buffalo Bar to see Flowers. And so after buying and buying San Miguel beers, because Rory wouldn't give me a free one (!), it was about time for Flowers to get on the stage.
You'll think I'm biased, but the thing is, that Flowers were amazing. They were a new band, but they sounded like soldiers of many battles, tight, and very confident. They knew what they were doing. Rachel with her one-string bass, Jordan with his noisy guitar and Sam banging the drums with a true C86 beat. I knew they were fantastic, I knew that since I found them on bandcamp ages ago and bought their 2 demo CDRs. But seeing them live, and making all the crow to be awe-struck, confirmed it to me. They were special. Wait, they ARE special.
The 7″ took a bit of time to be made. Issues with computers, with artwork, and stuff. But it was all worth it. It sounds great, it looks great, and it feels great. Four short songs of noisy pop, with vocals that remind you of a bygone era, like when people listened to The Parachute Men or The Nightblooms. But updated. Updated to sound like a band from today. Not surprisingly another Cloudberry graduates, The Pains of Being Pure at Heart invited them to tour around Europe with them. And it's also not surprising that they have already signed a deal with Fortuna Pop to release an album later this year (also The Spook School joined them at this, could it be that Fortuna Pop trusts Cloudberry's taste?).
If you haven't already, please do check "When You Lie" on the Cloudberry website. It's just a teaser, but it's a fantastic song. If you like it, do order it. Or if you are in London pick up a copy at the next London Popfest where they will probably amaze everyone!
——————————————————-
But let's move to the obscure band of the week: Boxing Clever.
I remember looking for them many years ago, with no success. I remember finding one of the members on Myspace, I think he was involved with some sort of punk band. Sadly I never heard back from him. I wanted to interview him about the band for the blog of course.
The only piece of information comes from the Falkirk Music Scene page. It says:
BIOGRAPHY:
Falkirk / Edinburgh pop / rock act formed in 1988 by ex-Breakfast Boyz member Justin Skelton (vocals / guitar). He added local drummer Ian Wallace (ex-Nirvana, no not that one!) and Edinburgh musicians Gus Carmichael (keyboards), George Christie (guitar) & Eddie McGlone (bass). The band released one single in 1989, "Toy Soldiers", on the BMG label before splitting. Skelton later ran a rehearsal room, whilst Wallace joined The Cotton Train.
RELEASES:
"Toy Soldiers" (12 inch single, BMG, 1989)
None of those bands named in that little biography had any releases sadly. So it's hard to track them through them.
The Urban Dictionary says that Boxing Clever means: to use inventive thinking above all other attributes in order to achieve an end goal.
Is that why they named the band like that? One can only wonder. The truth is that the only other bit of information I could gather was from the back cover of their 12″ release. A 12″ I haven't had any luck in having or finding.
We know that all songs were written by Justin Skelton and then arranged by the rest of the band. The songs that were included in this release were "Toy Soldiers", "I Just Do", "Nobody Else I Know" and "William". There's a little information about each one of them:
Toy Soldiers – Recorded at Palladium Studios. Produced by Boxing Clever and Chris Harley. Engineered by Keith Mitchell.
I Just Do – Recorded at H.M. Studios. Produced by Boxing Clever. Engineered by Alan Cuthberson.
Nobody Else I Know – Recorded at H.M. Studios. Produced by Boxing Clever. Engineered by Alan Cuthberson.
William – Recorded at The Howf. Produced and engineered by Justin Skelton.
Keyboards and accordian were provided by Gus Carmichael and John Sweeney respectively.
All tracks published BMG (a major! horror!) Music Publishing LTD. But it was released by Beaver Records.
The sleeve design was thanks to Rose O' Connor. And the record came out in 1989.
And that's all there is. I could tell you  a bit about Falkirk as it has some interesting history, if you like though? Well, so…
An Eaglais Bhreac is a derivative formed from the Scottish Gaelic cognate of the first recorded name Ecclesbrith from the Brittonic for "speckled church", presumably referring to a church building built of many-coloured stones. The Scottish Gaelic name was translated into Scots as Fawkirk then later amended to the modern English name of Falkirk. The Latin name Varia Capella also has the same meaning. Falkirk Old Parish Church stands on the site of the medieval church, which may have been founded as early as the 7th century.
 The Antonine Wall, which stretches across the centre of Scotland, passed through the town and remnants of it can be seen at Callendar Park. Similar to Hadrian's Wall but built of turf rather than stone so less of it has survived, it marked the northern frontier of the Roman Empire between the Firth of Forth and Firth of Clyde during the AD 140s. Much of the best evidence of Roman occupation in Scotland has been found in Falkirk, including a large hoard of Roman coins and a cloth of tartan, thought to be the oldest ever recorded.
And that's all I can tell you about Boxing Clever and Falkirk, and Scotland this week. Though probably after listening to the song, you'd wonder why there's no more information about them. I ask myself the same. Wish I knew if they had more recordings. If they appeared on compilations. Whatever happened to them? Where are they now? So many mysteries. Maybe some of you remember them? Maybe some can fill in the blanks!
::::::::::::::::::::::::::::::::::::::::::::::::::::::::::::::::::::::::::::::::::::::::::::::