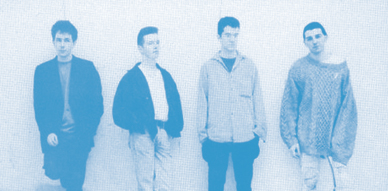 We are very close to 2018 and what news will bring the new year? There will be many new releases on the label and I can't really wait to announce them. I'm sure in the next few weeks I'll start letting everyone know the next Cloudberry Cake Kitchen release as well as the new ones on the 7″ series!
Speaking of which, don't forget that the My Light Shines For You 7″ is coming out next week, on the 15th! Order it now at our website!!
So you want new recommendations?
The Hit Parade: Best news in a long time is that The Hit Parade are back with a new song and single, "Oh Honey I…"!!! Damn! I need to order the 7″ right away. It is classic Hit Parade, one of my favourite bands ever!! Where do I get the record? I need to find out! It seems to be available only on British sites at the moment. Will Jigsaw Records carry it? I hope so! The B side is "History of Art" and as usual it is released on their own JSH Records. Legendary.
Bubblegum Lemonade: the Glasgow band have a new release coming up this December. On the 7th they are releasing a 6 track EP titled "Laz Christmas" on the venerable Matinée Recordings. What will the tracklist be? I don't know yet, but for the time being we can have a very good time listening on repeat the songs "Number One Christmas" and a cover of the classic "Silent Night"!!
Sky Faction: more friends keep releasing fantastic music. This time I see Sky Faction, which has members of Starry Eyed Cadet, releasing 5 songs on their Bandcamp. And how beautiful they are!!! Are these songs going to be released in any way? Physically I mean? CD? vinyl? I hope they do. The five delicious slices of perfect pop are "No One Else", "Mar", "Miss Solitary", "Lactose Intolerance" and "Feathers". Do you remember The Shermans? They remind me a bit of them, maybe to that sound that Shelflife used to purvey back in the early 2000s. The band from San Francisco is formed by Lillian Yee on keyboards and vocals, Sally Jati on rhythm guitar, synth and vocals, Rex Padayhag on bass and vocals, Roberto Burgos on lead guitar and, the top Rob Uytingco on drums.
Glass Arcades: 9 songs, some of them already available on the web, that's what "Milquetoastesque EP" is. The new Glass Arcades release on Bandcamp is pretty good. Of course I've recommended the Cardiff band before on the blog. We know what they are about and every time they have a new thing on Bandcamp here I am telling you to check them out. The songs in this collection were finished in 2016 but it says that for a reason or another it wasn't published until this day.
The Eleventh Door: Found two songs that sell for $150 dollars on Bandcamp. Quite expensive? Probably it is some sort of way for the label Hail Atlantis Records from Salt Lake City, Utah, to make it impossible to order them? I guess they want to wait for the official release date of January 1st. That is when a 10″ will be released by The Eleventh Door who seem to be a duo formed by Catalina Gallegos and Rocky Maldonado. More latin people in indiepop is always good in my book. They seem to hail from Salt Lake City too and the two songs on the record are "Tellement Tendresse" and "Fever Dream". 2 songs for a 10″? It is an odd choice, maybe there will be more? I hope so. Both songs were mastered by the one and only Joe Foster at Poppydisc in Glasgow.
————————————————
About to finish our world tour of guitar pop bands and today it is time for the 42nd band/country, Gradapenda Rosindale from Northern Ireland!
But first I wanted to share a map I did where I colored the countries that I have covered in this special feature on the blog, as well as a list of the names of the 44 countries that will be covered. Yes, there are 2 more to go. Maybe you could help me adding to the list? Maybe there's something from Costa Rica aside from the contemporary bands? Or what about Croatia or Slovenia?
Of course I found out about Gradapenda Rosindale from the Sound of Leamington Spa series. They were featured on the 5th volume of the series that will soon have an 8th volume according to Firestation Records (can't wait!). On this compilation released on 2005 the band contributed the song "Bad Days Must End".
As usual on this series the booklet included a bio of the band, which has a lot of interesting details about them:
"Gradapenda Rosindale took their name from a mishearing of a line in the single version of the Jonathan Richman and The Modern Lovers' song "Roadrunner". They formed in June 1990 when Sean Mason and Sean Pemberton began demoing songs and playing gigs around Derry in Norther Ireland. The line-up of the band finally settled into Stephen Doherty (guitar), Andy O' Doherty (drums), Sean Mason (bass, vocals) and Sean Pemberton (guitar, vocals). This line-up recorded the Exit EP in Forge Brae Studios in Donegal and it was released in the summer of 1992. The release was follower by airplay on various radio stations, reviews in the music press and gigs around Ireland including Belfast, Dublin, and Cork. In February 1993 the band recorded a session for the Dave Fanning show on Irish radio. Shortly after this the band split up. They reformed as a three piece with Sean M. and Stephen, and a new drummer Gary, and played Cork Rocks in the summer of 1993, but finally folded in October 1993. When we released the Exit EP our main hope was to get it played by John Peel. He played it three times."
I was to find a Bandcamp page for the band and there there are even more details about the band:
In February 1993, Gradapenda recorded a four song session for Dave Fanning on RTE Radio in Ireland, but shortly after this split up. They reformed as a three-piece with Sean M. and Stephen, and a new drummer, Gary, and played Cork Rocks in the summer of 1993. They recorded one demo, "Five", but folded in October 1993. Although they never gigged as Gradapenda again, Sean M. and Stephen went on to record two more demos ("Sitcoms, Bombs, and Proft" in 1994, and "Take A Look At Me Now" in 1998) as Gradapenda Rosindale. "Ceasefire from "Sitcoms" received airplay on BBC Radio Ulster, and the same demo's "Nothin' In Our Heads" was played by Steve Wright on BBC Radio 1. Nowadays Sean M. records under the name Shine May Sun, Stephen is an infamous luthier, and Sean P. is in Mars Field. 
Let's check then the "Exit" 7″ that was self-released in 1992. There were four songs, two on each side. On the A side the band had "Bad Days Must End" and "And Baby Not" while on the B side there was "Michael" and "You Hate". As said before the songs were recorded at Forge Brae Studios with John McGrory and Neil McGrory as the engineers. There is no catalog number on this release but on the runout etchings it appears as GRAD 1. This was the only proper release by the band.
But there were more recordings. As mentioned before 4 songs were recorded for the Dave Fanning session. These songs were "Control", "Hello Joe", "Flowers For Sale" and "Love Like the Bomb".
On Bandcamp one of the demos recorded in 1994 is available, "Sitcoms Bombs and Profit". For this demo the now two-piece Gradapenda Rosindale recorded seven songs, "Nothin' In Our Heads", "Ceasefire", "War Pays", "What Could Be More Beautiful", "Pushin' the Wheel", "Emily Lloyd" and "Hip Hip Hooray (Instrumental)". Oh and all of these songs are also available on SoundCloud.
The very good website IrishRock.org has the tracklist for the "Five" demo. Recorded in 1993 it had the songs "Five", "Little Girl", "What I Want", "Sometimes", "Tell Us Bout Your Friends" and "I Can't Take It". So many songs they recorded and I haven't even heard them! Would love to do so someday.
Then I found a Facebook page which hasn't been updated in a very long time. There I found some press clippings that are very favourable to their sound.
But that was about it. They do have a bunch of "official" presence on the web but really not much information about their time as a band. Like where did they play gigs? If they had any other songs released, maybe on compilations? Or what did the band members do afterwards? Maybe they were even in bands before being on Gradapenda Rosindale?! Does anyone remember them?
::::::::::::::::::::::::::::::::::::::::::::::::::::::::::::::::::::::::::::::::::::::::::::::