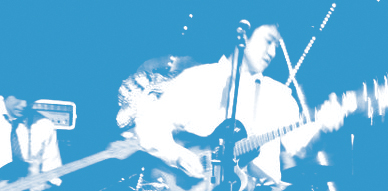 A big thank you to Hitoshi Oka for the interview. If you haven't checked yet "With Kisses Four", the debut album by Sloppy Joe, you are missing a rare treat. It sounds timeless! On top of that it contains all the right indiepop influences mixed together. There's no distribution yet for the record outside of Japan, but definitely try to get it, you will enjoy it! You can check more of their stuff either on myspace or bandcamp.
++ Hello Hitoshi, how are you doing? I know it's a difficult time in Japan but how positive are you about things getting back to their normal pace?
A big earthquake hit Japan, and has caused a large disaster. I think that the recovery is going to be a long process because Tohoku and Kanto received a large damage. We will support them. I've experienced severe earthquakes and was very shocked that there was no big damage in Tokyo where I live. The electricity shortage continues because of the nuclear plant accident, and even the companies and the individuals are saving electricity. The railway company has suspended it's service Tokyo is gradually regaining it's usual pace, but still everyone is confused. The aftershock uneasiness continues.
The club business has also stopped to save power. Therefore, the gigs in Japan of Edwin Collins were canceled and it was regrettable. However, we, Sloppy Joe, will play some gigs in April as it is in schedule.
++ I notice you have three gigs planned for the upcoming month, do you always play this often or is it because of the album promotion? Which of these gigs you are looking forward the most?
Usually, we have a gig once a month or every two months. This April, there is three gigs. One gig in Kyoto, one party for promotion, and one gig is to support the visit to Japan of "The
Monochrome Set" and "Friends". It's very exciting for us, because we love "The Monochrome Set" and "Friends".
++ And what about past gigs, what has been your favourite one so far? And why?
We supported the "Television Personalities" and "The Lotus Eaters" last year. It's still one of my favourite ones. And we have supported some bands we love like The Starlets, The Pearlfishers, Nice Man, Amber Smith, and more. I think the gigs with them were great!
++ So yeah, I was telling you on email that your album is perhaps my favourite one so far this 2011. It's fabulous! I hear so many great influences, from Happydeadmen to Friends, passing by The Jazz Butcher and The Orchids. Are you a big indiepop fan? If so, can you tell me what are your favourite five songs and favourite five bands? Did indiepop inspired you to make music?
Great!I'm honored that you felt like that. These bands are my favourite bands. Especially, I love The Orchids. I got very excited because I saw their gig at Indietracks Festival last year.
I love 80's bands like Orange Juice, Aztec Camera, The Pale Fountains, The Monochrome Set, Felt, etc. And I've listened lots of indie pop band's songs from around the world. When I was twenty two, I helped writing the book "Neo-acoustic". It's the disc guide book for 80's-90's indie pop fans.
My favourite bands and their songs are:
Orange Juice / Love Sick
The Orchids / Apologies
The Monochrome Set / I'll Cry Instead
Gangway / Out On The Rebound From Love
The Man From Delmonte / Water In My Eyes
And I want to choose several tunes with trumpets. Today's my favourite songs with trumpets are:
The Groovy Little Numbers / Happy Like Yesterday
Die Fünf Freunde / Jetzt!
Great Scott / You're Off Again
The Brilliant Corners / Oh!
The June Brides / Every Conversation
And my favourite indiepop from flexi discs are:
These five songs are on the flexi disc!The flexi disc is so Independent.
Today's my favourite songs on flexi disc are
Brighter / Airhead
The Potting Sheds / Unsaid
Hope / Suffocate
Ever / Sleepyhead
The Cherry Orchard / Built it up
And indiepop from more recent releases also inspire me to make music. My favourite songs from recent releases are:
Northern Portrait / Waiting For A Chance
My Teenage Stride / Cast Your Own Shadow
Hari and Aino / A Considerate Kind of Home
Crystal Stilts / Shake The Shackles
Catwalk / Past Afar
++ Alright, let's go back in time. I knew you were on My Coffee Moment before, and hopefully we should try to cover that on another interview, but when did Sloppy Joe started as a band? What happened in between both bands?
My Coffee Moment played for five years. In five years, many changes happened between us and we decided to stop. The members of My Coffee Moment are still good friends now. My Coffee Moment split in 2002, and I started making some songs for my solo project. My first recordings after going solo are in a cassette that was given away along a free paper at DJ party which was organized by Takeyoshi (drummer of My Coffee Moment). It included three songs: "Silent Dream (demo version)", "Sloppy Joe" and "The Raspberry Field".
After that I tried my friend Hisashi on bass and Takeyoshi on drums. At first I thought I'd play solo, but I I realized I wanted to continue as a band. Not so long after, after some changes in the lineup Sloppy Joe was born.
Now, we don't have a trumpet player. We want to have a trumpet player again.
++ Tell me a bit about the members of Sloppy Joe, including you. How did you all meet each other? What instruments you play? Who writes the songs?
Sloppy Joe are
Hitoshi Oka: vocals, guitar
Riichiro Sato: guitar
Hisashi Iwabuchi: bass, backing vocals
Ryuji Kimura: drums, backing vocals
Riichiro was a member of My Coffee Moment. My friend introduced him at an indiepop party to me. I've played with him for over 10 years. Hisashi plays bass on some other bands like "Boyce" (great mod style band) and "Clandestine", which is also a great band. Ryuji plays drums on a band named "Coleslaw". He has played for about three or four years with us in Sloppy Joe. I play guitar and sing. And I wrote all the songs . The songs were arranged by all members though.
We love indiepop. However, it is not only that what has influenced us. We've been influenced by soul, jazz, and a lot of other music.
++ And why did you choose the name Sloppy Joe? Do you love sloppy joe sandwiches by any chance?
I like meat, but I'm not a fan of sloppy joe sandwiches because I've not been at a sloppy joe's bar.
I chose the name as it means "loose-fit sweater". I think our band should not be focus in just one style.
++ Your first release was the "Trying to Be Funny" single which I have on CD. I know there was a 7″ version too. This was in 2006. The CD version was released by Rosemary Records of the lovely Toshiko Matsumoto. I feel she has given so much to Japan fans with her enthusiasm and passion for music. What do you think about that? How did you end up doing this single with her? Must be a privilege to release with her!
I agree with what you say. At that time, her shop 'Apple Crumble Records' was very important for indie-pop fans in Japan. Of course it still is. I respect her motivation and passion for music.
She has been my good friend for a long time. She also supported the disc guide book that I was talking of before. I'm grateful that she gave us the chance to release and that she supported Sloppy Joe.
++ And the 7″ release happened on Cubbyhole, which I don't know much. Care to tell me a bit about this label?
Cubbyhole Fabrication is my own label for releasing Sloppy Joe. I don't plan to release any other band.
But I might release the songs by my solo project with it sometime.
++ Then second single, "Portrait", was released last year, again by Cubbyhole. It included a fanzine and a CDR, right? What was the fanzine and the CDR about? Which makes me wonder, are you a fanzine fan? Have you ever done one?
That's right. The CDR includes a remix version of "The Country" by Pegasus. You can listen to this version on iTunes. Thre is also a version of "The Who Talks About Someone" remixed by HNC. We released a limited single "The Who talks About Someone" on iTunes too.
The fanzine is brilliant. It contains interviews to Stefan Larsen (Northern Portrait), Grame Elston (Love Parade), and me. It was made by Satomi. She is a member of Twee Grrrls Club and my wife.
++ And also for this song "Portrait" you recorded a video! How fun that must be! Any anecdotes you could share about filming it?
Yeah! It's a cool video! My friends Tomonori Midorikawa produced it. He loves 80's indiepop too, so it came out as a good video as he could easily tell the atmosphere and the feelings of our songs. "Portrait" is a song about painful feelings that cannot break the husk of the mind.
++ On March 9th this year you released your first album called "With Kisses Four", which is a gem of jangle pop! First thing that comes to mind is what does the title of the album means? And who made the beautiful artwork?
It is a song that sings about the sorrow of parting. "The boy said good-bye to his girlfriend kissing four times". I think this feeling of painful desire is all over most songs included in this album. And so it became the best title to represent these songs..
The owner of the White Lily label is YUPPA. He designed the artwork of the album. It is a wonderful artwork and I think that the design also matches to the atmosphere of the album.
++ This album was released jointly by Cubbyhole and White Lily Records. Why was it a joint effort? And who is behind the White Lily label?
White Lily label is ran by YUPPA and GIKYO. They have their own music acts: YUPPA plays as HNC and GIKYO as a pegasus. They are my old friends. Because they had liked our single "Portrait" released on Cubbyhole Fabrication, they said that they wanted to release it on their label as well and wanted to put the logo of Cubbyhole by all means.
++ How is the album doing in Japan by the way? Are you getting any sort of distribution abroad? It deserves so!
If that was to happen, we'd be very glad. If more people listen to Sloppy Joe I'd be happy.
At the moment I'm very glad to have received a lot of good reviews in Japan. I'm surprised that our album reviews have been published on some major magazine.
++ I wanted to ask you about my favourite song on your album: "Sometimes". What is the story behind it? This song should is a modern classic I think!
Perhaps, "Sometimes" reminds you Friends or Die Fünf Freunde, right? Yes I love them.
There is no perfect man. Everyone occasionally get depressed. However, these feelings are over as the rain cloud passes away the next day. And the clear trumpet was necessary to dispel the bad feelings.
++ Now it's your turn, what are the songs you are most proud of in this album and why?
"Portrait" and "The Boy Who Talks About Someone". A groovy rhythm and shining guitars are my favourite style.
++ How long did it take to record? What do you remember of the recording sessions?
Most tunes were finished recording two years or more ago. There was no chance to release them then, and it might be one reason that our trumpet player left. We decided to release the single ourselves finally. It was in December last year that we started recording to add three songs more to the album. It don't regret not being able to release it earlier. I am satisfied with the timing of the release.
++ I have a curious question, do you ever write songs in Japanese? Why did you choose English for Sloppy Joe?
I have not made any songs in Japanese. I think that singing in English is a important thing, because I think that it makes you feel the same style as the indiepop bands in the 80s. I hope everyone feels the sensitivity and pain from our sound and melody instead than the message delivered straight from our words.
++ What is coming up for Sloppy Joe now, perhaps another single? Maybe time to play abroad?
We will play some gigs for the promotion of the album. And I think we have to make some new songs. I hope to release our new songs on an indiepop label overseas.
And I want to play abroad. We are planning to play abroad. I think that I can surely inform you of it soon.
++ So tell me what are your favourite places in Tokio to hang out? And to party? Best record store?
I often go to Twee Grrrls club's DJ party. There are a lot of DJ, organizers, musician around the party; it feels that the indie scene is active.
I love record shops very much. I like Jet Set Records and Big Love. A lot of new records can be found in those shops. And many used records can be found at Disk Union.
Also, even if it's website only, Apple Crumble Records is a wonderful record shop as you know.
++ And what about Japanese food? What are your five favourite dishes?
Sushi is my favourite one. Besides that, I like simple Japanese food like grilled fish, yakitori, miso soup, and Japanese-style barbecue.
++ Last question, the nerdy question, do you like anime?
I have not seen anime so much recently though I saw anime when I am a student.
++ Thanks again Hitoshi! I'll keep enjoying the album and recommending it around, it's a keeper! Anything else you'd like to add?
We love indie-pop of all over the world forever! Thank you.
::::::::::::::::::::::::::::::::::::::::::::::::::::::::::::::::::::::::::::::::::::::::::::::
Listen
Sloppy Joe – Sometimes