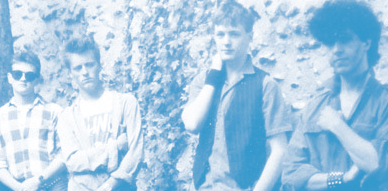 It's a week now since publishing the new podcast. Time to start working on the February episode! So far the feedback for the last one has been very kind and positive, and I hope you keep giving us feedback as it helps us make it better. Now though, I'm looking forward for anyone that can guess the clip I played on this past episode. Anyone has a clue? If you do, let me know your guess and you can pick the opening song for the next episode!
On more important news, the Shine! CD is arriving home this Friday and most orders will be posted next Monday. Have you pre-ordered it yet? This is a release I'm very proud of, and I think most of you, dear blog readers, will like it. Please support the label and the blog by buying it. It will mean a lot so we can keep releasing records!
What else is happening in the indiepop world? Well, definitely the most important news this week came from Spain.
Madrid Popfest announced the last bands for their bill: Espíritusanto, Wild Honey, Lavandera, Night Flowers, Loor a los Heroes and Secret Shine. Top stuff! But the festival also had another announcement and that was that this was going to be their last Popfest. Yes, their last. This of course was a surprise for many and a disappointment for others. But I think, after 5 Popfests they have made a fantastic run and at it's definitely not a bad moment to call it a day.
I don't know exactly the reason why they are calling it a day.
Madrid Popfest is organized in a much different way than other Popfests. Their selections are defined by votes of all the people involved in the organization. It's very democratic. That seemed like a very healthy way to bring indiepop bands to their city of Madrid. Right? They were setting an example.
I'm very grateful with Madrid Popfest. I attended twice, and I'm sad I won't be attending this last one. The first one I attended is very dear to my heart for various reasons. The second was a reaffirmation that my friends in Spain are top class. I have only good memories, of dancing, of Djing, of singing out loud, of getting to see so many favourite bands. And of Mahou beer, of the calamari sandwiches at el Brillante. Damn so good. The cheap lunch menus around town. Record shopping for 80s Spanish pop 7″s at la Metralleta. I was always happy, and I hope to visit Madrid again, even if there's no Popfest.
The organizers always made me feel at home. So many memories, so many photos. I always saw bands treated in the best ways possible. I think the legacy of Madrid Popfest will live on. I hope someone picks up after them, perhaps Barcelona Popfest? Could be exciting!
Again, I really hope Madrid Popfest is a success on it's last edition. From my part, all the best of luck to them, great friends, fabulous music fans, and among the most passionate indiepop people I've ever met, on their future enterprises. May the force be with you 😉
———————————————————–
So this week I'm preparing the podcast and I'm looking into some of the obscure bands that I'll post here and that I will eventually showcase in the podcast. This time around I want to introduce you to a band called The Blind Mice from the UK. I just got their "Nothing" 7″ the other day from Uwe and it seems there's some information we can dig from them.
First stop on our investigations takes us to Alistair Fitchett's blog, Unpopular. He actually recommends this same single I just got. He compares the sound of the band to The Wedding Present. The other interesting bit of information is about Graham Bell who used to run the Davy Lamp label that released their records.  Seems Graham Bell, at least up to 2010 when this post was written, was living in Los Angeles and had a weekly radio about soccer called 'An Englishman in LA'.
There's also a comment from a Spencer Jordan on this same post where he mentions that there were at least 2 other singles and also an LP to the name of The Blind Mice. He also says that the band was way better live that on record, that "Nothing" and "Tattooed Legend" (their second single) were both single of the week in the Sounds magazine when they were released (88 and 89). He mentions that the guitar player of the band, Guy Hunt, was an American living in the UK but now he is back in the USA. The rest of the band were from Sawbridgeworth in Hertfordshire. He also points out that there is a video on Youtube for an entire gig at the Square in Harlow (the label Davy Lamp was based in Harlow).  You can watch it here.
Let's go back a bit into Davy Lamp. I knew about them thanks to the compilation "Not Just Mandela", that has that track by The Internationalists (as well as Billy Bragg, Housemartins, etc). The label also released records by Paul Howard and Jo Clack (The Sullivans) and Reel by Reel.
Discogs lists a tape, "Falling at Your Feet", released by Davy Lamp in 1987 (no catalog number). This tape included six songs and it might have been their first release. The songs were "It's Over", "Room Full of You", "All Alone", "At God's Door", "It's Only Skin" and "Dishrag Blues". I'm linking to the songs on Youtube if you want to have a listen.
It's pretty interesting that a bunch of their songs are on Youtube, isn't it? Their next release was the "Nothing" 7″ in 1988. The B side was "Just Like We Do". The record was recorded live at Flightpath Studios in Cambridge. It was Davy Lamp 10. The credits go like this:
Bass, vocals: Gary Bennett
Drums: Craige Quainton
Engineer: Tim Harding
Guitar: Guy Hunt
Guitar, vocals: Dave Alexander
Producer: Blind Mice
Vocals: Mark Wilson
Written by: Blind Mice
Design and printed by: Craig Quainton
Something interesting in the back cover is that it says that Davy Lamp was suponsored by the Latton Bush Centre. Who were they? The Latton Bush Centre, managed by Harlow Council, provides accommodation for businesses, voluntary organisations, NHS services and community groups. Facilities are also available to hire for conferences, training, workshops, exhibitions, dance classes and other functions.
Hmm… interesting….ded aThe second single was the "Tattooed Legend" one. This was Davy Lamp 11 and was released as I said earlier in 1989. The B side was "Your Heart". The artwork credits for this record are credited to Davy Lamp and Jo Sladen, whereas the production and engineering credits for Blind Mice and Tim Harding. This was recort the same place as the previous record and there are etchings on the record, on the A side it says "Not Blonde" and the B side "Not Dumb".
In 1990 they released their full length called "Something's Wrong". This one included ten songs, "Bearded Circus Lady", "G.V.", "U.S.A.", "It's Over", "Nothing", "Something", "Brosette", "Magalluf", "Child…" and "Butlins chalet. This was Davy Lamp 14. Now we see that on drums there's been a change, we have Bob Porter who also plays the tambourine. Also there are credits now for Gary Bennett playing keyboards.
Next stop, ReverbNation. Here it says they com from Saffron Walden in the UK. Saffron Walden is a market town in the Uttlesford district of Essex, England. It is 12 miles (19 km) north of Bishop's Stortford, 18 miles (29 km) south of Cambridge and 43 miles (69 km) north of London. The town retains a rural appearance and has buildings dating from the medieval period onwards. In 2001 the parish had a population of over 14,313. This could make some sense when you think of them recording in Cambridge their records.
They have a Facebook page where you should become a fan. This is the link. We notice that this page covers three different bands, Thin Red Line, Giant Mice and Blind Mice. Wonder if they are listed like that chronologically. The page has been updated a bunch of time during the last year.
The last appearance I could find by them is from a 1987 tape sampler on Cordelia Records. There they had one song called "Now That's…: The Happy Peasants".
There are definitely a bunch of more songs online. On ReverbNation we see songs like "English Rose", "Billy Mills" or "Laying the Track". On Youtube there are also other songs like "A Hollowed Bed", "Plain Boy",  "Laura", "Fast Rain", "Sheila's Gone Donuts!", "Whispering Glades", "There's Something Wrong", "Wandering Star" and even a promo video for "It's Not Heaven".
Enough songs for a proper and nice CD compilation don't you think? I wonder if they ever thought releasing it!
Do you remember anything about them? Would love to know more about this great guitar pop band, they have really great tunes, catchy and energetic, and it's pretty strange to me why they are so obscure to indiepop fans these days!
::::::::::::::::::::::::::::::::::::::::::::::::::::::::::::::::::::::::::::::::::::::::::::::
Listen
The Blind Mice – Nothing