28
Jun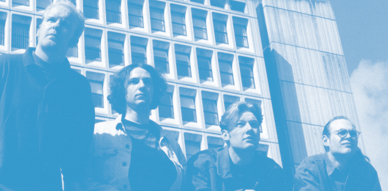 Thanks so much to Neil Sturgeon for the interview! A Chocolate Morning was a great guitar pop from Glasgow, Scotland, that gigged a lot and released two great records. Both of these are very hard to find, going for crazy prices on eBay. If you've never heard them before, now it's time for you to do so. Enjoy!
++ Hi Neil! How are you doing? I see you are still making music! When was the last time you picked up your guitar?
I play most days, I'm fortunate in that I am able to do music full time just now. I also started a new label last year which consumes a lot of my time. There's a lot of admin involved which is quite demanding but it's important to remember to set time aside for playing and songwriting which is after all the main reason I'm doing what I'm doing.
++ And how much of a departure is the music you make today compared to A Chocolate Morning?
A lot of the same influences are still there, to this day I feature some ACM songs in my solo gigs and I recorded a new version of one of our singles 'This Isn't Mine' which is on my recent EP 'Ride The Tide'. I would say the bands main infuences to begin with were classic 60's bands like The Byrds and The Buffalo Springfield as well as contemporary acts of the time like REM, Echo & The Bunnymen and Julian Cope although we also loved some of the Manchester scene of the late 80's / early 90's. Like a lot of guitar bands of that era we were inspired too by American bands like The Long Riders and later The Pixies, Buffalo Tom and Nirvana. I still love all of those bands so I guess the music I do now will still have a bit of all that in there somewhere! Biggest influence of all was probably Neil Young and still is for me come to think of it..
++ So let's go back in time, to 1987. That's when the band started right? Who were the members and how did you all knew each other? Were there many lineup changes?
Myself (Vocals, Guitar), John Dunsmore (Bass) and Derek Speirs (Lead Guitar) started the band and were there til the end..I knew John from school, and Derek and I grew up living near each other, we all had similar tastes in music and started getting together to rehearse regularly when we were about 17 years old. We had a Spinal Tap-esque knack of losing drummers though, our first drummer Neil McMahon left to spend more time on his football career, we also had a fine German drummer called Klaus Suhling who then left as he was also sports minded and was a trampolining champion!
Eventually Tony Provan joined us around 1989, Tony was very influenced by the Manchester / dance scene but didn't have the same love of the other music we were into at that time..he played on our first EP release but shortly after that Nory Wright joined the band who was a perfect fit for us both in playing style, musical taste and personality. Nory played with a cracking band called The Strange Creatures before us, they sounded like The Stooges and MC5..sadly they split but luckily for us it was at the time that Tony had left ACM so we were delighted when he agreed to come on board with us.
++ Where does the name of the band comes from?
It was actually the title of a (bad)! song I wrote! Although the song was poor I liked the title as it reminded me of some of my favourite psychedelic band names like 'Strawberry Alarm Clock or 'The Electric Prunes'. Our earliest band names were The Reactions (named after The Who's early label) and The Fraugs before we settled on A Chocolate Morning..
++ You were based in Glasgow which is a hotbed for indie music, and indiepop of course. How do you remember the city back then? Where were the places to hang out and to go watch bands? I was there last February for the first time and I really liked it!
It was and still is a city that produces great music, in the 80's there were a lot of mainstream acts from Glasgow who made it really big but we were more interested in the indie scene at the time. Unfortunately as I was too young I just missed out on the 'Splash One' scene in Glasgow in the mid 80's although I did get to see a lot of those bands like Primal Scream, BMX Bandits & Jesus & The Marychain in the late 80's when I was old enough to get in to pubs and venues. I think if I was pushed to name the best Scottish album of the 80's I'd probably go for 'High Land Hard Rain' by Aztec Camera which still sounds great to this day. There were plenty of excellent venues in Glasgow at the time, the Student Unions at Glasgow & Strathclyde University always had the best touring indie bands and I saw some memorable gigs there. We also played a few times at a venue called Rooftops, there were great club nights there which usually featured a live band. I saw The Stone Roses there in 1989 when they were just breaking which was very exciting. And of course there was Barrowlands which I still think is one of the most special venues in the world!
++ What other bands from Glasgow did you like? Any of them influenced your sound, or even, to start the band?
By far the biggest influence on us by a Glasgow band was the emergence of Teenage Fanclub in the late 80's, we shared a lot of similar influences and it was a
buzz seeing them getting bigger and bigger, 'A Catholic Education' and 'Bandwagonesque' were huge favourites on the cassette player in the vans we toured and travelled around in. There was also a brilliant band called Thrum who I went to see a few times and were amongst the best live acts in Glasgow in the late
80's / early 90's.
++ So I read that you played around 150 gigs! That's a LOT! Which are the gigs that you remember the most and why?
Yes, we loved playing live and by the early 90's had earned a good reputation for our live gigs which meant we found it relatively easy to get bookings in the UK. We were around at the time that King Tuts Wah Wah Hut opened around 1990 and played some brilliant packed out gigs there. We also got some good support slots too, supporting Teenage Fanclub, Ian McNabb (Icicle Works) and Thousand Yard Stare in Glasgow which was a great boost at the time. As we were very much an indie band without financial backing our gigs outwith Glasgow tended to be in groups of 4 or 5 dates at a time as opposed to continuous touring. There was a promoter in the north of England called Darren Poyzer who was especially good to us..he would arrange gigs there and allow us to base ourselves at his flat which was a big step up from sleeping in the van!
++ What about the experience of Kelvingrove Festival? I hear that was your biggest highlight as a band. How does it feel to play to 6000+ people?! Nervous?
That was a gig run annually by Radio Clyde, the biggest radio station here then..it was a scorching hot day and easily the biggest crowd we had played to. I don't remember feeling too nervous, probably because we were at the top of our game as a live band by then. We were delighted to be offered a slot there as it was a bit unusual for them to feature an indie band in the line up at that event and it went really well for us that day. With Nory now on drums our live sound had become a lot heavier and dynamic and we loved our time on stage that day.
++ You released two records, both of them seem to be very rare and hard to find. How many copies did you press? And who were behind the labels "Still" and "What's Happening"?
I think we pressed 1000 of each, the 'Wasted' ep was self financed, for the next single a good friend of ours Kenneth McLaughlin kindly invested funds to get it
released. I have occasionally noticed copies of both records selling for alarmingly inflated amounts on e-bay in recent years! The biggest bummer was when we were waiting to get the 'This Isn't Mine' pressed the pressing plant went bust just after we had sent them the money to do it. After a few threatening phone calls they eventually sent us a box of records of which about 200 of them were broken and warped. On top of all that we had designed a gloriously colourful psychedelic sleeve, when we opened the box we were dismayed to find out that the sleeve had been printed in black & white!
++ Is it true that there might be a chance for a re-release of your songs plus unreleased stuff at some point?
I've always felt that we should have managed to release an album as we certainly had an album's worth of good songs by the time we finished. We recorded a lot of demos which I hope someday soon to release, the band is still remembered fondly by some and it would be nice to open the archives and make the tracks available for the first time.
++ So alright, the first release was the "Wasted" EP in 1991. A four song slab of fine vinyl. Why did it take you 4 years to get your first release? What do you remember from the recording session for this record?
It was the first time we had a settled line up so we decided to make our move and release something. We started it in the summer of 1990 at Studio 2 at Cava Studios in Glasgow, we only had limited studio experience and as a result didn't quite manage to capture our live sound on vinyl. The sessions were fun though, I remember working on sound effects for our live favourite 'Today Is Today' and rolling around the studio floor laughing at some of the odd noises we were making with our pedals. I'm afraid we weren't too disciplined at those sessions, there was a fair bit of alcohol and various other substances present and the title of the EP pretty much sums up where we were at!
++ The second release came out a year later and it was a 7″ that included the fantastic "This Isn't Mine". Care to tell me what's the story behind this song?
I still enjoy doing that song as it's one of the strongest choruses I've ever written I think. Musically you can hear The Byrds or Teenage Fanclub in there, I was
obsessed by Gene Clark at the time and tipped my hat to him in the bridge of the song with a hint of the riff from 'Feel A Whole Lot Better'..further proof of The Byrds influence is that we named the label after one of our favourite Byrds songs 'What's Happening?!? Lyrically it was based around something that a friend of mine was going through at the time, it was originally called 'This Isn't About Me'.. It was a double sided single and the flip side 'If You Want Me' was probably our most popular song from the live set, listening to it now you can hear the Manchester influence a bit, the drum rhythm reminiscent of The Charlatans or
Inspiral Carpets..
++ By the way, was there any major label talk at all?
Around 1991/92 we were hotly tipped to do big things, I remember fielding a lot of calls from record companies at that point who had been tipped off by their sources in Glasgow about us. It was a stressful time as we didn't have a manager and we could probably have done with someone to steer the ship in the right direction. The major labels in London didn't seem to like our demos enough to make the trip to Glasgow though which was a pity. As one of the bands in the city with a buzz around us we were invited to participate in an A&R night at King Tuts in Glasgow, it was an experience I didn't enjoy though, we weren't at our best that night and a new Glasgow band called Glass Onion made the night their own on the way to becoming the next big thing as Travis..
++ Another highlight of yours was  being played by John Peel. How important was John Peel for you guys as music fans?
He played 'This Isn't Mine' on his show, it was probably the most influential show in Britain for indie bands and it felt like a breakthrough moment when he featured us on it. We didn't have national distribution though to take advantage of the airplay and our records were hard to get outside Scotland. I listened to his show a lot but given the eclectic nature of his tastes I would only like maybe about 20 per cent of the stuff he played, that 20 per cent though tended to make up for the other 80! In Scotland there was a similar show called Beat Patrol which featured new music and was the first airplay we ever had, I remember bass player John had just passed his driving test and we were out in the car when our song came on the radio, it was one of the most satisfying and thrilling moments of my life.
++ Looking back. what is that that you miss the most from those days?
Probably the hope and expectation and camaraderie that comes with being in your first band. Everything was new and exciting. I'm fairly lucky in that I still enjoy most of the things like recording and playing live that I did back then. The live scene was healthier too I'd say, the indie scene was thriving and I think it was easier for bands to build up a following over a number of years by playing student unions and small venues. These days you are more likely to see students going to a handful of big festival gigs per year than supporting and empathising with new up and coming acts in the smaller venues from what I see.
++ And then what happened? When and why did you call it a day?
There was a definite sense of disappointment at the apathy towards us by record companies, we had been together for a few years and were tired and broke really.
Ironically we played our most high profile gigs in our final year together and were at our best as a live band. In 1994 I started jamming with other people and it was noticeable that a lot of the energy and enthusiasm that had powered ACM had faded in comparison. It would have been interesting to see what would have happened if we had stuck it out another year or two and released an album.
++ Are you all still in touch? What do you do these days?
We are still good friends although most of the band have got families now and aren't actively involved in music. Recently we got together socially for John's 40th birthday and had a great time reminiscing about our days with the band and we plan to get together to do something with our old demos and film clips in the near future. After ACM I released a solo album and then played in another Glasgow band called The Goldenhour who released 2 albums in 2003 and 2005 and fulfilled my love of playing 60's garage and psychedelia. I'm currently working on a solo album which is produced by Teenage Fanclub's Raymond McGinley which has been an amazing buzz for me. I've released 2 singles from it on my new Buzzwagon Beat Label in recent months and the reaction to both has been great.
++ This is a pretty obvious question, or maybe a silly one, but I was wondering what are your favourite chocolates?
Hehe..I like most types of chocolate although you can't beat a slab of Cadbury's Dairy Milk!
++ Thanks again so much for being up for the interview, anything else you'd like to add?
Thank you Roque for your interest in my old band, I'll post news of any future A Chocolate Morning releases on my site at www.neilsturgeon.co.uk
::::::::::::::::::::::::::::::::::::::::::::::::::::::::::::::::::::::::::::::::::::::::::::::