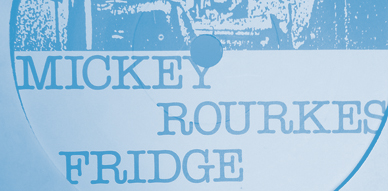 Thanks a thousand to Seán McDermott for this thorough interview! Mickey Rourke's Fride was the Irish label that released the beloved Hey Paulette back in the 80s. But those weren't their only releases. There were a few compilations where one could discover the great sounds of The Skips or Dale Arden and the Claymen. The label was to reappear, under the name Disques Fridge, in the noughties releasing some fine releases like Crumb or Aeromodeller's albums worth checking out if you haven't yet. On this interview Seán was kind enough to tell me a bit about almost every band involved in the label, the label itself and Dublin of course. Now sit back and enjoy.
++ Hi Seán! Thanks so much for being up for this interview! We got in touch thanks to my post about Feargal is the Applejack here on the blog. So far I haven't been able to find any other information about this band, but maybe you can help? Like do you remember what years they were active? Who were the band members? And what did they do afterwards?
I was out on the town with Colm from Hey Paulette. The Underground in Dame Street was the centre of the Dublin scene back then, and we fancied a beer there, but we didn't want to pay in or anything, so we introduced ourselves at the door as the guys from Mickey Rourkes Fridge + blagged our way in for free, not really caring who was playing, which was Feargal is the Applejack.
They turned out to be a great band! We got talking afterwards, they were nice guys as well as talented, so they ended up on our 1st compilation 'DOSTOEVESKY..?' + then on the follow-up, 'MY FAVOURITE THINGS'.
They broke up about 1994 or 5. I think. We kept in touch for a while, then we didn't. I don't think any more music followed from any of the guys.
++ I think most people will know your label thanks to Hey Paulette who are a beloved band for the indiepop crowd. You released two records by them. The first release on the label was their 7″. How did you know them? And how did you convince them to be your first release ever on the label?
I knew Éamonn from Secondary School (High School to you!)+ Derrick had been in a band with me: uptight!, Dublin's only No Wave band, as far as we know.
I had also been the stand-up drummer in the 1st HP line-up, with Éamonn on bass, then I became their 'manager', kinda, or '5th Beatle', as it were.
We wanted to make a record, + we figured no one else was going to give us money, so we did it ourselves. That was the 'Commonplace' 7".
++ Before that release, had you had any experience working in a label? Or perhaps putting out any releases?
No, the only experience any of us had of records before then was listening to them.
++ What inspired you to start a label? Would you say there were any other labels influence in Mickey Rourke's Fridge?
Like I said up above, we wanted to make a record + DIY was the only way we could see that happening. Everything else spiralled out from there.
Label influences were Motown, Sun + Rough Trade, of course, Fast Product/Pop:Aural + Factory a bit…
the BIG one was always Postcard; I'm sure you can tell!
++ And yeah, why the name of the label? It is definitely original!
NOT from '9½ Weeks', which you might think, but from two earlier movies.
In two consecutive flicks, Mickey beats up the fridge when he gets bad news: In 'The Pope of Greenwich Village', when his girlfriend leaves him; in 'The Year of the Dragon', when his girlfriend gets killed.
An NME review of 'Dragon' pointed this out + said it must be in his contract. He's my favourite actor, then + now, + that line stuck with me + sounded like a good name for a label when the time came a few years later.
++ If you were to pick a Mickey Rourke movie, which would that be?
'Rumble Fish' fer shure, but 'Angel Heart' not far behind.
++ You were based in Dublin then, and I wonder if you are originally from there? And how was the scene in the late 80s there? What were the venues where you would go check out bands, or the neighborhoods you would hang out?
We're all from Dublin, south of the river, near the canal, originally: Bluebell, Ballyfermot, Inchicore. The Underground on Dame Street was the centre of the scene, also The Baggot Inn, + bars like The Clarendon, Bartley Dunne's, The (old) Pygmalion, all near the city centre.
++ What about the artwork for the label? Did you take care of that part as well?
I did most of it, with a little help from my friends in Saatchi & Saatchi, an ad agency where I worked at the time, but we all pitched in ideas.
++ And was it easy to distribute your records? Did you manage to create interest abroad?
We found distribution OK in Ireland. In the UK, we were lucky enough to catch the attention of Keith Cullen from Setanta Records, who helped with the logistics, + John Peel + the music press, who created some level of interest.
++ Did you ever work with artists that weren't Irish?
Well, some of our wider circle, including me, have English blood to go along with our Irish hearts, + there was a stray Scotsman, Harry McNamara, on DOSTOEVESKY, as well as a Detroit band called Icehead, featuring ex-pat Cormac Wright, who was part of a very early version of Something Happens!
++ Your second release was a 7″ compilation where you actually are part of it as a musician with the Wayfaring Strangers. Tell me a bit about your music. What are your releases? What instruments do you play? Have you been in other bands? What about your musical influences?
On that record, the band was me + Hey Paulette, with Hugh on fiddle, harmonies from Peigí + Nicola, + Helen on tambourine. Another line up of the Wayfs recorded an album in the early 90's but the tapes went missing + only re-surfaced a short while ago. I'd like to release that in the next while.
Grievous Angels was a band name I made up for the 'jesus + jack daniels' Country House remix on DOSTOEVESKY. When Dave Fanning's producer, Ian Wilson rang up + asked if we had more like this, I immediately said yes – tho' of course we didn't – then recorded some home demos which turned into a Dave Fanning Session. The other Angels were Peigí + Nicola from the Wayfs + Pat + Martin from Fréres Jackman.
Years later, I put together a band called $1,000 wedding, with an album 'exile on dame street' that marked the emergence of Disques Fridge.
I mostly sing + play guitar, a little mandolin with the Wayfs. I've also been known to play bass + keyboards, + I can get sounds out of the ukulele + harmonica, tho' not at the same time!
++ On this same compilation there's a band I really like and that I know about nothing, that I was actually planning to write about them, Dale Arden and The Claymen. Who were they? And how come they never released a record with you?
The Claymen were HP again, under assumed names, again. Dale is a mysterious shantooze who goes by the name of John Healy during the hours of daylight. John was also in High School with Éamonn + me, then later my right hand man in MRF, from DOSTOEVESKY till the end of Phase II, mid-90's.
Dale guested in concert with 16 again, an acoustical sideline of mine, + with Fréres Jackman, + emerges from time to time, when the occasion arises. No further recordings exist!
++ There's also The Twigs in this compilation, another band I had never heard before. How did you pick the bands for this compilation?
Guess who? Derrick sang this one, while Éamonn rested his voice. As you'll have noticed by now, the 'bands' were all Hey Paulette, with a different singer on each track, so the only 'picking' was on the guitars.
++ Then you were to release some more compilations, now on cassettes. Why the change of format? And what would you say is your all-time favourite format for music?
That was all about the Benjamins, as they say in Baltimore. Cassettes were cheap, + CD's hadn't taken over the words back then (sic transit…).
Vinyl was my first love, + it will be my last.
++ I have to ask about the name of the compilation where Feargal is the Applejack appear. Why was it titled "Dostoevesky lose its flavour on the bedpost overnight?"?
That name came about during another drunken night, when a bar game that involved making up literary songs titles was invented.
I kicked things off with 'Your cheatin Sartre' + " My Beckett's got a hole in it'. Poet Patrick Chapman was the clear winner with 'Dostoevsky lose its flavour on the bedpost overnight?'
1st prize was to name our tape years later, tho' we didn't know at the time. Patrick got proper credit of the tape cover, of course, + appeared on it too. 2nd prize? A set of steak knives,
++ On that same compilation I discovered the marvelous The Skips. I read about the sad departure of Derrick Dalton. I'm sure that must have been hard for you and all the Dublin scene as he was part of so many bands. How important do you think was his figure for Irish guitar pop do you think?
Derrick was a major figure in Irish guitar pop, from his days as a 'teenage art terrorist' with me in uptight! right though to stepping up to the mic with Crumb, then back again with Aeromodeller.
That was never reflected in fame or fortune, alas.
++ After that tape compilation you went to work with The Dadas, The Quack Squad and Fréres Jackman & The International Elevators. Care telling me a bit about these bands as I know nothing really about them?
The Dadas were a great pop group, led by Andy Fitzpatrick who now operates out of NYC, solo + helping out The Hatvest Ministers.
Fréres Jackman also played great pop, up to & including ska & reggae. The brothers still play live every now & then.
The Quack Squad were a comedy double act who wanted to make a Christmas record with us. 'Why not? ' I said.
++ And if you were to chose any Irish band that you like, which one would you have loved to have had in your catalogue? And why?
Micodisney + The Stars of Heaven. Why? Just listen…
Three of the Stars have appeared under our imprint, + Cathal from Microdisney (+ The Fatima Mansions) recorded his 1st solo track for us. We haven't been able to release that one… yet.
++ There was an unreleased CD EP by a band called The Castanedas on your catalogue. What happened with this release?
The EP was at the pressing plant when the band broke up.
We cancelled everything just in time. Very discouraging, contributed to our lost decade.
++ Then there's a gap of about 10 years with no releases. The label resurfaces with the $1,000 Wedding album "Exile on Dame Street" in 2002. What happened during that time? Why was the label so quiet?
Stuff happened, we grew up a bit, we felt like we were going nowhere…and not in a good way.
++ There would be a bunch of releases during the new century. I'm only familiar with the Crumb and Aeromodeller releases, which are ace. But again there are bands that only arouse my curiosity, as I have never heard before, like the aforementioned $1,000 Wedding, Villa R, Grievous Angels, Acton Bell or Éamonn Dowd. If you don't mind, care to tell me a bit about each one on a line or two? Like what sort of music they played and what is your favourite song of theirs?
$1,000 wedding is a country-ish band I pit together with some of the usual suspects. The original concept was 'Gram + Emmylou singing in front of Dinosaur Jr' tho' our songs led us off in a different direction, one that we liked better.
Villa R was Eoin from The Deportees with various Hey Paulettes. Grievous Angels we discussed earlier. Acton Bell is a solo project from Dez Foley of The Sewing Room/The Drays.
Éamonn Dowd is an old friend. We talked about doing an album together years ago, but nothing came of it. Late last year he approached me again with a new album he was preparing.
It sounded great, so I was happy to see it as a fridge disque, in partnership with Éamonn + his own label, Spellbound Records.
++ The last two releases of the label date of 2017, this year, so the label is totally going strong. I wonder then if there are more releases scheduled for this year? And how does the future looks for Mickey Rourke's Fridge?
Well, we're mostly making Our Back Pages readily available. When we come across something new + great – like the Éamonn Dowd album – we'll put that out too.
++ Also I noticed that two of your releases were only released digitally. I would love to know your take about the digital vs. physical argument.
Money talks… + no argument! Going digital is practically free, which is important when you're mostly giving stuff away. But it's great to have a disque + a cover, 5" 7" or 12", to hold in your hand…
++ Probably the question most people are asking by now is where can they get your available releases?
Right now, there's stuff all over the place on iTunes, soundcloud, bandcamp, youtube… occasionally in stores too.
I've just set up a disques fridge Facebook page + where, over time, I'll be curating + collating the catalogue…
+ you can get Éamonn Dowd's CD on www.eamonndowd.com
++ Also just to make sure, is the label now called Disques Fridge?
Oh yes. Mickey Rourke's Fridge was a 20th century thing, When we started up again in 2002, Disques name was a good way to say this is something new, following on from what went before. +we still use MRF catalogue numbers.
++ Did the label get much support from the Irish press or radio?
'Can't complain' as we say over here. We got a fair amount of support from the media… more than we ever did from the public.
++ And during all these years, what would you say was the biggest highlight for Mickey Rourke's Fridge?
Hearing the one + only live performance of the Stars of Heaven classic 'Before Holyhead' by Stephen Ryan at the DOSTOEVESKY launch…
+ the fact that 'exile on dame street' exists.
++ I think this has been a long interview already Seán! I could probably keep asking questions but let's wrap it here. Just one more question, as I've never been to Dublin, or Ireland for that matter, what shouldn't I miss to see, eat or drink when I visit?
Call me when you get here!
++ Aside from music, what other hobbies do you have?
Books, movies, TV, art… + current events, as a spectator… + people.
++ Anything else you'd like to add?
THIS SUMMER…
watch out for a free release of a project we've been working on for over 20 years…
::::::::::::::::::::::::::::::::::::::::::::::::::::::::::::::::::::::::::::::::::::::::::::::
Listen
Hey Paulette – Commonplace