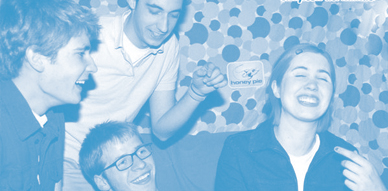 Hola! Today I posted the first batch of Don't Cry Shopgirl records. Also updated the website with The Suncharms information. Time to have a rest and get in the Christmas spirit?
There's still a lot to do. Have to plan 2016 releases for example. And work on the new fanzine which I haven't started yet. But new ideas keep coming. I believe it will be a great year for Cloudberry and hopefully for indiepop too. This wasn't bad at all. I actually think was a bit better than 2014 when it comes to new releases and songs.
This past Saturday I went to see for the first time a band that I've been trying to catch for almost a year, the Mercury Girls. Every time they were playing in NYC I was out of town. Seriously. They are soon to release a 7″ on Slumberland and their two songs I heard on their bandcamp ages ago, I couldn't stop championing on the blog and when I did the podcast. With high hopes I enjoyed their set, though I think it sounded much rawer than in the recordings. Maybe this is because they are a new band, or perhaps they just get like this on stage! Then I think I prefer a bit better the recordings, they are deliciously jangly and naive, but don't get me wrong, still it was a very enjoyable set and it was a shame that they didn't have any large size t-shirts. Would have loved to get one. Love the design.
Then the second band was EZTV. Not my cup of tea. Boring for me. I don't mind derivative bands, you all know that, but at least spice it, add your own seal, a twist, something. Their sound didn't move me, but then, I saw many people singing along. I wonder what they see in them? I mean, they weren't bad, they were very proficient and all, it sounded good. But nothing special.
Last band at Cake Shop that night were Baltimore's Expert Alterations. Ah! This is a fantastic band. Shambolic, fun, and with great melodies. They had Kevin from Mercury Girls join them to play second guitar and it was a great idea. The sound was fuller and even more shambling. Love it. Their fast paced guitars a la George Best era Wedding Present, and their ramshackle that remind me of the McTells, are just a treat. I wonder now if they are the band I've seen the most this year. I think they were either 3 or 4 times. Impressive as I think I have been to less gigs this year than ever before!
And that should be the last gig for this year, unless something cool gets announced all of a sudden! Next year I think I will skip Indietracks again, which is a bit sad, but I have NYC Popfest to look forward. And that Lush gig in September. Hopefully some exciting NYC bands will be born too.
—————————————————————–
Castellón. 2000. Jabalina releases "Un Plato Pequeño" by Jonipai. Important day.
Castellón de la Plana , Castelló de la Plana, or simply Castellón / Castelló, is the capital city of the province of Castelló, in the Valencian Community, Spain, in the east of the Iberian Peninsula, on the Costa del Azahar by the Mediterranean Sea. The mountain range known as Desert de les Palmes rises inland north of the town.
Important day at least for me. This is one of my favourite Spanish releases all-time. This, and a couple of songs on compilations, will be all that this beauty of a band released in its lifetime.
This EP, or mini-album, included 6 songs. All of them pretty and precious, solid gold. These were "Él es tan Fatal", "Bungalow", "El Mar Dibujado", "Paperclip People", "Te Prefería Cansado" and "Un Plato Pequeño". Three of these songs had been already part of their demo, "Paperclip People", "Te Prefería Cansado" and "Bungalow". As I have never heard the demo, I can't say which versions were better or worse. Also I wonder if that demo, that on the Jabalina bandcamp is mentioned to have been red (I assume the cover was red?), included any other songs.
Yes, you can actually listen the whole record on Bandcamp. Though I insist that you try to find the CD. It's better than streaming, and at the same time you'll enjoy a piece of Spanish indiepop history. Perhaps a piece of the giant puzzle of that country's indiepop that is a bit forgotten, but one of their best for sure. The bandcamp has a long text of pretentious metaphors and hyperboles, I guess written to lure people to buy the record. "Melodies as bright as the sun rays reflected on the sea of Castellon"… come on. I never understood that sort of poetry behind record descriptions. I remember Siesta Records also loved writing stuff like that. Elefant still does as well, could be a Spanish thing perhaps. The fact is that I love the records and the music, but never the descriptions these labels wrote. A bit pretentious I think.
What we do learn from these paragraphs is that the record was produced by Juanma Mas en Polka-Waves (Alzamora, Castellón). And that the band was formed by:
María Puig on vocals, guitars and keyboards
Juan Ribes on vocals and guitar
Félix Ribes on bass
Miguel Ribes on drumsLaura Pla on keyboards (who was the last to join the band)
It seems there was hope too that they were going to record and release new material, something it seems never happened. This EP was the fifteenth release on Jabalina.
They did record two more songs that were included in a compilation on the same label on the year 2000. The compilation was called "El Sol Sale Para Todos" and it's a sampler of bands on the label. On this record they cover the Pixies' "Havalina" as the opening track. It's a very different song though. Not very faithful to the original and great in it's own right (if you ask me, I prefer Joinpai's!). Of course, it's clear that they chose this song as a tribute to the label's name. The other song was "Los Días Que Pasamos".
They also appear on other compilations like "El 15 De Jabalina… (Teoría Y Práctica Melódica, Vol. RDL)" with the song "Él es Tan Fatal". The same song was to appear too on "Don Diablo Disco 1" released by El Diablo! Discos in 2000. Then because they were to play the Benicassim festival they appeared on the "Benicassim2000"  4 CD compilation with the song "El Mar Dibujado", and later in 2003 on "Diez Años de Espíritu Jabalina" with the song "Te Prefería cansado".
The band was born in 1998 and their first demo is actually not the red one mentioned in the bandcamp, but a blue one. On this demo they were still called Honey Pie (Jonipai is the phonetic way in Spanish to pronounce the English name). The songs on this demo were written in English. It was only on the red demo, the second demo, that they include Spanish songs.
According to a biography I found on Last.fm it seems that after releasing the 6 song CD, the band evolved into a somewhat different sound, one that Jabalina wasn't keen on supporting. Can't say if this is true or not, but if it was the case, it might explain why the band just faded away.
I keep googling and I find an interview with the band on the Spanish fanzine El Planeta Amarillo, the one that our good friend Rafa Skam from Vacaciones and The Yellow Melodies still runs I believe. When he asks the band why the name change, if it was because they now only sing in Spanish, the band replies that it has mostly to do that the music is different to the one they made in their earlier days, that there was more use of distortion before.
That they met Laura Pla, the keyboardist, at an Automatics concert, and that they ended up happy with the result of the recordings of the EP, among other things.
The last thing I know was that Félix was part of another Castellón band called Lula which I believe are still around. Much more power pop than the low key, nostalgic and naive Jonipai. Aside from that, I don't know when Jonipai stopped making music, and what happened to the rest of the band. If they continued in other projects or not.
I wonder too if they had more recordings. And also would love to hear those two early demos, the red and the blue. Would be great. Perhaps many Spanish fans remember them. Maybe some even saw them at the FIB. For me it's a mystery how a band with such a fantastic debut release just disappeared into oblivion.
:::::::::::::::::::::::::::::::::::::::::::::::::::::::::::::::::::::::::::::::::::::::::::::
Listen
Jonipai – Él es tan Fatal