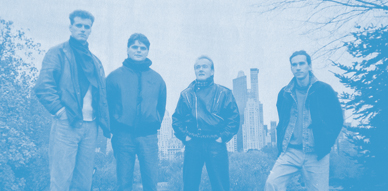 Little by little getting closer to Christmas, and another vacation week for me. Kind of back to back vacations this year. At the end of the month I'll be heading to Mexico, so if there's anyone in Mexico interested in any Cloudberry Records do let me know and we'll sort it out. Also, very important news, the My Light Shines For You 7″ will be arriving very soon and we have set the official release date for December 15th! Have you ordered your copy yet?!
Let's start then with our review of indiepop news, and sorry if some of these are a bit older, but I have a backlog of news because of me being away in Portugal!
Tiny Fireflies: So very happy to hear this beautiful slice of pop by my friends Kristine and Lisle. I was missing them, I was wondering where were they? Why no new songs? And suddenly I see that the band has uploaded to their SoundCloud the song "Nothing" which will be the A side for a 7″ that they will release in 2018. It will have two songs, this one, and also one called "2040′ which I haven't heard yet. It doesn't matter, the quality of "Nothing" will make you buy it anyways. The song also have another friend of mine, Hampus Öhman-Frölund on drums, and even has the class of Ian Catt on mixing duties. A brilliant song, and I hope one day I get to work with the talented duo again!
Las Tetris: The Peruvian girl band who have already been featured on the blog have released their first album and it is available to stream on BandCamp at the moment. The self-titled record has 10 songs, and I'm hoping here that it gets released properly, physically I mean. The band is formed by Claudia Castillo on vocals and guitars, Angiela Carranza on vocals and drums, Majo Fernández on bass and Grecia Fernández on guitars. I don't understand why they are not more of a household name in the Lima scene, I see great tunes here! Very much influenced by the Spanish pop scene of the early 2000s, the so called tontipop, I'm really enjoying it!
The Spook School: Our Edinburgh friends are releasing a new album on January 26 on Alcopop Records and Slumberland Records. It will be titled "Could It Be Different?" and to promote it the band have just released a fun video for the song "Less Than Perfect" which you should check it out! Catchy as always, The Spook School never disappoints. Looking forward to the release of this long-awaited 3rd album! It feels like yesterday when we put out the first 7″ (which by the way is down to its last copies).
The Room: I found a complete gig from 1985 by the classic Liverpool band. Truly a surprise. This gig happened on the 2nd of March of 1985 at the Royal Court in Liverpool. That time they supported Killing Joke. Here it says that for this gig Alan Wills, the drummer, had his hand injured so Joseph McKechnie sat on drums. Alan Wills still attended and made this boombox recording.  How cool! Wish I had been there!
Penny Arcade: My friend Vernon just recommended me the album "A Girl from Penny Arcade". Never heard about them. Had to look for them on SoundCloud and found this song "T.V. Personalities" and indeed it is really good! Then I notice this is a mid 80s guitar pop band from Tokyo! And I'm like wow! Now how do I get a copy? This band had members that would later form Flipper's Guitar, Debonaire or even Venus Peter. It is like the seed of everything that came after. Very very important release. So now I will need to order it! And also, would love to interview them! and find out more about them!
————————————————
Years ago I featured a Czech band on the blog, Sebastians. I thought this time it would make sense to cover The Ecstasy of Saint Theresa, the shoegaze band that is quite well known. After doing small research I thought that there was already quite a bit of information about them so decided to dig much deeper, try to find something I've never heard before, something good, something exciting. That's how after a lot of investigation on the web I stumbled upon the band Toyen.
Of course, this series of guitar pop bands from around the world is not a review of bands everyone knows, I want to find new music and share it with you. With Toyen there have been 41 bands featured now, and have two more in store for next week from Northern Ireland and Ukraine. After that I don't think I have any other countries to feature. Maybe some of you know of any bands from any other countries missing? Please let me know. Would be great to find out more great guitar pop from another corner of the world.
What do I know about Toyen then, well very little. But they do have a Wikipedia entry and that is a lot of help. The band formed in 1988 and had named themselves after the nickname of the famous Czech surrealist painter Marie Čermínova. it says that three of the four original Toyen members had been involved previously in a band called Letadlo who had been banned by the communist regime in the early 80s. Toyen had no issues with that as they formed just after the Velvet Revolution.
The band members were Petr Chromovsky on vocals, acoustic guitar and keyboards, Ivo Heger on guitars, Petr Vaclavek on bass and Jiri Simecek on drums.
Here I learn that the band actually came to the US to perform. That is quite surprising, and definitely not common for a Czech band. How did that happen? It seems a guy named Scott Murphy who worked for the TV channel ABC saw them performing in Prague. He loved them and offered to prepare a US tour. It is at this moment that they start recording their first EP, "Following The Disappeared Railroads". This EP was to be released in 1991 by the Rotag label (catalog RG 002-2 311) and had 6 songs. They were "Following The Disappeared Railroads", "Guys", "Matthew 27:24", "Lucky Tears", "Questions" and "Broken Hearts". The first song was actually a big hit in the local charts. The EP was recorded at Studio Smetanova Divadla in Prague. The engineer for the record was J. Celerin. The photo of the band on the cover was taken by the famous photographer Tono Stano.
Toyen would travel to the US and would play at the Broadway club The Shooting Gallery. Then they would also play a gig at CBGB. Playing NYC would open the eyes of Sony Music to offer them a contract. With them they were going to release their album "Last Free Swans!". For this album they had the help of producer Colin Stuart and lyricist Matt Black. The art for the record got a Czech Grammy nomination. Thanks to this album they also got invited to play in England and Wales where they played the Open/air summer Festival in Cardiff. They would also play in Austria. It seems this was a good time for the band, at a music competition in BREGENZ, the band met Paul King from the UK MTV channel. He was to feature the video clips of the band and also live footage from Prague in the 120 Minutes program.
So yes, "Last Free Swans!", the album that opened the band many doors. It was released by Bonton which I believe was a subsidiary of Sony in 1992. There were 10 songs, "The Flowers Inside", "Puppet Show", "Last Free Swans", "Don't Turn Away", "Perfect Person", "Y", "Skočím Jen Jednou", "Freight Train", "Falling Higher" and "I'm Rolling". The record was recorded at Sono Studio in Nouzov between June and August 1992. The engineer was Pavel Karlík. It was mastered at Rudolfinum Studio in Prague. The tambourine on this record was played by Milan Cimfe. The art for the album was created by Václav Jirásek. It is important to mention that a video was created for the song "Last Free Swans" which was directed by David Ondříček. The album was released on CD, cassette and LP formats.
The song "Last Free Swans" was to be released too by Bonton as a 7″ in 1992.  The B side was "Skočím Jen Jednou".
In 1993 Ivo Heger was to leave the band to start his own band The WAY. Toyen was to leave Sony to sign with BMG CZ. They were to replace Ivo with Jiri Krivka and embark on a new US tour. They were to release the album "Malíř smutnej" (Blue painter) that same year with the help of Jan P. Muchow from The Ecstasy of Saint Theresa as a producer. That same year they opened for Depeche Mode in Prague.
"Malíř Smutnej" was released under Ariola that year. It came out as a CD and tape. It also had 10 songs, now all of them with Czech names:  "Po Stopách Zmizelých Železnic", "Ten Druhý", "Srdcerváč", "Myji Si Ruce", "Fotky", "Příběh Lásky", "Sv. Jan", "Železnice", "Železnice (N.Y.C. Summer Mix) Remix" and "Bestie (Dancing Groovie Mix)". The opening song "Po Stopách Zmizelých Železnic" had a video too. The record was recorded at West Studio in Pizeň.
According to this Wikipedia entry after this record things kind of went downhill. When they toured to promote the album they added Frantisek Sahula as a guitarist and after the tour the band changed once again the guitar player for Petr Vana. With him they were to release their last album "La Orana" in 1997. For this album their long-time friend Ivo Heger, who had left the band after the first album, would be the producer. and very important to mention a movie about the band was made by David Ondříček for Czech TV in 1997.
"La Orana" got released as an enhanced CD and cassette. It included the history of the band in multimedia format with the two promo videos I mentioned plus a video of "Železnice (N.Y.C. Summer Mix)" and the MTV Presention on 120 Minutes by Paul King. Aside from that the record released by Indies Records (MAM 041-2) had also ten songs: "1 Možná Svítání", "Swans", "Teenage Shout", "Father's Son", "You Don't Ask", "Tomorrow", "Late Now!", "Heavenly Cry", " Tětiva Luku", "Tehdy V Římě".
In 2010, the original lineup would reform and play again.
Where to start? Well, I would say their first album is very recommendable, guitar pop with psychedelic vibe, catchy chorus and good lyrics. It actually is in its entirety on Youtube. But that's not all, they also contributed to many compilations.
The first one was on the "Nové Horizonty" cassette released by Monitor in 1990. On it they had two songs, "Byl Tu Chvíli" and "Ten Druhý". That same year two other songs appeared on the compilation "Monument (Nový Horizont)" released by ESTA in their home country. The songs were "Malíř Smutnej" and "Příběh Lásky".
In 1993 they were to contribute the song "Adresát Neznámý (From Me To You)" to the compilation "HerGott!!! Volume 2" that was released by Supraphon and the next year the song "Náhrobní Kámen" appeared on "Klaunova Zpověď" released by Monitor-EMI.
Another 1994 appearance was with the song "Bestie" on the CD compilation "Hitalbum" released by B&M Music.
It would take the new century for them to have two more compilation appearances. First on the "Little Darla Has a Treat For You Vol. 17" released by Darla Records in 2001 with the song "14 Pints". Two years after, in 2003, their song "Following The Disappeared Railroads" was to show up on a very interesting compilation called "Hurá, Kytary!" that was released by Ultram:x as a accompanying CD of their magazine of the same name. It seems this compilation was showcasing the early/mid nineties guitar pop scene of the Czech Republic.
Then of course I start clicking on the band members, see what else they've done. I notice Ivo Heger not only was on The Way but also on Colorfactory and helped producing The Ecstasy of St. Theresa, Sebastians and more. Jiri Simecek and Petr Václavek played also on a band called Stará Kovarná who released an album in 1994.
I found a Myspace by the band and here there is an article from what seems the Telegram and Gazette from November 14 of 1991. This is a newspaper from Worcester, Massachusetts. Here they are compared to The Smiths and U2. Some others to The Vapors (?!). You can read more about how Scott Murphy, a Worcester native, found about them and how he brought them to the US on this article which seems to have been written just before their last gig of the tour at Chadwick Square Dinner in Worcester.
There are many Czech websites mentioning a bit of the story of the band but from what I gather I think I've covered the important details. Also I must say it is hard with the language trying to find interesting details. The translation by Google not being the best either. So as you suppose there are many unanswered questions about them.
I'm especially curious about why they switched to English and then to Czech again. Or where else in the US they played. What about that 2nd tour that is mentioned? Did they record any more songs? Now that they reunited in 2010 where did they play? Did they release anything? What bands influenced their sound? And most importantly, how do I get a copy of their album "Last Free Swans!"?
::::::::::::::::::::::::::::::::::::::::::::::::::::::::::::::::::::::::::::::::::::::::::::::
Listen
Toyen – Last Free Swans