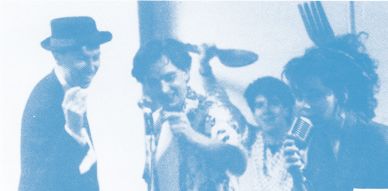 Thanks so much to John McElwee for the interview! Just a couple of weeks ago I wrote a small piece about the Subtonics on the blog and happily Paul Comaskey got me in touch with John, the driving force of the band as he called him. John has been kind enough to answer a bunch of my questions and in that way tell the story of this great band from the late 80s that released a classic 7″ with the songs "Take it Easy Florence" and "Nothing to Lose". If you are not familiar with them, well, this is a good time to discover them!
++ Hi John! Thanks so much for the interview! How are you doing?
Very well thank you!
++ When was the last time you picked up your guitar?
A few days ago.
++ Are you still recording and performing?
Yes. I've never stopped performing, mostly with others in "The Sound of Spaghetti Junction" and "The Kings of Spain", but also solo. I hadn't recorded anything for 10 years until 3 weeks ago. I treated myself to 5 hours in a studio and recorded 10 songs. All live single takes with secondary parts added to a few.
++ I always wondered what sort of music were you listening at the time of the Subtonics, I guess a pretty eclectic mix?
Yes. My first love is Soul and Reggae. That's what I heard/danced to at the local youth club when I was 12. Around the mid to late eighties I suppose it would've been The Smiths, Prefab Sprout, REM but I'd also started listening to Jazz. We used to play a few bars of Coltrane's "Love supreme" and segue into Van Morrison's "The Way Young Lovers Do" in our live set. The people who I own most music by and who I've listened to all my adult life are Sly & the Family Stone (I got the idea of using fiddle from his album "Small talk") and Tom Waits – though I'm starting to build up a collection of Sun Ra at the moment.
++ How did you all meet and how did the Subtonics start as a band?
Paul Kelly I met by advertising for a bassist.
Melanie was singing in a play that I was in.
Paul Comaskey and I went to the same youth club and had lots of mutual friends but we didn't become good friends until a few years later.
Aiden and I met aged 5. We went to school together. I lost contact when we changed schools at 11 but met him again through music years later. Aiden was a member of The Ian Campbell Folk Group and was a songwriter and performer in his own right. The Dubliners recorded one of his songs, "Dublin You're Breaking My Heart". I heard them play it last year at a festival in Moseley (where I live). They may not have known that Aiden had written the song within a few hundred metres of the gig. It was very poignant. https://www.youtube.com/watch?v=wBTX69uzLCk
Nick Smith – I can't quite remember how we met but I think it was via Paul C. The last time I saw Nick was at 'The Mean Fiddler" in London. He turned up in the dressing room at a Kings of Spain gig. I've just googled him: http://www.starnow.com/nicksmithsax
 ++ Have you been in bands previously?
Yes. I had a band called "The Truth Eggs" with Steve Sparks and Simon Colley (ex Duran Duran). We nearly got signed by virgin with our first demo. We only did a few gigs. Then Simon got signed to Virgin with another band and Steve moved to Austin Texas.
++ And where does the name of the band comes from?
The dictionary. We just looked for a musical term.
++ How was Erdington? Do you still live in the area? What were the places/venues you used to hang out the most?
Erdington was a very ordinary, mostly working class, suburb. It's only claim to fame is that it had a club called "Mothers" but that was before my time.
http://en.wikipedia.org/wiki/Mothers_(music_venue)
Now, it's quite an economically and socially deprived area with high unemployment and associated problems. I still have friends there and go to one of my old haunts, "The New Inns" to meet up/watch football. I moved across the city to Moseley in 1990.
++ Were there any like-minded bands in town during that period that you liked and followed?
Like minded? No. When we started out we did a few gigs with "The Nervous Kind". They were very 60's orientated. I loved their shows. Paul C was their drummer. We also did gigs with "Sons of Shane" from Stafford. Again, they were 60's influenced. They were good fun live. Deryck from the band is still a friend and played keys on some Subtonics recordings. They made one 7", "Fly". I suggested we join forces and create one label but they declined.
++ Tell me about your gigs. Did you play many? What were some of your favourites and why?
We played a lot of gigs. I probably enjoyed them all. I tend to remember odd moments rather than whole shows. Such as the time we played the "Tower Ballroom". It had a revolving stage. We got on the stage and waited while it slowly turned us around to the audience. We started the first song and within seconds Paul K broke a bass string. At the end of the song they set the stage turning and off we went so he could replace the string. Then they turned it on again to send us back to the audience. It was ridiculous.
We had 2 companies coming to see us at "Dingwalls", London. After sound-check we had a few hours to kill. It was a Sunday and the local cafes were closed. We went to a pub to eat but they weren't serving food. I hadn't eaten all day. I had 3 pints of "real ale". I didn't realise how strong it was until I left the pub and hit the air. On stage, I was slurring when I spoke between songs. Andy Ross, from Food records, told Annie that when we played the first song he thought, "wow", but that when I spoke it was clear that I was drunk. He said if I was drinking at that point in my career he wouldn't touch us. He said if Annie could guarantee I didn't have a drink problem he would see us again, sober. He didn't. He signed Blur.
++ I read you were in Austin, Texas, and then you were deported. What's this story about? Did you play and tour a lot in the US?
It's mostly lies I'm afraid. I had been in Austin and a number of my friends had moved there. Paul C was in the process of moving to the US to join his brother but Paul was refused entrance at immigration and sent back. It took him a year to get things sorted out so he could move to the US and during that year he was a Subtonic. I did get to play shows in California with "The Kings of Spain" but as I couldn't afford to take the band I hooked up with Paul C and Simon Colley and they became Kings of Spain for a short while.
++ And also is it true the story of Richard V. Frank that he funded the record? How did that happen? How did you meet him?
I met Dick aged 3. We also went to school together from 5 to 17. We're still friends. Dick had helped "The Truth Eggs", he got Virgin interested and he got "Rough Trade" to sell our first tape, he even designed our artwork. When Truth Eggs finished he came to see me for a chat and as he left he gave me an envelope with a cheque for £100 (a lot of money to me then) to make some more music. I was moved but as I didn't have a band I didn't feel I could use it. When Subtonics decided to release a single, we needed money for manufacturing. I asked Dick and he agreed to put about 33% up (I think?). Annie Healy put in about the same and I paid the rest. I'm forever grateful to Dick and Annie.
 ++ You, as far as I know, released one 7″, the one with "Take it Easy Florence". Would you mind telling the story behind both songs on the single?
Florence is based on the idea of an obsessive character (Florence) whose love was unrequited. She tracks the other person down years later. Now she looks and seems different and succeeds in gaining the other persons love.
Nothing to lose – I can't exactly remember, I know that the "troubles" in Northern Ireland and colonialism were in my thoughts. The key to the song was/is "The sun will shine tomorrow", an empirical truth.
++ And are there any more recordings by the Subtonics?
Yes. We did a 6 track cassette release prior to the single. It got us some radio plays and record company interest. Paul C sent me a CD copy of it a few years ago but the quality is not very good. I could search my loft for a cassette if you're interested? There are live recordings on cassette also – again, somewhere in the loft. I've not heard them for many years. I know there was one of Paul C's last ever Subtonics gig and the drum riser collapsed during the set.
++ How come you didn't record more records? Was there any interest from labels?
"Backs" distributed the single and Derek at Backs loved it. He wanted us to do more.
++ How do you remember the recording sessions for the single?
I think we did it in an evening. It cost £90. Aiden had never played that type of music. I'd given him a cassette of the song a week before but when I called to collect him he said he hadn't listened to it. I think he worked his part out on the spot. He was always a bit disorganised in his life but once we got him to the studio he was totally focused. I don't think Nick was happy with his part. I think we should have given him more time and encouragement. The rest of us had been playing the songs live, so we just knocked them out live, probably one take.
++ The record was released on Life of Man Records. Was that your own label? And how come the catalog was both 001 and 002?
Yes, my own label. Catalogue number? I didn't know what I was doing.
++ And then what happened? When and why did you split?
We started to get some radio. Micky Bradley from "The Undertones" phoned me up to tell me how much he loved the record and that he was playing it on his radio show in Northern Ireland. I heard it a few times by chance which was nice. We got some good reviews also. We also got some bigger gigs. However, Paul C left for the US before we'd received the copies of the record and we were using a session drummer for gigs. He was brilliant but he was charging us so much that he was taking every penny we earned. We'd been gigging for 3 years and had been able to cover our expenses and pay for any recordings. When Paul left it wasn't the same.
++ After the band split, did you all continue making music?
Yes. I had a bit of break from gigging and wrote some new songs. Then I got Melanie to sing them. We became "The Sound of Spaghetti Junction". We did loads of gigs as a duo and released one 10 song cassette (again, I may have a couple in the loft). We had lots of interest and were offered a deal by an off-shoot of Central TV. We turned it down on a lawyer's advice. We had management and were making a little money. Then Melanie quit. She was attracting a lot of attention and getting a lot of offers to work with other people. Oddly, when we met up recently she told me she's been going to open mic evenings and singing my songs.
I then started gigging solo and recoded a session for the BBC. I decided to record some songs with other musicians and found Richard Heath – drums, Mickey Harris – Bass (ex Lilac Time & Everything But The Girl) and Steve Shaw (aka Brennan) – violin (Ex Dexy's Midnight Runners, Proclaimers and more). They loved the recording and wanted to gig. The Kings of Spain were born. We did a couple of BBC sessions and were regular headliners at the Mean Fiddler acoustic room. We were getting record company interest but nothing concrete. Then we had a party in my garden and we played a set and recorded it straight to DAT. It cost £10 to hire the machine. We got it pressed up on CD, the record companies ran a mile but the reviews were great, we got to do radio interviews and sessions and BBC TV came and filmed us in my garden. We released 2 more albums with changes in personel. A fourth was recorded but never released. Two of the mainstays of the last version of TKOS, Paul Keeves and Russell Poyner, now live in Germany so it's become too difficult for them to continue. I have been to Germany a couple of times and played as TKOS with Russell. So now I've begun a new solo recording and who knows what will happen next?
Paul C and Nick you have links to.
Paul K is now a drummer in a covers band.
Aiden died tragically about 15 years ago but was active in music to the end.
++ Are you all still in touch?
With both Pauls and Melanie, yes. Haven't seen Nick for about 15 years or more.
++ If you would have to pick the highlight of being in the Subtonics, what would you say that was?
I don't know. All the memories are good; from travelling down to London and sleeping on floors to play scruffy half empty gigs to turning on the radio and thinking, that's us!
++ And these days, aside from music, what takes most of your time? Do you have any other hobbies?
I have had a day Job for last 16 years. I teach people to speak English and I get to meet lots of interesting folks from all around the world.
++ I've never visited Birmingham or Erdington. Just out of curiosity, what's the best it has to offer to a visitor?
Birmingham is a lot better now than it was during Subtonics' days. It's like a lot of cities, if you have a good guide who knows your tastes you'll have a good time. It's very multicultural. I think it has more parks and trees than any other European city and it has more canals than Venice!
++ Thanks so much John! Anything else you'd like to add?
Roque, I haven't thought about this stuff for a long time. Once I started writing, the memories came flooding back and it's been hard to stop! I hope you don't mind all the detail. I'm sure you can edit it into something acceptable. Thanks for giving a reason to reminisce.
::::::::::::::::::::::::::::::::::::::::::::::::::::::::::::::::::::::::::::::::::::::::::::::