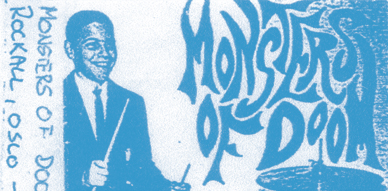 I want to thank everyone that has taken the opportunity to help us with our move. I hope more people continue taking advantage of our moving offers at the Cloudberry site. It is a win-win situation, you are going to get records you like for a very reasonable price and we will have to carry less boxes to our new place. Remember this offer will be available only 3 more weeks. Then it's over, we'll move all the boxes left.
Because of this move there will be a wee delay in the our next 7″, My Light Shines for You!, as we needed to get the pressing plant the right address. It is a bit of a headache but everything will be all right. Just bear with us. It is a bit of a hectic time, a time that needs a lot of planning, but I'm doing my best to keep it as it was.
After The Jaywalkers post last week there hasn't been too many items that I've written down. But let's see what we have:
I only heard the band Noirless some days ago. I feel I'm a bit late to the party as I notice The Blog That Celebrates Itself has already recommended it. I'm a bit slow with finding new music, that's true. I depend on what my friends share normally, or when by a miracle a Facebook page post does get through to my wall. The thing about Noirless is that I only know one song of theirs, "Indecisive", and it is quite brilliant. The band formed in Bandung at least a year ago (that's when the song was uploaded to Soundcloud) by Rama Mazaya on guitar and vocals, Aryandra Kareem on guitar and Bayu Arifianto on bass. So many great bands from Indonesia these days. Someone must do a proper compilation with the greatest hits!
The Pains of Being Pure at Heart continue promoting their new album "The Echo of Pleasure" that will be out on September 1st on their own Painbow Records. Now they have unveiled a new song on Soundcloud, "My Only", and it is actually lovely. Maybe it is the most introspective Pains song to date? I wonder. Also announced was the tracklist for the album, and "My Only" is the opening track. Cool!
Again time for recommending a new Alvvays song. The audio for the song "Plimsoll Punks" was uploaded last week to Youtube and already has gotten more than 37 thousand listens. A lot really. Wonder if a Cloudberry release would get that someday. I hope so! The song is really good as usual, not much more to say, it is better to listen. The song will be included in the album "Antisocialites" that is coming out on September 8th.
I really like the band Fever Dream but aside from seeing them once at Indietracks years ago I haven't been really in touch with their music. Their records are not easily available in the US, not even on sale at Jigsaw Records. And that's a shame of course. Now the band will be releasing a second album, "Squid", on September 29th on the label Club AC30. So of course the band needs to promote it and they chose the song "Youth (Is Wasted on the Old)", and even though I haven't heard the rest of the album, I think it is a great choice. This is a top song! And there's a video for it made out of a collage of different video footage of the band, from gigs and more fun personal stuff!
Now a Melbourne, Australia, band called Backyard. I discover them through Bandcamp. I check out their latest song, "Reality Television", and it is up my street! It is the first time I hear this band, so I need to check out some more information about them. This song is only available to stream. But back in 2015 they did release a 7″ for the song "Young & Old" and I should try to get a copy after I move. The band is formed by Adnan Kadric on vocals and guitar, Thomas Barlow on drums, Joe Daly on bass and Leon Andrews on guitar and vocals. Something that I found interesting in their small bio is that Adnan hails from Bosnia. It is definitely the first time I hear a Bosnian making indiepop. That is a good thing in my book!
And last discovery this week comes from Bloomington, Indiana. I think that is another first. I checked the latest songs by the band Nice Try and they sound great, they remind me to 90s American indiepop in the vein of the bands you'd find on Blackbean and Placenta compilations. Their latest, "Restart", is sugary-coated and was released as part of The Le Sigh Volume III fanzine. Their previous effort "Glow" is equally good. If you go further back on their catalog you'll notice that they were rougher, more of a punk pop band. But in these two last songs, dating from 2016 and 2017, we notice a change, a change for good if I can say that. The band is formed by Madeline Robinson on guitar and vocals, Kahler Willits on drums and Steve Schuster on bass.
—————————————————
I continue with this "world tour", stopping at different countries that have produced indiepop bands and doing some archaeology there. So far the record is quite good, England, Scotland, Wales, Spain, Sweden, Australia, Germany, Japan, and last time, Greece. Today I'll check out some obscure music from Norway, a country I visited a couple of years ago and I really liked it even though it was very expensive!
There's this conundrum that keeps me awake. So you know, I'm moving. And I want to order records. Like the Astroburger/Masters of Doom split album. But then, can I? What if whoever I buy it from posts it late? What if it never arrives? What if my old landlord receives it and he is mad with me because I left and he just throws this record to the garbage? So many doubts. To be sure I should wait until some days before I move, or even better when I'm already settled. But what if I see a very good price, irresistible price, NOW? These are serious questions, aren't they?
I suppose I should wait. There's also the fact that if I order more records, then there will be more stuff to carry, things might get heavier. I'm already moving so many boxes of records, that I should be a bit more reasonable about it.
I had heard some Monsters of Doom songs on the "Holiday at Wobbledef Grunch" album by The Tables. There are 7 songs at the end of the CD, song 15 to 21, that are credited to The Monsters of Doom. Them being "Who Am I To Say?", "Whisky Dreams", "Green Bubbles", "The Tabletop Surfer", "Old Lady Mugged by Drunken Popstar", "Pneumonia Ceilings" and "Simon & Garfunkel".
On the credits of this CD released by the most important indiepop label from Norway Perfect Pop (POP 17), we learn that actually The Monsters of Doom were an earlier incarnation of The Tables. And that these 7 songs were originally released as the B side of a split LP released with Astroburger. These songs date from 1991 and they were recorded at Endless Sound Studio in Oslo.
I admit I'm not 100% familiar with the whole discography of the Oslo label. I own a bunch of their records and I especially love the ones by The Tables, The Time Lodgers, The Blind Bats and later of Je Suis Animal. Actually the Je Suis Animal wanted to take me to the Perfect Pop warehouse when I visited Oslo, but I can't remember why we didn't go! Would have been great!
Anyways, I went to check out that split LP that I wasn't aware of. And I see it listed on Discogs and my eyes light up. I want to order it. But then the questions I was asking myself earlier invade me. Also it is true that I already have all those songs on The Tables CD. Well, not all. There's an "Intro" song here opening the B side and also there's another song titled "Mad".
The album "Venus Beach/Lost on Venus" was released in 1991 by Perfect Pop (POP 4), 1000 copies were pressed. 640 of those copies came in black vinyl whereas the rest in orange. The record came with a poster and booklet. The runout etching on the B side, the Monsters of Doom side, says "Audiodisc 910910 TLK MAYBE THE MADMAN WAS RIGHT".
There are credits for the songs and indeed we see that most of the band members were going to form The Tables. Bartleby was on vocals, Reg Trademark was on guitar, Mike Mushroom on bass, Robert Birdeye on drums, Sandy Shore on organ and Josefa Resztada on tambourine and maracas. The producer was the band and Richard B. Marshall while the engineer was Eystein Hopland.
Waldemar Hepstein did the cover for the lyric book that was included and Marius Moonfish the artwork for the cover of the Monsters of Doom side. I haven't seen the booklet, I wonder what's in it? Perfect Pop always had cool designs, very DIY influenced by the cut and paste of fanzines. I'd love to see it.
We check out some of the band members. Of course we know that Bartleby, Tore Sørensen, was part of The Tables. It is the same case of Steinar Buholm, aka. Robert Birdeye, who also released a couple of solo 7″s and not so long ago was in The Vacuum Dreamers. I knew those two names. Mike Mushroom, Mikkel Bay Vold,  also was involved with The Tables and Astroburger. Ståle Caspersen, aka. Reg Trademark, was also in The Tables and in the brilliant The Time Lodgers.
Sandy Shore, whose real name is Kjersti Gravklev, wasn't involved in The Vacuum Dreamers and before on Willy B. I have no clue about Willy B but it seems is a Norwegian music journalist. Josefa Resztada only appears listed as part of Monsters of Doom, no other bands.
There are at least two compilation appearances by the band. In 1992 they contributed the song "Tabletop Surfer" to the LP compilation "Penguins and Bondage (That's Entertainment Sampler Vol.2)" that was released by That's Entertainment Records and DogJob Records (THEN 018). I don't know any of the bands on this album but The Monsters of Doom and Astroburger. I checked some out on Youtube, like the Kung Fu Girls, and well, they weren't indiepop to be honest.
Their second compilation appearance would be at the home label, Perfect Pop. In 1995 they were to have the song "Who Am I To Say?" on the CD compilation "A Perfect Pop Compilation 1991-1994".
Time to explore the depths of the web. Almost immediately I struck gold. I find the blog Kuriositetskabinettet that Bartleby sometimes seem to update. I see a post dating from November 3rd 2014 about Monsters of Doom. Through this post Bartleby shares a rare bootleg live recording of Monsters of Doom! Wow! There are 12 songs in total, "The Tabletop Surfer", "I Like My Toys", "Mad", "Pictures of Matchstick Sun", "Pneumonia Ceilings", "War or Hands of Time", "Penelope Tree", "My Friend Jack", "Green Bubbles", "Minstrel Radio Yoghurt", "I Wanna Destroy You" and "Halo in My Hair". These recordings come from a walkman! They were recorded at RockAll, a small pub in Oslo on October 10th of 1990. Bartleby also gives some background info about the band and the gig. He mentions that this was the one and only gig ever played by the Monsters of Doom and that the band split just after. There are only 4 original songs. The rest being covers, "I Like My Toys" is an original by Idle Race (and this song was actually going to be covered by The Table on a 7″ many years later), "Pictures of Matchstick Sun" is by The Status Quo (well, the original is Matchstick Men, but here Bartleby makes the note that at the time there was a band in Norway with the name Matchstick Sun), "War or Hands of Time" is by The Master's Apprentices, "Penelope Tree" we all know is by Felt, "My Friend Jack" is by The Smoke, "Minstrel Radio Yoghurt" is by Deep Freeze Mice, "I Wanna Destroy You" is by The Soft Boys and "Halo in My Hair" was by Bulldog Breed.
I couldn't find much more about this period of the The Tables, when they were known as Masters of Doom. I believe Monsters of Doom were also called The Tables before and not only afterwards. I wonder why they changed names. What was the intention with Monsters of Doom, and why they lasted so little under that name. I'm sure the answers are out there, and maybe some of you know them. But it was pretty interesting exploring this period of Norway's indiepop scene, Perfect Pop and the always brilliant The Tables.
::::::::::::::::::::::::::::::::::::::::::::::::::::::::::::::::::::::::::::::::::::::::::::::