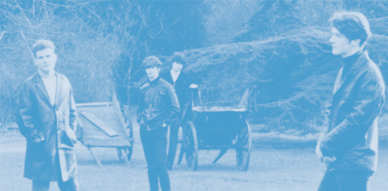 Poppyhead is a form of carving of the end of a bench or a choir stall. Its name is unrelated to the poppy flower. It is derived, by way of Old French, from the Latin word puppis, which means the poop or the figurehead of a ship. In its simplest, and its most usual form, it has the appearance of a stylised fleur-de-lys. In some cases, it consists of a much more intricate carving; for example in Holy Trinity Church, Blythburgh, some of the poppyheads represent the seven deadly sins.
Back from a nice weekend in San Diego and waiting for me 500 vinyl records for Alpaca Sports. The only missing piece now are the inserts and they will be arriving on Friday. Pre-orders then will start shipping on Saturday. I love when we make it on time, before the release date deadline. But it won't stop there, there's more work to do as we have Flowers coming out on February 20th.
I took the red eye flight on Monday night, arriving at 6:20am yesterday. 2 hours of sleep at home. And then to work, on the coldest day of the winter so far. Today is as cold though and for the first time I use a huge puffy jacket to work. Looking good doesn't matter anymore when it is this cold. It was a very long day yesterday, but quite rewarding as I met Ed for dinner in K-Town. He brought me the latest Shelflife releases which was a surprise. There is one 7″ that everybody should get this year, and that's the Goodly Thousands one that he just put out. It's beautiful. I joked about "stealing" him this band. It's that good. While you are at it, do get Nalda's new album and the Pia Fraus compilation.
In San Diego I didn't step into any record store. Actually it was an indiepop-less weekend. I didn't even bring music with me. I stuck to doing the touristy stuff. Seeing the sights. Enjoying the beautiful weather and with stoic discipline having only Mexican food for breakfast, lunch and dinner.
$44 to get into the zoo seemed a bit over the top. The world renowned San Diego Zoo. But I'm not much into saving money when I'm on a trip. I always convince myself saying "once in a lifetime". So in there I went and saw for the first time panda bears, red pandas, koalas, okapis, and komodo dragons. I had a really good time watching at the apes and monkeys as well. Since I was a kid they were my favourite with their silly occurrences.
Another fun thing was taking a cruise into the Pacific Ocean for whale watching. Sadly the cruises don't get too close to the whales so bringing binoculars would have been a great idea. But I didn't know. I thought the whales were going to be jumping next to the boat. Nonetheless it was fun and I saw plenty of whales spouting and diving, bringing their huge tales out of the water. Best of all of this 3 hour tour was that they served very cheap beer on board.
True was that there was cheap beer everywhere. So unlike here in New York. We even crashed into an art gallery opening where there were two kegs of beer. And it wasn't cheep beer, it was some San Diego microbrewery brand. It was good. Even in the zoo beer was at reasonable price.
Huevos rancheros for breakfast. Lobster enchiladas. Swordfish tacos. Shrimp burritos. Machaca. Chiles toreados. And so on. Everything served with rice and beans. And tortillas. Everyday it was a feast of Mexican food. And again it was cheap. I always ended up ordering so much food because I thought a $6 dollar portion wasn't going to be enough for me. So I ordered more food. Always. I must have gained weight this weekend. Happily I don't have a scale at home. So I won't worry.
On my last day in San Diego I went all the way to Cabrillo National Monument, which is the northern tip of the bay, it looks like a huge elephant trunk that embraces San Diego and the Coronado island. Up there you get some amazing views of the city. You can also see Mexico on the horizon. It was really pretty up there, next to an old lighthouse. There's also a path there to some tidal pools where you can spot different species of sea-life like anemones and colorful crabs. Next stop was San Diego's old town, that I would guess is not really that old as it looks kind of fake, like some those "countries" in Disney's Epcot Center. Still it was really pretty and picturesque. Mexican-style town. The Old West.
Upon coming back, going through all my emails, Uwe reminds me of The Poppyheads. And whatever happened to them?
——————————————————–
For a Sarah Records band there is very little on the web about The Poppyheads. It's true that it is one of the most sought-after 7″s released by the Bristol label and it was an early release on the label. Perhaps that's why. I don't own a copy sadly, and perhaps never will as I don't feel like investing over 80 pounds for a 7″. Unless I win the lottery that is.
Maybe back in the day they did appear in many fanzines. I don't think I own any that have an article on them but maybe some of you do? If so, maybe there are interviews and rare photos of the band? These days no one writes about them, and not even those download blogs are offering any of their releases.
They had two releases. One on Sarah as many of you know, and a flexi on the pre-Sarah label Sha La La that Matt Haynes also ran. The sound had changed in between releases. From the ramshackle beauty of the flexi to a more Pastels-kind of sound on the Cremation Town 7″.
As I said the flexi came first, in 1987, and came along the Are You Scared to be Happy fanzine. It was the sixth issue of the zine. I do own the flexi, not the zine sadly. Hard to buy them in bundles these days. The flexi is titled "Postcard for Flossy" and has a fun artwork in yellow and blue with small profile pictures of each of the band members. It was catalog number Ba Ba Ba-Ba Ba 004 and had four songs on it's one and only side, "Sun Shines Forever ", "Changes Yesterday", "First Thing" and On And On". On the back cover there are some credits: "Rob played twelve-string guitar, Del shook the tambourine and sang too, Andrew played bass, David sang and played guitar and Nigel hit the drums".
In April 1988 Sarah 006 was out. It was the Poppyheads new 7″ and had three songs, two on the A side and one on the B Side. The songs were "Cremation Town", "Pictures You Weave" and "Dreamabout". It is one of the most beautiful 7″s ever released in indiepop history. The cover and the back cover have monotone pictures in green taken by an enigmatic Melissa. These songs were recorded at The Facility 31st January 1988 and it came with a black and white poster of the band. Now the credits in this release are more descriptive:
– Bass – Andrew Zurek
-Drums – Nigel Blackwood
-Keyboards – Del Davies
-Producer – Chris Martin
-Written-By, Guitar, Vocals – Rob Young
-Written-By, Vocals, Guitar – David Barbenel
The beautiful, my favourite song of them, "Dreamabout" also would appear on two Sarah Records compilations, on Shadow Factory and Air Balloon Road as well.
Among some tidbits that I found online about the band there is the fact that they were from Cambridge and that Rob Young is a music author, journalist and current editor-at-large of The Wire, a British based experimental music magazine.  Young has contributed to various publications including The Guardian, Gramophone, The Independent On Sunday, Uncut, Frieze and Jazz Times. Actually if you follow this link you can read some of his articles.
He has published a bunch of books already too:
-Undercurrents: The Hidden Wiring of Modern Music (Editor, 2002: ISBN 0-8264-6450-5)
-Warp – Labels Unlimited (Black Dog Publishing, 2005: ISBN 1-904772-32-3)
-Rough Trade – Labels Unlimited (Black Dog Publishing, 2006: ISBN 1-904772-47-1)
-The Wire Primers Book (Editor, published by Verso, October 2009)
There's also a story involving him, Factory Records and the fantastic Stockholm Monsters. As a youngster, Young allegedly wrote to Factory Records, looking to procure a copy of Stockholm Monsters' latest release for a review in his fanzine, Tony France; the return letter was a rather succinct: "Fuck off and buy their records."
About the other band members I couldn't find any information. There's a cello player called David Barbenel though who was playing for the Alan Tyler & The Lost Sons Of Littlefield. Could it be him? There's a slight possibility as there are some members in this band that used to be in The Rockingbirds who were kind of close to the indiepop scene back in the early nineties releasing some records in Clawfist Records.
And that's about it. I've heard there are tapes with more songs by The Poppyheads but never had the chance to hear to them. I wonder how many songs were actually recorded. Will they ever release a retrospective like their other Sarah Records peers did? I do know Firestation is interested and that would be a great thing for indiepop fans! If anyone has any memories, or any anecdotes or anything at all, please share! I really would like to know more about The Poppyheads, their legacy is little, but it's really precious!
::::::::::::::::::::::::::::::::::::::::::::::::::::::::::::::::::::::::::::::::::::::::::::::
Listen
The Poppyheads – Dreamabout