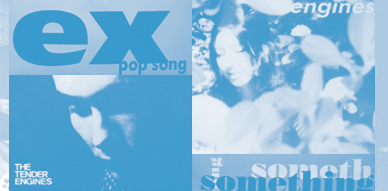 Thanks again to Harvey!
++ Did the Tender Engines form immediately after the breakup of The Odolites? What was the main reason to put a band together again?
When the Odolites split I had a few songs stored up and had a creative burst so wrote a bunch more. So the tascam 4 track was put to good use and I probably recorded about 20 songs in that initial period. So really the band was just a vehicle for the new songs and I didn't have too many plans beyond that.
++ Why did you choose the name Tender Engines?
Andy's son Scott was a young tacker at the time and watched a lot of Thomas & the Tank Engines. I think it was Ringo Starrs dulcet tones that drew him in! So I think Andy suggested it as a name. I like the paradox one word soft and delicate and the other dark and gritty! The name is also a good reflection on the lyrical content as I tend to teeter between between portraying a fairly normal everyday life but with some darker overtones because I read too much Jim Thompson & George P Pelecanos.
++ On the band there was only you, Harvey, and Andrew, recording as the Tender Engines. Was it easy to record this way? How did you work out playing the instruments?
Andy and I started out together in Noddy's Revenge back in Tasmania in the early 80's. At the time the Odolites formed Andy was out of town so wasn't around to play bass. A year or so after we moved to Melbourne Andy also moved over with the band the Fish John West Reject. So he was living around the corner and I'd get him around to play the bass parts on my four track recordings.
On our first trip to the studio though we got a few other friends around for some quick rehearsals and then pretty much recorded it live in the studio. After the drawn out process of recording the Odolites album I really wanted to get back to basics and just bang it down as live as possible. The studio was a little 8 track place called Phantom Tollbooth based in a warehouse.
From memory the other players on that session were Andy, Mark Narcowicz from the Fish John West Reject (guitar and backing vocals), Paul Stothard (organ) and Tim Gleeson (drums).
We recorded A Legend Never Fails & Clinging To The Wreckage in that session plus songs that would later be used as b-sides Under The Same Roof, Final Kiss, A Night At The Fair and Leaving Town. There is one unreleased track called Candyhouse which is a re-record of an old Noddy's Revenge song.
++ I bet it must have been tough to play live with this lineup, right? How many gigs did you play? Any particular one you remember the most?
Yeah we only played a handful of shows, usually just when other Summershine artists offered us a support. I doubt we played with the same line up twice. It'd be Andy and I plus whatever drummer & second guitarists was around. We supported the Sugargliders (or was it the Steinbecks?) a couple of times. We also supported Ripe. That was a good show from memory. I think we had Ted (from the Odolites) on guitar for that one.
++ All of your discography was released by the legendary Summershine Records. How do you ended up there? Did you send a demo? How do you remember Jason Reynolds? Any anecdotes with him?
I first remember Jason as a bit of a boy about town. He had a program on the local radio station and ran club nights playing all the latest indie singles. He started coming along to Odolites shows and he'd always come up for a chat after the show. He purchased a record store called Exposure and as luck would have it he offered me part time work in the store. Summershine started during the period he had the store so he kinda had to release my records because I was working for him!
Jason was a big fan of Postcard and Creation and I think he wanted to be one of the Alan's. Did he refer to himself as the President at one stage or am I just making that up??
++ What was the regular record deal with Summershine, was it with contracts or was it just the usual indiepop fare of having a beer together and saying, let's make it happen!?
More the later, although Jason didn't drink, so I had the beer and he sipped on a mineral water and did most of the talking! I don't recall there being a contract but maybe there was. It was fairly casual though. I gave him the finished recordings, his girlfriend put the artwork together, the distributor tried to get them into the stores. As time went along most of the singles sold on export rather than locally. Unfortunately the label didn't get the kudos it deserved here in Australia at the time. I think the great thing about Summershine was that Jason would track down overseas bands like East Village and Velvet Crush and this helped gain international attention for the Australian bands on the label as well. There aren't too many other Australian labels as highly regard and as collectable around the world now as Summershine so full credit to JR for what he did with the label.
++ The first single "Clinging to the Wreckage" has that wonderful B side, "A Legend Never Fails", what is this song about?
I look on it as a double A-Side single and there's a lyrical link between the two also. Clinging To The Wreckage is part one of the story where a gravediggers son from a sheltered home meets up with a wild girl from the big bad city. She gets him do bad things like listen to the Sex Pistols! Eek! But then in part 2, A Legend Never Fails, he meets the same girl 5 years on. She's mad as ever but she tells him she's mended her ways, found God, and tries to preach to him. Part of her method of preaching is to recount her former deeds, which to him, are far more enticing than her current life anyway. "See her eyes shining bright, as she tauntingly describes, all the times that she had, when she was bad, oh how she woo'd them". Both songs are 9 parts fiction 1 part fact. Well, okay, maybe 50/50!
Musically I was really into Felt at the time and insisted on having an organ on the songs for this reason. I was looking for that kinda Dylan Basement Tapes organ sound that Felt had on the Ballad of the Band EP and Forever Breathes The Lonely Word album.
++ "With Regret" was released on 7″ and CD. The CD was released months later with four exclusive songs. The 7″ included "Under the Same Roof" which wasn't on the CD either. Was this a label move? I ask cause, say a song like Girl from the Hinterland could have been such a fine single by itself!
The EP was designed to be an EP in its own right rather than a single with 4 b sides. I think the reason to do the 7" was just that Summershine's reputation was built on 7" singles and the CD Single was seen as a bit of an extravagance at the time. I've still got a boxful of them so someone got that one right!
This recording session was recorded at a decent studio, a place called Whirled, and produced by Ted, my old partner from the Odolites. He played guitar as well. I'm glad you like Girl from the Hinterland. In hindsight it was one of our best songs and lyrically has that dark but delicate blend that I referred to earlier.
++ The "Ex-Pop song" and the "Something Wicked" singles included demo versions of songs. Was that on purpose? Why wasn't the finished recordings included?
EX-Pop Song and Something Wicked were both recorded in the one session also at Whirled with Ted in the producers chair again. We wanted to spend a bit more time on these and I think the finances were all put towards getting the 2 tracks right and there was no money left for b sides. Ted also plays guitar on these recordings and plays a killer solo on Ex Pop Song. I think Ex-Pop Song is one of the strongest things I've written and Something Wicked one of Andy's best. The demos are actually left over recordings from the Wreckage/Legend sessions. Not sure why we called them demos. Probably thought they were of inferior quality! I'm pretty sure both singles were released on the same day in another cunning Summershine marketing ploy!
Ex-Pop Song also appears on Just A Taste the Slumberland Summershine compilation but under the name Pop Song 1. From memory this was the working title and we must have just finished the recording and not settled on the song title when we sent the track in. Just A Taste is a great compilation and credit to Mike at Slumberland and Jason for putting it together. It's the only American release I've been on and I'm sure it's a major reason why people in the US know of the Summershine label!
++ I know the existence of thirteen songs, the same that are listed in the Twee.net discography page, are there any unreleased stuff from the Tender Engines?
Thirteen, was it that many? Let me see now, recordings released on Summershine…..
1. Clinging To The Wreackage
2. A Legend Never Fails
3. With Regret
4. Under The Same Roof
5. Girl From The Hinterland
6. By His Side
7. Before She Met Me
8. Waiting For The Rain
9. Something Wicked
10. Ex Pop Song
11. A Night At The Fair
12. Final Kiss
13. Leaving Town Again
We also did This Girl Black Girl for a Go-Betweens tribute album called Right Here. That would be the last thing that was released actually. The Go-Betweens are one of my favourite bands ever and I begged Hippy Knight (the label that released the comp) to include us although most of the other bands were better known and a lot more active than we were.
Early on we also had 3 tracks (Leaving Town Again, A Night At The Fair and the otherwise unreleased The Last Party) on a fanzine cassette called Sparrows, A Melbourne Pop Compilation. Other bands on the cassette are Captain Cocoa, the Fish John West Reject, A.D., Ripe and the Sugargliders.
There are heaps of unreleased things if you count all the 4 track and (now that I've stepped up) 8 track recordings. I prefer to look on it as work in progress rather than unreleased though! I can only find one song that we recorded in a studio and didn't release and that's "Candyhouse". There was a more serious attempt made to get something happening with the band after the EP and we actually started recording an album. All the tracking was done but then the studio we were recording at had to close because a ballet school opened next door and complained about the noise. It wasn't us surely! So the studio disappeared and unfortunately so did the master tapes. It was a shame because that line up of the band actually rehearsed regularly and, to my ears at least, was sounding really good. It was Andy and I, a guy called Ed on drums, a guy called Tim on organ and Andy's cousin Mark BJ Austin on 2nd guitar. Shortly after BJ joined the Paradise Motel, yet another bunch of Tasmanians trying to crack the mainland. They made a better fist of it than most and were based in London for a few years.
++ I read that "Ex-Pop Song" had a limited run of 500 copies, I guess that's why it's hard to come by! What about the other records, do you have a rough idea on how many copies were pressed?
I'd be surprised if there were more than 500 of any of the 7" singles. Most releases on Summershine were kept to one pressing only so unless a band was big enough to justify a bigger initial pressing I think it'd be 500.
++ As an Australian guitar pop fan, how did you see what was happening in New Zealand. Did you enjoy the bands from Flying Nun?
Yes, loved those early Flying Nun bands. If I was to name my top 3 all time indie labels it'd be Postcard, Creation and Flying Nun. I started getting the Flying Nun singles in the mid 80's and I think the first ones I came across were the Chills "Pink Frost", Verlaines "Death & the Maiden" and the Clean "Getting Older". It's hard to think of 3 better singles on any label!
++ What was the biggest highlight of the Tender Engines four years life?
If there was one highlight it was probably hearing that John Peel played the first single on his show! I used to tune in to his ½ hour weekly show on the BBC World Service (Short Wave) and he turned me on to so many bands.
++ Why did the Tender Engines decided to stop making music? Where you involved in any bands after?
Did we break up?? I really don't know where the last (err) 15 years disappeared to. I'm really proud of all the things we released and disappointed that the daily grind took over and music fell by the wayside. I haven't done anything else so I guess you can say I'm still a Tender Engine! Dozens of songs half written but don't know what to do with them! Andy has a band called the Dunaways with Mark Narcowicz (who played on the first Tender Engines recordings), Martin Witheford and Graham Rankin (ex Odolites drummer). They have released a couple of albums that are worth tracking down and they play live occasionally. Ted, Andy and I get together every few months for a counter meal at the pub and talk about old times! We should probably talk about making some new music, but it seems easier to talk about old times!
::::::::::::::::::::::::::::::::::::::::::::::::::::::::::::::::::::::::::::::::::::::::::::::