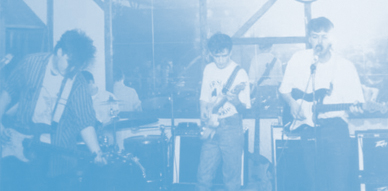 Thanks so much to John Harkins for this interview! I didn't know Things in General until stumbling upon their Bandcamp some months ago when I was searching for The English McCoy with whom they shared members. I loved the songs they had uploaded and was so sad to know that I had missed the limited CD they had released. Luckily was able to get in touch with John and ask him a bunch of questions.
++ Hi John! Thanks a lot for being up for this interview! How are you? Are you still based in Preston? Has it changed a lot since the days of Things in General?
Kev and I are both still in Preston. It has changed massively since the '80's. For a start the old Polytechnic is now a fairly large university and there are tens of thousands of students from all over the place, in fact the town has developed quite a bit, much the same as other provisional English towns. Preston is about 35 miles from Manchester and Liverpool, so it is massively overshadowed by its noisy neighbours.
++Tell me a bit about how it was back then in the mid 80s, were there any other like minded bands? Where would you usually hang out? What were your favourite venues to go check out bands?
For unsigned bands back in the '80's there wasn't very much of an organised music scene, it was very rare to play in a venue with a house PA. There was no internet and no computers so there had to be a real DIY ethos to gigging. Begging and borrowing gear, promoting our own shows, making the posters, tickets and trying to drum up interest. The bands on the music scene were mainly based around groups of friends, our friends were in bands like The English McCoy & Dreamland. A lot of the time the same group of people would be in a few different bands together. Karl and Damian from Dreamland were in Fear The Fear and ProNoise, Miles, Darren and Paul from the English McCoy all played with Things in General at one time or another. Pete Cobb, a founding member of TiG, was in the English McCoy in their early days too. There were other bands in town that I liked but didn't really know too well, Dandelion Adventure, Big Red Bus & Cornershop.
Our circle of indie/alternative bands used to hang out in a pub called The Exchange until it got "done up" then we moved to The Adelphi. There were some music pubs, most notably The Lamb, Joplins/Kings Arms and Maguires
There was the occasional "big gig" on at Preston Guild Hall, I saw The Smiths there in '87.
Touring bands would play at Clouds, The Warehouse (aka Raiders), The Paradise Club and The Venue. The Stone Roses, The Jesus and Mary Chain, The Pogues and countless indie bands passed through these venues over the years.
To be honest, Things in General were more at home in a café than a pub or a music venue. There can be a lot of big egos in and around bands, Things in General much prefered a quieter life spending a long afternoon nursing a mug of tea in Bruccianis Café.
++ I read many of you were in different bands like James, Cornershop and the English McCoy, wondering if there's any other bands missing in that list? And who were in which bands?
The English McCoy were good friends, Miles Salisbury played drums and Pete Cobb played keys in the early days of Things in General, after the McCoy split up Paul and Darren played keys and drums with TiG. We did some gigs together and I roadied for English McCoy in '87 & '88 around the time they were signed and put their single out. Happy times. Miles has just started playing again, in fact I'm doing a gig with him this weekend!
Mick Armistead did most of our recording at the Musicians Co-op in Lancaster. Mick joined James in 1988, around the time of James' Gold Mother album. He toured with them for a year or so before leaving and recommending Mark Hunter as his replacement. I don't think Mick was too comfortable with the level of attention that James were getting. He's still engineering, producing and playing, I saw his band Montana Wildhack a while ago. Good guy, we used to drive him nuts.
Saffs (Anthony Saffery) was one of the Bruccianis cafe regulars, he was a lovely guy and sat in for a few gigs on guitar after Kath left the band around 1987. A few years later Saffs joined Cornershop, they had a No.1 single with Brimful of Asha. I was so pleased for his success, it helped him carve out a career in the industry.
++ Was Things in General your first band? How did the band come together? How did you all know each other?
The band formed out of the post punk era. Kev had been in a punk band called Urban Renewal in the early '80's and knew Miles (drums), also of The English McCoy & Blank Students, Kath (flute and guitar) & Pete Cobb (keys). Andy and I were at school together, he was introduced to Kev and Kath at a party as a guitar player, they asked him to play bass and that was how the first line up came about.
A few people came and went, mainly drummers. Kath left Preston leading to a more guitar oriented sound, I joined on guitar in 1988.
For me personally before TiG I was messing about with my own stuff under the pseudonym Johnny Ligament, I've been working on my debut solo album for over 30 years….. 😉
++ Who came up with the name and what's the story behind it?
No one can remember. Kev told me it just sort of sounded good.
++ At that time, who would you say were your influences?
It may sound a bit pretentious but Kev, in particular, didn't really have musical influences. The songs came out the way the came out and that was that. I was more into guitar indie, Andy was in to The Cure and played huge bass solos with flanger, Kath would have a nice melody on the flute. We never really tried to be like anything, in that way the band were remarkably unambitious, it was what it was and if people liked it… great.
++ On Bandcamp we can listen to 15 songs that were part of a retrospective CD released in 2012 titled "The Generals". Was wondering what sparked the idea to put together by yourselves this release?  And are there more songs recorded by the band that weren't included in this CD?
Kev and I got chatting about 4 years ago. Initially it was just about getting the tracks that we recorded digitised for ourselves. Some people were interested so we put the best 15 on a CD and made a t-shirt.
There are another 10 to 15 tracks that aren't on The Best of TiG CD, I may put them online at some point as The Rest of TiG.
++ All, but one, songs were recorded at the Blueprint Studio Lancaster and produced Mick Armistead. I guess you really liked working there. How was that experience? Any anecdotes you remember?
Blueprint studio is part of Lancaster Musicians Co-op. The Co-op is a fantastic resource for local musicians, it's been there for 30+ years and hundreds of bands must have passed through there at one time or another. I was there a few years ago rehearsing with some friends and some of the faces from the '80's were still knocking around like Dave (The Lovely Eggs), Ian (Montana Wildhack, Premier Kissoff) and Mick.
Mick was an ex-boyfriend of Kaths which is how we got to know him. He was infinitely patient with us and he seemed to know what we were looking for.
++ If you were to pick one song from the band, your favourite song, which one would that be and why?
I'm going to be cheeky and take two, one from my time in the band and one from before I joined.
My favourite from my time in the band is Raintown, it really sums up Kev's songwriting and what it was like living in a northern town in the 1980's.
Before I joined I really like Morning Air, the slower stuff with flute was so original.
++ How did the creative process work for the band?
The songs were Kev's with a bit of tweaking by the band. Kev is a fairly self contained songwriter. I think in that we only tried to write a song collaboratively once and it never got into the set…..
++ Let's talk about gigs. Did you play many? Which cities? Which bands do you remember supporting or that supported you?
We played a lot in Preston and Lancaster, Bodega Wine Bar, Yorkshire House, Kings Arms. Bigger gigs in Preston were at The Warehouse and The Venue. In Manchester we played the Boardwalk and Band on the Wall.
++ What would you were your best gigs and why? Was there any that was actually a bad gig?
I remember a really good gigs at The Venue (Preston Polytechnic) and the Boardwalk (Manchester). On the flip side we had a nightmare once at The Yorkshire House (Lancaster) because we turned up on the wrong day, and I think Kev once booked us at The Warehouse (Preston) as "Kevin Cross and the Wagon Trailers" there was much confusion when we turned up on the night.
++ The band lasted until 1990. Why did the band stop playing? Why did you split?
Some of our friends had done well out of music and as individuals some of us had our heads turned by that. We all knew that Things in General lacked the ambition as a band to make a big impression so we decided to part company. Darren and Andy started a band called Junk Mothers, Kev started Wholesome with Miles & Geoff from the early days of TiG. I got involved in a couple of bands that didn't take off….
++ What did you guys do after? Are you all still in touch? Was there ever talks for a reunion?
We did a gig in '94 at the Adelphi in Preston, it was fun but it was always going to be a one off. I see Kev and Miles a lot.
++ And what about today? Are you still making music?
Kev and I started a Crossbill in 2012, it is a bit like Things in General but acoustic. Andy, Darren and Kath have moved away so I don't see much of them. Kev and I have done some gigs with Pete Cobb's band and Miles (solo) recently.
++ Aside from music, what other hobbies do you enjoy doing?
Most of the guys I'm in touch with still play music. Darren Baldwin is a fantastic photographer.
++ Let's wrap it here, thanks a lot for the interview, anything else you'd like to add?
Thanks for taking an interest!
::::::::::::::::::::::::::::::::::::::::::::::::::::::::::::::::::::::::::::::::::::::::::::::
Listen
Things in General – Raintown