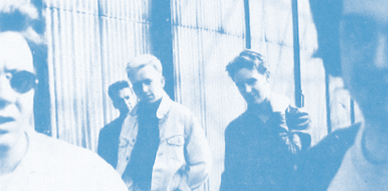 Thanks so much to Nick Smith for the interview! I wrote a bit about them some time ago and he was very kind to get in touch with me to fill in the gaps. Twelve Angry Men released just one 7″, but what a 7″ it is! Just have a listen to Maagdalene and you'll understand me. They also have a Facebook page for you to become a fan and follow them. And if you want to learn more about this great 80s band, just continue reading!
+ Hi Nick! So I assume the name of the band comes from the 1957 movie?
Yes the band was named after the classic movie starring Henry Fonda.
++ There is barely any information about the band online. How come?! We need to fill in a lot of blanks! So let's start from the beginning. Who were Twelve Angry Men? And how did you meet?
Paul Flinton-guitar/backing vocals
Paul Lillie-bass/keyboards/backing vocals
Steve Godfrey-drums/backing vocals
Nick Smith-vocals
The band met at secondary school. Flinton and keyboard player Julian Freeguard initially formed it as Trade Secret in 1984 with a different rhythm section and singer. They recorded an accomplished debut track 'Only Tears' and performed a number of local gigs, including a school battle of the bands.During this period Smith,Godfrey and Lillie were gradually recruited in readiness for the band's rebranding as Cry in March 1986 for a school charity event based on Live Aid. It was obvious to all concerned that this line up had a unique chemistry. Freeguard left the band prior to the Twelve Angry Men name change and Lillie completed keyboard duties in the studio. Two temporary keyboardists,James Ruzicka and Julie Boultby performed with the band on occasions before the decision was made to not use keyboards at all.It was only towards the end of the band's career that mandolin player Chris Zani was recruited as a 5th member.
++ And have you been involved with music before? Any bands?
The schools in Keyworth encouraged music of all types and band members had played in a variety of groups ranging from youth orchestras to heavy metal bands. Flinton had infact made a self assured recording debut on a vinyl 12″ LP fronting the Keyworth Guitar band whilst at junior school, Smith also appeared on the recording. Flinton appeared again with Lillie and Freeguard on a secondary school 12″ LP titled When the Bell Rings.
++ Who or what would you say inspired you all to make music?
The band were all immersed in music and this was a hugely exciting time to be embarking on a career in rock at school. The band's members had witnessed the punk, New wave and New Romantic movements unfold at first hand and were particularly aware of how a close bond of school friendship had been central to the success of U2 and Spandau Ballet
As Trade Secret and Cry they began interpreting Flinton's songs with an eclectic mixture of mainstream 1980s styles,fusing electro pop with international arena rock and funk. This invited comparisons with U2 ,INXS, Power Station and Cutting Crew. Over a period of time, however ,the band dispensed with keyboards and under the new name of Twelve Angry Men began cultivating a more alternative image and exploring a uniquely British, guitar based sound as exemplified by independent bands such as Aztec Camera,Prefab Sprout and The Smiths. Flinton continued to develop his songwriting skills in new and unexpected directions, culminating in the 7″ single which was musically and lyrically challenging whilst still remaining radio friendly in the style of New Zealand's Crowded House.
++ Whereabouts in the UK were you based and in what year do you reckon started as a band?
The band started at school and were based in Keyworth, Nottinghamshire.
++ And what were you all doing at the time? Students perhaps?
All students when it began …… Flinton, Lillie,Godfrey went on to higher education … Smith went to college then took up full time employment.
++ You only released one record, and what a great record it was from what I've heard. But I have to ask, why didn't you release any other records? It wasn't due to a lack of songs, right?
Correct. The band was always introducing new material into the live set and Flinton was a particularly prolific songwriter.The main reason for the lack of vinyl product is that since the release of Cry Pretend they had been courting major label interest,in particular from an executive at CBS records which required a lot of time to be spent on writing, performing at showcases and creating demo tracks rather than creating a commercially finished product.
++ Speaking of that, are there any more Twelve Angry Men recordings other than the two songs on the 7″?
In spring 1986 Cry produced a 4 track cassette called Cry Pretend at Square Dance studio in Derby featuring; Chance , Pretend . Live on the front front page…Running away.In Spring 1987 the band returned to the studio to record Fall to me, Thoughts, The More You Give. These last three tracks were not available on cassette until Summer 1988 when they were put out with four new songs recorded at Trent Bridge studio in Nottingham; Too young, Can I handle You , Take Me With You , Under the bridge. This cassette was called Tupelo and featured the new name of Twelve Angry Men. Many of the band's live shows were also recorded.
++ Tell me about the songs on the record, "Magdalene" and "Clyde"? What's the story behind them and are they based on real people?
Both are about fictitious people. Magdalene features a character regretting his spiritual life of celibacy whilst Clyde tells a tale of abuse, drunkenness and ultimately murder.
++ The record was released by Everbimes Records. Who were they? And how did you end up releasing with them?
The label Everbimes was the label associated with the recording studio, Meadow Farm and the owner Stuart field. The single was recorded there and released on Stuart's own label. Stuart played bass with The Nolan sisters and The Royal Philharmonic orchestra
++ What about gigs? Did you play live a lot? If so what were your favourite gigs? Any favourite venues and bands to play with?
The band started gigging during school holiday / university term times around Nottingham. Following CBS interest the band went professional and gigged all around UK, doing on average 1 gig every 3 days for the year. Godfrey, Flinton and Lillie took a gap year from higher education in order to do this. Best gigs .. Mean fiddler , The Hype at the Bull and Gate , Leadmill Sheffield , Rock garden – Covent Garden , Hogs Grunt. The band were featured on the same bill as Fire next time, The National People's gang. The Fatima Mansions, Voice of the Beehive amongst others and gigged relentlessly around UK at universities and colleges
++ What do you remember from the recording session of the record? Any fun anecdotes?
Godfrey smashed a milk bottle at end of Clyde.It was a complete accident but perfectly in time and keeping with the atmosphere of the song. The engineer for a pre-production recording of The Heart of Magdalene in London was the fiddle player of the Wonder Stuff. Cry-Pretend was engineered by Andy Ryder, singer from a celebrated band called Medium,Medium and then The Scare Hunters.The second Square dance session was engineered by a guy called Fidge who later engineered for the band during their first London gigs.
++ Looking now, in retrospect, what would you say was the biggest highlight of Twelve Angry Men?
The band would cite a performance at the Mean fiddler in London as a career highlight. Their residencies at Yates and The Hippo Club in Nottingham are also particularly memorable for generating a huge local fan base.
++ And when and why did you split? What did you all do after?
The last gig was in Mansfield August 1989 after which the band split in order to pursue other projects which had been put on hold during the full time year. The philosophy in the group at the time was that it was "all or nothing". The band had given itself a one year window in which to succeed and had not achieved the level of recognition which it believed to be necessary to justify continuing.
++ What about these days? What do you guys are up to? Any other hobbies aside from music that you enjoy?
PF ….Working in Canada
NS …. Operatic theatre
SG … Still drumming
PL…..Succesful career as musical tribute artist
CZ ….. Missing in action
++ And one last question, have you ever thought of perhaps reforming? Or releasing a retrospective album?
We are currently planning a band reunion and producing compilation album.
::::::::::::::::::::::::::::::::::::::::::::::::::::::::::::::::::::::::::::::::::::::::::::::
Listen
Twelve Angry Men – Magdalene