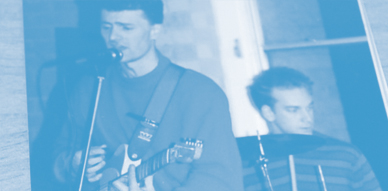 Thanks so much to Steve Fanning for getting in touch and for the interview! Great Scott has been a band I've been trying to track down for so long since I fell in love with "You're Off Again" years ago thanks to a mix CD a friend sent me. Later I was able to find the Hoopla tape reissue on vinyl and wrote a bit about the band on the blog. Happily there are many more songs, some which I've heard already and they are truly fantastic! Hopefully there will be more news about an upcoming release soon!  For now, enjoy the interview!
++ Hi Steve! Thanks so much for being up to this interview! How are you doing?
I am doing very well thank you. Nice to hear from you once again.
++ The information about Great Scott on the web is almost nonexistent. So let's start from the beginning, you were based in Brighton, right? was Great Scott your first band?
Great Scott was a band, formed and based in Brighton.
++ How did the band start? Who were the members? How did you all new each other?
It comprised of Howard Bathos, Claire Bower, Steve Fanning, Bill Cox of How Many Beans Make Five, the Popguns and The 14 Iced Bears fame on Drums and our Bass Player, Jake. A previous member, Neil Jones, was on Bass prior to me, Steve Fanning, on vocals and guitar, joining along with my Bass Player from another, Jake.
All of us, including How Many Beans Make Five and the Popguns lived in various shared houses together around this period, i.e. 1987-1992. We all knew each other from college or just the social scene in which we were involved.
++ Why the name Great Scott?
The name Great Scott I believe was penned by Howard Bathos, as a sort of very English exclamation.
++ Did you gig a lot? Do you remember any gigs in particular? Where was the furthest you played from Brighton?
Unfortunately, we did not that many Gigs, probably between five and six Gigs. Two of which were at the old Escape Club in Brighton, which was then known as the Apple Orchard's, supporting the Chesterfields and the Brilliant Corners. We then did to Gigs supporting How Many Beans Make Five, one in Horsham, at a Club called Champagnes and another at Ilkley College in Yorkshire.
Claire and I also did a Charity Gig for Brighton Housing Trust as a two piece, backed up by two work colleagues/
++ The first song I ever heard from you was the trumpet-licious "You're Off Again" on the Hoopla reissue on vinyl. How did all those trumpet lines came about? And if you don't mind, care telling me the story behind the song?
The Trumpet'licious 'You're Off Again' was put onto the Hoopla Tape, which was organised of Grant Lyons of La De Da Records.
Claire is responsible for the lovely Trumpet tones, just as she is on 'The Very Best Part'.
++ The Hoopla tape was originally released by La Di Da, perhaps the most important Brighton label at the time. How do you remember the scene around it during those years? You know, How Many Beans Make Five, John Cunningham, Grant's Kitchen?
The scene at that time, and in particular those bands on the Hoopla Tape, including John Cunningham, with whom I actually did a great deal of backing singing on his solo albums, during the 90's, was typical of all the bands knowing each other and playing in the same venues, as well as drinking in the same haunts.
I did actually attend a coupled of Gigs in Grant's Kitchen, most notably the How Many Beans Make Five, in or around 1986/1987. They were legendary.
++ The second song I heard from you was  "The Very Best Part". How did that one ended on the Kite tape? Do you remember who made it? Are there any anecdotes behind this song?
'The Very Best Part' was a song that I wrote reflecting back on a relationship that had ended a year or so previously and I presented it to the band, which thankfully liked it too and agreed to record it to be on the Kite tape compilation. This was produced and engineered by Grant Lyons of La De Da Records, as of Hoopla Fame.
++ Lately I've heard four more songs of yours, how many songs did you recorded? Care listing them? And which one is your favourite?
Unfortunately, we did not do a great deal of recording, although there was a whole stack of songs waiting to be recorded, some of which I have recorded subsequently and some of which I did actually play in fledgling bands with John Cunningham, although we never unfortunately got much further out of the Studio.
I suppose by favourite is 'The Very Best Part' and 'Another Part of Town'. 'Another Part of Town' was one of the very first songs I wrote, really inspired by a kind of Buddy Holly feel as you can probably hear.
Unfortunately, it didn't offer anything back in the day as we really didn't push ourselves. I suppose we were all pursuing other avenues and it is only when I look back that I wish we had concentrated more, and at least for prosperity, or our own satisfaction, recorded more than we did.
++ Why didn't you get to release anything back in the day? Weren't there any offers?
I don't believe we received any offers, but then again, as I say, we did not really put ourselves about as we should have done.
++ So when and why did you split? You moved to the States after, right?
The split really just happened. I went to live in the States, when I actually returned a Year later, to a house that I was then sharing with the 'Beans', they all moved over to the States, but unfortunately I never reformed the band with Claire. By that time, the other band members had actually gone and of course we lost our drummer in Bill, when he went to the States with the rest of the 'Beans'.
++ What was your favourite thing about San Francisco? Any favourite places there? Do you think live int he US is very different to the one in UK?
Living in San Francisco was absolutely brilliant. It is very similar to Brighton insofar as it is quite bohemian and multicultural place with a great laid-backed attitude and not dissimilar in its architecture and social scene.
++ What are you doing nowadays?
These days, I am a Solicitor in Brighton. I have a small practice together with another person who deals in Immigration Law, and I do mainly Family and general Litigation.
I spend most of the Summer doing as many of the Festivals as possible. I am very fortunate that a friend of mine, who runs a Marquee Company, very kindly ensures that I get to go along to as many as possible.
++ What would you say, looking back, was your highlight as Great Scott?
My highlight of Great Scott was probably the funny ol'trip we took up to Ilkley College. For some reason the promoter there, and his girlfriend, had booked How Many Beans and us as their support. When we arrived we discovered that it was Half-Term, that there was no one else on Campus apart from these two and the Janitor. We actually then did a Gig, which was mainly attended by lots of our friends who lived nearby, i.e. Manchester, and those who had come up for the road trip, only to then descend upon the promoters Halls of
Residence to spend the night.
They were quite naïve types and I am not quite sure that they knew what had hit them.
++ I may go to Brighton next month, I wouldn't mind if you give me some tips on what to see, where to eat, in your town…
If you come to Brighton, which I very much invite you to do, then of course do look me up, then I would suggest picking up one of the Listings Magazines and you will find plenty to do Gig wise and any otherwise.
++ Thanks again a lot, anything else you'd like to add?
All I would like to add Roque is thank you very much for the kind words that you wrote about our Band and our songs. Keep enjoying your music.
::::::::::::::::::::::::::::::::::::::::::::::::::::::::::::::::::::::::::::::::::::::::::::::