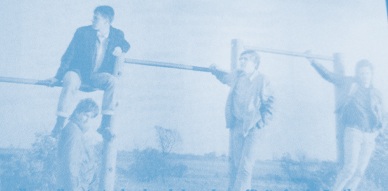 This Friday, the 16th is our release date for the Pale Spectres 7″. All pre-orders have been posted and I'm sending copies to your favourite stores. Because this is an important event and you have already heard "D(r)iving", the band has uploaded another song from the 7", "Goodbye". Enjoy them and order your record!
Well this week there are so many indiepop news that is not easy to make a choice for where to start. I will say though that while I was on vacations there weren't that many indiepop moments like they used to be in the past. There were no indiepop gigs in Finland. I did go to a record store to buy the new Burning Hearts album, "Battlefields", and probably that was my indiepop highlight for the trip.
Jessika from Burning Hearts told me that I should be able to get the record from a shop called Levykauppa Äx. So I duly went after visiting the Church in the Rock. There was one on the way to the place we were staying, on Frederikinkatu, close to the Kamppi Center. I looked around and couldn't find the record. I couldn't find any indiepop records for that matter. I had to ask to the clerk and told me they didn't have it but they had the record at another Levykauppa Äx store, the one in Kallio, the hipster neighborhood. So the day after, after going through some World Fair kind of festival that had food from all over, I found the store on Hakaniemen Torikatu or Hagnästorsgatan. Yeah all streets in Helsinki have Finnish and Swedish names. That was really cool. Anyhow, I couldn't find the record either, but the clerk found it for me. Again I browsed to see if I could find any other Finnish indiepop records, maybe Cessna, The Kidneys or the first Poverty Stinks. But nothing to be found. Anyways, it was a good buy as the record doesn't seem to be easily available anywhere else in the world.
My other indiepop moments have to do while roadtripping through the Lakeland of Finland, on the way to and back from Savonlinna. My friend Jose brought a little bluetooth speaker and we played mostly El Último Vecino, but I think the best moment was when we played Family's "Viaje a los Sueños Polares". Those who understand the lyrics for this song would understand why it is such a perfect song for the setting! It was quite magical! We played it a couple of times, until the battery died.
As I've been making notes for news to be shared with you, many other bands announce more news. The weekend was good too. On Saturday I went to Rough Trade and listened to Flying Nun's Roger Sheperd talk about his book "In Love of These Times". It was very interesting. I could relate sometimes too. And he had a good sense of humour I thought. I didn't like the other panelist, nor the interviewer, but well, it was a free thingie so I guess that's what you get. And then Martin Phillipps playing solo (and with Hamish Kilgour doing some percussion) a bunch of The Chills songs. That was quite something. So happy that I got my lazy self out of Queens all the way to sweaty and packed Williamsburg.
I'll start this week with the announcement of the new video for "Neon" by The BV's. I have raved and raved about them. Time after time I feel their songs are just fantastic. They never let me down. Why haven't they done a 7″ on Cloudberry? I ask myself the same question. In any case, you have to know that "Neon" was included in their first LP "Speaking From a Distance" on Kleine Untergrund Schallplatten which is also brilliant.
I knew about The Royal Landscaping Society going to record for Matinée for ages now. But only a week ago it was official. To mark this event the band and the label shared a gem of  a song, "Moon". The song is part of the new compilation "Matinée Idols" that is coming out soon. In the near future the band will release a 7″ and as I have heard a little of it, let me tell you it is one you can't miss. And hopefully, crossing fingers, after that release, they'll release the long-awaited 7″ on Cloudberry we announced on the fanzine some time ago!
Another band to sign to Matinée is Tinsel Heart. I loved this band when they appeared suddenly on my Facebook some months ago. I wanted to offer them a release but other responsibilities and the economy didn't let me! The good news is that they found a good home and they are sharing the song "Talk" that also appears on the "Matinée Idols" compilation. Later this year they will release a 7″ as well.
And lastly, also from Matinée is the new The Popguns album. Some weeks ago there was a new song shared by them on their Bandcamp with a limited run CD that I missed. Now you can stream the 10 songs from the album for free but even better you can buy the album "Sugar Kisses" directly from them if you are in the UK or from Matinée in the US. It sounds very good to my ears. Need to message Jimmy!
And coming back to the Augsburg label, the fab Kleine Untergrund Schallplatten, they have announced that they will release the 2nd album by New Yorkers Pale Lights. And another band related to this label, but now on Tapete Records, Zimt, have a new video out, I'm guessing as a promo for their debut album "Glückstiraden" out on August 25th. The song is titled "Schwaches Herz" and what else can I say aside that this is classic pop!
And that's good enough for this week. There's a bunch of more news I'm saving for next week. Maybe they won't be news news by then, but maybe you find something that you missed out!
——————————————————-
It was one of those days. I went back to the classic, if not legendary, Leamington Spa series. Went to look for bands I barely remember. Ones I don't own their records. Ones that I should find out more. And so I skipped volume 1 and 2. It seems I've covered most of those bands already. But on volume 3 there was a band I barely recalled, The Irregulars. Who were they?
The booklet has a photo of the band and some bio. That was a good start.
"Well we all met at school and shared an affinity for The Beatles, floppy fringes, bottled lager and making a racket. We graduated from appalling covers band to actually making some half decent tunes. On our day we sounded like a cross between Orange Juice and Jilted John and were the self proclaimed "Sound of Young Hornchurch". But we got fed up with playing to one man and his dog in Camden and settled for infrequent gigs in youth clubs instead. Half the time we couldn't afford the petrol money out of Hornchurch anyway. Chris"
The band was from Hornchurch and one of the members was named Chris. No last name sadly. Where is Hornchurch though? I've never heard of that place.
Hornchurch is a suburban town in the London Borough of Havering, East London, England, 15.2 miles (24.5 km) east-northeast of Charing Cross. Historically an ancient parish in the county of Essex, that became the manor and liberty of Havering, Hornchurch shifted from agriculture to other industries with the growing significance of nearby Romford as a market town and centre of administration. As part of the suburban growth of London in the 20th century, Hornchurch significantly expanded and increased in population, becoming an urban district in 1926, and forming part of Greater London since 1965. It is the location of Queen's Theatre, Havering Sixth Form College and Havering College of Further and Higher Education.
Well, it is in London. Been to London, but never heard of it. Seems I need to do a lot of exploring in perhaps my favourite city still.
My next stop is Discogs. I learn that they actually released something. One flexi in 1988. It was released by the Rocking Frog Promotions label (catalog HORNY TOAD 1). This seems to be the only release by this label, then it may be safe to assume it was a self-release. On the single sided flexi two songs were included "Julie" and "Against the Grain of My Life". The second song was the one that was included in the Sound of Leamington Spa Vol. 3. I have never heard "Julie". Maybe someone out there can help?
It seems the flexi didn't have a proper picture sleeve cover. That is a shame. Maybe it was just used as a promotion tool to get gigs and press reviews. They weren't especially looking forward to shifting copies. Maybe.
I found some more information on the web. The 2 songs were recorded at Reel to Reel by Joe Steel in Brixton. The sax on "Against the Grain" was played by Terry (Higson) Edwards) from The Scapegoats. I could actually find a website for Terry. Still no clue about The Irregulars band members.
I keep digging deeper and deeper on the web. I find that the band supported in their time the likes of The Wolfhounds, Close Lobsters, Miaow, The Bodines, Blow-Up, McCarthy, Talulah Gosh, Mighty Mighty, The Primitives and Primal Scream.
I couldn't find anything else. Maybe some of you remember them? I would love what happened to the band members. If they released anything else. If they recorded any other songs. Or if anyone has a spare flexi? Any information would be appreciated!
::::::::::::::::::::::::::::::::::::::::::::::::::::::::::::::::::::::::::::::::::::::::::::::