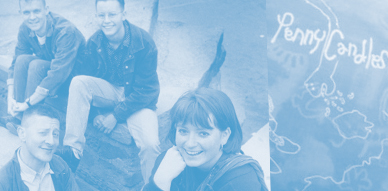 Thanks so much to Nick Langley for the interview. The Penny Candles were a fantastic indiepop band from Hull that left us only one 12″ record and a handful of compilation appearances. They also put out three tapes during the late 80s. Their songs were brilliant, the kind of indiepop I love. Very honoured to learn more about them!
++ First question is what everyone is wondering, will there be a retrospective CD with all of The Penny Candles recordings? Please say yes!
To be honest, it's not something I've ever thought about. Everything that we professionally recorded was released in some form of another. We released a cassette called "Sunny Enough For Cats" initially followed by "Sunny Enough For Cats Too" which was an updated version of the first and then "Wossname". After that came the single. I don't think that there's anything else left to release. I still have some of the master recordings so could potentially release them as MP3s but I'd have to think about that one!
++ Who were The Penny Candles and how did you know each other? What made you all start a band?
The band was originally started by myself and Alison Hughes. Back in the mid-80s, Hull had one music venue, The New Adelphi Club. It was the only venue in the city hat catered for bands playing their own material. Within months of it opening it became the home of all the local musicians – we virtually lived there! Not surprisingly, the hard core of about 40 people became quite good friends. Alison had come to Hull to read Law at the university and formed a band called The Mockingbirds in her final year of study. I saw them play a couple of times at The Adelphi. In 1988, having played drums and sung backing vocals in numerous local bands, I'd decided that, having taken up the bass guitar, I wanted to start my own band. One day I went down to the University Student's Union to put up adverts saying, "Bassist/Singer/Songwriter looking for Guitarist/Singer/Songwriter to form band" and I bumped in to Alison. We spent the next couple of hours talking about music and bands. She had just graduated with a Law degree and wasn't sure what she wanted to do next so we decided there and then to form a band. Steve Parry was our original guitarist and was someone that Alison knew. I can't remember the circumstances around him joining the band – one day it was the two of us, the next Steve was there! We were offered some free studio time from friends of ours who had a record deal with Virgin and had built their own studio but for that we needed a drummer. Hugh Whitaker was a friend from the Adelphi so one day I popped round to his house and asked him if he'd do the recordings for us and he ended up staying in the band for the next 18 months.
++ Where does the name The Penny Candles come from?
Like most bands, we spent HOURS trying to think of a name. Eventually Alison turned up with "The Penny Candles". It was the least rubbish of all the other names we'd thought of so we opted for that. It comes from the title of a book that Alison was reading at the time called "To Light a Penny Candle" by the Irish author, Maeve Binchy. A penny candle is a candle lit in churches when prayer requests are made. You're supposed to put a penny in a box to pay for the candle (I think!).
++ Only one release, the Taj Mahal 12″! How many copies were pressed? it seems to difficult to find a copy these days. What do you remember from recording these fantastic four songs!
The main reason for the 12″ was to raise the band's profile – an attempt to get the record labels to pay more attention to us. We only pressed 1,000. I think I've got the last 30 sitting in my studio at home. I remember having a great time during the recording. We loved being in the band. There's a special camaraderie shared by a small group of people who spend 18 hours a day in each other's company, sharing new experiences. You become incredibly tight knit and close. We recorded the tracks at the same studio we used for "Sunny Enough For Cats" and I think we did it over a long, 4 day weekend. We were a pretty tight band by that point as we'd gigged a lot up and down the country so it was a fairly quick process. Steve Parry had left the band by that point so the lead guitar parts are played by Mark Eddie Whatmough who spend about 8 months with us. I can honestly say that his guitar solo in "Swings and Roundabouts" is still one of my all time favourites of ANY guitar solos I've heard. All the more remarkable because he was only 17 at the time. A lovely bloke. I remember Alison having a moan on the Sunday and refusing to come back to the studio after lunch, as a result all the guitars on "Making The Most (Of It All)" are me – including that terrible solo – and for some reason we had to some pick-ups on "Taj Mahal" which Eddie couldn't do, so the outro electric guitar is me too. Hugh is great in the studio. Apart from being a rock solid drummer he's also a rock solid bloke. Alison and I were a bit more, what's the word? – childish! We'd argue about the tiniest detail and we're both really stubborn. Hugh was the voice of reason. Also, neither Alison nor I liked the other one criticising each other's singing. If one of us was singing a line flat we'd get very defensive. However, we'd listen to Hughie. He's got a great ear for vocals. We used to call him "the referee" partly because he's step in and resolve arguments and partly because – and here comes the football joke – he'd inspect the pitch!
++ Why weren't there more releases? I also know of the existence of a tape called "Sunny Enough For Cats Too!", care to tell us a bit about this cassette?
"Sunny Enough For Cats" was recorded as our first demo tape which we used to secure gigs. If memory serves me right, the only difference between "Sunny Enough For Cats" and "Sunny Enough For Cats Too" is that we re-recorded the lead vocals for a couple of the tracks but I can't remember which ones. I think that the track listing is the same but I'm not sure. I've got a copy of "Sunny Enough For Cats Too" in front of me and the track list in this is as follows: SIDE 1 "Nicely", "No Doubt", "Sometimes". SIDE 2 "Memorybox", "Just a Word", "Turn it Off".
++ And what about the other two tapes released, "Sunny Enough For Cats Too" and "Wossname"? Do you remember the tracklist for all these three tapes? I can't seem to find that information!
Unfortunately I can't find a copy of "Wossname". I've a feeling that I still own one but I've no idea where it is. Sorry!
++ You were in a couple of compilations as well like Turquoise Days, Borobudur, Positively Teenage!, You Can't Be Loved Forever Vol. 2 and Vol.3, and Hell & Happiness. Am I missing any? How did you end up on this, I mean , what was the process?
Truth be told, with the exception of Borubudur, they just lifted recordings from demo tapes and included them on their albums. No one ever sought our permission and, if any money was ever made, we never saw any of it. To be honest though, we always saw things like this as free publicity – all recordings were a way of increasing the band's profile they were never intended to make any money.
++ The 12″ was released by your own Red Eye Records. How was the experience of running a label?
In those days it was the only sensible way of doing it. Unlike some bands however, we did it properly. We secured a distribution deal with a company called SRS. They made sure that it went in to the shops. A lot of bands started there own labels and ended up with boxes and boxes of unsold records in the basement. Running the label didn't involve much until the tax man came looking for me! I then had to demonstrate that I hadn't made a fortune, which, obviously, I hadn't!! It can't have put me off that much because I've just started a new label a few months ago called Scratch 23 with plans to release stuff this year from a couple of local artists as well as some of my own stuff.
++ What was the creative process for your songs? What inspired you guys?
Unrequited love. What can I say. Just about everything I wrote was about broken hearts. The process is much the same now as it was then: pick up an instrument, fish around until you hear something you like, hum a tune and you're off. I gave up music in 1993 and didn't touch and instrument for the next 12 or 13 years. I began writing songs again about 3 years ago and I find it easier now than I did, but it's the same old process – strum and hum!
++ And what bands would you say influenced your music?
The Beatles were a big influence on me. I'm of an age (just) where they were still together and actively recording. My mum's from Liverpool and once played at The Cavern so we always felt that they were in some ways "ours". Apart from them there were loads of contemporary bands, Prefab Sprout, Everything but The Girl … the list would be endless if I thought about it for long enough!
++ Is it true that Taj Mahal was named after a reverb setting? Were other songs named after other uncommon conventions? 🙂
How the hell did you know that??? It was indeed named after a reverb patch in an Alesis Quadraverb. It's the patch used on the arpeggio guitar at the beginning of the song. I used to quite like giving songs obscure titles but I prefer single word names now as it's easier to remember them. I can't really think. There's a song called "Dial M". The chorus says, "the morning after can be murder". Alfred Hitchcock made a film called "Dial M for Murder" so I decided to call it "Dial M". A bit childish really!
++ How was the scene in Hull during those late eighties? Do you still live there? If so, do you find it has changed much? If I was in the city, doing a "Penny Candles" tour, which place or sight will you show me that was really important for the band?
The music scene in Hull back in those days was amazing. As I said earlier, Paul Jackson bought an old working men's club called the New Adelphi Club and turned it in to a music venue. From that point on we had a home. We were all on unemployment benefits just dossing around making music and enjoying life. It was fantastic! I still live in Hull in the same area I've been in for the last 27 years, with my wife and 4 kids. The city has changed a lot but for the better. Hull was founded on fish, we used to have a massive fishing fleet – 200 trawlers a day used to land fish in Hull – there are about 12 a week now. By the late 1970s the fishing industry was dead and the city went in to a catastrophic decline. Over the last 20 years however, things have picked up and we're now at the forefront of green, renewable energies so it's a fairly prosperous city. I run a small project recording studio for teenagers and am fortunate enough to have a recording studio at home. Paul Jackson still owns the Adelphi club, although there are other venues competing with him now, so that's still the spiritual home of music in Hull. If you ever make it this far north, you MUST go to the Adelphi clucb – it's legendary. Everyone's played there at some point, The La's, Primal Scream, The Happy Mondays, Radiohead, Oasis, the list just goes on and on and on …
++ Did The Penny Candles gig a lot? Any particular gigs you remember as the best time ever? What about the Reading Festival gig?
We'd do a gig just about anywhere. I figured out early on that you make your own luck in the Music Business. We have a saying in this country – a bi fish in a little pond. It's easy being a big fish in a little pond. A lot of bands are happy playing in their local venue once a month. All their friends come down, get drunk and jump around making them feel like rock stars. Anyone can do that. It's a different game when you travel 100 mile to a city where no-one's heard of you. You have to work 10 times harder to make an impression. We accepted every gig we were offered. We'd travel 400 miles there and back for £15 just to have an audience to play in front of. Other local bands would refuse gigs like that. They'd say "I'm not going all that way for that money, we're worth more than that". But it's just an excuse. They're terrified of taking the risk and getting booed off stage. Alison and I formed the band in June 1988. We did our first gig in September 1988 and our first short tour in January 1989. Other bands were jealous but we got off our arses, worked hard and took risks. We weren't happy being a big fish in a little pond, we wanted to be a big fish in a BIG pond. To achieve that you have to get out there and work hard, which we did. I loved touring: a different town each night, a different audience, a different vibe, it was a dream come true. We got the Reading Festival gig because of that attitude. The festival is booked by a company called The Mean Fiddler. They own about 8 venues in London. We sent a demo tape in and nagged them for a gig at one of their venues. In those days support bands used to have to pay the venue to play! However, a bloke called Neil O'Brien who worked there, quite liked us. All he could offer was a slot in their acoustic venue which we gladly accepted. We weren't allowed to use a drum kit so we worked out a special 40 minute set just for that one gig in the middle of a tour. It was nerve racking but a great little gig. Because of our willingness and professionalism he offered us a slot a Reading, which was just amazing. We took about 12 friends with us and more met us there and we had a fantastic weekend AND we were getting paid to do it. It doesn't get much better than that!
Around May 1990 we were on tour, playing a venue somewhere. We were in the middle of a song and my mind started drifting. Two things struck me: 1) all the songs sounded the same to me, which is NOT a good thing, and 2) my mind shouldn't be drifting off. I should be wrapped up in the show, but I wasn't. It was then that I realised that I wanted to leave the band. I felt we'd taken the band as far as we could. It was decided that I'd fulfil all the band's commitments which were the rest of the tour and then the gigs leading up to Reading, so Reading Festival was my last gig with the band. Alison kept the band going, replacing me with a bass player and adding a keys player. They did one gig at the Adelphi in early 1991 and then she decided to call it quits. I went on to for a band called The Juniper Chute. I wanted to write some songs with a bit more balls to them so for the first time I wrote them all on an electric guitar. I then asked Hugh Whitaker, Eddie and a friend called Matty to form a band an we did a handful of gigs. The sad thing is that it was only intended as an experiment. I was sick of being in a band. I'd spent 2 years of my life trying to get the Penny Candles signed and got nowhere. Neil O'Brien offered us a gig at one of their venues. It was only our second show. In the next few months, after that show, I got rung up by every major record label in the country chasing me up. I was so disillusioned that I never returned the calls. The band members all had other commitments so it was never intended to be a permanent thing, so they drifted off and that was that. I then spent the next couple of years writing songs for a band called Scarlet who were originally from Hull bought who had moved to London. They had a publishing deal with Chrysalis Music and eventually signed a record deal with Warner Chappell. They went on to have a one hit wonder called "Independent Love Song" (sadly, not one of mine) and I had a couple of songs on the album. by that point (1993), I'd had enough. I sold most of my stuff and enrolled at a local university to do a degree.
++ Are you still in touch with the other Penny Candles? What do you all do nowadays?
I still see Hughie and Eddie occasionally. Hugh's still very eccentric and keeps himself busy playing in a couple of local bands. Eddie still plays in pubs and clubs. Alison became a Producer for the BBC and is based in London these days and has been so for 20 years now. As far as the future is concerned, I'm in the process of writing and recording an album which will hopefully be released later this year.
::::::::::::::::::::::::::::::::::::::::::::::::::::::::::::::::::::::::::::::::::::::::::::::