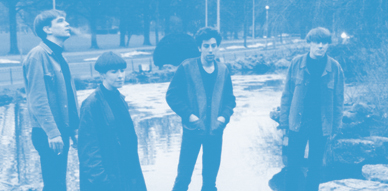 Thanks so much to Trevor Elliott for the interview! Whirl was a fantastic band from Brighton that released two 12″ EPs in the 1980s, on Playroom Discs and September Records. They also had a split flexi with Crocodile Ride (who I wrote about not so long ago). I found the Heaven Forbid EP some years ago while record hunting in London and I fell in love with their sound! So very lucky that Trevor could tell me the story behind the band now!
++ Thanks a lot for being up for the interview! How are you? 
Hi Roque, Thanks for asking us. We are all very well thank you.
++ Still based in Brighton? Are you all still making music today?
Alan lives in Saltdean on the outskirts and Caz who lives in Brighton. Rob lives in Worthing, just along the coast, and I'm in Earlswood, Surrey, mostly for work purposes. Karen lives in London.
I think Rob is the only one still playing regularly.
++ I know that aside from Whirl you had been in some other bands like Eusebio or Blow Up, but would love to know if there are more bands that you had been involved with?
I was in an early formation of what became Peter and the Test Tube Babies whilst still at school, then a few bands with school friends, during my college days I played in a band called Fear of Water before forming Whirl and then joined Blow Up as they were short of a bass player. After Whirl I played guitar in some other bands that never really did anything.
Alan Stirner was also in Blow up, and Sharkboy (after Whirl), and played on The Wolfhounds' Blown Away LP.
Rob Colley was in The Ten Million Quintens (named after Quinten "Norman" Cook. Aka Fat Boy Slim), 14 Iced Bears, Arthur, and until recently The Murmurtrons.
Caz Adams, played in Eusebio, a great band that rose from the ashes of The Milk Sisters, but unfortunately were never signed.
Karen O'Keefe, played in Bill Prince's The Wishing Stones and Basingstoke's finest, The Rain.
++ What are your first music memories? What sort of music was played at home when growing up? What was your first instrument?
I grew up listening to my Mum and Dad's record collection, they were old Mods so The Hollies, The Who, The Beatles, Wilson Picket, and lots of Motown and Northern Soul.
++ What inspired to make music? What would you say were your favourite bands at the time?
I first started playing Bass because I was given one.
In the 70's I loved The Clash and The Jam. The early 80's it was more Orange Juice and anything else on Postcard Records, Echo and the Bunnymen and Wah.
++ I read that at the beginning there were many changes within the band, that couple of people were kicked and others left. Who were these people? Were they in other bands? how many formations were there?
I'm not sure where you read that but yes that was the case. Alan and myself were always the core of the band we referred to ourselves as the Whirl Organisation, inspired by Edwards and Rogers, The Chic Organisation. Lol
In the early 80's we started out as a five piece, with a singer called Matthew Glendinning, (son of Victoria Glendinning CBE biographer, critic, broadcaster and novelist). Who fancied himself as a bit of a Morrissey. I was on rhythm guitar, autoharp and backing vocals.
Over the years there were many members including Mark Waterman who went on to music production. He produced many artist like Five Thirty, Elastica, Depeche Mode remixes, Swervedriver and Venus in Furs.
We also used to joke that we'd had more drummers than Spinal Tap, until Rob joined us. At one point in time we had Chris Window (The Milk Sisters and Blow Up) on drums. So Alan, Chris and myself would go from rehearsing with Whirl on day to rehearsing with Blow up the next.
We also had Dominic Minques, from the 14 Iced Bears and Blow Up on Bass for a while.
++ And how did the classic band formation come to be? What year was it?
Alan and I met Caz, in 86 I think, via her partner Mark Burletson (Eusebio and The Milk Sisters) she auditioned and was perfect, and I had known Rob since I was 19 and when the Quintens split up Rob Joined us also, he had been our stand in drummer up until then along with Chris Window.
++ What's the story behind the name Whirl?
I think Alan came up with it, we wanted just a one word name that reflected the music.
++ How was Brighton then? Were there like-minded bands that you liked? Did you feel part of a scene? What were the places, the venues or clubs where you used to hang out?
Brighton was fantastic back then and always has been. We had the Mods in the 60's, a great punk scene in the 70's and then the Mod revival, Indie and psychedelic scene in the 80's. Brighton is so cosmopolitan with two Universities and an Art College, there's always been all sorts of scenes, and also famous for it's lesbian, gay, bisexual, and transgender population. I consider myself to be very lucky to have grown up there. In the 70's we all used to go to the Gay clubs, as they were the only one's open, but then as Punk took off there were many more "venues" like the Crypt, (which was an old Crypt) The Alhambra, The Inn place, The Richmond and then later, The Electric Grape, Zap Club, The Big Twang and The Sunshine Playroom.
There were loads of likeminded folks and bands around so the competition was strong.
++ I've heard 9 songs from, I believe, from a demo tape and makes you wonder why songs like "You Are My Friend" or "In a Dream" were never properly released. But I don't know much about this demo. When and where was it recorded and are there more unreleased songs like these?
A later recording of "In a Dream" was released on the Heaven Forbid EP, but I think that those were very early recordings circa 1985/86 from a rehearsal room in Hove that was run by Mark Waterman and Annie from Elastica used to hang out there.
++ I found out that two other songs, "Lost" and "Tell All Your Friends" appeared on a tape titled  "Goodnight Miffy" that was included with the Especially Yellow fanzine. Again, online it is so hard to find information about this fanzine or this tape. How did you end up contributing to this fanzine? And where do these songs come from? From a special recording session or another demo tape?
Again "Lost" and "Tell All Your Friends" were early demos released on the Especially Yellow cassette. The tape and the fanzine was the work of fellow Brightonian, music fan and Indie journalist legend Johnny Dee, before he went on to have songs written about him ("Ask Johnny Dee"- The Chesterfields) and work for the New Musical Express and the BBC.
++ In 1987 you released your first EP, the "Heaven Forbid EP" on Playroom Discs. They were also based in Brighton, I guess you were friends before signing with them? And how was your relationship with them?
Playroom Discs was run by Sean Sullivan and Gordon Kaye who used to run The Sunshine Playroom club on a Wednesday night in a pub opposite the pier in Brighton. We all became and remained very good friends with them to this day. Sean went on to form Arthur with Rob Colley and Gordon is still making a living from DJing all over the country.
++ This is a fantastic EP, I'm happy to own a copy, what do you remember from the recording sessions at Bloomsbury Studios?
Thank you, I'm pleased you like it and very surprised that you'd even heard of us let alone have a copy of the record.
I remember having a bad cold and having to do few takes on the vocals, but apart from that and a couple of guitar overdubs it was basically a live recording. It was really the only way to capture the energy of our live show. I also remember that it was engineered by a guy called Terry Popple who at the time was Van Morrisons drummer and in more recent times Graham Bonnett he also worked with the 14 Iced Bears and the Popguns.
++ The photos on the jacket of the EP, where were they taken?
They were actually taken by an art/photography student that lived in our Victorian house and were taken in Alan's front room in the same house that I lived in. The sleeve pictures didn't come out as well as the actual photographs that were taken which was disappointing.
++ A year later you released another 12″, the "Clear" EP, but this time with another label, September, a label that had released favourite bands of mine like McCarthy or The Wolfhounds, but I know so very little about this label. Who were they and how did you end up working with them?
September was run by Paul Sutton, who was involved with The Pink Label (https://www.twee.net/labels/pink.html). We had supported both The Wolfhounds and McCarthy many times in London and in Brighton and even though we weren't as political as the other bands Paul was interested in putting out a record of us. We all got on on very well and Rob and I are still in touch with Dave and Andy from the Wolfhounds, their new album is fantastic by the way.
++ How different was recording this EP compared to the first one?
Caz had left the band a few months before so we had a new bass player Karen O'Keefe; a friend of Alan's sister, who played in The Wishing Stones and The Rain, who had once interviewed Sonic Youth on TV, so slightly different dynamics but mostly still live. There were a few more guitar overdubs as Alan had just been introduced to a Rockman peddle by the engineer, who kept likening our sound to Split by the Groundhogs
++ Also I'm quite curious about the Japanese characters on the A side label, what do they say?
I really have no idea I'm afraid, I hope it's nothing offensive.
++ One of the songs of the EP, "Your Heart's As Big As The Whole Outdoors", appeared on yet another tape compilation, the "Everlasting: A Tape Compilation" in 1988 on the Everlasting label. A very cool tape with lots of fab bands like The Orchids or TV Personalities.
Both Rob and I had no idea that this recording existed until I saw it on the Discogs website a few years ago. I'm assuming it's a demo version from Bloomsbury Studios, I've not heard the tape.
++ Your last last release ended up being a split flexi shared with Crocodile Ride in 1989. About the label "The Sound of Spasm" I know next to nothing. Who were they? And did you know Crocodile Ride before releasing the flexi? Did you ever play gigs with them perhaps?
The Sound of Spasm was from a fanzine called Spasm run by a lady called Tish , who I bumped into for the first time since it came out, at a Wolfhounds gig just before Christmas last year. It was great to catch up. I don't think I knew any of the Crocodile Ride members and I can't remember playing gigs with them.
++ Last appearance as far as I know, you can correct me, was on a CD compilation titled "Staring at the Sun 2" with the song "You Almost Killed Me" in 1993. This was many years after the band had split, is that, right? How did this happen?
I didn't know anything about this until I saw this question so I You Tubed it. It's certainly not us but you can be forgiven for thinking it was us as it's certainly got a similar sound. I quite like it actually. From what I can gather they're from your side of the pond.
++ So yeah, when and why did the band split?
1989 I think, there was a few issues between Alan and myself and after a few difficult gigs and rehearsals, Karen called me to say that she couldn't carry on in the band, and I decided it was time to move on also, after all it had been nearly 10 years playing with Alan in more than just one band, and our friendship was struggling and the fun was rapidly disappearing.
++ What did you all do after? And what are you doing today?
Alan went on to play in Sharkboy and I believe he works in a Bicycle shop now. Rob still plays in bands and works as a Plumber, Caz played in Eusebio, had two lovely boys who now have their own bands and now works as a sign language interpreter, Karen was working for Local government, and is now a planning consultant. I am a Horticulturalist and build Gardens for the Chelsea Flower Show.
++ How come you didn't get to release more records, perhaps an album?
There is an acoustic demo for an album somewhere I've got a recording of about 4 songs for it, but we split before it was complete.
++ Was there any interest from big labels at any point?
Not really, we had a sniff from London Records and Pinnacle and then Tambourine records were interested for a while following several support gigs with The Dentists but then September stepped in.
++ What about gigs? Did you play many? Are there any in particular that you remember with fondness? Were there any that weren't good at all? Any anecdotes you could share?
We played loads and loads of gigs supporting people like Edwin Collins, Julian Cope, Primal Scream, The Weather Prophets, and That Petrol Emotion. One night we turned up to headline a gig in Camden and were told that the support band were called Stone Roses, however they didn't turn up and then the next week they were all over the music press, the rest as they say is history. On a similar note we had Lush as one of our support bands once and a couple of weeks later they were signed by 4AD.
++ Did you get much attention from the music papers? Or radio?
We had a few very flattering live reviews' and magazine features' although the second single wasn't as liked as much as the first by the press. Steve Lamacq and Janice Long played us a few times on the BBC radio evening shows. We actually topped the chart of our local BBC station Radio Sussex.
++ And what would you say, looking back in time, would be the highlight for Whirl?
The highlight for me was supporting Edwin and Julian, two of my all-time hero's and they were such nice people, and I was a bit star struck. Also we appeared on a local TV programme called "The Pier" which was a local (South East region) gig guide programme.
++ Today, aside from music, what other hobbies do you enjoy?
I'm involved in a local conservation group for Earlswood Common and do small gardening jobs for friends, and I also enjoy cooking.
++ And how is Brighton now? Has it changed much compared to the days of Whirl? Are there any bands that you like there?
Brighton has changed loads there are now more venues to play in
There's a great young band called the Grasshoppers that I saw support Grant Heart a couple of years ago. Also a friends sons band The Ferns are ones to watch out for.
++ If there's anyone visiting your town, what would you say one shouldn't miss?
Record shops and niche stores in the North Lanes, there's also some fantastic architecture including Brighton Pavillion built as a seaside pleasure palace for King George IV. And football (Soccer) fans should go to the Amex Community Stadium to watch Brighton and Hove F.C. If we keep playing like we have been this season we should be in the Premiership League next season
++ Thanks so much for answering all the questions in this extensive interview! Anything else you'd like to add?
Cherry Red records are releasing a follow up to the C86 cassette, called C88 and "Clear" will be featuring on that, I think that will be out later this year.
::::::::::::::::::::::::::::::::::::::::::::::::::::::::::::::::::::::::::::::::::::::::::::::
Listen
Whirl – Heaven Forbid