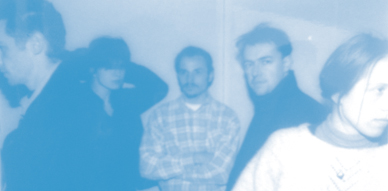 Moi! Jet-lagged, and with ten thousand things to take care of, that's how I woke up today, just after returning yesterday from my almost two-week vacation in Finland. I'm exhausted. I had so much energy while traveling, criss-crossing the country and making daytrips to Estonia and Sweden. Would love to share my experiences with you, and will do so shortly. Not on today's post but next week. This week what I want to do is to get up to date with you all.
First things first then. The Pale Spectres 7″ arrived. They were waiting at home for me. All pre-orders will start shipping this week. The official release date will be announced pretty soon. But you can order the record now and I'll post them right away. Then The Potting Sheds compilation is ready at the pressing plant. They should be delivered to Cloudberry HQ next week or the following as the latest. Seems like a great start for this summer!
I have a bunch of indiepop news that I have compiled in the past 2 or so weeks since my last post. I'll tell you 4 this time, and more on the next week. Bear with me. My energy has been drained. And imagine that I got home yesterday and there was no internet. It seems the city while trimming the tree in front of my house cut the cable that provides me internet. I had a technician come in today very early. He finished the job, everything was working. 20 minutes later a food truck passes by and cuts the cable. Who could be more unlucky than me. I left another technician fixing this issue and had to come to work on a barely working 3rd world country subway. I cross my fingers that I'll have internet when back home. It is not easy the US, especially after coming back from a country, Finland, where things seems to work well, with punctuality.
I'll start with Alvvays, a superb indiepop band that is loved and cherished by popkids and hipsters. While I was on vacation I couldn't help but notice all my friends were reposting their new song "In Undertow". Well, finally I'm listening to it. Yeah, I don't travel with a computer, my phone is enough to check emails and that sort of thing. And so I wait until getting home to listen to music. I don't feel comfortable listening to music on the phone generally. Which reminds me, I have to listen to a song by a band I want to release after I finish this post! Anyhow, this pretty song by Alvvays will be included in their second album, "Antisocialites". It is coming out on September 8th and the band has announced a bunch of gigs starting August and all the way through December. For us in New York, we'll get the chance to see them on October 5th at Brooklyn Steel.
Talking of NYC gigs, this Saturday at 2pm, Martin Phillips from The Chills will be playing a live set at Rough Trade. The event says that the event is really a talk with Flying Nun's founder Roger Shepherd. He will be discussing his book "In Love With These Times" alongside Captured Tracks' Mike Sniper. I love Flying Nun. I don't like Captured Tracks at all. Bad pairing I'd say. But what can you do. I will just go and enjoy Martin's music. That is what I care for. And maybe grab a copy of the book? More info on the event here.
My Barcelona friends Papa Topo have a new video out. It is already a year since they released the fantastic album "Ópalo Negro" and so they are celebrating the occasion releasing a new video for perhaps my favourite song in the album, "Enero" . Is that an Evangelion t-shirt Adrià? How much fun it is to see all of the gang, Adrià, Julia, Óscar and Sonia dancing and showing their moves in Power Rangers sort of costumes. I love the video. Reminds me of a lot of cheesy shows I saw when I was a kid like Jiban, Liveman or Flashman.
And last recommendation for this week is also another video by another Spanish band, Axolotes Mexicanos. The song is titled "Trececatorce" and is just being released for now as a digital single. I don't care much for digital releases as you might know, so I just enjoy, on repeat, this fun little song.
There are many more news for me to cover involving so many bands that I hold dear. But I think that can wait until next week, right?
———————————————————-
A few weeks ago Stefano from Milano, Italy, was visiting NYC. We were having a beer and a burger at a Korean place. Why not. And of course we were talking about indiepop. And the conversation took the obvious turn. Why aren't there any good Italian indiepop bands? Some say Fitness Forever is an indiepop band, but they aren't really, are they? It is very hard to think of one with the classic indiepop sound.
It is surprising. I know many Italian indiepop fans. A lot. I once had this same conversation with Peter from Twee.net and he also wondered the same thing. How come there haven't been good Italian indiepop? And suddenly while talking with Stefano I remembered one band. But at that exact moment their name I couldn't recall. I told him, "there is a fine band, from the 90s, from Vicenza I think, but I can't recall the name. Not all of their songs are proper indiepop, but some are and they are great!".
I remember it now, Blanco y Tango. How do I know about them? Through another indiepop fan, Matthew. I am very grateful for all the indiepop friends that share their knowledge with me! That way I probably will never run out of songs to listen to. But how there was one classic sounding indiepop band in Italy once and now there aren't? I don't understand it. But first maybe it would be wise to investigate about them. To be honest, I know about nothing about them.
Discogs usually is my first stop when I go on the lookout for information. There is a tape by Blanco y Tango listed. It is an eleven song album titled "Sogni D'Estate". The cover looks like a black and white photocopy. The songs are:
A1. L'Entusiasmo E L'Essenziale
A2. Solo Luci
A3. Give Me
A4. Su Di Noi
A5. With Or Without You
A6. Vorrei Scordarmi Di Te
A7. Lay Down
B1. Ci Sei
B2. Sally
B3. Io Correro
B4. Ti Penso
The tape was released by the label Shiny Sunset (catalog Sunset 2) in 1994. This same label had released other compilations and a tape album by the fantastic Snowbirds (who deserve a post here, right?). In some of these compilations released by Shiny Sunset, Blanco y Negro appeared.
The first ever Shiny Sunset release, "The Stunning Scenery of A Shiny Sunset", had the song "L'Entusiasmo E L"Essenziale". On "The Charming Trip in the World of Dreams", Shiny Sunset 5, they contributed the songs "Cite del Nord" and "All to Have It". On Shiny Sunset 8, "A World of Popkisses", they had "Fuori O Dentro Te", "Se Io Fossi Come Te", "Forse Chissa" and "The Mermaid". Then on Shiny Sunset 9, "The Colours of an Enchanted Dawn", they provided the song "Se Io Fossi Come Te". It is important to say that these were fine compilations, they counted with classic indiepop bands in them like They Mayfields, Acid House Kings, Bomb Pops, Red Sleeping Beauty, Love Parade, and more! Who were these Shiny Sunset? What I could find out is that it was actually an Italian label ran by Marco Pagano from Creazzo. So yeah, there used to be a proper indiepop tape label in Italy too!
Creazzo was in the province of Vicenza. So there was a connection surely with the band Blanco y Tango.
Vicenza is a city in northeastern Italy. It is in the Veneto region at the northern base of the Monte Berico, where it straddles the Bacchiglione River. Vicenza is approximately 60 kilometres (37 mi) west of Venice and 200 kilometres (120 mi) east of Milan.Vicenza is a thriving and cosmopolitan city, with a rich history and culture, and many museums, art galleries, piazzas, villas, churches and elegant Renaissance palazzi. With the Palladian Villas of the Veneto in the surrounding area, and his renowned Teatro Olimpico (Olympic Theater), the "city of Palladio" has been listed as an UNESCO World Heritage Site since 1994.
Well, there is a Facebook page for the band. Not too many likes. Maybe we can change that. First important information, the band members:
Elisabetta R. on vocals
Caterina R on vocals and guitars
Giuseppe M. on guitars
Alex S. on bass
Marco Z. on drums (up to 1991)
Giovanni Z. on drums (after 1991)
Then there's a little biography, from it we know that the band was born in 1991. That at the beginning the band style was heavily influenced by English pop and then they moved to a more pop-rock sound. They played many gigs and didn't record an album. The tape on Shiny Sunset is actually their demo-tape. They also contributed a song to the "Rock Contest" album, though I'm not sure what this is actually.
On the Facebook page I see many stills from what seems a live performance. Maybe it was broadcasted on TV?
The next stop on the web is Soundcloud. We find Giuseppe Mantia's account where he has uploaded a bunch of Blanco y Tango songs. Here you can listen to "01", "I Will Find My Lover", "Interferenze", "Mermaid" and "Se Io Fossi Come Te". I dig a little further and find out Giuseppe has been in other bands like Pneuma and Poesia e Diva.
I try to find out more about the other members of the band but it looks difficult. Not having their last name makes it harder.
I feel my favourite song is "L'entusiasmo e l'essenziale". That's when they are at their poppiest. Not all of the songs on their demo or the Soundcloud will sound indiepop. Some are darker, some rockier. But the band could chime guitars in a fantastically, in a way I haven't heard any other Italian band. Listen and tell me if I'm wrong!
Does anyone remember them? What happened to the members afterwards? Have you heard any other fine Italian indiepop bands? Would love to know more!
::::::::::::::::::::::::::::::::::::::::::::::::::::::::::::::::::::::::::::::::::::::::::::::