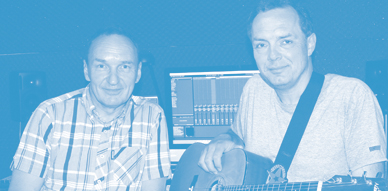 Thanks so much to Olli and Ingo for this interview! A long time ago I wrote a small piece about this fantastic German band who released only one 12″ single back in the 80s. Soon afterwards they changed their name to Moscopeboys and continued promoting this record that included the absolutely great song "Machinery". Strangely enough the song is a bit obscure, but it deserves to be more known! So Olli and Ingo were kind enough to reply a bunch of my questions and tell the story of Second View! Also don't miss the unreleased song they've shared!
++ Wow! Hello Olli and Ingo, thanks so much for being up for this interview. I really love the songs by Second View. But tell me, are you still making any music? When was the last time you picked up an instrument?
To be honest, yesterday evening at our first meeting after a long time. We listened to some Second View demos in Ingo´s studio, played along the tunes, watched old band pictures and newspaper articles. Recently Ingo is more into electronic music production and Olli still plays the guitar in some bands, but it´s not so much the alternative thing.
++ How is Eschershausen and the Lower Saxony, the area you used to be based, these days? Has it changed much? Were there any other like-minded bands to Second View?
Basically it´s still like it used to be: a bit remote, a bit old fashioned and traditional but embedded in an incredibly nice piece of nature – very soothing! Still a place to come back an relax. We don´t really remember like-minded bands. Of course there were and still are local bands, but they are more into rock music.
++ Was Second View your first experience in a band?
Olli started in a kind of a school band together with Andreas, Martin and Martin's brother in 1980. Ingo was a most wanted keyboard player because he owned a synthesizer, very rare at that time!
++ And how did the band start? How did you all knew each other?
The two of us met at school and decided to found Second View together with Andreas and Martin. Martin and Olli had been friends since early childhood and Andreas was a neighbour and the first New Wave-affected guy in town, really cool. In other words, it really was that typical "We are friends, we like New Wave music and we're gonna found a band".
++ What were you listening at that time? What were the influences of Second View?
On the one hand there were more the guitar-based bands such as The Smiths, Lloyd Cole, The Chameleons etc., on the other hand there were the electronic bands like Human League, OMD, Kraftwerk, DAF and the early Depeche Mode things. Andreas was more into New Order, Joy Division and Japan.
++ Where does the name Second View comes from?
Honestly we cannot recall exactly…, Ingo and Olli gave that name to the band… Ingo still remembers the message behind was that our music was always worth being regarded twice… funny enough that this "second view" now happens after nearly 30 years.
++ You released only one 12″ and it's brilliant. I was wondering if you could tell me the story behind these two songs?
We really appreciate your compliment! In terms of lyrics, one should better ask Andreas, but we think both texts are very close to his attitude towards life at that time. One should not forget, it was the No Future generation and he was the only smalltown punk). In addition, Andreas often felt isolated, led a kind of a withdrawn life and spent much time alone writing songs. Therefore, the gloomy atmosphere af the two lyrics reflects much of his life at that time. Talking about the music, the two of us developed and arranged the songs based on Andreas´ first ideas on tape.
++ The record was self-released on your own label View Records, right? I'm curious why did you go this way and also about the very strange numbers for your catalog number F 669.602?
We founded our own label and released the single by ourselves because there was no label within the next 200 miles who was interested in that kind of music. So we did all the work, which was tough but interesting. The catalogue number was set by EMI, where the records were manufactured. It´s just a prduction number and never appeared elsewhere.
++ Then you found a manager who asked you to change names. I wanna hear who was the manager and how did your relationship start?
Ingo went to university in Münster, where he got to know the Axels Seitz of the Fun Factory label. He liked the record but didn´t liked the name.
++ You changed the name to Moscopeboys. Where does this name comes from?
A dictionary. We were under time pressure and had to decide quickly. So Olli scrolled through an English dictionary, Ingo said stop and there it was: the word "moscope". Having laughed about the other 20 words before, this was best match.
++ You were telling me a very curious story. The remaining copies of the Second View that you had in stock were then placed in Moscopeboys jackets. So it's really the same record all in all. Who made this decision? And looking back was it good or a bad idea to change names? Did you lose any following?
Yes, that´s all true. Axel convinced us to make that step and make the whole thing more professional and possibly profitable. Looking back we regret that decision. If we ever publish any other material on youtube etc., we will definitely use the old name.
++ And was Fun Factory, the label that 'released' the Moscopeboys 12″, ran by you guys as well?
No, not at all. It was just a deal.
++ You used to drive for hours to find good record stores. So I wonder, what record is your most priced possession? And what kind of car did you drive back in those days?
Olli drove an old Renault R5 and Ingo had a Datsun Cherry. There was really good record store in Hanover where we bought our records. Another good opportunity was mail order from Britain. We are not quite sure about the records but we bought some incredibly expensive bootlegs of The Smiths.
++ Tell me about gigs. Did you play many concerts? Which were your favourites and why?
We played some 15 local shows before we recorded Machinery. After having the management we played around10 concerts in the west and the north of Germany. Ollis favourite concert was a show in Osnabrück because the sound was good, there were more than 1000 people and a fantastic atmosphere. Among the fans there was a very nice group of young people from England who met us after the show in the backstage area. Ingo agrees to my choice but would like to add that there was another big and exciting festival in Münster together with Element of Crime, a band that is still very successful here in Germany.
++ And how was the creative process for you guys? How did songs shape up? Also, was there any thoughts about making songs in German?
Actually we started in German and then changed into English. Usually the two of us came together and one of us brought a new idea. Then we worked on the new song, changed things, added things, so, the usual process until we were satisfied with the result. Then we gave it to Andreas for the lyrics, if he had not already been with us thinking about a text while we were working on the song.
++ During the lifetime of Second View there were some lineup changes. Who left and who came in, and why?
In 1987, Thorsten joined the band to play the second guitar and to do the back vocals during live shows.
Martin left the band in 1988 due to his career as a mechanic. For a short time Fred Lemke from Hamelin joined us and played the drums during the studio sessions for the longplayer. But we never performed together on stage.
++ Then in 1987, in Leverkusen while recording, the band split up. Why did this happen? And did the band left many unreleased songs that never got released?
We recorded in Leverkusen at the Bayer Studio. The company supported newcomers and let them record at their excellently equipped studio for a fair price. The problem was that we only had time to be there at the weekends. It was always difficult to find dates fitting for all people involved. At that time Olli and Ingo recognized that in this difficult situation Andreas was more interested in other things than in the band. After a few months in which we had been trying to save the project we decided to split up. We could replace the drummer but we did not have any clue to replace the singer and the writer of the lyrics.
++ After splitting, some years later, you started Ultramarin. How would you describe the music of this new project of yours and how different would you say it was from Second View/Moscopeboys?
Olli needed some two years to recover from all the frustration that the Second View thing brought with it. Then, in 1991, he asked Thorsten to perform some songs in a kind of a duet. A year later, after having written some new songs with German lyrics, Ingo joined Ultramarin. But Ultramarin has always been more a project than a band. We invited many musicians to do recording sessions with us and it took over five years before we could master and release the CD. Ultramarin only played two live shows with guest musicians. It differs from the Second View sound because the songs are in German, it is more a soothing, acoustic music with many instruments that are not typical of an alternative band (i.e. trumpet, cello, flute). And, it is a different singer.
++ You released one CD with Ultramarin but you say you don't plan to release anything else with them. What's the reasoning behind it?
It is just that we all live in different parts of the country and over the years it has become more difficult to meet and perform. We all have correct jobs, families and other pleasant things that keep you away from meeting.
++ So looking back, all these years making music, what would you say was your biggest highlight?
Indeed there are two: We still remember our car drive back from the studio in Detmold to our hometown listening to the first fully mastered tape of our record. It was a 60 minutes car drive and only the two songs were played again and again… great! The second highlight was Ingo's phone call when he told me to switch on the radio and listen to Machinery.
++ And these days, aside from music, what other things do you guys enjoy doing? Any other hobbies?
It is still the music thing! Apart from that we enjoy spending time with our families.
++ I've visited Germany so many times but I've never been close to the area where you are based. I was wondering what's the typical stuff there, what are the good beers, and the traditional dishes? And what about the sights? I'd love to visit some day!
If you ever come to South Lower Saxony you will recognize that apart from the beautiful landscape there are ancient and nice towns like Hamelin. In addition, there are some local breweries such as "Einbecker Bier", which is well-known all over the country. Local food for example is deer.
++ Thanks so much for your answers! So great to have learned a bit more about your band. Anything else you'd like to add?
We are deeply thankful for all the interest you put into our music and the time you spend on this blog project.
::::::::::::::::::::::::::::::::::::::::::::::::::::::::::::::::::::::::::::::::::::::::::::::
Listen
Second View – December Sky